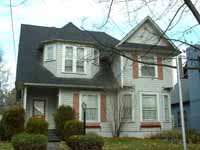 Legal Description:
Lot 9 in Block 1 of the Amended Plot of Isaacs Third Addition to the City of Walla Walla, according to the official plat thereof of record in the Office of the Auditor of Walla Walla County, Washington in Book "C" of Plats at Page 19.
Title History:
The land that comprises the City of Walla Walla was acquired from the Cayuse and Walla Walla Indian tribes by the U.S. Government in a treaty signed on July 9, 1855 in Walla Walla and ratified on March 8, 1859 by President James Buchanan. Walla Walla was originally laid out by surveyor H.H. Chase in 1859, even before its formal incorporation as a city in 1862, as a one-quarter mile square oriented N-S, E-W with its eastern side centered on the point where Main Street crossed Mill Creek (at roughly the point where it does now). To this original area, additional parcels were annexed from time to time, usually with the name of the land owner of record at the time the additions were made. 609 University is located in Isaacs Third Addition, one of several additions in the central part of Walla Walla named for Henry P. Isaacs and his wife Lucie Isaacs. The Isaacs figure into this property as real estate developers and also because 609 University was affected by the development of Walla Walla's water system which was initiated by the Isaacs family. The right to utilize "subterranean" water is recorded in documents in 1886 and 1896 pertaining to 609 University when the Walla Walla Water Company was formed by H.P. Isaacs and his son J.C. Isaacs.
The first recorded transaction involving 609 University was on May 23, 1863 when John Haley sold "all that portion of the SW 1/4 of section 21 in Township 7, County of Walla Walla, Washington Territory" which was 26.81 acres "more or less" to William H. Patten and Elizabeth A. Patten. The recorded cost was "consideration $100." Shortly thereafter on January 20, 1864, the Pattens sold the parcel to Henry P. Isaacs for $2000 in gold coin. The parcel purchased by Isaacs from the Pattens was 80 acres (which included the original 26.81 acres). On April 6, 1866 an additional transaction between William Patten and the Isaacs occurred which led to the term "amended plot" in the legal description for 609 University. The 1864 transaction involved the addition of four acres to the 80 acre parcel in favor of Isaacs. On the deed there is a notation that Elizabeth A. Patten "does not join in the execution of this instrument." This matter reappeared on March 22, 1901 following the death of Isaacs (who died intestate in 1900 – he had no will). An indenture was filed stating that there was a fatal defect in the 1866 deed because Elizabeth Patten had not signed. It would seem from the notation on the 1866 deed that there was some controversy in the Patten family about this transaction. On May 17, 1900 a City Ordinance was approved by the City Council regarding Isaacs Third Addition in which the term "amended plot" was accepted. There were no details on that document nor any leads to anything else, but this researcher links that ordinance with the "four acre Patten-Isaacs affair" which resulted in the term "amended" being added to the legal description of Isaacs Third Addition.
On November 24, 1900 H.P. Isaacs heirs sold Lot 9 in Block 1 of Isaacs Third Addition to Edward C. and Jessie F. Mills for $1500. The 1900-1901 City Directory gives Mills' occupation as deputy county clerk and the Mills'address as 404 E. Cherry. In the 1902 City Directory, Edward C. Mills resides on University and Clinton, there being no street addresses at that time. This residential listing provides the evidence for the presence of a house probably constructed in 1901. By 1904 Mills is a lawyer and notary public with an office at 19½ Main and residence at E. Pleasant St., 1/4 mile east of city limits. Reverend William F. Maas, pastor of the Methodist Episcopal Church, and his wife Mary Maas purchased 609 University for $2200 on February 24, 1904. On September 21, 1905 the Maases sold to Mary McCoy and Joseph McCoy, a farmer, for $2500. George T., Mattie and Katherine McCoy, all listed as Whitman students in the 1908-1913 City Directories, lived at 609 University as well. McCoy's brother John, a rancher, in 1908 purchased 604 University, the house across the street, so there were numerous McCoys on the corner of Clinton and University. Mary A. McCoy was widowed in 1910 but continued living at 609 University until 1921 when she moved to 1504 Ruth Ave.
On January 7, 1922, Mary McCoy conveyed a deed to N.G. Snodgrass et ux.  Nathenial T. Snodgrass, a farmer, and his wife Alice E. Snodgrass are listed in the 1921-22 city directory as residing at this address, and the 1923-24 directory adds Walter Snodgrass, a student, who by the 1925-26 directory is listed as a solicitor.  By the 1926-27 directory the Snodgrasses no longer have any residence listing.  At the time they purchased the property on January 1, 1922, they conveyed a mortgage to Wesley A. Diggins, who is listed in the 1925-26 directory as "Reverend, home at corner of Pleasant and Bridge."  On November 17, 1925, Diggins transferred an assignment of purchaser's interest in contract regarding this property to G.S. Bond.  In the 1926-27 directory, Diggins is no longer listed, and Grant S. Bond is listed as an attorney with an office in the Baker Building, residing in the home he owns at 566 University.
George Taggard, a dentist with a practice in the Drumheller Building, and Clara Taggard, his wife, are listed in the 1929-30 City Directory as homeowners residing at this address. Wilhelmina Taggard, a teacher, and Naomi Taggard, a saleswoman, are also listed at this address. There is no record of any further conveyances of this property from Diggins or Bond, nor of any conveyance of it to the Taggards. There is evidence of the house being divided into two apartments in 1939, the directory for that year listing the Taggards as well as Jack Howard, a livestock dealer, and his wife Lenore Howard at 609 University. In 1941 the Taggards moved to 317 N. Bellevue and seem to have rented the house to Leroy E. Lusk, a helper at Hunt Neon Sign Co., and his wife Ruth H. Lusk and Reva Clibon, a clerk. In World War II years, not many City Directories were published and there was a housing shortage since there was a base at the airport. This is reflected in the listing of four separate names during those years indicating that the house was divided into four apartments with names changing for almost each subsequent City Directory, showing quite a turnover in renters.  In 1948 George and Clara Taggard sold the house for "consideration $10" to Felix R. Farrens, who owned Farrens Service Station located at 329 Main, and his wife Lois O. Farrens, a bookkeeper at Walla Walla Mill Co. In the 1949-1950 and 1952 City Directory, Farrens is listed as President and Treasurer of Harris Manufacturing Co., an agricultural equipment firm located at the City County Airport. On March 27, 1951 the Farrens sold the house to Roy Akins and his wife Rose V. Akins for "consideration $10." In the 1951-52 City Directory, only two renters appear, but in the 1953 Directory, four occupants are again listed. This pattern continued until 1959 when Roy Akins sold 609 University to Homer J. Brown and his wife Mabel R. Brown who took out a mortgage of $6500. Again, the list of renters changed from year to year and more and more vacancies are listed. Homer Brown died in 1977 and on October 19, 1977, Mabel Brown sold the house for $28,000 to Richard Alan Lindmeier, a Cascade Airways employee, and Kathleen Rose Badasci, an employee of Western Airlines. On February 1, 1980 Kerry L. Trout, a WWCC student, and Joy Trout, who had a daycare and was a waitress at the Modern Café bought the house for $43,500. On January 22, 1982, Salvatore Liguori, a Cascade Airways pilot, and Sue Cory Liguori bought the house for $45,000. They participated in the Pacific Power and Light weatherization program, installing 30 storm windows, replacing two doors and weatherstripping. On December 13, 1985, the Liguoris sold to Jay D. Smith, retired, and his wife Katherine Mary Smith for $58,000. Smith had a survey and a description done of this house that indicated that there were still four apartments and only two bathrooms. Perhaps they made improvements, although there is no record of that. Katherine Mary Smith died in January of 1994 and Jay Smith continued to live in the house until selling it on June 18, 1998 to John DuNann Winter, a professor of geology at Whitman College and Deborah DuNann Winter, a professor of psychology at Whitman College for $148,500. On July 27, 2001 James and Melissa Hardtke bought the house for $154,430 and on May 27, 2003 James J. Kennedy and Rebecca B. Kennedy bought the house for $153,700.
Construction of the House
The County Assessor records give 1920 as the year 609 University was built. That date was disproven by this research. Records show that Edward C. Mills and his wife Jessie F. Mills were living in this house in the 1902 City Directory, though not in the 1900-1901 directory. They purchased the property from H.P. Isaacs' estate in November of 1900. Since there were no building permits until 1907, no definite date is available for the completion date of construction, so a date of "circa 1901" should be used. The Assessor's office date is quite a number of years off!
Research Sources:
Pioneer Title Company documents for this property
County Records Vault, Walla Walla County Courthouse
Sanborn Fire Maps
Walla Walla County Assessor's Office
Walla Walla County Auditor's Office
Walla Walla City Directories beginning in 1900 (not all years are available)
  Katherine Weingart Walla Walla 2020 Research Service P.O. Box 1222 Walla Walla WA 99362 August, 2003
http://ww2020.net/wp-content/uploads/609_Univerity.jpg
150
200
Katherine Weingart
http://ww2020.net/wp-content/uploads/2011/12/ww2020_logo.png
Katherine Weingart
2003-08-01 17:48:27
2017-02-05 12:29:04
History of 609 University Street, Walla Walla, WA