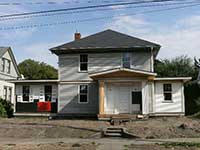 Legal Description
Lot 10, Block 3, Amended Plat of Isaacs Third Addition to the City of Walla Walla, as per plat thereof recorded in Volume C of plats at Page 19, records of Walla Walla County; situate in the City and County of Walla Walla, State of Washington.
Title History
The land that comprises the City of Walla Walla was acquired from the Cayuse and Walla Walla Indian tribes by the U.S. Government in a treaty signed on June 9, 1855 in Walla Walla. The bronze statue on the corner of Third and Rose of Great Chief PeoPeoMoxMox of the Walla Walla Tribe commemorates that treaty signing. The treaty was ratified on March 8, 1859 by President James Buchanan.
Walla Walla was originally laid out by surveyor H.H. Case in 1859, even before its formal incorporation as a city in 1862, as a one mile square oriented N-S, E-W, with its eastern side centered on the point where Main Street crossed Mill Creek (at roughly the point where it does now). To this original area, additional parcels were annexed from time to time usually with the name of the land owner of record at the time the additions were made. 607 Boyer is located in Isaacs Third Addition, one of several additions in the central part of Walla Walla named for Henry P. Isaacs and Lucie Isaacs. The Isaacs figure into this property as real estate developers and also because the location of 607 Boyer was affected by the development of Walla Walla's water system. The right to utilize "subterranean" water is recorded in documents in 1886 and 1896 pertaining to 607 Boyer when the Walla Walla Water Company was founded by H.P. Isaacs and his son J.C. Isaacs. In addition, Isaacs was instrumental in the development of Walla Walla as a wheat growing area, for building numerous flour mills throughout the Northwest as well as Walla Walla (the North Pacific Flouring Mill was located in what is now Wildwood Park), and establishing trade for that wheat in Asian countries. Records for this house include numerous mortgages negotiated by Isaacs for his several parcels of land, flour mills, and the water system development.
The first available recorded transaction involving 607 Boyer was on January 20, 1864 when William H. Patten and his wife Elizabeth A. Patten sold an 80 acre parcel for $2000 in gold coin to Henry P. and Lucie Isaacs.  This transaction did not include four acres previously sold to Isaacs by the Pattens. On that deed there is a notation that Elizabeth A. Patten "does not join in the execution of this instrument." This matter reappeared on March 22, 1901 following the death of Isaacs (who died intestate in 1900 – he had no will). An indenture was filed by the Patten heirs stating that there was a fatal defect in the 1866 deed because Elizabeth Patten had not signed it. Settling this situation required the approval of all of the Patten and Isaacs heirs and then a City Ordnance passed by the City Council regarding Isaacs Third Addition in which the term "amended" was added to the legal description.
Indicating a location close to Whitman College was the former name of this part of Boyer Ave. It was called Fraternity Avenue in a 1903 document and on the 1899 and 1900 street maps. Only one home on this section of Boyer is known to have been a fraternity house in spite of the short-lived name of the street.
On November 11, 1901 a Quit Claim Deed was filed by Lucie Isaacs and her daughter Bessie Isaacs Savage to Grace C. Isaacs, Charlotte Isaacs Doheny, Edwin S. Isaacs and J.P. Isaacs (siblings of Bessie Isaacs) for a large parcel of land that included Lot 10, Block 3 of the amended Isaacs Third Addition. This action was apparently part of the settling of H.P. Isaacs' estate for which there was no will. On January 14, 1902 the Isaacs heirs sold Lot 10, Block 3 for $500 to Sarah J. Bowles, a widow. The term "lot" appears in the document for this sale.  The 1902 and 1904 City Directories (no 1903 Directories were available) did not list Sarah Bowles as a resident of 607 Boyer. Different addresses were given for her for 1901, 1902 and 1904. The fact that she moved a lot lead this researcher to think that it is probable that Mrs. Bowles was in the real estate business and that she built 607 Boyer to sell because on July 9, 1903 Sarah J. Bowles sold the property to Susan F. Adams, a widow, for $3500. The amount of this sale would indicate the presence of a house on the lot. Mrs. Adams is first listed as residing at 607 Boyer in the 1904 City Directory. She resided there until 1919.
On March 13, 1919 Susan Adams sold the house to Minerva A. Williams.   There was no stated amount listed for that sale. City Directories from 1920-1931 list Noble "Jay" Williams and Minerva A. Williams at 607 Boyer. Jay Williams is listed as an agent for Kansas City Life Insurance Company in the 1921-22 City Directory and then in the 1923-27 directories he is listed as a partner in Ginn and Williams Real Estate and Insurance with an office in the Jaycox Building. A "lis pendens" filed in April of 1927 by Minerva Williams declared her to be the sole owner of that business, probably in the settling of Jay Williams' estate.
On March 2, 1931 Minerva A. Williams, a widow, sold the house to Mary E. Hathaway, a widow. There was no stated price in the property records. Mary Hathaway died in 1941 and Anne Hathaway, "an unmarried lady" sold the house to Harry E. Jesseph and Eula Jesseph on September 28, 1944 for $5000. In the 1946 City Directory Jesseph is listed as the Walla Walla distributer for the Richfield Oil Corporation. On June 11, 1960 Jesseph sold the house to Roland L. Travis and Claudine S. Travis for $13,700.  The 1961 City Directory lists the Jessephs at 1756 Hillbrooke and Harry Jesseph as the Executive Director of the United Way Fund. The 1961 City Directory lists Roland Travis as a salesman for an electric supply and fixture firm.  In October of 1965 Robert M. Johnson and Margaret Johnson purchased the house from Roland and Claudine Travis for $13, 225. Robert Johnson is listed in the 1966 City Directory as Chief Engineer at Washington State Penitentiary and Margaret Johnson is listed as a private duty registered nurse. The Johnsons had difficulty financing the property and in May of 1968 the house was repossessed by the mortgagor. The house is listed as vacant in 1968.
Shepard K. Linscott and Emma L. Linscott purchased the property from the mortgagor for $8000 in September of 1968. The Linscotts resided next door at 701 Boyer from 1965 until 1970. Shepard Linscott was in the real estate business. On December 14, 1968 Linscott sold the house to Kenneth L. Nicholes and Fay Nicoles for $14,750. Ken Nicholes is listed in the 1969 City Directory as Commander of "1905 Air Force Communications Service Detachment Air Base" in Walla Walla and Fay Nicoles is listed as a dental assistant. Nicoles was listed as being employed by Key Equipment in Milton-Freewater in 1975 and then as a professional photographer with his own business, Ken Nicoles Photography, for several years. In 2002 the house was assessed at $125,200. In April of 2006 the Nicholes sold the house to Timothy and Lynn Wert.
Construction of the House
Building permits were not required in Walla Walla until 1907 therefore construction dates before then must be determined by sales documents and City Directories. Sarah J. Bowles had purchased the lot for 607 Boyer for $500 in 1902. On July 9, 1903 Sarah Bowles sold the property for $3500 to Susan F. Adams. The size of that sale indicates that the house was there by 1903. Mrs. Adams was first listed in the 1904 City Directory as residing at 607 Boyer. The 1905 Sanborn Fire Map shows the house. Therefore, the construction date would appear to be circa 1902. The records indicate that Sarah J. Bowles built the house even though she may not have lived there. The Walla Walla County Assessor's Office gives 1910 as the construction date. This research indicates that that date is not correct.
Resources used:
Penrose Library Northwest Archives
Pioneer Title Co. documents for this property
Sanborn Fire Maps
Walla Walla City Directories
Walla Walla County Assessor's Files
Walla Walla Public Library Northwest History collection
  Katherine Weingart Walla Walla 2020 Research Service P.O. Box 1222 Walla Walla WA 99362 April, 2006
http://ww2020.net/wp-content/uploads/607_Boyer1.jpg
150
200
Katherine Weingart
http://ww2020.net/wp-content/uploads/2011/12/ww2020_logo.png
Katherine Weingart
2006-04-01 17:45:53
2017-02-05 12:28:03
History of 607 Boyer Avenue, Walla Walla, WA