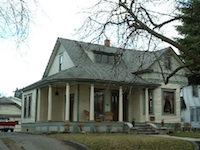 Legal Description
Lot nine (9) in Block three (3) of the Amended Plat of Isaacs' Third Addition to the City of Walla Walla, according to the recorded Plat thereof on file and of record in the Office of the County Auditor, within and for said County and State.
Title History
Walla Walla was originally laid out by surveyor H.H. Case in 1859, even before its formal incorporation as a city in 1862, as a one mile square oriented N-S, E-W, with its eastern side centered on the point where Main Street crossed Mill Creek (at roughly the point where it does now). To this original area, additional parcels were annexed from time to time usually with the name of the land owner of record at the time the additions were made. 605 Boyer is located in Isaacs Third Addition, one of several additions in the central part of Walla Walla named for Henry P. Isaacs and Lucie Isaacs. The Isaacs figure into this property as real estate developers and also because 605 Boyer was affected by the development of Walla Walla's water system. The right to utilize "subterranean" water is recorded in documents in 1886 and 1896 pertaining to 605 Boyer when the Walla Walla Water Company was founded by H.P. Isaacs and his son J.C. Isaacs. In addition, Isaacs was instrumental in the development of Walla Walla as a wheat growing area, for building numerous flour mills throughout the Northwest as well as Walla Walla (the North Pacific Flouring Mill is located in what is now Wildwood Park), and establishing trade for that wheat in Asian countries. Records for this house include numerous mortgages negotiated by Isaacs for his several parcels of land, flour mills, and the water system development.
There are unusually old records for this property which the owners supplied. They include a Register's Certificate issued on March 3, 1855 to John McComb indicating that he had received land via a patent for his military service (Military Land Warrant No. 76,118) from President Andrew Johnson. A Quit Claim Deed for 80 acres of the parcel, valued at $2,000, was filed by McComb on behalf of William H. Patten on December 30, 1861. On January 20, 1864, William H. Patten sold the 80 acre parcel for $2000 in gold coin to Henry P. Isaacs and his wife Lucie Isaacs. This transaction did not include four acres previously sold to Isaacs by the Pattens. On the deed there was a notation that Elizabeth A. Patten "does not join in the execution of this instrument." This matter reappeared on March 22, 1901 following the death of Isaacs (who died intestate in 1900 – he had no will). An indenture was filed by the Patten heirs stating that there was a "fatal defect" in the 1864 deed because Elizabeth Patten had not signed it. Settling this situation required the approval of all of the Patten and Isaacs heirs and then a City Ordnance passed by the City Council regarding Isaacs Third Addition in which the term "amended" was added to the legal description.
Because of its location close to Whitman College this part of Boyer Ave. was formerly known as Fraternity Avenue, as noted in a 1903 document and on an 1899 and 1900 street map. Only one home on that section of Boyer is known to have been a fraternity house in spite of the short-lived name of the street.
On May 2, 1900 H.P. Isaacs sold Lot 9 in Block 3 to William M. Van Patten for $400. The 1902 City Directory gives William M. Van Patten and Rose O. Van Patten as residing at 605 Boyer Ave. In 1901 Van Patten, a physician with a practice at 6 1/2 E. Main, seemed to be living in his office. In that year he appears to have married and built 605 Boyer. On September 8, 1903 the Van Pattens moved to 104 Merriam, having sold 605 Boyer for $2200 to Mollie Johnson, widow of Marshal Johnson. Mollie Johnson subsequently took an interest in real estate and the 1909-10 City Directory lists "Mrs. Mollie Johnson, Real Estate and Employment Agency, 10-101/2 N. Third." She was still living at 605 Boyer in that directory but moved to 1204 Boyer according to the 1910-11 Directory. On August 31, 1910 Mollie Johnson sold the house via "legal money" to M.H. Burnett, a spinster, who was a teacher at the Fischer School of Music. No stated amount is given, however, there is record of a mortgage of $1750. That mortgage would show up as "unpaid" in subsequent transactions. On November 3, 1913 M.H. Burnett sold the house to Grace G. Isaacs, a spinster and H. P. and Lucie's daughter. There was no stated amount given. Grace Isaacs' address at this time was 553 Boyer (now 100 Brookside Drive), where she was living with her widowed mother. There were no names of residents available for the period of Grace Isaacs' ownership of 605 Boyer, indicating that probably the house was rented from 1913-1915. On December 30, 1915 Grace G. Isaacs sold the house to William A. Bohart and Elizabeth M. Bohart. The terms of that sale included Mollie Johnson's unpaid mortgage and the Clinton Street paving assessment. The Boharts are never listed as living at 605 Boyer. Their address was 209 S. First in the 1916-17 City Directory. Perhaps the house continued as a rental during the time they owned it. William Bohart filed a Quit Claim Deed for it to his wife for love and affection on August 31, 1916.
Missing in the files is the deed for the sale by the Boharts to Clinton W. Wilbur and Ada Wilbur. The 1918 City Directory lists them as living at 605 Boyer. In 1920 they are listed at 715 Washington. The Wilburs sold the house to Elmer Bryson and Charlotte Bryson on June 21, 1918. The Bryson family, in various configurations, lived in the house from 1918 until1996. The M.H. Burnett mortgage was finally paid off by Bryson in 1931. Elmer Bryson, who was listed as a "sheepman" and then a "wool grower," died in 1941. A Quit Claim deed was filed on June 8, 1959 by Howard and Blanche Bryson, heirs of Elmer Bryson to their mother Charlotte Bryson. This deed included the house and several rural properties as well. Charlotte and her daughter Blanche lived in the house together until Charlotte died in 1975. On November 10, 1972 Charlotte had deeded the house and the numerous other properties to her daughter. Blanche Bryson, who was listed as a Whitman student,! then a teacher. Miss Bryson lived in the house until 1995 when she moved to the Odd Fellows, living in a room where she could look out at her house until her death in 1996. The Bryson family had lived in the house for 77 years. Mick and Michelle Shaul purchased the house in June of 1996. A Deed of Personal Representative was filed by Blanche Bryson's two nieces, Kathryn Holden and Barbara Bishop, heirs of the estate, who handled the sale. The meticulous renovation of this house began when the Shauls bought it in 1996. Every detail is in keeping with the age of the house. Michelle Shaul is the Green Park School librarian and Mick Shaul has been a contractor.
Construction of the House
The Walla Walla County Assessor's records give 1901 as the construction date for 605 Boyer. That date is confirmed by this research. William M. and Rose O. Van Patten are listed in the 1902 City Directory as residing at 605 Boyer.
Resources used for this research
Abstract of Title for 605 Boyer up to 1913, owned by Mick and Michelle Shaul
Pioneer Title Co. documents for this property
Penrose Library Northwest Archives
Walla Walla City Directories in the Walla Walla Public Library and Penrose Library Archives
Sanborn Fire Maps
Walla Walla County Assessor's Files
  Katherine Weingart Walla Walla 2020 Research Service P.O. Box 1222, Walla Walla WA 99362 November, 2005
http://ww2020.net/wp-content/uploads/605_Boyer.jpg
150
200
Katherine Weingart
http://ww2020.net/wp-content/uploads/2011/12/ww2020_logo.png
Katherine Weingart
2005-11-01 17:35:42
2017-02-05 12:28:04
History of 605 Boyer Avenue, Walla Walla, WA