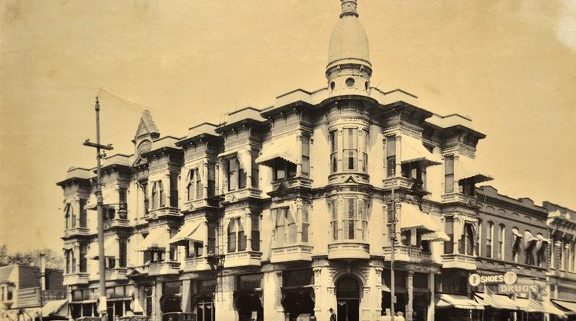 Legal Description
That part of Lot 9, Block 1 of the original City of Walla Walla described as follows:
Beginning at the point of intersection of the Northerly line of Main Street with the Easterly line of 2nd Avenue North in said City of Walla Walla, the same being the Southwesterly corner of said Lot 9, and running thence Northeasterly, along said Northerly line of Main Street, a distance of 46 feet and 3 inches; thence at right angles Northerly, parallel to said Easterly line of 2nd Avenue North, a distance of 120 feet; thence at right angles Southwesterly, parallel to said Northerly line of Main Street, a distance of 46 feet and 3 inches to the Easterly line of 2nd Avenue North; thence Southeasterly, along said Easterly line of 2nd Avenue North, a distance of 120 feet to the point of beginning; the same being the Westerly 46 feet and 3 inches of said Lot 9; together with all and singular the hereditaments and appurtenances thereunto belonging or in anywise appertaining including any and all party walls heretofore constructed in and about said premises.
Title and Occupant History
Washington Territory was created in 1853.  In 1884, the new territorial legislature created Walla Walla County, which stretched from the crest of the Cascade Mountains to the crest of the Rocky Mountains in the present states of Washington, Idaho and Montana.  In 1855, Isaac Stevens, governor of Washington Territory, held a council on the banks of Mill Creek at the present site of Walla Walla with representatives of regional Indian tribes to purchase land from them.  The Yakamas, Cayuses and Walla Wallas were dissatisfied with the treaties and the intrusion by whites into their lands before the treaties' ratification, and war followed.  Missionaries, former French-Canadian employees of the Hudson Bay Company trading post at Wallula, and soldiers at the military Fort Walla Walla were the primary European occupants of the area prior to 1859, when the treaties were finally ratified and the land was opened for settlement.  The transfer of ownership occurred by virtue of a treaty signed on June 9, 1855 in Walla Walla and ratified on March 8, 1859 by President James Buchanan, in which all of the land in the Walla Walla area was acquired from the Cayuse and Walla Walla Indian tribes.
The town of Walla Walla was originally laid out by County Surveyor H. H. Case in 1859, prior to its formal incorporation as a city in 1862, as a one-quarter mile square with its eastern side centered on the point where Main Street crossed Mill Creek (at roughly the point where it does now).  Case's plan was filed and recorded July 5, 1867 in Book A of Plats, Page 1. The City of Walla Walla received a Trustee Town site from the U. S. Government that consisted of 80 acres, issued on July 20, 1869 by the Vancouver, W. T. District Land Office. The buildings discussed in this report were situated within the original plat of the City of Walla Walla in Block 1.
3/21/1860, Bill of Sale, Robert Vint of the Town of Steptoeville, County of Walla Walla, Territory of Washington, grantor; Joseph Shute & Co., grantee, $300.
5/30/1860, Quit Claim Deed, Rufus Hardy, grantor; William Stephens, grantee, $150.
5/21/1861, Deed, William Stephens of the Town and County of Walla Walla, Washington Territory, grantor; Kyger & Reese, grantee, $250. Kyger & Reese operated a store on the northeast corner of 2nd and Main Streets as early as 1861, primarily outfitting the optimistic throngs headed to the Idaho minefields. Dr. Dorsey S. Baker, Alpheus Kyger, I. T. Reese and several others, incorporated the Walla Walla & Columbia River Railroad in 1868, although their initial plan for financing failed. Alpheus Kyger was a city councilman in 1864. He left Walla Walla and died in Arizona in 1904. I. T. Reese arrived in Walla Walla in 1858. In addition to the above undertakings, he operated a mill on Mill Creek near the western end of the city.
5/25/1865, Quit Claim Deed, J. T. and Martha Reese, grantors; A. Kyger, grantee, $1,000.
3/29/1866, Warranty Deed, The City of Walla Walla, in the County of Walla Walla, and Territory of Washington, grantor; William Stephens, grantee, Lots 9 and 10, Block 1, comprising 54 feet on Main Street, $10. (Stephens, 1812-1889, arrived in Walla Walla in 1859 and initially worked in Dorsey Baker's store. He became involved in the Walla Walla and Columbia River Railway, serving as treasurer. In 1871, he was appointed Register of the United States Land Office when it opened in Walla Walla, but after four years he relinquished this post and returned to the railroad. He was listed in the 1880 city directory as a capitalist, with an office in the Paine Building.)
10/20/1871, Warranty Deed, A. and Lucinda Kyger, grantors; B. L. Sharpstein, grantee, Lot 9 only, comprising 25 feet, 6 inches on Main Street, $1,500.
6/20/1872, In Bankruptcy, Ed. C. Ross to D. S. Stanley, Assignee, In the District Court of the United States, for the District of Washington Territory, in the matter of Alpheus Kyger, Bankrupt, assigning all real and personal estate to D. S. Stanley.
4/20/1874, Deed, D. S. Stanley, Assignee of A. Kyger, Bankrupt; to Herbert E. Johnson, Raymond R. Rees and William Parkhurst Winans, all of Lot 9, Block 1.
5/5/1874, Warranty Deed, Herbert E. and Cynthia A. Johnson, grantors; Raymond R. Rees and William Parkhurst Winans, grantees, Lot 9, $3,000.
2/9/1876, Warranty Deed, B. L. and Sarah Sharpstein, grantors; R. R. Rees and W. P. Winans, grantees, Lot 9, $2,300.
3/18/1890, Contract/Indenture, W. P. Winans, Augusta W. Rees, Frank W. Rees and Elma Rees, grantors; William Stephens, grantee; grantors owned the westerly 46 feet, 3 inches of Lot 9 with a 2-story firewall between theirs and Mr. Stephens' portion, extending 70 feet to the alley; this contract gives the grantors permission to increase the firewall to 3 stories, roof it over and keep the whole in good condition.
5/24/1890, Deed, Frank W. Rees, Elma L. Rees and Lora A. Rees, grantors; Augusta W. Rees, grantee, 46½ feet in Lot 9, Block 1 (and considerable other properties in Walla Walla, Dayton and Seattle, $1 and other valuable considerations. (Augusta Rees was the widow of Raymond Rees. Frank Rees was a dentist with offices in the Rees-Winans Building. Mr. Stephens retained ownership of the easterly portion of Lot 9.)
6/6/1921, Warranty Deed, Augusta Rees, widow of R. R. Rees, deceased, and Christine M. Winans, widow of W. P. Winans, deceased, grantors; Farmers Exchange of Walla Walla, Washington, a corporation, grantee, westerly 46.25 feet of Lot 9, Block 1, $80,000.
6/6/1921, Quit Claim Deed, Elma L. Turner (formerly Elma L. Rees), Sarah H. Rees, surviving widow of Frank W. Rees, deceased, and Lora A. Compton (formerly Lora A. Rees), grantors; Farmers Exchange of Walla Walla, Washington, a corporation, grantee, 46.25 feet of Lot 9, Block 1, $1 and other valuable considerations.
8/9/1943, Certificate of Qualification, and Letters Testamentary, in the Superior Court of the State of California in and for the County of Los Angeles, to establish Paul Compton as Executor of the Last Will and Testament of Lora Rees Compton, deceased.
8/9/1943, Warranty Deed, Farmers Exchange of Walla Walla, Washington, a corporation, grantor; Verna Dwelley Jones, grantee, 46 feet, 3 inches comprising the westerly portion of Lot 9, Block 1, $50,000. (Verna Dwelley Jones, 1884-1978, was the widow of Charles F. Jones, 1877-1942, secretary of Baker Loan & Investment and a farmer, with residence at 426 South Palouse Street.)
1/3/1955, Warranty Deed, Verna Dwelley Jones, a widow, grantor; Dwelley Jones (b. 1917), grantee, 46 feet, 3 inches comprising the westerly portion of Lot 9, Block 1, $10.
[Numerous leases and lease renewals exist during the years of the Jones family ownership of the building. They are too numerous to list in this report.]
3/31/1988, Statutory Warranty Deed, Elizabeth Jones Phillips and Merlin Phillips, Dwelley and Bessie Joyce Jones, as trustees of the Verna Dwelley Jones Trust, grantors; John K. and Pam A. Sutliff, westerly 46 feet, 3 inches of Lot 9, Block 1, $10 and other valuable considerations.
Construction of the two Rees-Winans Buildings
The Jones Building, formerly known as the Rees-Winans Block and later as the Farmers Exchange, is   the third or fourth building to occupy this corner of downtown Walla Walla. In fact, it could legitimately be thought of as the fourth or fifth building due to its draconian facelift of 1951 in which it was divested of all semblance of its original 1890 appearance.
Raymond Ringold Rees was born in Ohio in 1833. At the age of 21 he moved to Oregon. A printer, he ventured on to Walla Walla in 1864 and was one of the founders of the Washington Statesman, the first newspaper in eastern Washington Territory. However, the following year he left the newspaper trade and entered the mercantile business, forming a partnership with Herbert Johnson. Two years later they were joined by W. P. Winans, and began operating their business as Johnson, Rees & Winans. Rees was a prominent Democrat, and served twice in the state legislature. He was also county treasurer for a number of years.
William Parkhurst Winans was born in Elizabeth, New Jersey on January 28, 1836. As a child and young man, he suffered from ill health, so at age 18, along with two friends, he set out in a prairie schooner for Colorado. En route westward, they encountered far more disillusioned miners headed back east than westbound settlers. One morning, upon waking, he discovered his companions had turned their wagon toward the east. They informed Winans that they were going back home, and when he declined to join them they unhitched his two oxen and abandoned him on the prairie.
As luck would have it, Winans was picked up by a wagon heading west and got as far as Denver, a town consisting of but six or seven houses at that time. After a short stay in Denver, he was able to hitch a ride on to Oregon, selling his oxen and buying two horses and a saddle. He briefly taught school in Umatilla before moving on to Fort Colville, W.T., thence on to Spokane County, where he was appointed deputy auditor, later serving as auditor.
Winans moved to Walla Walla in 1871, in time forming a partnership with Herbert Johnson and Raymond Rees as Johnson, Rees & Winans General Merchandise, the largest such establishment in the city. They first occupied premises at Main and 2nd Streets (now East Main Street and North 2nd Avenue) in a one-story brick structure, that was constructed in 1861 for Alpheus Kyger's and I. T. Reese's mercantile, the first brick building constructed in Walla Walla. T. C. Elliott, in an article for the April 1915 edition of The Washington Historical Quarterly, wrote, the term general merchandise in those days covered a multitude of sins including whiskey, rum, etc.; and the "wet goods" of this firm were kept in a wooden warehouse upon this lot, which was in the rear of their store, across [Mill] creek, accessible first by foot log and later by foot bridge.
In 1876, the partners determined to erect a new building on the same premises. The Walla Walla Union carried the following article on March 4, 1876 titled "New Brick Building."
Johnson, Rees & Winans, and William Stephens have concluded to build two story brick buildings. F. P. Allen, Esq. is busy drawing the plans. The new structure will occupy the ground from the corner of second and Main streets, easterly 66½ feet, with a depth of 70 feet. A new front and an additional story will be added to the store now occupied by Johnson, Rees & Winans, who will also occupy when finished, twenty feet more in width adjoining. The next store will be owned by Mr. Stephens and will be for rent. The partitions for the second story, entrance on Main street, have not been decided upon.
F. P. Allen was born in New Hampshire in 1828. He arrived in Walla Walla in 1861 via San Francisco, and was considered the most prominent architect who had a practice in Walla Walla a decade or so before George Babcock and Henry Osterman. Following its completion in 1879, Allen had his office in Room 24 of the Paine Building directly across Main Street from the Rees-Winans Building. In 1880, he took on H. J. Simpson as a partner, and in an article in the Walla Walla Statesman on March 31, 1880 Allen was described as "a gentleman and accomplished mechanic, under whose direction and after whose plans nearly all the best structures in this city have been built." In 1879, he designed what was then Walla Walla's finest residence for D. W. Small at 313 East Birch Street, and in 1882 a two-story jail building and engine house. The Vancouver Independent reported on June 5, 1879 that Allen had been an unsuccessful bidder for the construction of a three-story brick school for the Sisters of Charity in Walla Walla.
It is interesting to note that William Stephens was still owner of the eastern portion of this lot (property currently occupied by Pioneer Title/Columbia Title). Of greater interest, however, is that the new building consisted of a second floor built onto the existing one-story building.
The completed building was a two-story brick structure with two large shop fronts on the first floor and a round arch opening onto stairs accessing the second floor. Seven aligned segmented arch windows graced the second floor of the Main Street façade. Above the second floor windows, a wooden eave supported by ornamental brackets and a band of egg-and-dart molding above the street level shop fronts embellished the simple but pleasant façade. The August 1884 and May 1889 Sanborn Fire Maps identify this property as "Gen'l Mdse" and "Drugs, Gen'l S, Off's" respectively.
By the late 1880s, Johnson, Rees & Winans were primed to build a larger building. In 1876, 25-year-old Daniel Kyger opened a tobacco store in Walla Walla. Two years later he entered into employment at Johnson, Rees & Winans where he proved to be a most industrious employee. At some point Johnson took himself out of the business and it became Rees & Winans. In 1889, Rees & Winans sold their business to Daniel Kyger, who, as a penny-wise employee of some eleven years, had saved enough to buy the store. Kyger took on Frank Foster as his partner, and Kyger & Foster became a highly successful store dealing in dry goods, clothing, and women's furnishings. Winans went on to form the Farmers Savings Bank, where he served as president until his death in 1917.
In early 1889, architect George Washington Babcock was retained to design the new building for Rees & Winans, but sadly Rees died in July just before construction began. His widow, Augusta, took up the cause and worked with Winans to see that the building was put up as planned. It is fascinating, probably more than prescient of the artist, to observe that in an 1889 birds eye view of Walla Walla can be seen the as yet unbuilt new Rees-Winans Block prominently placed where it was to be built. This was a form of civic boosterism that was rampant in western towns in order to encourage people to move west. In fact, the Sanborn Fire Map released in September 1890 noted that Lot 9, Block 1 was still "under construction."
Rees's widow, Augusta, undertook the management of her late husband's financial affairs and in 1896 constructed the mansion that survives at 260 East Birch Street with its four two-story Roman Ionic columns at the entrance. According to W D. Lyman, Augusta Rees designed the house largely by herself, and she lived there until her death in 1920.
Likely Winans' interest in the new building was to create a magnificent space for his new bank. During construction of the new Rees-Winans Block the Farmers Bank was housed temporarily across Main Street in the 1879 Paine Building. Upon completion, the bank occupied the corner portion of the building, with Kyger & Foster taking up residence in the larger "L" shape portion of the ground floor with entrances on both Main and 2nd Streets. In an article titled, "An Elegant Establishment," the Daily Statesman of October 31, 1890 reported the following.
Kyger & Foster, the popular merchants, have established themselves in their new and elegant quarters in the Rees-Winans building. The store is roomy and well-fitted and furnished, making it one of the neatest merchandizing establishments in the city. The main entrance is on Main street, one door east of the Farmers Savings Bank. The first room, opening on Main street is devoted exclusively to dry and fancy goods, of which a large new stock has just been placed upon the shelves. In the rear of this room, with an entrance from Second street, is a large grocery and canned goods department, stocked from ceiling to floor with everything to be found  in a well-appointed grocery store. The rooms are heated by steam and have all the latest appointments for the accommodation of customers.
George Babcock was born in Providence, RI in 1832. At the age of 14 he moved to the then-frontier of Illinois where he followed various trades, learning the art of carpentry. In 1850, he caught "gold rush fever" and moved to California where reportedly he had considerable success over the next ten years. He settled in San Francisco in 1860 and took up the trades of builder and architect; his architectural training, if any, is unknown, but it is reported that he designed a number of prominent buildings in that city. In 1884, he moved to Spokane, and the following year he settled in Walla Walla, a move that resulted from his having been commissioned to design and supervise construction of the new Washington State Penitentiary, that consisted of a modest collection of grim buildings, befitting a penal institution of the period, in no way redolent of the florid architecture in which he had been immersed in San Francisco.   Later he served as a trustee of the Farmers Bank, was on the City Council in 1899 and was mayor in 1901. Upon completion of the Rees-Winans Block in 1890, Babcock located his architectural practice in the building at least through 1893.
Babcock furnished the designs for the courthouses in Pendleton, Colfax and Lewiston, McMinnville and Oakland, as well as buildings for the State University at Moscow. In Walla Walla, he found a number of commissions following the 1887 fire, designing the old Paine School (1893), the Baker Boyer Bank Building (1890) and the Stencil Building (1889) that bore some similarity to the Rees-Winans Building of the same year. The first three buildings have been demolished, and for all practical purposes the Rees-Winans Building in its 1951 rebirth as the Jones Building is beyond recognition as a work from Babcock's drafting table. Thankfully, his most impressive work, the Whitman Memorial Building of 1899, is extant on the Whitman campus. Babcock died in Walla Walla in 1907.
At the time of its construction, it was reported in newspapers that Babcock's design for the Rees-Winans Block emulated buildings he had either designed or of which he had been aware in San Francisco; that was probably an apt appraisal. Indeed, several buildings in Washington can be seen to bear a resemblance to the Rees-Winans Block, including the Yesler-Leary Building in Seattle, designed by W. E. Boone in 1883 and destroyed in the Seattle fire of June 6, 1889, and the Hastings Building in Port Townsend, designed by Elmer H. Fisher in 1889, extant but missing its conical roof over the corner oriel or tower, a loss also inflicted on the Rees-Winans Block in later years.
The Rees-Winans Block was arguably Babcock's least constrained creation in Walla Walla, a veritable ragbag of architectural styles of mid- to late-19th century architecture, best described as picturesque eclecticism or simply high Victorian. This is not to disparage it; indeed, it must be viewed in the context in which it was commissioned. Walla Walla was still very much a small frontier town in 1889 compared with larger eastern cities and even the nearby sizable cities of Spokane, Portland and Seattle. Rees and Winans had gambled at risk to themselves in settling here, had succeeded against great odds, and it is only natural that they wanted a splendid building as testament to their prosperity – and perhaps to parade Walla Walla to the rest of the country as an up-and-coming town in which to settle and live.
The completed building stood three stories in height, its greatest expanse facing 2nd Street. Six bays or, more correctly oriels, lined the 2nd Street façade, while the narrower Main Street façade had but two. The crown of the building was a rounded oriel at the corner of 2nd and Main that appears to have extended the building's height approximately 25 feet above the roof. This tower-like projection displayed a band of three oiel de Bouf (bulls eye) windows encircling it, and was capped by a tall convex cone roof that in turn was surmounted by an onion dome cupola containing a band of swirls encircling it from its base to its top. Visually, this was a stunning creation, certainly the eye-catching feature of the building.
Each of the nine oriels had pairs of double-hung windows facing outward at the second and third floors with a single double-hung window on each side. Rather than a simple cornice at the roof level, a faux mansard roof supported by machine-sawn brackets topped each oriel. This area is heavily ornamented, but from existing photographs it is difficult to tell whether it is based on any classical forms or rather late 19th-century machine-made embellishments. Fenestration of the projecting oriels was elaborate including a fairly ornamented type of stringcourse with a small triangle or pediment at the middle of each of the oriels.
The street level was less complicated. A round arch entrance to the bank was placed diagonally at 2nd and Main. Entrances to Kyger & Foster can be seen at the far right of the Main Street façade and the far left of the 2nd Street façade. Some of the supporting columns at this level may well have been cast iron, but it is not possible to determine with certainty from photographs. Likewise the surface of the two upper floors, that appear to be stucco cement plaster over brick, with the projecting oriels most likely of wood. The entrance to offices on the upper floors may be seen at the left third of the 2nd Street façade. The oval in the stepped triangular crown at roof level above this entrance read Farmers Exchange in raised block letters (it may have read Rees-Winans Block originally).
Upon completion of the Rees-Winans Block, George Babcock located his architectural practice in the building, although he only remained at that location for about three years. On June 25, 1890, 50 citizens (as described by W. D. Lyman, but they were most assuredly all male) gathered in the council chambers to organize a club for the purpose of promoting sociability and fellowship among its members. These were influential citizens of the time, including Frank Foster of Kyger & Foster. From this meeting, the Walla Walla Club was born, with rooms on the third floor of the Rees-Winans Block, consisting of billiard, pool and card tables and a reading room. The Union-Bulletin on June 4, 1873 noted in the caption to a photo of the Rees-Winans Block that was featured in their "Remember When?" series that at one point there were apartments on the second and third floors.
William Winans died in 1917, and in 1919 the Pacific Building & Engineer reported that the "Walla Walla Farmers Union has purchased the Rees-Winans bldg. and will remodel same into a bus bldg. [illeg.] and farmers agency qrs." On May 18, 1939, Permit 9077 was granted to the Farmers Agency to "remove cupola and finial" from the corner oriel. O. D. Keen, a prominent Walla Walla contractor, was given the contract for this job, estimated to cost $125. No reason was given for removal of the convex cone roof and onion dome, but from 1939 until the 1951 remodeling of the entire building the corner round oriel sported a flat roof.
On August 9, 1943, the Rees-Winans Block, or more correctly Farmers Exchange as it was then known, was sold to Verna Dwelley Jones who had been widowed the year before.
Over the ensuing seven years, most legal filings included routine leases and renewals of leases. However, the building's future was sealed on March 12, 1951 when Mrs. Jones was issued Permit 3090 to remodel the Rees-Winans Block/Farmers Exchange, at a cost projected to be $50,000. H. E. Gross was awarded the contract. Plans drawn by Williams & Myers, Designers, of College Place, dated January 29, 1951 and June 4, 1951 would eradicate completely the exterior of this landmark building of 60 years and fashion a stark modern new look, that was probably felt would be more attractive to businesses and potential occupants of office space on the two upper floors.
The Union-Bulletin reported on February 27, 1951:
Remodeling and "face lifting" operations of the former Farmers Exchange building  at the northeast corner of Second and Main, earlier known as the Rees-Winans building , will remove a potent reminder of the flamboyant nineties in Walla Walla.
It was in 1890 that the present three-story building was erected. G. W. Babcock, later to become mayor, was the architect. He patterned it after structures in the Mission district of San Francisco. The bay windows, which have remained to the present day, were installed to provide additional daylight for the doctors and dentists of that early day who used both the second and third floors.
Mrs. Charles F. Jones purchased the building in more recent years. It is the Jones family that is remodeling the structure.
The decade of the 1950s, one must remember, opened the floodgates to "urban renewal," a euphemistic term that in hindsight might better be referred to as "urban wreckage."  This movement swept across the country over a span of two decades, destroying many hundreds, if not thousands, of buildings of architectural merit simply because they were old and viewed as beyond usefulness. The irony is that many of those destroyed were replaced by asphalt parking lots in worship to America's greatest and most prolific creation, the automobile. Regrettably, Walla Walla is not blameless in following this trend, as witnessed by the many gaps along Main Street, some filled with for the most part ho-hum newer buildings.
The selection of Williams & Myers design team was unusual. Neither man appears to have been a licensed architect. Tom O. Williams owned Williams Lumber Company in College Place, and Richard B. Myers was a designer for Williams Lumber Company. Neither is listed as an architect in city directories of the time. The complete set of working plans for the 1951 remodel, however, certainly point to the fact that they possessed an advanced degree of architectural knowledge (if not inspiring design), and the plans surely were approved by city building inspectors of the time. All of the drawings for the remodel refer to the building as Exchange Building; however, at completion it was given its new name Jones Building.
As can be seen in a series of photographs probably taken by photographer Earl Roberge during the remodel, some of which are reproduced below, the two façades of the Rees-Winans Block/Farmers Exchange were divested of all nine oriels and all elaborate cornice work. The height of the windows of the upper two floors was significantly reduced and a horizontal flow was emphasized by stringcourses above and below the windows at both these levels. The new cornice was stark and lacking in interest. The entire façade was clad in smooth stucco plaster cement, that remains to date.
The first floor was faced with marble on part of its 2nd and Main façades containing show box windows for merchants to display their wares (only three remain on 2nd Avenue). Expansive areas of floor-to-ceiling glass were located at the building's corner and at the north extremity of the 2nd Avenue façade, the latter having been occupied by Sporleder's Men's Wear prior to the 1951 "face lift." Sporleder's relocated to the important corner of the building and expanded considerably after the remodel was completed. In May and June 1960, Walla Walla architect H. Brandt Gessel, AIA designed further alterations for the Main Street façade of Sporleder's that actually enhanced the appearance of this corner. Unfortunately, his alterations have been replaced by rather slapdash changes. (Mr. Gessel was architect for the two non-contributing 1949 south additions to Henry Osterman's YMCA building on South Spokane Street, and he was also defendant in a lawsuit involving copyright infringement brought by a Portland architect, although the judgment against him was reversed in 1983 by the U. S. Court of Appeals, 9th Circuit.)
And so we of a later and arguably more enlightened generation are left to rue the loss of this once-flamboyant showpiece of Walla Walla. Verna Dwelley Jones, in 1951, probably did what she thought was best for the building's future (and perhaps her family's financial interests) in reconfiguring the Rees-Winans Block into the lackluster building that occupies a corner of prime downtown property. One wonders if it might have been best to raze the building entirely and replace it; however, the difference would be the same and the grand old building would not be there.
References
Whitman Archives
Sanborn Fire Maps, 1880-1905
City Directories, various years
Lyman, W. D., Lyman's History of Old Walla Walla County, Vols. 1 and 2, Chicago, 1918
Charles and Patricia Phillips
John Suttner
Chris and Cameron Kontos
Kammy Hill, City Clerk
Susan Monahan, Vice-President and Director, Kirkman House Museum
Denny Lease, Pioneer Title Company
Joe Drazan, Bygone Walla Walla
Hines, Rev. H.K., D. D., An Illustrated History of Washington State, Chicago, 1894
University of Washington digital photo collection
Washington and Idaho Gazeteer Business Directory, 1884-85
Gilbert's Historic Sketches, 1882
Names and Addresses of Living Bachelors and Masters of Arts, and of the . . . Holders of Honorary Degrees of Harvard University, 1910
Gilbert's Historic Sketches of Walla Walla, 1882
Bennett, Robert A., Walla Walla: Portrait of a Western Town, 1804-1899, Pioneer Press Books, 1980
The California Architect and Building News, San Francisco, January 1882
Andres, Penny, Walla Walla: Her Historic Homes, Vol. 1, 1991
geneologytrails.com
Pacific Building & Engineer, Vol. 25, 1919
Hand-Book Almanac for the Pacific States for the Year 1864, San Francisco, 1864
Clark, William S., Pioneer Experience In Walla Walla, 1933
http://ww2020.net/wp-content/uploads/rees-winans-c1930.jpg
413
576
Steve Wilen
http://ww2020.net/wp-content/uploads/2011/12/ww2020_logo.png
Steve Wilen
2017-01-03 10:55:22
2017-01-03 10:57:54
History of 6½ North 2nd Avenue (formerly 1-3 East Main Street), Walla Walla, WA