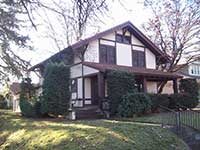 Abbreviated Property Description:
A partition of Section 21, T7, R36, Clinton/University Street.
Title History:
Washington Territory was created in 1853. The new legislature created Walla Walla County in 1854 which stretched from the crest of the Cascade Mountains to the crest of the Rocky Mountains in the present states of Washington, Idaho and Montana. In 1855 a treaty council was held on the banks of Mill Creek at the present site of Walla Walla to purchase land from the Indians. The Yakimas, Cayuses and Walla Wallas were dissatisfied with the treaties and war followed. Missionaries, former French-Canadian employees of the Hudson Bay Company trading post at Wallula, and soldiers at the military Fort Walla Walla were the primary European occupants of the area prior to 1859 when it was opened for settlement. All of the land in this area was acquired from the Cayuse and Walla Walla Indian tribes by the U.S. Government in a treaty signed on June 9, 1855 in Walla Walla, and ratified on March 8, 1859 by President James Buchanan.
Walla Walla was originally laid out by County Surveyor H. H. Case in 1859, before its formal incorporation as a city in 1862, as a one-quarter mile square with its eastern side centered on the point where Main Street crossed Mill Creek (at roughly the point where it does now).  The City of Walla Walla received  a Trustee Townsite from the U. S. Government which consisted of 80 acres issued on July 20, 1869 by the Vancouver, W.T. District Land Office.   Main Street originally followed the old Nez Perce Indian Trail. Consequently the streets leading off of it were at right angles to it, and were not in a north-south orientation. This was corrected as the city moved eastward which gave Walla Walla its peculiar street pattern with the three street intersection at Palouse, Boyer and Main Streets. To the original plat, additional parcels were annexed from time to time, usually bearing the name of the land owner of record at the time the additions were made.
The earliest land transaction in this part of Walla Walla was on May 23, 1863 when John Haley sold 12 properties to William H. Patten and wife for $100. On January 20, 1864 William H. and Elizabeth A. Patten  sold 80 acres to H. P. Isaacs for $2000. Henry Perry Isaacs was a dominant figure in the development of southeast Washington. In 1862 he built the North Pacific Mills in Walla Walla. He subsequently became the foremost miller on the Pacific coast and developed an export market to China for his flour.
On September 21, 1881 H. P. and Lucie Isaacs gave a lease to J. C. Isaacs for the water rights to supply water to the city of Walla Walla. On September 11, 1886 H. P. Isaacs transferred his water rights to the Walla Walla Water Company. On June 23, 1894 Lucie Isaacs signed a Quit Claim Deed giving all her interest to Henry P. Isaacs, her husband, for $1. On March 28, 1896 H. P. and Lucie Isaacs sold their extensive water rights to Miles C. Moore, W. W. Baker and H. C. Baker, Trustees for the Dorsey S. Baker Estate, for $20,000. On November 28, 1899 the trustees sold the water rights to the city of Walla Walla for $1. H.P. Isaacs died in 1900. On March 18, 1901 A. J. Patten gave a statement to the heirs of H. P. Isaacs to clarify the 1864 deed. On March 30, 1901 the City of Walla Walla passed an Ordinance specifying the route of water from the Isaacs mill race. On November 11, 1901 Bessie (Isaacs) Savage, Charlotte M. (Isaacs) Doheny, Grace Isaacs, J. P. Isaacs and Edwin Isaacs signed a Quit Claim Deed giving all their interests in this property back to their mother, Lucie. On February 25, 1908 Lucie Isaacs, a widow, gave a deed to Grace G. Isaacs, a spinster, for this 120´ by 120´property on Clinton and University Streets. This deed was corrected the following month to exclude all subterranean water rights. On November 8. 1921 Grace Isaacs sold this home to W. R. and Zola Helen Love for $10. On January 26, 1923 W. R. Love leased this property to Charles Peach for one year at $50 a month. On March 26, 1923 W. R. and Zola Love sold this house to Adena M. and G. M. Nichols for $10 including a $3000 mortgage. At this time G. M. Nichols signed a Quit Claim Deed selling this property to Adena Nichols for $10. On July 30, 1924 Nichols sold this property to Theresse Berlin, widow, including mortgage and taxes. On July 6, 1928 Theresse Berlin sold this property to W. O. and Ella Scott for $1 including a mortgage. The mortgage was paid in 1934. On May 4, 1940 Ella M. Scott signed a Quit Claim Deed transferring this property to  Frank M. Scott and Martha B. Scott. On January 17, 1942 Frank and Martha Scott and Ella Scott sold this property to Cecil R. Ripley. On October 29, 1943 Cecil R. and Dorothy C. Ripley sold this home to Gerwyn A. and Elsie K. Jones for $10. After 69 years the Gerwyn A. Jones Estate sold this classic home to Benjamin A. and Jodi M. Hummer on May 18, 2012.
Occupant History:
Despite the fact that Grace Isaacs bought this property from her mother and obtained a building permit in 1908 she apparently never lived here. The city directories from 1907 through 1917 list her residence as 553 Boyer, the same as her mother's. In 1918 she lived at 214 E. Birch. There was no reverse directory until 1931 so it is not known who lived here at that time. In 1921 W. R. and Zola Love lived here. He was the president of California Spray Company. In 1923 G. Milton and Adena M. Nichols lived here. He was the agent for Pacific Mutual Life Insurance Company. In 1925 Theresse H. Berlin, the widow of Frank A. Berlin lived here. From 1929 through 1935 William O. and Ella Scott lived here. He ran the Scott-Buick Company. In 1937-1939 the house was rented to Otto T. Wedemeyer, an instructor at Whitman College. It was vacant in 1941. The owners at that time were Cecil and Dorothy Ripley who lived at 1235 Alvarado Terrace. In 1946 Gerwyn and Elsie Jones purchased the house, raised their family and lived in it for the rest of their lives. Gerwyn was President of Cox-Jones Insurance Agency.
Construction of the Building:
The Walla Walla County Assessor's office lists a construction date of 1906. However, Grace Isaacs, property owner, took out Building Permit #116 on April 6, 1908 to build a two-story frame dwelling on this property for $2600. The builder was J. L. Cunningham. Penny Andres, in her Walla Walla Her Historic Homes, Vol. III, credits Greene and Greene Architects of Pasadena, California for the inspiration for this popular "California Craftsman bungalow." Perhaps it would be correct to say it is "in the style of Greene and Greene." The University of Southern California Greene and Greene Virtual Archives has extensive listings of Greene and Greene houses. There appear to be no houses designed and built by these architects in Walla Walla. It is apparent that this home was built in 1908 by owner Grace Isaacs; J. L. Cunningham was the contractor.
References:
Ancestry.com
Andres, Penny, Walla Walla Her Historic Homes, Vol III, 1991. p.42.
Bennett, Robert A., Walla Walla  A Town Built to be a City 1900-1919, Pioneer Press,  Walla Walla, 1982.
Building Permits: Whitman College Penrose Library Archives.
Lyman, Professor W.D., An Illustrated History of Walla Walla County  1901.
Sanborn Fire Maps: 1884-1905 (with updates until 1950).
University of Southern California Greene and Greene Virtual Archives
Walla Walla City Directories: 1880-present (various publishers–not all years).
Whitman College Archives.
Mary E. Meeker
;
Walla Walla 2020 Research Service
PO Box 1222, Walla Walla WA 99362
July, 2012
http://ww2020.net/wp-content/uploads/572_University.jpg
150
200
Mary Meeker
http://ww2020.net/wp-content/uploads/2011/12/ww2020_logo.png
Mary Meeker
2012-07-01 16:33:25
2017-02-05 12:18:07
History of 572 University Street, Walla Walla, WA