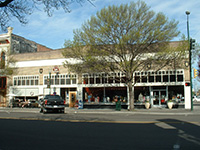 Property Description:
Beginning at the point on intersection of the Northwest line of East Main Street with the Southwest line of Colville Street in Block D of Cain's Addition to the City of Walla Walla, County of Walla Walla, Washington, according to the official plat thereof of record in the office of the Auditor of Walla Walla County; thence North 52º53' West and along said Southwesterly line of Colville Street, 135.83 feet; thence South 37º07' West, parallel to said Northwesterly line of East Main Street; 86.78 feet; thence South 52º53' East, parallel to said Southwesterly line of Colville Street, 135.86 feet to a point in the Northwesterly line of East Main Street; thence North 37º07' East along said Northwesterly line of East Main Street a distance of 87.78 feet to THE POINT OF BEGINNING.
Title and Occupant History:
Walla Walla was originally laid out by surveyor H.H. Chase in 1859, even before its formal incorporation as a city in 1862, as a one-quarter mile square oriented N-S, E-W and with its eastern side centered on the point where Main Street crossed Mill Creek (at roughly the point where it does now). To this original area, additional parcels were annexed from time to time, usually named after the land owner of record at the time the additions were made.
This property is part of the oldest U.S. Patent in Walla Walla. On September 10, 1861 Andrew J. Cain and Cornelius Kelly filed a patent on 160 acres under the Script Warrant Act of 1855 northeast of the original City of Walla Walla town site. During 1862, A. J. Cain surveyed Cain's Addition to the City (this survey was rerecorded on May 11, 1865, following a disastrous fire which destroyed most of the county's earlier records).
A. J. Cain was a lawyer in Walla Walla between 1860 and 1873. He was elected on the Democratic ticket as prosecuting attorney of Walla Walla County in 1868. He later moved to Dayton and in September 1874 began publication of the Dayton News, a weekly Democratic newspaper. He became known as the "Father of Columbia County" as a result of his leading role in the formation of that county.
There were many early legal transactions involving this property. This block is cut by Mill Creek, creating a variety of odd-shaped lots with complex legal descriptions. Early owners included John T. Vincent and Sarah Scanlan (who paid $200 for 6 parcels in 1862); Joseph L. Shute; William K. Ish  ($450 for half of 6 parcels); Thomas Evans; James McAuliff, Joseph Raferty; Henry McNalley ($200 for 65' x 105'); Thomas Page ($200 for 4 parcels) and A. W. Robinson ($400 on 4 parcels) all before 1870. Some of these transactions may have been for financing rather than purchase.
On December 3, 1870 John Lux purchased 4 parcels "on the northwest corner of Nez Perce (now Main Street) and Colville" for $1600 from Joseph Raferty. These parcels included 162 feet on Colville to Mill Creek and then up the creek 38 feet. This price probably indicated the first evidence of any structures on this block. The 1884 Fire Map shows a grocery store on this corner plus four dwellings on the rest of the block. John Lux lived in one of the dwellings and operated a lumber yard at the corner of Rose and Spokane Streets in 1885. In 1889 Stephen Quinn operated the grocery store and lived there also. His father Thomas Quinn was a saddle and harness maker at Second and Main whose residence was at the corner of Rose and Colville Streets. Lux purchased more parcels until March 11, 1887 when he gave a $8500 Bond for Deed to Harry and Hattie Krutz on 7 parcels. Krutz owned extensive property in Walla Walla County, but no residence was located for him. Fire maps in 1888, 1889 and 1890 continue to show a grocery store and several dwellings. In 1893 Richard Ludwig was the grocer at 61 Main Street, with a residence at 414 E. Main. By 1894 there was a furniture store in a significant new building  on the adjoining property at 49 and 53 E. Main, a dwelling at #57 and the grocery store on the corner. Dwellings were also located on the Colville side of the block. Street numbers seemed to change during this time to add to the confusion.  In 1900 Mrs. Susan Hall operated a restaurant and lodging house at 61 E. Main. Larsen and Smythe Saloon was also listed at #61 at this time.  A music store (#51) and Bean's Furniture store (#47) had joined the block to the west of this property by this time. Annie P. (McAuliff) Clowe was the daughter of an adjacent early land patent holder. She acquired a part of the Cain block from her mother. Her husband William B. Clowe was an homeopathic physician  with an office at 9 Colville and a residence at 15 Colville in 1900.
Mr. Krutz leased a storeroom at 55 E. Main to C. A. Mott who opened the Mott Candy Co. at 55 E. Main in 1902.  Thomas Corn ran a restaurant and lodging at 57 E. Main in 1902. In 1903 Mr. Krutz signed a lease with Andrew Larsen and George McWhirk to operate Larsen and McWhirk Saloon at #61.  By 1904 the candy store was gone, replaced by a billiards room. In 1905 the lease on #61 went to Henry Van Buren's Saloon with Mr. Van Buren's residence at #59 1/2. A. A. Richardson's Restaurant was at #57. By 1905 the block on Main Street between Mill Creek and Colville Street was filled with storefronts. By 1910 the saloon at #61 was run by Samuel B. Hinton and Jesse E. Williams. In 1911 Mr. Krutz leased a storeroom at #61 to W. C. Adams who ran a drug store  at #53 in the building west of this one. By 1915 there were no drug stores, restaurants or saloons in the block. The Golden Rule Dry Goods (forerunner of J.C. Penneys) was at #45 on another property in this block. C. J. Breier's general merchandise store was in the Quinn Building at First and Main where it had been since 1912.
On June 12, 1919 Harry Krutz sold this property including a lease to Motor Sales Company (Dodge dealership) to Bessie and Benjamin Grote, a local farmer with a grand home at 221 E. Birch.  On May 5, 1926 Grote sold this property to C. J. Breier for $40,000. C. J. Breier, Jr. of Portland announced the construction of a new store in Walla Walla on June 2, 1926. His father had founded the first store in the chain in Lewiston, Idaho in 1905. This would be their 56th store. The family had a reputation for owning and operating fine facilities. Harold Crawford, Walla Walla architect, designed  the new Walla Walla store with a main floor and a balcony. E. P. Breier, brother of C. J. Breier, Jr. was to provide close supervision for the construction.  B. L. Lorang would continue to manage the store. They signed a party wall agreement with A. J. Naimy and Harry Winget at Garden City Furniture.
Following construction of the present building Breier opened a "clothing, shoes, ladies' ready-to-wear, dry goods and notions" store at #61. There was no restaurant at that time.  In 1931 the Hendrick and Zaring Sport Shop was at #57. By 1933 Sports, Burrows Adding Machine Company and Percy Aldrich, DVM were at #57. In 1935 these had been replaced by Russell's Candies. C.J. Breier's continued at #61 for 11 years until 1937 when C. J. and Elizabeth Breier sold the property to Earl P. Breier for a stated amount of $1. The Electric Supply and Fixture Company then occupied #61. Peggy's Beauty Shop was at #59 in 1939.  On March 7, 1945 Earl P. and Anna Pearl Breier sold this property to Harry and Laura Winget, co-owner of Garden City Furniture. In 1946 #55 was occupied by the Department of Interior Bonneville Grand Coulee Power Association. At #57 was the Spec. Cafe and at #59 was Peggy Yarnell's and #61 the Electric Supply. In 1948 the Red Apple Restaurant was opened at #57 by A.J. Mathison, George Gross and Sam Raguso. It was advertised of "Walla Walla's Ultra Modern Cafe, Catering to People Who Care 7 A.M. to 1 A.M." Beauty Art was at #59 and the Electric Supply remained at #61 until 1953. The S.E. Washington Fair Association and the Walla Walla Feed Directors Association shared space with the restaurant. In 1954 Herb Himes Hub electrical appliances (and Henry Gies vacuum cleaners) occupied #61. In 1956 DeBunce Studio (photography) occupied #59. These occupants all continued until 1962 when #59 became  vacant. On March 21, 1961 Harry Winget sold this property (135.83 feet x 86.78 feet) to Herb Himes for $107,250. In 1968 Himes transferred his interest in the area behind the store to the City of Walla Walla in exchange for the city covering Mill Creek to create a parking lot. On November 30, 1975 Herb Himes sold his property to Whitman College for $95,888.33. The Hub continued to operated under the ownership of Phil and Sharon Van Houte and Bev and Charles Balmer.  Whitman College assigned their contract to Samuel Lewis Raguso for $117,770. Sam Raguso's estate transferred title on August 26. 1980 to Alan, Rodney and Sam Raguso who sold the property to Ronnie and Terry Tucker on November 16, 1982 for $150,000. China and Things started operations as a gift shop on the balcony at The Hub in 1981. Robert Hanson was the manager of the Red Apple Restaurant and Lounge in 1983.  In 1989 the space at #61 was vacant. On January 17, 1991 the Tuckers sold the property to Greg and Gwen Baden for $165,000. On January 28th the Badens were granted a gambling license. In 1996 and 1999 there was city action for failure to pay gambling taxes. During these years the property on the corner was occupied by computer networking, telephone paging,mortgage and advertising businesses. On October 1, 1999 the property was sold by the Badens to Thomas and Amy Glase and Mark T. and Paulette R. Perry for $400,000. They renovated the lower level of #61 and opened Brickstone Interiors.  On September 26, 2001 Thomas and Amy Glase signed a quit claim on their interest in the property to Mark and Paulette Perry. On this same day the Board of Trustees of Whitman College signed a fulfillment deed with the Badens. Baden then gave a fulfillment of contract to the Perrys. On November 7, 2002 the Perrys sold this property to Paul Tomkins and Greg Flowers, doing business as Tomkins Flowers LLC, for $550,000. They did extensive renovation of the property for their land surveying business. Brickstone Interiors continues to occupy the corner at #61 at this time while Coffee Connections Cafe has established themselves in the old Red Apple at #57.
Construction of the Buildings:
The facade of the building make it appear that 57-61 E. Main is one building. However, the view from the rear of this property shows that the portion of the building on the west is shorter than the eastern portions, and probably of earlier origin.  The 1905 Sanborn Fire Map shows a building at #53-55 ("Billiards") which is shorter length than the adjacent "Garden City Furniture" (sign still visible on the east side of the Walla Walla Clothing Store building). This building did not appear on the 1884 fire map. No building permits exist prior to 1907. It is possible that C. J. Breier left a portion of that pre-1905 building standing but incorporated it in the facade when he constructed his new building on the corner in 1926. The Walla Walla Daily Bulletin reported on October 5, 1926 that C.J. Breier had just completed the building at the corner of Colville and Main Streets at a cost of $90,000 including the land, which had cost $40,000. Therefore, we conclude that a building construction date of 1926 is accurate for the major portion of the building, not the 1930 date recorded at the Assessor's Office.
References:
Andres, Penny, Walla Walla Her Historic Homes, Vol. II, 1993
Bennett, Robert A., Walla Walla  A Town Built to be a City 1804-1899, Pioneer Press,  Walla Walla, 1980.
Bennett, Robert A., Walla Walla  A Town Built to be a City 1900-1919, Pioneer Press,  Walla Walla, 1982.
Building permits: Whitman College Penrose Library Archives.
Gilbert, Frank T.; Historical Sketches Walla Walla County, Whitman County and Garfield County, Washington Territory, 1882.
Lyman, Professor W.D., An Illustrated History of Walla Walla County  1901
Sanborn Fire Maps: 1884-1905 (with updates until 1950)
Walla Walla City Directories: 1880-present (various publishers–not all years)
Walla Walla County Assessor's records.
Walla Walla Daily Bulletin, June 2, 1926 and October 7, 1926.
Mary E. Meeker Walla Walla 2020 Research Service PO Box 1222, Walla Walla WA 99362 May, 2004
http://ww2020.net/wp-content/uploads/57_E_Main.jpg
150
200
Mary Meeker
http://ww2020.net/wp-content/uploads/2011/12/ww2020_logo.png
Mary Meeker
2004-05-01 17:45:37
2017-02-05 12:23:07
History of 57-61 East Main Street, Walla Walla, WA - C.J. Breier Building