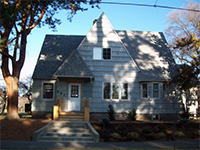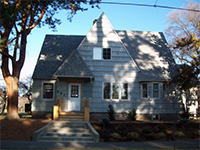 Legal Description
Brookside Park Addition, Block 1, Lot 15, Parcel 360721500115
Title History
Washington Territory was created in 1853. The new legislature created Walla Walla County in 1854, which stretched from the crest of the Cascade Mountains to the crest of the Rocky Mountains in the present states of Washington, Idaho and Montana. In 1855, a treaty council was held on the banks of Mill Creek at the present site of Walla Walla to purchase land from the Indians. The Yakamas, Cayuse and Walla Wallas were dissatisfied with the treaties and war followed. Missionaries, former French-Canadian employees of the Hudson Bay Company trading post at Wallula, and soldiers at the military Fort Walla Walla were the primary European occupants of the area prior to 1859, when it was opened for settlement. The U. S. Government, in a treaty signed on June 9, 1855 in Walla Walla and ratified on March 8, 1859 by President James Buchanan, acquired all of the land in this area from the Cayuse and Walla Walla Indian tribes.
Walla Walla was originally laid out by County Surveyor H. H. Case in 1859, before its formal incorporation as a city in 1862, as a one-quarter mile square with its eastern side centered on the point where Main Street crossed Mill Creek (at roughly the point where it does now). The City of Walla Walla received a Trustee Town site from the U. S. Government that consisted of 80 acres, issued on July 20, 1869 by the Vancouver, W. T. District Land Office. Main Street originally followed the old Nez Perce Indian Trail. Consequently, the streets leading off of it were moved eastward, which gave Walla Walla its peculiar street pattern with the three-street intersection at Palouse, Boyer and Main Streets. To the original plat, additional parcels were annexed from time to time, usually bearing the name of the landowner of record at the time the additions were made.
Henry P. Isaacs was born in March 1822 in Pennsylvania. He and his brother, Josh, followed the 1849 gold rush to California, later moving north to Oregon. Henry became a successful merchant in The Dalles, Oregon in 1858, dispatching a William McWhirk to Walla Walla, W. T. that same year to open a store here. He married his wife, Lucie, around 1860.
In 1862, Isaacs relocated to Walla Walla and established North Pacific Mills. His brother, Josh, operated a store in Walla Walla during the 1860s. Henry Isaacs served in the Washington Territorial legislature in 1885–1886, introducing a bill that established the Washington penitentiary in Walla Walla. He started several flour mills in eastern Washington, Idaho and Oregon (1858 in Ft. Colville, 1862 in Walla Walla, 1864 in Boise, 1865 in Middleton, 1883 in Prescott, and 1898 in Wasco, OR). W. D. Lyman referred to him as "the foremost miller on the Pacific coast" in his History of Walla Walla County (W. H. Lever, publisher, 1901, p. 313).
The Isaacs mill in Walla Walla was located on the parcel that currently is Wildwood Park; water to furnish power for the mill was diverted from Mill Creek via a mill race. In addition, Isaacs was instrumental in developing the city water system, growing wheat in this area and establishing flour mills throughout the Northwest and in Asian countries.
Henry Isaacs also successfully experimented with almost every variety of fruit and vegetable grown in the northern temperate zone and was a booster for Walla Walla, encouraging rail lines in the valley.
Henry and Lucie Isaacs owned 80 acres in Sections 20 and 21, Township 7 N., Range 36 E.W.M. now defined approximately by Whitman College and Division Street, Isaacs and Boyer Avenues; this land was purchased from William and Elizabeth Patten for $2,000 on January 20, 1864, and early maps define it as Isaacs Addition. Reportedly, the Isaacses initially built an adobe brick house in 1865 on what is now Brookside Drive. Twenty years later, they built their Stick Style/Jacobean home at 100 Brookside Drive, incorporating, according to Penny Andres in the first of her three-volume Walla Walla: Her Historic Homes (General Printing, publisher, Walla Walla, 1991, p. 18), the earlier adobe brick house into their much larger home. The Isaacs had five children.
Henry Isaacs died intestate in 1900.  Lucie Isaacs, his widow, became the executor of his estate.  Evidently in an effort to make the settling of the estate less complicated, the Isaacs children filed a Quit Claim deed in favor of their mother on November 11, 1901. The Brookside Park Addition to the City of Walla Walla was subsequently platted in 1905.
Property and Occupant History
The first recorded document for the property that is now 561 University Street is a mortgage filed by Henry P. and Lucie Isaacs in favor of Dr. Dorsey S. Baker for $5,000 on April 7, 1868. A second mortgage from Henry P. and Lucie Isaacs to Edward S. Kearney was filed November 1, 1869 to secure $6,667. The Isaacses subsequently filed two other mortgages in favor of Mr. Kearney, to secure $7,650 on June 1, 1871 and to secure $10,000 on July 1, 1871.
The Isaacses mortgaged the property on September 7, 1885 to Dundee Mortgage & Trust Investment Company, Ltd. (presumed to be in Scotland; see Mortgage filed May 17, 1910) for $6,000 and consideration, amount to be secured $8,989 at 10% interest. This act released a mortgage on the property held by The London & San Francisco Bank, Ltd. to Henry P. and Lucie Isaacs on September 8, 1885.
A mortgage for $170 from William T. Turner, an unmarried man, to J. K. Edmiston was filed November 29, 1887; that mortgage was satisfied March 25, 1889.
A Quit Claim Deed from Lucie Isaacs to Henry P. Isaacs for $1 was filed on June 23, 1894. On March 28, 1896, a Warranty Deed for $20,000 was filed from Henry P. and Lucie Isaacs to Miles C. Moore, W. W. Baker and H. C. Baker, trustees; a second Warranty Deed for $20,000 was filed by the Isaacses to trustees Moore, W. W. and H. C. Baker on April 10, 1896. On August 26th of that year, a Deed was filed between the Walla Walla Water Company and Miles C. Moore, W. W. Baker and H. C. Baker, holders of the title to water rights, stipulating that neither party had the right to divert or change the mill race (presumably, although not specified in the Deed, from Mill Creek to the Isaacs mill) into a barrel or underground flume pending resolution of the controversy between the two parties.
An Indenture of Deed for $1 was filed by the Right Worthy Grand Lodge of Washington, Independent Order of Odd Fellows, Z. M. Beebe, J. C. Taylor, E. S. Isaacs, Emma Shaw, Anna H. Leuders, trustees to Henry P. Isaacs on July 22, 1898. A Warranty Deed for $1 was filed November 28, 1899 from W. W. Baker, H. C. Baker and Miles C. Moore, trustees, to The City of Walla Walla, a Municipal Corporation.
As mentioned above, Henry P. Isaacs died intestate in 1900. A Quit Claim Deed for $1 was filed March 18, 1901 from the heirs of William H. and Elizabeth Ann Patten, deceased, to the heirs of Henry P. Isaacs, deceased.
A Deed filed March 30, 1901, specifies that the City of Walla Walla ordained a continued right in placing any pipes or flumes within the street or public way known as Fraternity Avenue.
As indicated above, a Quit Claim Deed for $1 from Bessie I. Savage, Charlotte M. Doheny, Grace G. Isaacs, J. P. Isaacs and Edwin S. Isaacs, children of Henry P. and Lucie Isaacs, to Lucie Isaacs, widow of Henry P. Isaacs, was filed November 11, 1901.
A Quit Claim Deed for $1 from the IOOF, R. M. Waters, Grand Master, Louis F. Hart, Grand Secretary, to Lucie Isaacs was filed June 4, 1903.
The five Isaacs children and their spouses filed a second Quit Claim Deed in favor of Lucie Isaacs for $1 on February 5, 1904.
A Partial Release of Mortgage from Mrs. H. M. Stone to Lucie Isaacs, a widow, was filed August 24, 1905. Brookside Park Addition was platted in 1905. An Agreement for Deed for Block 1, Lots 14 & 15 was filed from Lucie Isaacs to Patrick Tierney on October 21, 1907 for $2,200 at 8% per annum. A subsequent Deed between Lucie Isaacs and Patrick Tierney was filed on November 2, 1908 that specified should Mr. Tierney erect a dwelling on said property it shall cost a minimum of $2,500; failure to comply would result in a forfeiture of said property.
A Mortgage of $3,000 from The Alliance Trust Company, Ltd. of Dundee, Scotland to Frank W. and Nellie M. Tierney was filed May 17, 1910. On January 17, 1911, a Deed was filed transferring the property from Frank W. and Nellie M. Tierney to Frederick P. Yenney of Pomeroy, Garfield County for $1 in gold coin. By Deed of April 5, 1912, the property defined as Block 1, Lot 14 was transferred from Frederick P. and Catherina Yenney to Andrew R. Schnebly with a proviso stipulating right-of-way use of a driveway between Lots 14 & 15; the amount was $5,000 — $2,500 cash-in-hand and $2,500 to be placed in mortgage. By Deed of February 23, 1915, Frederick P. and Catherina Yenney sold Block 1, Lot 15 to Albert and Marie Allen of Umatilla County, Oregon for $1,500 cash and assumption of a $3,000 mortgage. A subsequent Deed of March 17, 1915 transferred Block 1, Lot 15 from Albert and Marie Allen to Andrew R. Schnebly for 50 cents, a mortgage of $500 plus taxes owing for 1915. A Deed was filed June 8, 1915 from Albert and Marie Allen to Andrew R. Schnebly for $1,000. A $1 Deed was filed from Frederick P. and Catherina Yenney to Albert and Marie Allen on March 16, 1917 solely to correct an error in the property description on the Deed filed February 23, 1915.
A $1 Warranty Deed of June 28, 1924 transferred Block 1, Lot 15 from Andrew R. and Jessie Schnebly to J. B. Dunham. (John B. and Eliza Dunham resided at 702 Lincoln. Mr. Dunham is listed in the City Directory as a stock buyer. In the 1929-30 City Directory, Eliza Dunham is listed as widow of J. B. Dunham, and subsequent transactions to the Warranty Deed of 1924 list Eliza Dunham as property owner.) On May 28, 1929, A. E. Huff, claimant, filed a lien against Eliza Dunham in the amount of $19.75 plus $5 for the filing fee, for work done on the Dunham home at 702 Lincoln. On December 10, 1929, less than two months after "Black Monday," the stock market crash of October 29, 1929, John W. McGhee, Treasurer, City of Walla Walla, filed a Local Improvement Assessment Deed lien of $508.25 against Eliza J. Dunham, to foreclose on the real property as defined in the lien.
A Lis Pendens, City of Walla Walla vs. every person thought to have owned this parcel over the years (far too numerous to list here), was filed May 2, 1930 for the sole purpose of clearing title to the property.
A Resolution, City of Walla Walla to J. Howard Shubert, dated August 30, 1932, evidently by Warranty Deed cleared title to Block 1, Lot 15 for Mr. Shubert's purchase, the City paying all taxes against the land to satisfy a lien of April 2, 1930.
By Warranty Deed of August 24, 1943, J. Howard and Minnie L. Shubert transferred ownership to Kyle and Lotta McDaniel for $10. A Warranty Deed dated September 2, 1947 transferred the property from Kyle and Lotta McDaniel to Myron L. and Marian (the name is sometimes spelled Marion) G. Harmon for $10 and other valuable consideration. On October 16, 1947, Myron L. and Marian G. Harmon took out a mortgage from Ralph M. and Geraldine Wolf for $3,500. On October 22, 1947, a Satisfaction of Mortgage was filed by Ralph M. and Geraldine Wolf. An undated Probate naming Marion Wolf Harmon was found, but it contained no other information; nonetheless, it establishes a relationship between the Wolfs and the Harmons.
A Deed of Personal Representative, Estate of Marion Wolf Harmon transferred ownership of the parcel to John J. and Eloise Dunn Stuhr for $47,900 on November 1, 1978. A Deed of Trust was signed by John J. and Eloise Dunn Stuhr to Pioneer National Title in favor of First Federal Savings & Loan Association of Walla Walla on November 3, 1978. A Statutory Warranty Deed transferred property ownership from John J. and Eloise Dunn Stuhr to Edwin Stein, Jr. and Judith L. Stein on June 17, 1987 for $10 and other consideration. That same date, a Deed of Trust was filed from Edwin Stein, Jr. and Judith L. Stein to Washington Mutual Savings Bank for $60,000. A Deed of Trust Satisfaction from First Federal Savings & Loan Association of Walla Walla to John J. and Eloise Dunn Stuhr was then filed. A Deed of Trust, Edwin Stein, Jr. and Judith L. Stein to Land Title of Walla Walla County for $52,300 was filed December 21, 1992. A Full Reconveyance of Deed, Stein to Washington Mutual, is dated February 22, 1993. On March 1, 1993, a Resignation and Appointment of Successor Trustee was filed, clarifying Washington Mutual Savings Bank as beneficiary under the Deed of June 17, 1982, and Pioneer Title Company of Walla Walla resigned as trustee.
By Quit Claim Deed, dated August 24, 1998, Edwin Stein, Jr., in consideration of a Legal Separation Agreement, relinquished the property at 561 University Street to Judith L Stein. A further Quit Claim Deed of May 27, 1999 by Judith L. Stein, a single person, placed the house in a Living Trust, administered by Baker Boyer Bank. By Warranty Deed, dated August 4, 2009, the property was sold to Jacob Barnhart/Blane R., Jr. and Susan Barnhart, for $225,800.
Construction of Building
The Walla Walla County Assessor's Office file for 561 University Street lists a construction date of 1900. This is patently inaccurate; Brookside Park Addition was not platted until 1905, and it is likely that in 1900 Henry P. and Lucie Issacs' own home of 1885 at 100 Brookside Drive was the only residence on their acreage. A search of building permits at the Whitman Archives turned up nothing specific to 561 University Street, but a permit was issued on August 2, 1930 for a new house to cost $4,800 at Fulton and University. It is reasonable to assume that this permit was for the house at 561 University, premised on the fact that the house directly across University is obviously a pre-1920 Craftsman, and the one directly across Fulton is most certainly a 1950s Ranch Style. Jones House, owned by Whitman College, catty corner across the intersection, could possibly be the house for which the building permit was issued in 1930; however, this writer estimates that house to be of more recent construction than 1930. From the Property and Occupant History, it can be determined that Eliza Dunham lost the property to foreclosure in 1929. A Lis Pendens cleared the title to Block 1, Lot 15 in 1930. The City Directory for 1929-1930 lists J. Howard Shubert living at 1204 Boyer. In the 1931-1932 City Directory, he was residing at 561 University. None of the previous title holders were listed as residing at or in the vicinity of this address. This should fairly well substantiate the year the house was built as 1930.
The only snag in this otherwise logical conclusion is that the building permit of August 2, 1930, written in pencil and cursive, as they frequently were in those times, lists the property owner as "Hooper Bro" (the word Hooper is very clear, but Bro is less easily deciphered). Three building permits were granted on that date to "Hooper Bro" to construct new houses at three different locations in Walla Walla. No one with the name Hooper ever owned the property at 561 University, and a search of City Directories failed to connect Hooper, e.g. as in a possible Hooper Brothers Construction, in any way with the property. It appears the Hooper Bros. were merely the contractor for this house.
The house is best described as hybrid American Tudor. Although not displaying characteristic faux half timbering, it does have a steeply pitched roof with front and side gables; these lack any type of detail. Typical tall, multi-paned windows can be seen, albeit not exclusively, on the main floor; the more square shaped windows of the gable ends are less characteristic of American Tudor. Although the central gable of the main façade suggests a central massing, this is offset by the entry that is placed to the left, and the one-story projection on the right side of the house. It is, in sum, a very pleasant façade, redolent of eclectic American residential architecture of the late 1920s through the 1930s.
References
Walla Walla City Directories, various, 1929 through 1930s
Whitman College Archives
Sanborn Fire Maps, 1905 with updates to 1948
Stephen Wilen
Walla Walla 2020 Research Service
P.O. Box 1222, Walla Walla, WA 99362
March 2013
http://ww2020.net/wp-content/uploads/561-university.jpg
150
200
Site Manager
http://ww2020.net/wp-content/uploads/2011/12/ww2020_logo.png
Site Manager
2014-03-01 09:56:42
2014-12-05 09:52:57
History of 561 University Street, Walla Walla, WA