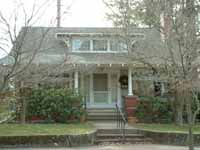 Legal Description:
Beginning at a point in the southerly line of University Street in City of Walla Walla, Washington, which point is 150′ westerly, measured along said southerly line of University Street, from the point of intersection thereof with the westerly line of Clinton Street in said City, and running thence South 79 degrees 00′ West along said southerly line of University Street, a distance of 110′ more or less, to the easterly line of Brookside Drive; thence South 02 degrees 04′ East, along said easterly line of Brookside Drive; a distance of 100.40′; thence North 79 degrees 00′ East, parallel to said southerly line of University Street, a distance of 113′; thence North 3 degrees 47′ West, parallel to said westerly line of Clinton Street, a distance of 100′ to the point of beginning; situated in the City and County of Walla Walla, State of Washington.
Title History:
Walla Walla was originally laid out by surveyor H.H. Chase in 1859, even before its formal incorporation as a city in 1862, as a one quarter mile square oriented N-S, E-W with its eastern side centered on the point where Main Street crossed Mill Creek (at roughly the point where it does now). To this original area, additional parcels were annexed from time to time, usually with the name of the land owner of record at the time the additions were made. 560 University is located in what is shown in the 1909 Walla Walla City Atlas as Isaacs Addition, which is explained by its proximity to the residence of Henry P. Isaacs and Lucie Isaacs, who were largely responsible for the development of this area, and whose house, now 100 Brookside Drive, was the earliest in that area. According to Penny Andres, the Isaacs built a small adobe house in 1865 and then incorporat ed those walls into their Queen Anne mansion in 1886. The term Brookside Park Addition of the City of Walla Walla, was also used in documents such as warranty deeds and mortgages beginning in 1910. It included the area north of University bordered by Stanton and Clinton streets.
The first recorded transaction involving 560 University was on May 23, 1863 when John Haley sold "all that portion of the SW 1/4 of section no. 21 in Township no. 7, County of Walla Walla, Washington Territory" which was 26.81 acres, "more or less," for "consideration $100." The buyers were William H. Patten and Elizabeth A. Patten. Shortly thereafter on January 20, 1864 the Pattens sold the parcel to Henry P. Isaacs for $2000 in gold coin. Records give no information about streets or exact location. On April 7, 1868 there is record of a mortgage of $5000 in favor of Dorsey S. Baker for an 80 acre piece which included this property and Isaacs's Excelsior Flour Mill. Isaacs was influe ntial in the development of Walla Walla as a wheat-growing area. Lyman in his History of Walla Walla County states that Isaacs "demonstrated to the farmers that wheat could be produced profitably on the hills and uplands which in those early days had been given over to stock-raising." He built numerous flour mills throughout the Northwest and "his knowledge of the manufacture and handling of flour become proverbial and he was recognized as an authority on all matters pertaining thereto." He found markets for wheat in the Orient, especially China.
On September 21, 1881 H. P. Isaacs and Lucie Isaacs negotiated an agreement with the Walla Walla Water Company to "enter upon and take and conduct away the subterranean waters on and in the land for the purpose of supplying the City of Walla Walla and its inhabitants with water." This involved a deed to the water company for a price of $10,000. J.C. Isaacs, son of H.P. and Lucie, was also named in the agreeme nt as a water company official. On September 11, 1886 the agreement was expanded to include "the right to dig, excavate and maintain ditches or conduits and the right to excavate or construct and maintain reservoirs" and "there shall be no unnecessary interference with or damage to growing crops." The water negotiations continued with a warranty deed filed in March of 1896 for $20,000 from the Isaacs to Miles C. Moore, W.W. Baker and H.C. Baker, Trustees. This sale included the right to construct a flume (an artificial channel for water) and this statement: "The roadway now traveled passing easterly from Whitman College is to be dedicated until it intercepts with the mill race." This reference is to the point where Mill Creek and the mill race intersected east of town.
A Quit Claim Deed was executed by Lucie Isaacs to Henry P. Isaacs for consideration of $1.00 for the 80 acre parcel on June 23, 1894. Isaacs died on July 14, 1900 intestate (he had no will) and because of that several legal actions were necessary to settle his estate. In March of 1901, the heirs of William and Elizabeth Patten executed a Quit Claim to the Isaacs heirs and then in November of 1901 all the Isaacs heirs gave a Quit Claim to their mother Lucie Isaacs. On December 2, 1910, Lucie Isaacs, widow, conveyed to Grace G. Isaacs, her daughter who is listed as "spinster," the property then referred to as being in Brookside Park Addition, for a consideration of $1. This transaction excluded subterranean water rights for the property.
It has taken three transactions to establish 560 University's current lot dimensions. The first was recorded on February 23, 1917 when Grace G. Isaacs sold the major portion of what is now this lot to Albert Aloysius Durand and Ollie Durand for $2000. On January 23, 1918, an additional piece was sold for a stated consideration of $10 by Miss Isaacs to the Durands which expanded the lot. A.A. Durand wa s a well digger and the Durands were living at 802 W. Main at the time of these transactions. The Isaacs' Brookside Park Addition was then broken into lots. The third transaction was the expansion of the lot by a thirteen feet strip on the southern border in 1970 when Gordon Scribner, then the owner of 100 Brookside Drive, sold that strip to Richard and Lucia Stuart.
Building permit #2472 was issued to the Durands on August 13, 1917 for the construction of a house, listing the builders as Johnson and Halter. The location is given as Fulton and University and the cost as $4000. A $3.00 fee was paid for the permit. It is clear that A.A. and Ollie Durand built the house that year, and lived there until 1960. The Durands' address is first listed as 560 University in the 1918 City Directory, customarily using information gathered late in the prior year, and the assessed value of the house is given as $3900. The listed value of the house for tax purposes dropped to $3570 in the 1920 City Directory. The Walla Walla County Assessor's Office lists 1915 as the year the house was built, which is inaccurate, since the building permit was issued in 1917 during the construction season, and it is apparent that it would have been completed the same year.
The Durands had several other properties in Walla Walla. Their son Paul was a real estate agent living at 122 Otis. When the Durands sold 560 University, they lived in one of the small cottages (now owned by the Watts family) at 111 Otis. The City Directory of 1958 revealed that they had a 1942 Packard and 1948 Cadillac. Larry Dodd, archivist for the Northwest collection at Penrose Library, reports that A.A. Durand donated all his well-digging records to the Whitman collection. Evidently his well-digging equipment was parked where the Lowden Jones house is now, at 536 University.
On August 24, 1960 the Durands sold 560 University to Dr. Richard K. a nd Lucia J. Stuart, who arrived in Walla Walla with their children Bruce and Nancy when Dr. Stuart accepted a position as Professor in the Whitman College economics department. Lucia Jones Stuart was a very active member of the League of Women Voters and was trained as a biologist. She was plagued by health problems and died on August 31, 1990. In July of 1991, Richard Stuart and Margaret (Peggy) H. Metastasio were married and began an extensive remodeling of 560 University making the second floor accessible from the interior (previously a ladder was used from the exterior). This project has provided comfortable guest quarters for numerous visitors to their very gracious home. An enclosed deck on the east side of the house was added and the kitchen was remodeled. The architect for the remodeling project was Steve Reiswig and the contractor was Stan Froese. A Quit Claim deed "for and in consideration of love and affection" was made by Richard K. Stuart to Margaret H. Metastasio on Aug ust 27, 1991. The house and lot are currently assessed for $199,500.
Construction of the house:
The County Assessor's Office construction date of 1915 was not found to be accurate. The August 13, 1917 date of the building permit and the 1918 City Directory's address for A.A. and Ollie Durand shows that 1917 is the apparent construction date. The Durands built the house and extensive remodeling was done by Richard Stuart and Margaret Metastasio in 1991-92.
  Katherine Weingart Walla Walla 2020 Historical Research P.O. Box 1222 Walla Walla, WA 99362  May, 2001
http://ww2020.net/wp-content/uploads/560_University.jpg
150
200
Katherine Weingart
http://ww2020.net/wp-content/uploads/2011/12/ww2020_logo.png
Katherine Weingart
2001-05-01 17:24:14
2017-02-05 12:29:05
History of 560 University Street, Walla Walla, WA