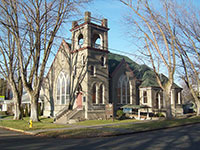 Property Description:
Block C, east half of lot 22, lots 23 and 24 of Hawley's Addition, City and County of Walla Walla, State of Washington.
Title History:
Washington Territory was created in 1853. The new legislature created Walla Walla County in 1854 which stretched from the crest of the Cascade Mountains to the crest of the Rocky Mountains in present states of Washington, Idaho and Montana. In 1855 an Indian council was held on the banks of Mill Creek at the present site of Walla Walla to purchase land from the Indians. The Yakimas and Walla Wallas were dissatisfied with the treaties and prepared for war which followed. Missionaries, former French-Canadian employees of the Hudson Bay Company Trading Post at Wallula, and soldiers at Fort Walla Walla were the primary European occupants of the area prior to 1859 when it was opened for settlement. All of the land in this area was acquired from the Cayuse and Walla Walla Indian tribes by the U.S. Government in a treaty signed on June 9, 1855 in Walla Walla, and ratified on March 8, 1859 by President James Buchanan.
Walla Walla was originally laid out by County Surveyor H.H. Case in 1859, even before its formal incorporation as a city in 1862, as a one-quarter mile square oriented N-S, E-W and with its eastern side centered on the point where Main Street crossed Mill Creek (at roughly the point where it does now). Mr. Case's survey included this property. To this original area, additional parcels were annexed from time to time, usually named after the land owner of record at the time the additions were made.
Alvin B. Roberts received 160 acres (including this property) in the SE quarter of the SE quarter of Section 20, Township 7N, Range 36E from the U. S. Government under the Homestead Act of 1862.
On August 28, 1869 Alvin B. and Martha Roberts sold about 10 acres of their land claim including the property in this legal description to Sarah Jane Hawley for the recorded consideration of $1.
A. B. Roberts had come to Walla Walla from Portland, Or. in 1859 and immediately settled on a large farm site just south of Main Street. He was a pioneer orchardist and real estate dealer.
Phillip L. and Sarah Jane Hawley came across the plains from Illinois to Walla Walla in 1860. On August 10, 1876 the Hawleys gave a Right of Way Deed to Sewall Truax for a 3 inch water pipe from Isaacs Reed's place on the east side of this property.
This area was first platted as Park Addition on March 29, 1877.
Phillip Hawley died in May of 1877. On October 3, 1878 Sarah Jane Hawley died without a will.
Livingston R. Hawley was appointed administrator of his mother's estate on March 4, 1882, four years after her death.
On April 24, 1884 Sewall and Sarah Truax gave a Right of Way Deed to the City Water Company to lay and maintain a pipe through the property for a consideration of $100.
Washington, Lincoln and Dr. Newell Streets were surveyed on March 24-26, 1886.
On April 5, 1886 L. R., W. B. and Thomas B. Hawley signed a Bond for Deed to the City of Walla Walla for purposes of public streets for $1000.
On April 24, 1891 the plat for Hawley's Addition (out of a portion of Park Addition) to the City of Walla Walla was filed by W. B. Hawley, the county auditor, and L. R. Hawley, the deputy county auditor. W. B. and L. R. Hawley were sons of Phillip and Sarah Jane. With their brother P.B. Hawley they purchased, sold and farmed much land in Walla Walla County.
Affidavits were obtained in 1892 and 1916 to verify that Sarah Jane Hawley's heirs were her six children (and two of their spouses) W. B., L. R., P. B. Henry H. (all single), Thomas B. and Martha E. Hawley, Sarah Hawley Rees and Frank W. Rees.
On January 20, 1903 L. R. Hawley gave a deed to this property to the Trustees (D. G. Ferguson, F. M. Corkrum and D.H. Cox) of Wilbur Memorial Methodist Episcopal Church for $1200.
On December 3, 1919 the property was assessed $127.46 for city improvements (sidewalks). Wilbur Memorial M. E. Church was organized in the memory of the Reverend James H. Wilbur.
W. D. Lyman called J. H. Wilbur 'one of the (4) big figures in early days of worthy and powerful preachers.' He was born in upstate New York in 1811. He converted to the Methodist Church at a camp meeting and agreed to come west with William Roberts in 1846. He built the first Methodist church in Portland and the Umpqua Academy in southern Oregon.
On October 11, 1859 Father Wilbur, district superintendent, presided at a meeting in the Walla Walla (Steptoeville) home of A. B. Roberts (where the present Pioneer Methodist Church now stands) when the First Methodist Episcopal Church of Walla Walla was organized as the first church in the new town of Walla Walla.
Father Wilbur was a man 'of giant strength…and had muscles of iron around a heart as tender and gentle as ever beat,' according to Lyman. He made Walla Walla his home from 1882 until his death in 1887.
In 1916 First Church and Wilbur Church combined and the name Pioneer Methodist Episcopal Church was adopted.
Pastors at Wilbur Church were Robert J. Reid (1903-1907), Robert Warner (1907-1909), M. H. Marvin (1909-1910), J. C. Harvey (1910-1911), J. S. Bell (1911-1913), Edward Baker (1913-1915), and M. J. Perdue (1915-1917).
On December 24, 1920 the Trustees of Wilbur Memorial M. E. Church gave a deed to First Free Methodist Church of Walla Walla for $6500. However this deed was not recorded until January 23, 1922 when the Trustees (D. H. Cox, H. McDonald, Harry Winget) of Wilbur Memorial Church and the Trustees (George Berreman, Chas. Breithaupt, William Yeend, S. R. Klein and D. H. Miles) for the First Free Methodist Church gave a deed to the First Church of Christ Scientist for a stated amount of $1.00. At that time the City of Walla Walla gave them a Release of Liens for the $127.46 cost of sidewalks. In 1935 another affidavit was obtained from Mattie Cookerly, niece of Sarah Jane Hawley, testifying to the identity of the children and heirs of Mrs. Hawley, presumably due to the problems of her death without a will 57 years earlier. On July 30, 1947 the Trustees of the Estate of Mary Baker Eddy gave a release of mortgage to First Church for the $2119.29 'financial assistance' given them on January 20, 1925.
On August 24, 1947 the First Church of Christ Scientist of Walla Walla gave a deed to the Corporation of the Presiding Bishop of the Church of Jesus Christ of Latter-Day Saints for'$10.'
On May 8, 1956 Joseph L. Wirthlin for the Church of Jesus Christ of Latter-Day Saints gave a deed to Trinity Baptist Church of Walla Walla for $15,000. On October 29, 1974 Trinity Baptist Church gave a deed to Robert C. and Mabel D. Burkhart for '$10.'
Eight months later Robert C. Burkhart, individual and guardian for Mabel D. Burkhart gave a deed to North Pacific District Bible Missionary Church, Inc. for '$10.'
On March 1, 1983 the North Pacific District Bible Missionary Church gave a Contract for Deed to David W. Long, a single man, for $60,000. On November 9, 1984 David Long signed an Agreement for Deed with Dennis O. and Beverly A. O'Dell for $45,500. Subsequently Mr. and Mrs. O'Dell signed a Declaration of Forfeiture of Contract. Mr. Long then sold this property to Christ Life Fellowship on July 12, 1988 for $35,000. Apparently they had changed their name to Valley Church by the time they gave a Deed of Trust to American West Bank on April 11, 2001.
Construction of the Building:
The Walla Walla County Assessor's Office lists a construction date of 1910. However, all evidence of this title search suggests that this fine old stone church was constructed in 1903 following the purchase of the land by Wilbur Memorial M. E. Church Trustees from the Hawley family on January 20, 1903. The 1905 city directory lists the church in this location and the 1905 Sanborn Fire Map shows the footprint of the present building. No record of building permits exists prior to 1907. The architect is not known. However, the Methodist conference had church plans which they made available when a new church was being constructed so this could be the source of this design.
References:
Bennett, Robert A., Walla Walla A Town Built to be a City 1900-1919, Pioneer Press, Walla Walla, 1982. Gilbert, Frank T.; Historic Sketches of Walla Walla, Whitman and Garfield Counties, Washington Territory, and Umatilla County, Oregon, 1882. Lyman, Professor W.D., An Illustrated History of Walla Walla County 1901. Lyman, Professor W.D., Lyman's History of Old Walla Walla County, Vol. 1-2, 1918. McKenzie, Ph.D.., Michael C., Professor, Keuka College, personal communication, 2005. Pioneer United Methodist Church, 135th Birthday Celebration history, Oct. 16, 1994. Sanborn Fire Maps: 1884-1905. Walla Walla City Directories: 1880-present (various publishers–not all years). Whitman College Archives.
Mary E. Meeker Walla Walla 2020 Research Service PO Box 1222, Walla Walla WA 99362
December, 2005
http://ww2020.net/wp-content/uploads/549_Newell.jpg
150
200
Mary Meeker
http://ww2020.net/wp-content/uploads/2011/12/ww2020_logo.png
Mary Meeker
2005-12-01 19:35:16
2017-06-01 11:17:17
History of 549 Newell Street, Walla Walla, WA - Wilbur Memorial Methodist Episcopal Church