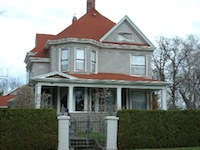 Legal Description
Lots 5, 6, 7 in Block 18 of Roberts' Addition according to the official plat thereof recorded in Volume A of Plats at Page 2, records of Walla Walla County, except the North 9 feet thereof for alley purposes.
Title History
The land that comprises the City of Walla Walla was acquired from the Cayuse and Walla Walla Indian tribes by the U.S. Government in a treaty signed on June 9, 1855 in Walla Walla and ratified on March 8, 1859 by President James Buchanan. Walla Walla was originally laid out by surveyor H.H. Case in 1859, even before its formal incorporation as a city in 1862, as a one-quarter mile square oriented N-S, E-W with its eastern side centered on the point where Main Street crossed Mill Creek (at roughly the point where it does now). To this original area, additional parcels were annexed from time to time, usually named after the landowner of record at the time the additions were made. 529 S. Palouse is situated in Roberts' Addition, so named for A.B. Roberts, who came to Walla Walla from Portland in 1859. He purchased a claim to a large section of land south of Main St. where besides doing real estate development there, he raised fruit trees, having brought the first grafted fruit trees to the Walla Walla area. Roberts' Addition was platted on January 20, 1871.
The first recorded document found for 529 S. Palouse was for a mortgage for $993.17 negotiated "to secure indebtedness"on April 17, 1872 between Roberts and the firm Paine Brothers and Moore. The next document was a Sheriff's Deed dated October 4, 1873 for several blocks in Roberts Addition to satisfy a judgment for $1178.39 in gold coin due from Roberts. Frank W. Paine, John G. Paine and Miles C. Moore purchased the land, part of which would become Block 18, in a sheriff's sale. On December 10, 1873 Roberts declared bankruptcy. In a transaction between the Paines and Moore and William Palmer and Nancy Palmer, the Palmers purchased lots 7 and 8 of Block 18 on April 28, 1875 for "consideration $70." On September 4, 1878, Reuben R. Jones purchased lots 5 and 6 for an undisclosed sum from the Paines and Moore.  On September 3, 1878 Jones had purchased Lots 7 & 8 from the Palmers for $700. On June 6, 1882, Jones sold lots 5,6,7,8 to William Fraser and Louisa F. Fraser for $1125. The Frasers then sold this parcel to W.P. Winans and Christine Winans for $1400 on January 1, 1889.
On October 23, 1891 the Winans sold lots 5, 6 and 7 to Henry Kelling for $800. This price would indicate that there was no house on the property at that time. The available records for this property did not explain what became of lot 8. The 1892 City Directory is the first residential listing for 529 S. Palouse. Henry Kelling is listed as residing on the corner of Palouse and Craig. Kelling was Walla Walla's City Clerk for several years with an office in the City Hall. He also was Secretary for the Board of Trade, President of the Walla Walla Fire Department, Secretary of the Pioneer Association, Secretary of the Walla Walla Valley Agriculture Society and Statistician for the Department of Agriculture for Walla Walla Co. On January 8, 1892 he filed a Declaration of Trust to his heirs intending that his children would be recipients of the three lots. He required numerous mortgages in order to finance the building of this very fine house but ran into financial trouble possibly as a consequence of "the panic of 1896."
Due to Kelling's inability to keep up with payments, the house was acquired by First National Bank in Walla Walla and it was from that organization that Frank S. Dement and Frances Miller Dement purchased the house at a Sheriff's Sale. A Certificate of Purchase of Real Estate was filed on November 13, 1900 for the public sale of the southwest corner of Block 18 for $3500 by the First National Bank The highest bidder was Frances M. Dement, whose first listing at 529 S. Palouse appears in the 1900-01 City Directory. The house would remain in the Dement family from 1900 until 1972. Frank S. Dement had moved to Walla Walla in 1879, first operating a grocery store and then founding Dement Brothers Co., grain dealers, and by the 1930's an insurance business also. The 1911-12 City Directory includes an ad for Dements Best Flour for Bread, Biscuits and Pastry …and for breakfast Dements Wheat Granules. The Dement Brothers were also proprietors of the Eureka Flouring Mill, located between W. Rose and Cherry and they owned a wheat ranch north of Walla Walla.
Frances died in 1940, and Frank S. Dement in 1947. Their sons, Frank B. Dement and Charles F. Dement had lived with them in the home, and Charles F. Dement and his wife Kathryn Severyns Dement continued to live there until 1972, according to city directories. Of special interest is information about the son of Charles and Kathryn Dement, William C. Dement, who is a leading authority on sleep research "credited with establishing the study of sleep disorders as a major branch of American medicine." He was trained at the University of Chicago in psychiatry and has been at Stanford University for several years. In his visits to his mother in her later years, he served as the consultant for establishing the Kathryn Severyns Dement Sleep Disorders Clinic at St. Mary Medical Center. On those visits, he often gave lectures about his research. Dr. Dement attributed his mother's longevity (she died at 104 in 1994) to sleeping well. Kathryn Dement executed a revocable trust and deeded the house to William C. Dement as trustee on July 2, 1969, and he sold it on July 24, 1972 to Charles W. Zug and Norma Zug and Robert M. Edwards and Muriel Edwards for $17,000. City Directories for 1972 and 1973 do not list the Zugs or Edwards residing at the residence.
On March 2, 1973 Brian D. Midles and Rebecca Midles purchased the house for $19,900. Brian Midles was a teacher at Prospect Pt. School. Paul L. VanNess and Mary Ann VanNess purchased it from Brian Midles for $27,000 in 1974. VanNess was a Bonneville Power employee. The next owners were Howard "Steve" Price and Donna Price who obtained the house from Paul and Mary Ann VanNess by a Quit Claim Deed on October 10, 1975. On February 9, 1983 Howard Price, a wheat rancher, sold the house to Terry and Evelyn Teske for $65,000. Terry Teske owned Walla Walla Upholstery and Evelyn Teske was listed as a Health Planner for Eastern Washington Health Systems in the 1984 City Directory. The Teskes did a much needed major renovation of the interior of the house, maintaining the original exterior features, as well as improving the large lot. The Teskes sold the house to Joerg and Gisele Ebel on May 9, 1997. The Ebels have continued with renovation of this house which is an excellent example of Queen Anne style architecture. 529 S. Palouse is indeed one of the finest of Walla Walla's historic homes.
Construction of the house
The Walla Walla County Assessor's Office gives 1886 as the construction date for 529 S. Palouse. Because there were no building permits recorded until 1907, the information that must be relied upon are the documents involving sales of property and the Walla Walla City Directories. The first residential listing for this address is in the 1892 City Directory where Henry Kelling is listed as living on the corner of Palouse and Craig. As was typical for this era, there were numerous sales of lots before any building took place. That was certainly true for this property. The October 23, 1891 sale from W.P. Winans and Christine Winans to Henry Kelling for $800 indicates that no house existed on lots 5, 6, 7 of Block 18 at that time. 1892 appears clearly to be the building date for this house.
Resources used for this research:
Andres, Penny, Walla Walla, Her Historic Homes, 1991
Bennett, Robert A., Walla Walla: Portrait of a Western Town 1804-1899, Pioneer  Press, Walla Walla, 1980
Bennett, Robert A., Walla Walla: A Town Built to be a City 1900-1919, Pioneer Press. Walla Walla, 1982
Penrose Library Northwest Archives, Whitman College for City Directories, biographical information, Sanborn Fire Maps
Pioneer Title Company documents for this property
Walla Walla! Public Library for City Directories, Fire Maps, Metsker County Maps
Walla Walla County Assessor's Office documents
Katherine H. Weingart Walla Walla 2020 Historical Research Service P.O. Box 1222 Walla Walla, WA 99362 December 2005
http://ww2020.net/wp-content/uploads/529_S_Palouse.jpg
150
200
Site Manager
http://ww2020.net/wp-content/uploads/2011/12/ww2020_logo.png
Site Manager
2005-12-01 17:16:17
2014-01-22 19:50:05
History of 529 South Palouse Street, Walla Walla, WA