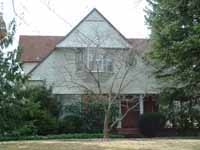 Property Description:
Beginning at a point on the Westerly side of Catherine Street at the Southeasterly corner of Block Sixteen (16) of Robert's Addition to the City of Walla Walla, Washington, according to the official plat thereof of record in the office of the Auditor of said County of Walla Walla in Book "A" of Plats at page 21; thence South 29º 50' East, along said Westerly line of Catherine Street; a distance of five (5) feet; thence South 60º 10' West 125.00 feet; thence South 29º 50' East 20.00 feet; thence South 60º 10' West 55.00 feet; thence North 29º 50' West 25.00 feet to a point in the Southerly line of said Block Sixteen (16); thence North 60º 10' East, along the Southerly line of said Block Sixteen (16), a distance of five (5) feet; thence North 29º 50' West 75.00 feet; thence North 60º 10' East 175.00 feet to a point in the Westerly line of Catherine Street; thence South 29º 50' East, along said Westerly line of Catherine Street, a distance of 75.00 feet to the point of beginning.
Title History:
Washington Territory was created in 1853. The new legislature created Walla Walla County in 1854 which stretched from the crest of the Cascade Mountains to the crest of the Rocky Mountains in present states of Washington, Idaho and Montana. In 1855 an Indian council was held on the banks of Mill Creek at the present site of Walla Walla to purchase land from the Indians. The Yakimas, the Cayuses and Walla Wallas were dissatisfied with the treaties and prepared for war which followed. Missionaries, former French-Canadian employees of the Hudson Bay Company Trading Post at Wallula, and soldiers at Fort Walla Walla were the primary European occupants of the area prior to 1859 when it was opened for settlement. All of the land in this area was acquired from the Cayuse and Walla Walla Indian tribes by the U.S. Government in a treaty signed on June 9, 1855 in Walla Walla, and ratified on March 8, 1859 by President James Buchanan.
Walla Walla was originally laid out by County Surveyor H. H. Case in 1859, even before its formal incorporation as a city in 1862, as a one-quarter mile square with its eastern side centered on the point where Main Street crossed Mill Creek (at roughly the point where it does now).  The City of Walla Walla received  a Trustee Townsite from the U. S. government which consisted of 80 acres. It was issued on July 20, 1869 by the Vancouver, W.T. District Land Office.
Alvin B. Roberts came to Walla Walla from Portland, Oregon in 1859 and immediately purchased a claim from Tom Hughs for $250 on land just south of Main Street. He fenced his new property and put up a canvas house which allowed him to hold it until the government surveyed it in 1860. He had brought some grafted fruit trees from Portland and was able to sell them in 1860 for $1.00 apiece. He realized there was money to be made in fruit trees and became engaged extensively in the nursery business as well as real estate. Alvin B. Roberts received a patent on 160 acres including this property from the United States by U. S. Grant, President on May 2, 1870. Roberts Addition was platted by A. B. Roberts and Martha E. Roberts on January 20, 1871 (Plat Book A, Page 21, Walla Walla County Auditor's Office, Walla Walla County Courthouse).
On September 16, 1871 A. B. and Martha Roberts sold all of block 16 including a portion of this property to John F. Adams for $500. Adams was a stock raiser and prominent member of the community. He and his wife Susan lived nearby on the south side of Birch Street between Catherine and Ebby (later Park) Streets. On May 7, 1891 the Adams sold a 75 foot by 175 foot lot in Block 16 to William Jones for $1250. On December 9, 1894 William and Ida Stone Jones borrowed $1250 from George L. Fitzhugh on this property. On May 10, 1894 George L and Mamie Fitzhugh signed a quit claim deed giving full title back to William Jones. On December 9, 1894 William and Ida S. Jones sold the portion of this property to George Whitehouse for a stated amount of $1. Mr. Whitehouse had come to Walla Walla in 1877 as a contractor and builder. In 1888 he associated with Dennis J. Crimmins and Charles Cooper to found the Whitehouse-Crimmins lumber and planing mill which later became Whitehouse-Crawford, source of many fine woods and details in homes built at this time. He built his home at First and Birch in 1898. George and Emma K. Whitehouse sold the Block 16 portion of this property to Flora A. Dice for $1000 in gold coin plus a $700 mortgage on May 13, 1898.
Lots one and two of Block M (referred to as Block 37 on current assessor's records) are adjacent to the above portion on this property on the south side. Lot lines and property lines frequently do not coincide on this large, complex block. A. B. Roberts lost a law suit that included this part of Block M and a Sheriff's Deed was given to Franklin Goodwin on November 22, 1876 for $49. Franklin Goodwin sold this property on November 3, 1879 to Ida E. Andrews for $250.  Ida Andrews was practicing medicine in partnership with her physician husband on the "West side of Third street, bet. Main and Alder" in 1880. On May 12, 1880 Drs. Ida E. and J. C. Andrews sold this property to William Vawter for "$1." On May 14, 1881 William and Rachel A. Vawter sold these 2 lots to B. L. Baker (a single man) for $400. Mr. Baker sold on October 31, 1881 to Thomas R. Tannatt for $500. Tannatt worked for Henry Villard's railroad as an immigration agent among Germans from Russia in the 1880s. He was the mayor of Walla Walla in 1883-1884. He and his wife were active in local real estate and their names appear in many local titles. On March 15, 1888 Thomas R. and Elizabeth F. Tannatt sold it to Frank J. Parker. Mr. Parker was born in England  in 1845 and came to the United States in 1864. He followed the mining camps in Idaho until the Nez Perce outbreak in 1877 when he went to work as a scout (and newspaper correspondent) for General O. O. Howard. The Governor of Idaho gave him the title of Lieutenant Colonel "as a reward." In Walla Walla he went to work for the Walla Walla Statesman newspaper in 1878, following the death of owner William H. Newell. In 1880 he married Miss Martha Newell. He revived the Daily Statesman and greatly increased the circulation of the Weekly Statesman, both solid Democratic newspapers.  Colonel and Mrs. Parker lived in the house south of this one in 1898. On September 19, 1904 Frank J. and Martha J. Parker sold their property to Flora A. Dice for $2500, including the existing house, judging by this price.
Thereafter, the title to the current parcel including portions of the lots in both Block 16 and Block M were merged into the ownership of Flora A. and Amos Kramer Dice. On January 2, 1920 Dice sold the Parker house on the south of this residence to Walter Brooke, keeping only a small portion of the property between the two houses. A County Treasurer's  Deed was given to Flora A. Dice, a widow, on June 7, 1948 to formally record this change in the property line. This resulting property was given to the Dice's daughter Edith Dice Harold. She gifted her interest in this property to her son Raymond D. Harold in 1960. Following the deaths of Ray and his wife Jennie Harold this property was passed to their children.
Occupant History:
The only occupants of this house have been Flora and Amos K. Dice and their descendants. Flora and Amos had married in 1885 in the town of his birth, Scotland, Pennsylvania. They came west by train in 1888. They traveled with their daughter Edith and Mabel Keefer, a young girl from an orphanage who helped with the baby Edith. Mabel remained with the family as a foster daughter for many years, later taking the last name of Dice. The Dice family lived in Prescott and Spokane  before moving to Walla Walla. A. K. Dice's name first appeared in a Walla Walla city directory in 1892. At that time he was a dentist with an office in the Quinn Building on Main Street between Second and Third Streets. Their residence was at 421 Duluth Street. From 1893-1898 Dr. Dice had a dental practice in the Paine Building at the corner of Second and Main Streets and they lived at 315 Whitman Street. By 1900 he was a notary and insurance agent at 5 South Second Street (Paine Building) and had moved to this home at 524 Catherine Street. In 1902 he partnered with Jackson and Kirkman as financial agents and insurance salesmen. He also had started a long relationship as treasurer of the Walla Walla Lumber Company. The Walla Walla Lumber Company was located at 213 E. Rose. Oliver T. Cornwell was president and Alexander Cation was vice president. In 1907 he added the responsibility of Treasurer of the IOOF Cemetery committee (predecessor of part of the present Mountain View Cemetery, where the family graves are located). In 1909 he became the manager of the Walla Walla Safety Deposit and Trust Company. In 1912 his wife Flora was listed in the directory (women had not previously been listed) and A. K. Dice was then the City Commissioner of Finance and Accounting.  In 1920 he became the Secretary-Treasurer of the Union Trust Company of Walla Walla.  He operated Dice and Allen, Bond Insurance and Investments at 16 1/2 West Main Street between 1921 and 1926. He continued as City Commissioner of Finance through 1936. Amos K. Dice died on June 21, 1937. In 1948 Mrs. Dice was joined in this house by her grandson and his wife, Raymond D. and Jennie M. Harold. She continued to live here until her death in 1954. The house was occupied by Ray and Jennie Harold, until their deaths. Ray died on November 29, 1997. Jennie M. Harold lived here until her death on July 3, 2006.
Construction of the Building:
The records of the Walla Walla County Assessor list a construction date of 1905. This is clearly not correct. George Whitehouse, a contractor and builder, bought the property in 1894 and sold it 4 years later for "$1000 in  gold coin" plus a $700 mortgage. There are no building permits for this time. However three other houses built in 1905 on Catherine Street (first available construction listings) ranged from $1200 to $1300.  It is reasonable to assume that George Whitehouse built this house for or with A. K. and Flora Dice circa 1898. They and their family members have lived here for the next 108 years.
References:
Andres, Penny, Walla Walla Her Historic Homes, Vol. III, 1998.
Bennett, Robert A., Walla Walla  Portrait of a Western Town 1804-1899, Pioneer Press,  Walla Walla, 1980.
Bennett, Robert A., Walla Walla  A Town Built to be a City 1900-1919, Pioneer Press,  Walla Walla, 1982.
Gilbert, Frank T.; Historic Sketches of Walla Walla, Whitman and Garfield Counties, Washington Territory, and Umatilla County, Oregon, 1882.
Jackson, Brenda K.; Domesticating the West, The Re-creation of the 19th Century American Middle Class University of Nebraska Press, 2005
Lyman, Professor W. D., An Illustrated History of Walla Walla County  1901.
Sanborn Fire Maps: 1884-1905 (with updates until 1950).
Walla Walla City Directories: 1880-present (various publishers–not all years).
Whitman College Archives.
Mary E. Meeker ; Walla Walla 2020 Research Service PO Box 1222, Walla Walla WA 99362 December, 2006
http://ww2020.net/wp-content/uploads/524_Catherine.jpg
150
200
Mary Meeker
http://ww2020.net/wp-content/uploads/2011/12/ww2020_logo.png
Mary Meeker
2006-12-01 17:09:37
2017-02-05 12:22:02
History of 524 Catherine Street, Walla Walla, WA