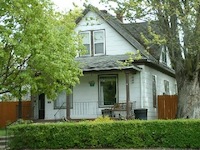 Property Description:
Lot 2 in Block 19 of Cain's Addition to the City of Walla Walla, according to the official plat thereof recorded in volume A of Plats at page 41, records of Walla Walla County; TOGETHER with a strip of land 4.5 feet in width adjoining said premise on the southeasterly side and being a part of the vacated portion of the alley as vacated by the City of Walla Walla under Ordinance No. A-516, which attached thereto by operation of law.
Title and Occupant History:
Walla Walla was originally laid out by surveyor H. H. Chase in 1859, even before its formal incorporation as a city in 1862, as a one-quarter mile square oriented N-S, E-W and with its eastern side centered on the point where Main Street crossed Mill Creek (at roughly the point where it does now). To this original area, additional parcels were annexed from time to time, usually named after the land owner of record at the time the additions were made.
This property is part of the oldest U.S. Patent in Walla Walla. On September 10, 1861 Andrew J. Cain and Cornelius Kelly filed a patent on 160 acres under the Script Warrant Act of 1855 northeast of the original City of Walla Walla town site. During 1862, A. J. Cain surveyed Cain's Addition to the City (this survey was rerecorded on May 11, 1865, following a disastrous fire which destroyed most of the county's earlier records).
A. J. Cain was a lawyer in Walla Walla between 1860 and 1873. He was elected on the Democratic ticket as prosecuting attorney of Walla Walla County in 1868. He later moved to Dayton and in September 1874 began publication of the Dayton News, a weekly Democratic newspaper. He became known as the "Father of Columbia County" as a result of his leading role in the formation of that county.
The first legal transaction involving this property recorded in the local records is a mortgage on February 13, 1862 to A. J. and Emma Cain from A. H. Reynolds for $1000. On October 18, 1867 a Sheriff's Deed was given to Dorsey S. Baker for 29 parcels of land that had belonged to the Cains. On April 10, 1878 there was a Warranty Deed Against Grantors from Dorsey and Elizabeth Baker to Frederick Schickler for lots 1, 2 and 3 of Block 19 for $250. On May 6, 1879 Schickler sold these three lots to August F. Toussaint for $250. On January 11, 1882, Toussaint sold the three lots to Frank J. Parker for $300. Col. Parker was the editor and publisher of the Walla Walla Statesman with a residence at 109 Fourth Street at this time. On November 28, 1890 Parker sold the three lots to George C. Johnston, a carpenter who lived on "East Main near the railroad crossing", for $900. By 1893 Johnston was a carpenter and builder who lived on the SW corner of East Rose and Idaho (now Park). This would have been lot 1 of block 19. Mr. Johnston sold lots 2 and 3 to Alice M. Evans on September 21, 1897 for $1500. On September 29, 1898 Evans gave a Bond for Deed to Clark Walter for $1000 on the two lots. On February 18, 1901 she gave a warranty deed to Clark Walter for this property. By this time George C. Johnston is listed as a contractor living next door on lot 1 at 526 E. Rose.
In 1902 he is listed there as an architect. On May 31, 1902 Clark Walter sold lots 2 and 3 to Adolph Bischoff for $500. Bischoff was a bartender at the Fountain Saloon at 31 E. Main and lived at 131 E. Alder in 1902. In 1904 Mr. Bischoff lived at 522 E. Rose and was the proprietor of Bischoff and Co. (Concordia Saloon at 219 Main). On November 7, 1906 Bischoff filed a Declaration of Homestead on lot 2 with a stated value of $2000. On November 15, 1906 he gave a warranty deed to Hiram Nelson for $1 plus mortgages totaling $1200. Subsequently Bischoff was listed as a clerk living at 210 W. Poplar.
Hiram Nelson was a farmer who lived at 522 E. Rose from 1908 till his death on June 7, 1920. His wife died on September 19, 1919. Their sons William T. and Guy H. Nelson were appointed executors. Their daughter Addie C. Smith (widow of Frank Smith) was living at 522 in 1920. On February 16,1921 the Nelson heirs sold this property to Frank E. Wright for $3200. Frank lived at 522 in 1922 and worked at The Congress cigar and billiards store at 104 W. Main. On January 27, 1923 Wright sold this property to Abbie Sharp (formerly Henry) for "$10." A. B. Sharp gave a Quit Claim Deed to Abbie Sharp for this property plus 2100 rural acres. On May 2, 1923 Abbie Sharp sold this property to Margaret Rushton for "$10." On June 21, 1923 George Rushton gave a Quit Claim Deed to Margaret Rushton for this property. On June 25, 1923 Margaret Rushton filed a case in Superior Court to Quiet Title to the property. At this time George Rushton was a harness maker and they lived at 56 S. Clinton. In 1929 they moved into their property at 522 E. Rose. Margaret Rushton died on April 24, 1935 and George moved to 505 W. Main. Mrs. Ora Bookout lived at 522 in 1935.
On March 17, 1937 the heirs of Margaret Rushton gave a deed to her trust at Dean McLean Abstract who subsequently sold this property on September 16, 1937 to Ernestine Land, widow of Rienard Land. Mrs. Land apparently never lived in this house. In 1937 she rented it to Felix R. and Lois O. Farrens. He worked at Central Tire and Service. Later he operated Farrens Service Station at 329 E. Main. By 1941 the house was vacant. On September 20, 1943 Mrs. Land sold the property to George and Zenna Brown for "$10." On November 24, 1943 the Browns sold to Edgar A. Poe, a widower. On January 10, 1944 Poe gave a Warranty Deed to First Federal Savings and Loan for "$10." There were no city directories between 1941 and 1946 so it is not known who lived here then. However, in 1946 the house was occupied by Glenn M. and Elizabeth M. Querna. They bought this house on October 15, 1947 for "$10." Mr. Querna was a report writer for the U.S. Bureau of Reclamation. On April 4, 1952 Querna sold to Manuel and Barbara Hille for "$10." Manuel was a material man for PP&L. In 1956 Barbara operated Yvonne's Beauty Shop at 522. By 1964 Manuel was retired. He died on December 18, 1970. Barbara continued to live there until she sold this place on March 11, 1974 to Richard and Faye Thompson for "$10." Richard was a used car salesman for Dayle Graves and Faye was a saleslady at the Bon Marche. On February 5, 1976 the Thompsons sold this property to William C. and Mercedes Ridenour for "$10." Mr. Ridenour worked for Key Equipment and they had two daughters at WSU at this time. A son worked as a lab tech at Whitman.
Construction of the House:
The Walla Walla County Assessor states that this house was built in 1906. However, since the city directory list Adolph Bischoff as living at this address in 1904 it is reasonable to assume that the house was built sometime after Mr. Bischoff purchased lot 2 and 3 in May of 1902 for $500. No building permits exist prior to 1907. This house is shown on the 1905 Sanborn Fire Map. Only the house next door at 516 appears on earlier firemaps (1890 and 1894). A building date of circa 1903 would be reasonable.
References:
Bennett, Robert A., Walla Walla Portrait of a Western Town 1804-1899, Pioneer Press, Walla Walla, 1980
Building permits: Whitman College Penrose Library Archives (1907-1939)
Gilbert, Frank T.; Historical Sketches Walla Walla County, Whitman County and Garfied County, Washington Territory, 1882.
Lyman, Professor W. D., An Illustrated History of Walla Walla County 1901
Lyman, Professor W. D., Lyman's History of Old Walla Walla County, Vol. 1-2, 1918.
Ogle's Standard Atlas of Walla Walla County, 1909
Sanborn Fire Maps: 1884-1905 (with updates until 1950)
Walla Walla City Directories: 1880-present (various publishers–not all years)
Mary E. Meeker
Walla Walla 2020 Research Service PO Box 1222, Walla Walla WA 99362 October, 2004
http://ww2020.net/wp-content/uploads/522_E_Rose.jpg
150
200
Mary Meeker
http://ww2020.net/wp-content/uploads/2011/12/ww2020_logo.png
Mary Meeker
2004-10-01 17:05:39
2017-02-05 12:23:05
History of 522 East Rose Street, Walla Walla, WA