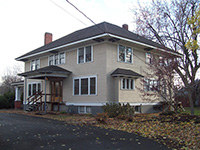 Property Description
Lots 4, 5, 6, 7, 8, and 9 of Block C of Hawley's Addition to the City of Walla Walla, according to the Official Plat thereof of record in the Office of the Auditor of Walla Walla County, Washington, in Book B of Plats at Page 52. Situated in the City and County of Walla Walla, State of Washington.
Parcel No. 360720630304
Title History:
Walla Walla was originally laid out by surveyor H.H. Chase in 1859, even before its formal incorporation as a city in 1862, as a one quarter mile square oriented N-S, E-W and with its eastern side centered on the point where Main Street crossed Mill Creek (at roughly the point where it does now). To this original area, additional parcels were annexed from time to time, usually with the name of the land owner of record at the time the additions were made.
On August 28, 1869 Alvin B. and Martha Roberts sold about 10 acres of their land claim in the S.E. quarter of the SE quarter of Section 20, Township 7N, Range 36E E.W.M. including the property in this legal description (but excluding the water rights) to Sarah Jane Hawley for the recorded consideration of $1. A. B. Roberts had come to Walla Walla from Portland, Or. in 1859 and immediately purchased a large farm site just south of Main Street. He was a pioneer orchardist and real estate dealer.
Phillip L. and Sarah Jane Hawley came across the plains from Illinois to Walla Walla in 1860. On August 10, 1876 the Hawleys gave a right of way deed to Sewall Truax for a 3 inch water pipe from Isaacs Reed's property on the east side of this property.  This area was first platted as Park Addition on March 29, 1877. Phillip Hawley died in May of 1877. On October 3, 1878 Sarah Jane Hawley died without a will.  On April 24, 1884 Sewall and Sarah Truax gave a right of way deed to the City Water Company to lay and maintain a pipe through the property for a consideration of $100. Washington, Lincoln and Dr. Newell Streets were surveyed on March 24-26, 1886. On April 24, 1891 Hawley's Addition (out of a portion of Park Addition) to the City of Walla Walla was filed by W. B. Hawley, the county auditor, and L. R. Hawley, the deputy county auditor. W. B. and L. R. Hawley were sons of Phillip and Sarah Jane. With their brother P.B. Hawley they purchased, sold and farmed much land in Walla Walla County. Sarah Jane Hawley's six children (and two of their spouses)  W. B., L. R., P. B. Henry H. (all single), Thomas B. and Martha E. Hawley, Sarah Hawley Rees and Frank W. Rees finally settled their mother's estate and sold lots 4, 5, and 6 to Maud Straight Foster on October 18, 1894 for $800. (Frank Foster built the house on Catherine at Thorne Street in 1894 for his bride Maud Straight, daughter of pioneer  jeweler, Z. K. Straight.) Maud S. Foster and Frank Foster sold these four lots to Clara E. Aldrich on June 20, 1896 for $900. On September 30, 1895 the Hawleys (L.R., P.B., Henry H., W. B. and Stella, Thomas B. and Martha E. and F. W. Rees and Sarah Hawley Rees) had sold lots 7, 8 and 9 to Miss Aldrich for $800.
Newton Aldrich, the father of Clara Etta Aldrich, was born in 1833 in New York State, schooled in Michigan and came to Walla Walla with his brother Milton in 1858 by way of Panama and California. They were driving a herd of cattle from California to the mines in Orofino, Idaho but decided to spend the winter in Walla Walla. It was an exceptionally harsh winter and local folk history reports that all the cows but one died. Newton took a preemption two miles southwest of Dixie and bought more land until he owned 520 acres. He and his wife Annie had three daughters, one of whom died as a child. Clara's sister Minnie (and her cousin Dora) is pictured with a group of Whitman women students in the 1880s in Robert Bennet's first volume of local history. Newton was described in Lyman's history as "never especially ambitious for leadership." He died in 1888. Clara Etta married George L. Bailey. In 1910 Bailey is listed in the city directory as living at 309 Juniper and working as a "decorator."  Both George and Clara are both listed as county property tax payers. In 1901 Clara E. Aldrich is listed as owning five different parcels of land, one of which she shared with her cousin Shelley, in addition to her property on Lincoln Street. The first city directory entry for George and Clara Bailey was in 1915 when they lived at 816 Hobson until they are shown to have moved to 520 Lincoln Street in 1920.  They lived there until 1924, then probably moving to their farm land near Dixie and renting out their house in town. Their land near Dixie was just beyond Aldrich Station (wheat elevator) on the W. & C. R. Railway 8 miles NE of Walla Walla. George signed a quit claim deed giving Clara Etta full ownership of the Lincoln Street property in 1931. They were renting 520 Lincoln to Frank Shields, a fruit broker in 1931. Mrs. Matie B. Grote signed a three year lease for $60 a month on August 21, 1931. She and her husband  Theodore, a farmer, and Mrs. Martha B. Walton, a nurse at the Veterans Hospital were renting there in 1933.  It was vacant in 1935. In 1937 Curtis H. and Liona Castle and Mrs. Martha J. Higley (widow of Daniel K.) rented. George died in 1939 and Clara Etta returned to her home on Lincoln Street where she lived until her death on April 13, 1952.
Her estate sold this property to Lynn L. and Mary S. Drake in 1953 for $13,500. Lynn worked as a lineman for P.T.&T. and Mary started a long career in child care. Over the next 32 years Mary Drake's Play School  was "home" to many local residents when they were growing up. She provided the model which helped establish state standards for child care facilities.
On December 23, 1985 Mary S. Drake sold to Ronald L. and Linda Lane Grubbs for $157,569. The Grubbs's dissolution was filed September 18, 1987. On March 1, 1999 a notice of a trustee's sale was filed announcing the house would be sold to the highest bidder  on the court house steps on June 4, 1999. On that date a trustee's deed was taken by Associates Home Equity Services, Inc. for $214,930. On January 28, 2000 they sold to David P. and Lucia L. Mumm for $155,000.
Construction of the Building:
Permit #2578 was taken out by G. L. Bailey for a dwelling at 520 Lincoln Street on March 5, 1918 with an estimated cost of $9000. The builder was C. G. McNichols, a carpenter who lived on Garfield near Ankeny Street on RD 6. The Sanborn Fire Maps show the original footprint of the house very much like today except for the front entry which has been remodeled.
Two interesting possibilities exist regarding this house and its design. The house directly to west at 508 Lincoln was built in 1892 by Henry Osterman, a German architect who worked as a carpenter on his own house while he learned English. He designed many buildings in Walla Walla  including the court house, city hall, old YMCA, Sharpstein, Jefferson and Green Park Schools, Carnegie Library, Liberty Theater and many of the finer Walla Walla residences. He lived at 508 Lincoln until 1927. At this time only his proximity suggests that Mr. Osterman might have designed the house at 520 Lincoln. The second mystery about the design of this house is that it very nearly matches a house that was built apparently using the same plans located nearby at the corner of Palouse and Newell Streets.
References:
Andres, Penny, Walla Walla Her Historic Homes, 1991, page 34.
Bennett, Robert A., Walla Walla  A Town Built to be a City 1804-1899, Pioneer Press,  Walla Walla, 1980, page 119.
Building permits: Whitman College Penrose Library, Larry Dodd, Archivist
Lyman, Professor W. D., An Illustrated History Walla Walla County, 1901, page 480-481.
Sanborn Fire Maps: 1884-1905 (with updates until 1950)
Walla Walla City Directories: 1880-present (various publishers–not all years)
Mary E. Meeker Walla Walla 2020 Research Service PO Box 1222, Walla Walla WA 99362 May, 2001
http://ww2020.net/wp-content/uploads/520_Lincoln1.jpg
150
200
Mary Meeker
http://ww2020.net/wp-content/uploads/2011/12/ww2020_logo.png
Mary Meeker
2001-05-01 17:02:40
2017-02-05 12:24:05
History of 520 Lincoln Street, Walla Walla, WA