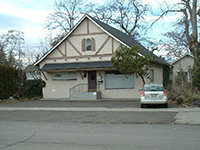 Property Description:
Lot 8 of Block 19 (within NW 1/4 of the SE 1/4 of Section 20, T7N, R36E of the Willamette Meridian) of Cain's Addition to the City of Walla Walla.
Title History:
Walla Walla was originally laid out by surveyor H.H. Chase in 1859, even before its formal incorporation as a city in 1862, as a one quarter mile square oriented N-S, E-W and with its eastern side centered on the point where Main Street crossed Mill Creek (at roughly the point where it does now). To this original area, additional parcels were annexed from time to time, usually with the name of the land owner of record at the time the additions were made. During 1862, A. J. Cain surveyed Cain's Addition to the City (this survey was rerecorded on 5/11/1865, following a disastrous fire which destroyed most of the county's earlier records).
On May 12, 1864  Andrew J. and Emma R. Cain, husband and wife, mortgaged a tract of land (including this property) to D. S. Baker for the recorded amount of $1 (Deed book D, Page 344, Walla Walla County Auditor's Office, Walla Walla County Courthouse). A. J. Cain was an early financier of the Walla Walla Union newspaper; in 1868 he was elected on the Democratic ticket as prosecuting attorney of Walla Walla County. He later moved to Dayton and in September 1874 began publication of the Dayton News, a weekly Democratic newspaper. He became known as the "Father of Columbia County" as a result of his leading role in the formation of that county. Dorsey S. Baker was founder of Walla Walla's Baker Boyer Bank and builder of the first railroad in the valley. In 1862, Baker was on the city council and some years later was a Walla Walla County Commissioner. He was an early supporter of Whitman Seminary, donating four acres of land for that institution.
Dorsey Baker bought most of Cain's Addition for $2800 at Sheriff's Auction. This sale followed a district court action between D. S. Baker, plaintiff, and A. J. Cain and E. R Cain, defendants, over a debt of about $7300 which was secured by the 1864 transaction.
On January 28, 1874 Dorsey and Elizabeth Baker sold Lots 7 and 8 in Block 19 of Cain's Addition to Thomas Moore for a recorded consideration of $100. Thomas Moore was listed in the City Directory as living on Main between Touchet and Idaho (now Park) Streets in 1880 and at 509 E. Main Street (the western end of this block) until 1903. His occupation is listed as a farmer. Thomas Moore executed his will on January 1, 1903 providing for half his estate, including Lots 7 and 8 of Block 19 to pass to his wife Maggie Moore, and half to his children Walter A. Moore, Colleen Moore, Camille Moore, and Clarence Moore upon his demise. He died on January 4, 1903 and his estate was probated in accordance with his will. Margaret C., his widow, Colleen and W. A. are listed as living at 509 E. Main in 1909 and 1910. No building exists on Lot 8 (#515) on the 1905 Sanborn Fire Map.
On November 6, 1917 Maggie Moore, a widow, Walter A. Moore and Achsah Moore his wife, Colleen Moore, Camille Moore and Clarence Moore sold the property to Max Neft and Pauline Neft, his wife "for and in consideration of sum of $3000 in hand paid." No reference to Max Neft can be found in any city directories from 1917-1920. Max and Pauline Neft sold Lots 7 and 8  to H. L. Neslin on March 12, 1920. The Neslins  subsequently sold Lot 7 to Eli T. Allen, only to discover that his house on Lot 7 projected four feet onto Lot 8. On April 1, 1920 they leased to Dr. Allen for the recorded sum of $1 "the westerly six feet of Lot 8 (to a depth within 22 feet of the alley…until such time as the building in question is gone."  Dr. Allen's address is listed in the City Directory in 1939 as 509 E. Main Street. The Neslins resided at 525 E. Main (east of this property) from 1918 through the 1930s and 1940s. They  are absent from the city directory by 1951.  Their sons Milan, Sam, and Harry J. also lived there in the 1930s.
The Neslins operated the Modern Clothing Company at 29 E. Main Street. Dr. Eli T. Allen (wife Mary) was a professor at Whitman College, pastor of College Place Presbyterian Church and chaplain at the Washington State Penitentiary.
On June 14, 1921 Walla City Commission passed an ordinance vacating a 4 1/2 foot strip of land each side of the alley between Palouse and Idaho (now Park) Streets. The city retained right of entry for sewer construction and maintenance, etc. Between 1921 and 1934 five mortgages ranging from $1750 to $12,000 were paid and redeemed by the Neslin family. The first city directory listing for 515 E. Main was in 1931 when Louis W.  and Edith Johnson were living there.  He was an electrician. In the same year Theodore and Doris Brown lived at 515 1/2 E. Main. He was a clerk for John Kelly. From 1933 to 1937  John A. and Lillie Brown lived at #515.  He was a solicitor for the Walla Walla Daily Bulletin. Jacob Schmidt lived "in the rear" in 1933. Byron Jobe, an electrician, lived in back in 1937. It was vacant in 1939. Nancy Barton lived there in 1941. None of these people owned the property.
Hyman L. Neslin quit claimed and conveyed to  Vera Neslin, his wife, title to Lot 8 and westerly 50 feet of Lot 9 in Block 19 for $10 and other valuable consideration on May 17, 1943. On November 2, 1953 Eli T. Allen, a widower, quit claimed and conveyed to Vera Neslin, a widow , all his interest in Lot 8 (see 1920 "lease") for $10 and other valuable consideration.
On November 3, 1953 Vera Neslin, a widow, sold to Claude Gray and Alma  Gray, husband and wife, Lot 8 for the recorded sum of $8500. Between 1954 and 1956 Claude and Alma Gray took out and retired several mortgages for the property ranging from $5000 to $10,000.
Claude Gray was Associate Editor and Editor of the Walla Walla Union Bulletin until he retired about 1970. Alma Gray is recorded as the proprietor of Vitart Photography Studios, located in 1953 at 23 E. Main (O'Con's Flowers at this time) and thereafter at 515 E. Main Street. They made their home at 623 S. Park Street from 1951-1961. From 1964 to 1992 they lived at 636 E. Maple Street.
In 1962 Claude and Alma Gray and Gladys D. Mason, a widow, registered their agreement regarding a certain Maple tree beneficial to both parties situated between Lots 8 and 9 not to be removed without mutual consent.
In 1990 and 1991 the Grays' personal situation was  complex, including disability and death, with several legal actions. On September 14, 1994 representatives of their estates sold this property to Russell E. and Mary Ellen Chandler, husband and wife, for the recorded sum of $10 and other valuable considerations. The County Assessor records this transaction as  $75,000.
The property has housed the Chandler's business "Ballroom Dance Design" since 1994.
Construction of the Building:
On the 1905 Sanborn Fire Map houses are located at 503, 509 and 525 with open space where the Dance Studio is located today. Records at the Walla Walla County Assessor's Office indicate the present building at 515 Main Street was built in 1930. No record of a building permit was found for 515 (The Neslin's house next door at 525 had permits for a porch in 1912 and a $700 remodel in 1929.). Mortgages between 1920 and 1934 seem to confirm this as a building period, which agrees with the County Assessor's date of 1930. However, the mortgages in 1954-1956  suggest significant rebuilding at that time. The Chandlers report that the attic shows where considerable changes were made, probably when the "chalet-look" was added. The little house sometimes called 515 1/2 or "in the rear" in old city directories is still occupied as a rental residence. The owners provided pictures of the house before it was remodeled after purchase by the Grays. Alma Gray is in each picture. In view of the lack of any building permits or city directory entries for this address prior to 1931 we conclude that the date of construction of this building was  "circa 1930."
Mary E. Meeker and Richard M. Bradley Walla Walla 2020 Research Service PO Box 1222, Walla Walla WA 99362 December, 2000
http://ww2020.net/wp-content/uploads/515_E_Main1.jpg
150
200
Mary Meeker
http://ww2020.net/wp-content/uploads/2011/12/ww2020_logo.png
Mary Meeker
2000-12-01 16:57:03
2017-02-05 12:24:33
History of 515 East Main Street, Walla Walla, WA