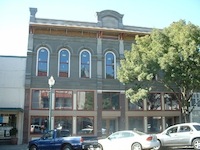 Property Description (abbreviated):
Lot 3 in Block D of Cain's Addition according to Plat A9 to the City of Walla Walla, County of Walla Walla, Washington.
Title and Occupant History:
Walla Walla was originally laid out by surveyor H.H. Chase in 1859, even before its formal incorporation as a city in 1862, as a one-quarter mile square oriented N-S, E-W and with its eastern side centered on the point where Main Street crossed Mill Creek (at roughly the point where it does now). To this original area, additional parcels were annexed from time to time, usually named after the land owner of record at the time the additions were made.
This property is part of the oldest U.S. Patent in Walla Walla. On September 10, 1861 Andrew J. Cain and Cornelius Kelly filed a patent on 160 acres under the Script Warrant Act of 1855 northeast of the original City of Walla Walla town site. During 1862, A. J. Cain surveyed Cain's Addition to the City (this survey was rerecorded on May 11, 1865, following a disastrous fire which destroyed most of the county's earlier records).
A. J. Cain was a lawyer in Walla Walla between 1860 and 1873. He was elected on the Democratic ticket as prosecuting attorney of Walla Walla County in 1868. He later moved to Dayton and in September 1874 began publication of the Dayton News, a weekly Democratic newspaper. He became known as the "Father of Columbia County" as a result of his leading role in the formation of that county.
There were many early legal transactions involving this property. This block is cut by Mill Creek, creating a variety of odd-shaped lots with complex legal descriptions. Early owners included John T. Vincent and Sarah Scanlan (who paid $200 for 6 parcels in 1862);  William K. Ish  ($450 for 6 parcels); Joseph L. Shute; George Thomas and Co.; Joseph Rafferty; Henry McNalley ($200 for 65' x 105'); Thomas P. Page ($200 for 4 parcels);  and A. W. Robinson ($400 on 4 parcels) all before 1870. Some of these transactions may have been for financing rather than purchase. On August 10, 1874  A. W. and Jennie Robison sold their 4 parcels to John Lux for $1000. This price would indicate that there were buildings of some sort on the property. The 1884 Sanborn fire map shows two dwellings and a shed in the middle of this block (with a carpenter, Chinese wash house and harness shop to the west of this property and a grocery store to the east on the corner of Main and Colville Streets). John Lux lived in one of the dwellings and operated a lumber yard at the corner of Rose and Spokane Streets in 1885.
In 1887 Harry and Hattie Krutz purchased parcels from Lux, McNalley and Rafferty. Krutz owned extensive property in Walla Walla County, including several other properties on this block, but no residence was located for him. Fire maps in 1888 and 1889 continue to show a grocery store and several dwellings. In 1889 Krutz sold 2 parcels including this 50'x100' parcel to Oliver P. and Sarena  Barker for $8000. Sarena Barker died on January 29,  1890. Her heirs and devisees gave a deed for their interest on June 26, 1890 to Oliver Barker. By 1890 there was a significant new office building  on this property then designated as 49 and 53 East Main. Barker got into financial trouble (there was a world financial crisis in 1890). A Certificate of Delinquency for Walla Walla County Taxes was issued in 1896 and paid by Harry Krutz. In the subsequent bankruptcy a Sheriff's Deed was given to Justin V. Hanscom on August 11, 1899. In 1902 Justin V. and Sarah M. Hanscom sold this property to Jacob Betz, mayor of Walla Walla (1896-1900) and owner of Star Brewery. On September 11, 1905 Jacob and Augusta Betz sold this property to Hattie M. Loughmiller, a widow. On December 20, 1907 Mrs. Loughmiller signed a Party Wall Agreement with Clara Quinn who was contemplating building a brick building on the west side of this building. Mrs. Quinn was the widow of Thomas Quinn, a successful businessman and saddle maker located at the corner of Second and Main. The Quinn residence was nearby on Colville Street. On August 29, 1919 Hattie M. (Loughmiller) Whiteside sold this property to A. J. and Josephine Naimy and Harry and Laura Winget. In 1923 Naimy and Winget signed a Party Wall Agreement with C. J. Breier who was starting construction of the Breier Department Store on the east side of this property.
On January 9, 1962 Winget and Naimy sold this building to L.C. Havstad for $60,000. On May 4, 1966 L. C. and Helen Havstad gave a deed to this property to Howard and Bertha Roberts. On March 5, 1968 the Roberts signed an agreement with the City of Walla Walla to build and maintain a deck over Mill Creek for off-street parking for 20 years. Roberts sold this property to Hazel H. Struve on August 15, 1968. Financial hard times followed for this building with numerous liens. Hazel Struve sold this property to Zodiac Entertainment Inc. on August 14, 1973. To recover a $187,795.27 judgment against Zodiac the federal government gave a U.S. Marshal's Deed for this property to the Small Business Administration. The SBA signed a Real Estate Agreement with Raymond C. and Beverly J. Russell and Mark and Karen Cole on February 20, 1979 for $100,000. On May 7, 1979 Russell and Cole signed a Contract for Deed with Fred and Dorothea Sporleder and David H. and Jana K. McClellan for $143,000. The SBA, Russells and Coles released their interests in the property in 1994.  In 2002 part of the property was transferred into the Fred W. Sporleder Sole Benefit Trust, Susan J. Campanelli, Trustee. On August 31, 2004 The F. W. Sporleder Trust, Fred W. Sporleder and David McClellan sold this property to Dennis and Christine L. Gisi for $485,000.
Occupants of this building :
Street numbers changed over time adding confusion to this property. This building was referred to on fire maps as #49, 29, 53 in 1890, 40 and 55 in 1894, 41, 49 and 51 in 1905.  In 1900 the occupants of this building included a Herrick Dwelley Co. music store at #51 . By 1905 the block on Main Street between Mill Creek and Colville Street was filled with storefronts. In 1911-12 this building was listed as 49 East Main and was called the Whiteside Building. The Whiteside Apartments were upstairs at 47 1/2 East Main.  It was in this building that the Garden City Furniture opened at 1911-12. Garden City was owned by Art Naimy and Harry Winget. They operated in this location (designated #51 in 1953) until 1962 when they moved to 215 E. Main. In 1915 The Golden Rule Dry Goods (forerunner of J.C. Penneys) was at #45 west of this property in this block and the Dodge Motor Sales was on the east side at #53.  C. J. Breier's general merchandise store was in the Quinn Building at First and Main from 1912 until it moved to its new building at the east end of this block in 1926.   In 1962 Davis Kaser's furniture store opened in #51. Davis Kaser's operated here through 1971, after which this building was vacant for 1973-1975. In 1976-1977 the Zodiac Tavern operated in #51. In 1979 and 1980 it was occupied by Annie Laurie's Disco. In 1981 Sporleder's men's store (formerly at 1 East Main) operated here (with a subsequent name change to Walla Walla Clothing Company) until 2004 when they moved to 103 East Main Street.
Construction of the Buildings:
The County Assessor's records lists a building date of 1930, which is clearly not accurate.  The sale in 1874 from Robinson to Lux included 4 parcels for $1000. Lux sold seven parcels to Krutz in 1887 for $8500 but it is not known what improvements had been made by Lux on which of these parcels. There are no available building permits for these years. The 1889 Sanborn Fire Map shows two dwellings in the middle of this block. The 1890 map shows the footprint of what appears to be the present building replacing one of the two residences here. Based on this information a reasonable construction date for this building would be 1890.
References:
Andres, Penny, Walla Walla Her Historic Homes, Vol. II, 1993
Bennett, Robert A., Walla Walla  A Town Built to be a City 1804-1899, Pioneer Press,  Walla Walla, 1980.
Bennett, Robert A., Walla Walla  A Town Built to be a City 1900-1919, Pioneer Press,  Walla Walla, 1982.
Building permits: Whitman College Penrose Library Archives.
Gilbert, Frank T.; Historical Sketches Walla Walla County, Whitman County and Garfield County, Washington Territory, 1882.
Lyman, Professor W.D., An Illustrated History of Walla Walla County  1901
Sanborn Fire Maps: 1884-1905 (with updates until 1950)
Walla Walla City Directories: 1880-present (various publishers–not all years)
Walla Walla County Auditor's records.
Walla Walla County Assessor's records.
Mary E. Meeker ; Walla Walla 2020 Research Service PO Box 1222, Walla Walla WA 99362 June, 2005
http://ww2020.net/wp-content/uploads/51_E_Main.jpg
150
200
Mary Meeker
http://ww2020.net/wp-content/uploads/2011/12/ww2020_logo.png
Mary Meeker
2005-07-01 17:37:52
2017-02-05 12:23:03
History of 51 East Main Street, Walla Walla, WA