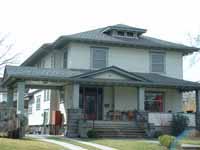 Property Description
Beginning at the Northeasterly corner of Block 16 of Roberts' Addition to the City of Walla Walla, Washington, according to the Official Plat thereof of record in the Office of the Auditor of said County of Walla Walla, and running thence Westerly along the Northerly line of said Block 16, a distance of 120 feet; thence Southerly at right angles 75 feet; thence Easterly at right angles 120 feet to the Easterly line of said Block 16, a distance of 75 feet to THE POINT OF BEGINNING, being parts of Lots 1,2, and 3 of said Block 16 of Roberts' Addition to the City of Walla Walla, in Book A of Plats at Page 21.
Title History
Washington Territory was created in 1853. The new legislature created Walla Walla County in 1854 which stretched from the crest of the Cascade Mountains to the crest of the Rocky Mountains in present states of Washington, Idaho and Montana. In 1855 an Indian council was held on the banks of Mill Creek at the present site of Walla Walla to purchase land from the Indians. The Yakimas and Walla Wallas rejected the treaty and prepared for war which followed. Missionaries, former French-Canadian employees of the Hudson Bay Company Trading Post at Wallula, and soldiers at Fort Walla Walla were the primary European occupants of the area prior to 1859 when it was opened for settlement.
Walla Walla was originally laid out by surveyor H.H. Chase in 1859, even before its formal incorporation as a city in 1862, as a one-quarter mile square oriented N-S, E-W and with its eastern side centered on the point where Main Street crossed Mill Creek (at roughly the point where it does now). To this original area, additional parcels were annexed from time to time, usually with the name of the land owner of record at the time the additions were made.
The first person to plat this area was A. B. Roberts who came to Walla Walla from Portland, Oregon in 1859 and immediately purchased a claim from Tom Hughs for $250 on land just south of Main Street. He fenced his new property and put up a canvas house which allowed him to hold it until the government surveyed it in 1860. He had brought some grafted fruit trees from Portland and was able to sell them in 1860 for $1.00 apiece. He realized there was money to be made in fruit trees and became engaged extensively in the nursery business as well as real estate. Roberts Addition was platted by A. B. Roberts and Martha E. Roberts on January 20,1871 (Plat Book A, Page 21, Walla Walla County Auditor's Office, Walla Walla County Courthouse).
On September 16, 1871 A.B. and Martha Roberts sold all of block 16 including this property to John F. Adams for $500. Adams was a stock raiser and prominent member of the community. He and his wife Susan lived nearby on the south side of Birch Street between Catherine and Ebby. Three months after selling this property in 1898 John died and is buried in Mountain View Cemetery with a substantial marker at the corner of Cypress and Juniper Streets. On December 14, 1898 John and Susan Adams sold this lot to Julia L. Williamson for $1800. On February 3, 1906 Julia Williamson, a widow, sold the property to Grant Copeland for $1500. Copeland was a farmer who lived nearby at 12 Whitman Street. Grant and Alice Hooper Copeland sold on November 22, 1906 to Alexander M. Cation for "$10."
Alexander Cation and his brother-in-law Oliver Cornwell owned the Walla Walla Lumber Company. He had taken out a $1000 building permit for a residence at Craig and Howard in 1905. In 1909 he obtained a permit for the construction of this house for $6000. In 1916 he added the garage for an estimated $200. Alexander and his wife, Nancy ("Nannie") lived at 588 Isaacs and 1142 Isaacs in 1907 and 1908 before they moved to their new home in 1909. They occupied the home at 504 Catherine until 1932 at which time they moved to 602 Boyer, Apt. H-1. Their son Forrest moved into his parents' home at that time. Alexander died on July 10, 1934. His widow sold this property to Louis W. Jones on June 27, 1936. Jones' wife Caddie quit claimed her interest in the house as a part of a divorce settlement on October 5, 1936.
Jones lived at and managed the Paine Court Apartments at 534 Third Street South and rented the house on Catherine to Phillip W. Allison "Capt FAUSA PMS&T High School" for at least three years. On April 6, 1942 L. W. Jones transferred the house for "love and affection" to his daughter Gladys Van Dusen. On September 5, 1942 she and four siblings sold the house to J. W. Shore, a bachelor. Shore was not listed as a resident of Walla Walla in the city directories. The house was apparently rented to multiple individuals after this time, including Wallace G. Scott in 1946.  On December 21, 1948 Mr. Shore transferred the house to Wallace Gene and Imogene J. Scott, with a full life estate reserved for himself. In 1949-1950 Scott is listed in the city directory as a student living in apartment 1 at 504 Catherine. In 1953 he is listed as the manager of Catherine Court Apartments and salesman at J. F. McDonald Agency.
On July 7, 1951 the Scotts sold the property to Herman and Vera Lell Timm while carrying a mortgage for $11,500. The Timms lived at 401 S. Park and operated the Park Avenue Cash Grocery at 414 S. Park for many years. Timm received the deed from Scott when the mortgage was satisfied  on June 19, 1958. He rented out 6 apartments for many years.  Vera Timm is listed in the city directories for the last time in 1966. On August 10, 1976 Herman Timm Jr and his wife Norah deeded the property to Robert A. and Maryanne Y. Freeman "for love and affection." Robert Freeman was the assistant superintendent at the Washington State Penitentiary and lived on Village Way. Later he became a "correctional consultant." They rented 6 apartments until September 26, 1990 when they sold to David L. Hoffman, a single man, and Lillian A. Hoffman, a single woman who signed a $50,000 note. The city directories of the time indicated several apartments were not occupied. David was the owner of Adele's Doll Shop at 105 E. Sumach. Lillian lived at that address also. In 1994 David and Lillian signed a Joint Tenants with Right of Survivorship agreement. On July 31, 2000 the Hoffmans sold to Walter and Laurie Caton for "$10." On August 3, 2000 the number of residences and utility services on the property were reduced from 6 to 1. On September 19, 2002 the Catons sold to Jeffrey and Patrice Townsend.
Construction of the House
The Walla Walla County Assessor and Cation family biographer Mandy Church list a building date of 1907 for this house. Building permit #426 was issued to A. M. Cation for a two story dwelling at Whitman and Catherine on March 25,1909. No builder was specified. The permit was for a $6000 structure. The Cations are listed in the 1909-1910 city directory as living at 504 Catherine for the first time.  Therefore, it is reasonable to assume that this newly restored classic home was built and first occupied in 1909.
References
Archive, Whitman College Penrose Library, Larry Dodd, archivist.
Bennett, Robert A., Walla Walla  A Town Built to be a City 1804-1899, Pioneer Press,  Walla Walla, 1980.
Bennett, Robert A., Walla Walla  A Town Built to be a City 1900-1919, Pioneer Press,  Walla Walla, 1982.
Building permits: Whitman College Penrose Library, Larry Dodd, Archivist
Church, Mandy, Cornwell-Cation family genealogy records, September 28, 2002
Gilbert, Frank T.; Historical Sketches Walla Walla County, Whitman County and Garfield County, Washington Territory, 1882.
Lyman, Professor W.D., An Illustrated History of Walla Walla County  1901
Ogle's Standard Atlas of Walla Walla County, 1909
Sanborn Fire Maps: 1884-1905 (with updates until 1950)
Walla Walla City Directories: 1880-present (various publishers–not all years)
  Mary E. Meeker Walla Walla 2020 Research Service PO Box 1222, Walla Walla WA 99362 November, 2002
http://ww2020.net/wp-content/uploads/504_Catherine.jpg
150
200
Mary Meeker
http://ww2020.net/wp-content/uploads/2011/12/ww2020_logo.png
Mary Meeker
2002-11-01 16:47:43
2017-02-05 12:24:01
History of 504 Catherine Street, Walla Walla, WA