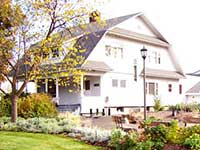 Property Description:
Lot 1 in Block 3 of College Addition to the City of Walla Walla, Washington, according to the official plat thereof of record in the office of the Auditor of said County of Walla Walla. Also, a strip of land 10 feet in width and 125 feet in length adjoining said Lot 1 on the east side thereof for its entire depth and being a part of the vacated portion of Merriam Street as vacated by the City of Walla Walla under Ordinance No. A-375 and A-1309.
Title History:
Washington Territory was created in 1853. In 1854 the new legislature created Walla Walla County which stretched from the crest of the Cascade Mountains to the crest of the Rocky Mountains in the present states of Washington, Idaho and Montana. In 1855 Isaac Stevens held a council on the banks of Mill Creek at the present site of Walla Walla with representatives of regional Indian tribes to purchase land from them. The Yakamas, Cayuses and Walla Wallas were dissatisfied with the treaties and the intrusion of white miners and settlers prior to their ratification, so war followed. Missionaries, former French-Canadian employees of the Hudson Bay Company trading post at Wallula, and soldiers at the military Fort Walla Walla were the primary European occupants of the area prior to 1859 when it was opened for settlement. All of the land in the Walla Walla area was acquired from the Cayuse and Walla Walla Indian tribes by the U.S. Government in a treaty signed on June 9, 1855 in Walla Walla, and ratified on March 8, 1859 by President James Buchanan.
Walla Walla was originally laid out by County Surveyor H.H. Case in 1859, even before its formal incorporation as a city in 1862, as a one-quarter mile square with its eastern side centered on the point where Main Street crossed Mill Creek (at roughly the point where it does now).  The City of Walla Walla received  a Trustee Townsite from the U. S. government which consisted of 80 acres issued on July 20, 1869 by the Vancouver, W.T. District Land Office.
The first patent holders of this northeast quarter of the southeast quarter of Section 20 , Township 7N, Range 36E were Mary and William Johnson and John McComb. They acquired this land from the U. S. government under the Script Warrant Act of 1855. It would have been registered in the Vancouver Land Office where additional conveyances would also have been recorded before there was a land office in Walla Walla. The first local entry in the legal title to this property was on January 7, 1862 when a Quit Claim Deed was signed by William H. and Elizabeth Ann Patton which transferred a portion of this property (and more, for a total of 40 acres) to Dorsey Syng Baker for $600. This original deed is in the Baker Collection in the Whitman Archives. Dorsey Baker had moved to Walla Walla in 1861 and built a home on College Creek on what is now Boyer Avenue . He also donated four acres of this forty acre parcel on the south side of Boyer Avenue to Whitman Seminary. In 1862, Baker was on the city council and some years later was a Walla Walla County Commissioner. He was the founder of Walla Walla's Baker Boyer Bank and builder of the first railroad in the valley. Dr. Baker died in 1888 but his will stipulated that his property could not pass to his heirs before 1900 so his estate was operated for many years by his extended family. The executors of his estate had College Addition platted on December 18, 1899. They transferred this lot and many more in College Addition to the Baker Loan and Investment Company on January 16, 1900.
On January 20, 1862 William and Elizabeth Patton signed a Warranty Deed for subterranean water rights on this and adjoining property (80 acres total) to H. P. Isaacs for $2000. On September 21, 1881 H. P. and Lucie Isaacs leased to their son J. S. Isaacs "all subterranean waters" in order to supply the City of Walla Walla. In 1905 the Walla Walla Water Works Reservoir #2 (capacity 250,000 gallons) was located on this block between Mill Creek and the Washington I.O.O.F. Home and Orphanage.
On November 18, 1902 the Baker Loan and Investment Company signed a Warranty Deed on this Lot 1, Block 3 to Michael McCarthy for $1350. On June 23, 1903 Michael McCarthy gave a Warranty Deed to Helen McCarthy for the same amount of money. Michael and Helen were siblings who were both unmarried. Michael had been born in 1845 in Newfoundland. He enlisted in the U. S. Army in New York in 1865. He was stationed at Fort Walla Walla with the 1st U. S. Cavalry as a Sergeant during the Nez Perce War in 1877. At the battle in Whitebird Canyon, Idaho on June 17, 1876 he was detailed with six men to hold their position against hostile Indians while forward troops fell back. During the retreat he had two horses shot from under him, was captured but escaped and reported back for duty after hiding out from the Indians for three days. He was awarded the Congressional Medal of Honor for his heroism in saving many men's lives during fierce fighting . He retired from the U. S. Army in Walla Walla where he was prominent in the Washington Territorial Militia. This group was reorganized in 1888 as the Washington National Guard and he rose to the rank of Colonel before his retirement in 1905. He died in 1914. His widowed mother, Mary, and single sister, Helen, had lived with him at several addresses in Walla Walla prior to this home.  On November 27, 1916 his sister Helen sold her home at 502 Boyer to the First Congregational Church for $5500 in gold coin.
The Congregational Church has had a long relationship with Whitman College. The first Congregational Church in Walla Walla was built by P. B. Chamberlain in 1864 at Second and Rose Streets. Rev. Chamberlain was involved in the building of Whitman Seminary which was dedicated on October 13, 1866. Two days later it formally opened with P. B. Chamberlain as principal with thirty-six students. Whitman College's first president (1882-1891) was Alexander J. Anderson, a deacon of the First Congregational Church. His son, Louis was a longtime Whitman classics professor who was married to Dorsey Baker's daughter, Mable. They donated the land for the construction of a new Congregational Church at Palouse and Alder Streets. At that time Rev. Edward Lincoln Smith was serving the Congregational Church (1893 to 1898). His wife Rose was a sister of Mable Baker Anderson. Rev. Smith and Dr. Stephen B. L. Penrose both had been part of the 1890 "Yale Band of Homeland Ministry" consisting of  six Yale divinity graduates. They had come to the Pacific Northwest as Christian missionaries at a time when they were all single men and therefore not qualified for a foreign assignment, such as China. Dr. Penrose had been assigned to the Congregational Church in Dayton, Washington. He was hired to become the third president of Whitman College in 1894 when there were only 4 college students and 30 academy students. He and his family were very active in First Congregational Church. In 1897 the Church donated $8218 to help Whitman College in a time of financial need. Between 1908 and 1913 Dr. Raymond C. Brooks was the pastor at the Church. He was a gifted teacher, preacher and administrator as well as an assistant professor of philosophy at Whitman. The church voted to build a new building in 1909 and had raised pledges to cover its estimated cost of $50,000. After a sermon by Dr. Brooks on May 6, 1912 the church voted to turn over their pledges to Whitman College which was then deeply in debt. Something in excess of $60,000 was given to Whitman by members of the First Congregational Church of Walla Walla at that time. After more fundraising the parish house was built in 1923 and the present sanctuary was completed in 1931.  The sanctuary was planned to be of sufficient size to hold commencement exercises for Whitman.  The Penrose family sat together on Sundays in the left front pew, opposite the Baker family. The family pew is now marked with the brass nameplate taken from the front door of Green Cottage (1899-1962) where the Penroses lived on the campus at three different times.  Penrose House on Boyer was built in 1921 to commemorate Dr. Penrose's 25th anniversary as president of Whitman College. It is directly across the street from 502 Boyer, which would have been the home of Rev. Otis Holmes at that time.
On March 25, 1980 the First Congregational Church sold this home which had served as their  parsonage for 64 years to Tom and Margo Scribner for $65,000. On August 29, 1994 the Scribners sold this home to the Board of Trustees of Whitman College for $160,000. On January 29, 1998 the college gave the Washington Odd Fellows Home a perpetual easement for ingress and egress of emergency vehicles on the vacated alley. The City of Walla Walla granted an ordinance on February 25, 1998 which vacated the alley.
Occupant History:
Michael McCarthy and his single sister were the first occupants listed in the city directory at this address, beginning in 1905, and continuing to his death and her later sale of the property. They had lived at several other addresses in Walla Walla since the first city directory was published in 1880. Michael died in 1914 and his sister Helen continued to live here until she sold this house to the First Congregational Church in 1916. The church used this house as a parsonage for 64 years. Rev. Otis H. Holmes and his wife May lived here from 1918 to 1923, followed by  Rev. Charles H. and Myrtle Burdick, 1924-1927; Rev. Theodore K. and Esther W. Vogler, 1927-1931; Rev. F. Gordon and Dorothy S. Hart, 1932-1935; Rev. Clay E. and Hazel Palmer, 1935-1940  (he was also a lecturer at Whitman); Rev. Kenneth D. and Laura T. Claypool, 1940-1953; Rev. Franklin R. and Geraldine Bernice Elliott, 1954-1963; Rev. Emrys Park Thomas and his first wife Eleanor, followed after her death by his second wife Cindy, 1963-1981. Tom and Margo Scribner lived here from 1980-1994. Margo taught English and general studies at Whitman College. Tom is a lawyer active in community affairs. In 1995 the Japanese Language Learning House (Tekisuijuku) moved here from their prior Otis Street home. In 2005  Tekisuijuku residents moved again to make way for the new Whitman Counseling Center, which is part of the Welty Center Student Health Services.
Construction of the Building:
This is a very substantial house of graceful proportions with bullnose siding  on the main floor and fish scale shingles on the second floor with a dormer room over the entry. Its large open porch is set under the sweep of the gambrel roof reminiscent of the Dutch Colonial style . The double entry doors have double screen doors with a plate "E. T. Burrowes Co. Portland Me. Pat. June 3, 1903." This company operated the largest wire screen factory in the world from 1878 to 1928. The house has large windows with numerous side lights, several covered with latticework. There are semicircular fanlights in the gables. The interior still has its original or equivalent woodwork details, a stone fireplace and open stairway. In 1905 there was a bay window in the dining room that no longer exists. The original home had a back porch at the southeast corner of the main floor that has been replaced by a bathroom. The modern addition of the student health center at the back of the house is connected through the kitchen. The design and placement of this large addition has been done with great respect for the original home.
The Walla Walla County Assessor's records state that this house was built in 1947 which is clearly not true. There were no building permits recorded before 1907. However the 1905 Sanborn Fire Maps show the footprint of the present house in that year. The previous fire map in 1894 showed no structure in this location. Since Michael McCarthy purchased the property late in 1902 for $1300 reflecting only the value of the lot, and sold it in 1903 to his sister Helen for the same price, it appears that Helen and Michael McCarthy had this home built as their residence where they lived until his death and her later sale of the property. Although they are listed  elsewhere in the 1904 directory which was printed in midyear, it is likely that the house was completed and that they first occupied it in 1904, leading to their listing at that address in the following year.
References:
Bennett, Robert A., Walla Walla  Portrait of a Western Town 1804-1899. Pioneer Press,  Walla Walla, 1980.
Brown, Mark Herbert, The Flight of the Nex Perce. G.P. Putnam's Sons, 1967, p128-129.
BLM Land Patent Records
Building Permits: Whitman College Penrose Library Archives.
Dodd, Lawrence L. The Developing Campus 1859-2002. Northwest& Whitman College Archives Publication, 2003.
Frank, Larry. First Congregational Church historian, April, 2008.
Lyman, Professor W.I., An Illustrated History of Walla Walla County.  1901.
Penrose, Stephen B. L. Whitman, an Unfinished Story. Whitman Pub. Co. 1935
Sanborn Fire Maps: 1884-1905 (with updates until 1950).
Stickles, Frances Copeland. Another Sort of Pioneer, Mary Shipman Penrose. Castle Island   Publishing, 2007
U.S. Census records
Walla Walla City Directories: 1880-present (various publishers–not all years).
Whitman College Archives.
  Mary E. Meeker dawame@@bmi.net; Walla Walla 2020 Research Service PO Box 1222, Walla Walla WA 99362 April, 2008
http://ww2020.net/wp-content/uploads/502_Boyer1.jpg
150
200
Mary Meeker
http://ww2020.net/wp-content/uploads/2011/12/ww2020_logo.png
Mary Meeker
2008-04-01 16:43:12
2017-02-05 12:20:49
History of 502 Boyer Avenue, Walla Walla, WA - Counseling Center / Welty Student Health Center, Whitman College