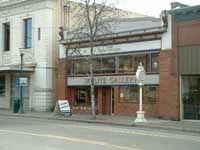 Property Description:
Beginning at a point in the Westerly line of Second Avenue North (formerly Second Street) which point is 84 feet Northerly, measured along said Westerly line of Second Avenue North, from the point of its intersection with the Northerly line of Main Street in the City of Walla Walla, Washington, and running thence Northerly, along said Westerly line of the Second Avenue North, a distance of 36 feet; thence at right angles Westerly 53 feet; thence at right angles Southerly 36 feet; thence at right angles Easterly 53 feet to THE POINT OF BEGINNING.
Together with the right to maintain the tank and underground workings now located on the four foot strip immediately South of the premise hereinafter described with right of ingress and egress to keep up the same.
Title History:
Walla Walla was originally laid out by surveyor H.H. Chase in 1859, even before its formal incorporation as a city in 1862, as a one-quarter mile square oriented N-S, E-W and with its eastern side centered on the point where Main Street crossed Mill Creek (at roughly the point where it does now). To this original area, additional parcels were annexed from time to time, usually named after the land owner of record at the time the additions were made.
All of the land in this area was acquired from the Cayuse and Walla Walla Indian tribes by the U.S. Government in a treaty signed on June 9, 1855 in Walla Walla, and ratified on March 8, 1859 by President James Buchanan. The City of Walla Walla obtained from the U. S. government the south half of the southeast quarter of section 20 as a Trustee Town site registered on July 20, 1869. This original plat includes this property but does not appear in the above legal description. The first owner of record located in this title was Emile Mayer (Meyer) who sold "a fraction of Lot 10, Block 2 from the Helmuth building for 20 feet along Main Street" to Joseph Helmuth on May 7, 1861 for $400. Meyer apparently borrowed and repaid money on this property ("Myers Bakery") from Maximilian Baumeister in 1863. On April 18, 1864 Eugene Crowne sold to Meyer "an undivided half of City Brewery lot, the brewery and the implements" for $3000. Meyer manufactured beer, cheese and presumably bread. On May 13, 1864 Meyer sold "36 feet of lot 10, block 2 beginning 2 feet east of corner of dwelling of Joseph Helmuth" to Eugene Crowne for $1000.
These early deeds are confusing because they lack precise descriptions. Perhaps to clear up some of these titles the City of Walla Walla gave a deed to Joseph Helmuth for lots 9 and 10, block 2 (224.5 feet on Main by 60 feet north to the bank of Mill Creek) for $10 on February 24, 1866. On March 23, 1866 the City gave a deed to Eugene Crowne for lot 10, block 2 (15.5 feet on Main Street back to the bank of Mill Creek).
On August 26, 1871 Eugene and Lina Crowne sold that parcel with 15.5 feet on Main Street back to the bank of Mill Creek to Thomas Quinn. Thomas Quinn had come to Walla Walla in 1864 as an experienced leather worker. Following the purchase of this property he established his own saddle and harness manufacturing business. By 1882 he had ten employees at his business located on the northwest corner of Second and Main Streets. His residence was at the corner of Rose and Colville Streets. Joseph and Adelia Helmuth both died on November 4, 1875. Thomas Quinn was the administrator of their estates. The estates were settled in 1883 when the Helmuth heirs in Dambach, County of Alsace, German Empire, sold their property in Walla Walla to Thomas Quinn. Then Quinn owned 240 feet west on Main Street from the corner of Second and back to Mill Creek which is in about the middle of this block. On January 11, 1899 Thomas Quinn died. However, the harness shop continued in business and his widow Clara continued to live at 105 Colville. On March 1, 1910 Clara Quinn signed a party wall agreement with John H. Pedigo, owner of the building on the north side of this property. John Pedigo was a lawyer with offices in the Ronan Building. Mrs. Quinn also had leases recorded in 1909 with J. D. Garred and N. M Higgens of Tallmans Drugs for a storeroom and cellar in her building behind Tallmans Drug store, as well as another portion of this property leased to Clarence S. Crews, secretary-treasurer of Walla Walla Importing Company, who also owned and operated the Dime Theater at 21 West Main Street and The Arcade at 115 Main. Mr. Crews was a talented musician and was called Walla Walla's "showman supreme."
On January 4, 1912 Clara Quinn sold property including this parcel to George B. Kellough for $60,000. George was president of Third National Bank, at the corner of Second and Main, with a home at 118 Whitman. On February 8, 1912 George and Viola Kellough transferred this property to the Kellough Investment Company. On June 28, 1921 the Kellough Investment Company signed an Agreement for Deed on this property to Clyde B. Stanton for $18,000. The deed was signed on April 19, 1927. Stanton owned and operated the Central Cleaners and Hatters (first at #7) through 1958. He and his wife Nellie lived at 811 Whitman. In 1949 the Central Cleaners was listed at 5 1/2 North Second; Fairway Finance was at #7. Leid Insurance was at #7 1/2. In 1956 Archer Daniel Midlands grain dealer occupied #7. By 1959 #5 1/2 was vacant; #7 vacant in 1960. In 1963 the Walla Walla Realty occupied #7 1/2 for the first time. On March 3, 1967 Clyde Stanton died and on November 21, 1967 his widow Nellie signed an agreement that gave her a life interest in the building with ownership going to Howard I. Stanton on her death. On August 12, 1969 Nellie E. Stanton and Howard I. Stanton, as his separate property, sold this building to Shirley A. and Harral C. Higginbotham, owner-managers of Walla Walla Realty. A variety of insurance and investment companies occupied this building in addition to Walla Walla Realty until the present. On June 23, 1998 Shirley A.Higginbotham gave Harral Higginbotham a quit claim deed on this property for dissolution of their marriage. On June 13, 2003 Harral Higginbotham, a single man, sold this property to Charles R. Nelson, as his separate property.
Construction of the Building:
The 1905 fire map does not show any building between the buildings which front on Main Street and Mill Creek. The only Quinn building permit that could be located was for the Quinn Building (brick) at First and Main Streets in 1905. Since Mrs. Quinn signed leases on this property in July and September of 1909 it seems reasonable to assume that Clara Quinn had this building constructed in 1908 or 1909. She signed the Party Wall Agreement with Mr. Pedigo on March 1, 1910, probably when he built the adjacent building on the north over Mill Creek. The County Assessor's office reports a build date of 1940, undoubtedly when the building was remodeled, as well as a 1908 date. Circa 1908 should be used for this property.
References:
Andres, Penny, Walla Walla Her Historic Homes, 1991.
Bennett, Robert A., Walla Walla Portrait of a Western Town 1804-1899, Pioneer Press, Walla Walla, 1980.
Bennett, Robert A., Walla Walla A Town Built to be a City 1900-1919, Pioneer Press, Walla Walla, 1982.
Building Permits: Whitman College Penrose Library Archives, Larry Dodd, Archivist
Lyman, Professor W.D., An Illustrated History of Walla Walla County 1901.
Metsker's Map of Walla Walla, undated.
Sanborn Fire Maps: 1884-1905 (with updates until 1950).
Walla Walla City Directories: 1880-present (various publishers–not all years).
Whitman College Archives, Larry Dodd, archivist
Mary E. Meeker Walla Walla 2020 Research Service PO Box 1222, Walla Walla WA 99362 July, 2003
http://ww2020.net/wp-content/uploads/5_N_Second.jpg
150
200
Mary Meeker
http://ww2020.net/wp-content/uploads/2011/12/ww2020_logo.png
Mary Meeker
2003-07-01 18:17:45
2017-02-05 12:23:09
History of 5-7 North Second Avenue, Walla Walla, WA