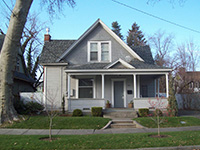 Legal Description
The Easterly 54 feet of Lots 1 and 2 in Block 6 of Park Addition to the City of Walla Walla, according to the official plat thereof, records of Walla Walla County, Washington, less the Northerly 5 feet thereof.
Title History
Walla Walla was originally laid out by surveyor H.H. Chase in 1859, even before its formal incorporation as a city in 1862, as a one quarter mile square oriented N-S, E-W with its eastern side centered on the point where Main Street crossed Mill Creek (at roughly the point where it does now). To this original area additional parcels were annexed from time to time. The first recorded transaction for the land on which 431 Lincoln was built was a Warranty Deed dated June 6, 1869 in which A.B. Roberts and Martha Roberts sold "all that lot piece or parcel of land….being a part of the SE quarter of the SE quarter of Section 20, Township 7 North, Range 36 East….." to Minnie Hartman and her husband M. Hartman for $1000. This transaction went on to make an exception for land necessary for conveying water through the property for irrigation. A.B. Roberts came to Walla Walla in 1859 from Portland and claimed a large section of land south of Main St., where among things, he raised fruit trees, having brought grafted trees with him from Portland. His interest in providing water for his orchards was evident in this first property transaction for 431 Lincoln. On January 20, 1871 Minnie Hartman sold "the northerly half of Block 10 and the whole of Block 30, Washington Territory… 13 acres more or less" to Sewall Truax and his wife Sarah Truax for $2700. Truax is listed in the 1881 City Directory as a civil engineer residing at 404 Birch. On May 28, 1878 Sewall and Sarah Truax sold Lots 1,2,3,and 4 in Block 6 of Park Addition to Orley Hull and his wife Mary Hull. Note that today's platting had been established by this time and the 13 acre parcel was much reduced via other sales. The 1878 transaction stated that "The party of the first part reserves the right to take from the spring branch running through said lots for his own domestic use a pipe of water not to exceed three inches in diameter and in no event to be more than one half of usual quantity in said branch." This must refer to the stream running along the back boundary of this lot. In 1889 two Quit Claim deeds to their father were filed by the daughters of Orley and Mary Hull to settle the estate of their mother who died in 1886. This transaction was for Lots 1,2,3,4,7,8 in Block 6 and Block D in Park Addition which became a parcel that would have several owners as time went on and that had been expanded by purchases made by Hull. Hila E. Swezea and her husband Smith W. Swezea, listed as a farmer in the 1900-01 City Directory residing at 109 E. Sumach, and her sister Viola Anders and her husband T.J. Anders, listed in the 1900-01 City Directory as a lawyer residing at 44 Washington, valued their Quit Claims at $1500. In 1890 there seems to have been an auction of this parcel of land that necessitated a "Referee's Deed." Orley Hull claimed that he was the highest bidder at $8500 but he was challenged by Eva Swash. This researcher could not find the reason for the auction of land that seemed to already be owned and was retained by Orley Hull. Hull died in 1892.
On July 14, 1902 the Hull sisters sold the parcel to John L. Sharpstein and his wife Adna Sharpstein for $5000. John L. Sharpstein was a lawyer in partnership with his brother Frank in a firm in the Baker-Boyer Building founded by their father Benjamin Sharpstein. John L. Sharpstein's obituary in 1934 described his long and distinguished law career. He was admitted to the bar in 1879 and practiced for 47 years. He was appointed to be a Superior Court Judge in 1926. He prosecuted IWW cases in Walla Walla County and a quote indicated that "he favored progressive legislation but opposed radicalism." He ran for Lt. Governor of the State of Washington unsuccessfully and had been Walla Walla's City Attorney. On September 4, 1902 the Sharpsteins appear to have mortgaged the parcel to Max Baumeister for $5000. On August 3, 1904 Max Baumeister and his wife Alvine Baumeister filed a Quit Claim deed for consideration of $1 to John L. Sharpstein, so clear title was returned to Sharpstein. On September 23, 1904 Hull's daughter Hila Swezea challenged the 1890 auction transaction but it was judged that "the time allowed for redemption of said property has expired" and the sheriff was paid $947 in gold coin.
On November 1, 1907 Adna was granted a divorce decree from John L. Sharpstein because of "abandonment without cause," in connection with which Adna Sharpstein filed a Quit Claim to John Sharpstein for her portion of this parcel as well as many other properties. In the 1898 through 1907 directories John L. Sharpstein's address is given as 384 Palouse, though the house there at that time is evidently not the same house as is there today. In the 1908 City Directory he is listed at 431 Lincoln. The Sanborn Fire Map of 1905 shows a house at this location, which appears to have been bare land from the price paid by the Sharpsteins in 1902 for this lot and several other parcels. In view of the divorce due to "abandonment without cause," this researcher concludes that Sharpstein built this house circa 1905 as a second residence. The 1911-12 City Directory indicates that John L. and Annabelle Sharpstein are the residents at 431 Lincoln, so he had remarried by then. Complete building permits are available beginning on September 16, 1907, and the only building permit shown for this location was in 1911 for $350 for remodeling of 431 Lincoln.
On April 22, 1915, John and Annabelle Sharpstein sold the house on today's 54′ X 95′ lot to Ximena E. Stevens and her husband H.W. Stevens for $2500. Herbert W. Stevens sold clothing at Johnston and Stevens at 29 E. Main and then at Payne-Jaycox, a men's furnishing store at 14 S. 2nd. They moved to 528 Washington in 1920. On March 1, 1920 the Stevens sold the house for consideration of $1 to Sophie Hay and her husband Charles H. Hay who then sold to William H. Case and Maude L. Case on June 17, 1920. William H. Case is listed in the 1921-22 City Directory as having personal property worth $1160 and employed by Owsley and Case, grain bags, twine and feed, located at 8 S. 2nd. On June 30, 1925 an Administrator's Deed was filed by Leland Bussell, administrator for the estate of William Case. The very low bid of $330 was the highest bid at a "public cash sale" for 431 Lincoln. Bussell questioned the $330 as not being proportionate but the court said the sale had been administered correctly. The fortunate buyers were Nellie B. Frankland and her husband John G. Frankland, who are listed in the 1926-27 City Directory at 431 Lincoln. John G. Frankland was a real estate agent with an office at 106 E. Alder. A Deed of Guardian was filed by Fred Jefferis, John and Nellie Frankland's guardian, declaring them to the "incompetent persons" in 1951. The house was sold on February 1, 1951 to Allen C. McDonald and his wife Ruth G. McDonald for $2850. Allen McDonald was a real estate agent and Ruth McDonald was listed as a Wa-Hi teacher. They lived at 1701 E. Sumach and owned 431 Lincoln as a rental from 1951-1975. Turnover for renters was almost annual; several times the house was listed as "vacant" when the City Directory was published.
On June 18, 1975 the McDonalds sold 431 Lincoln to Richard L. Mullins and Sandra L. Mullins for consideration of $10. Richard Mullins is listed as a mechanic at Tom's Chevron in the 1975 City Directory. The Mullins found it necessary to file a Declaration of Homestead because of indebtedness. Mullins filed a Quit Claim to Timberstone, Inc., a financial institution and there was a transfer of title back to the McDonalds. In July of 1983 the house was sold to James H. Schueler and Dena M. Schueler for $57,500. The Schuelers participated in the Pacific Power and Light weatherization program improving the heating bills for the house. On March 29, 1998 a Quit Claim deed was filed by James Schueler to Dena Schueler for "creation of separate property per Dissolution of Marriage Settlement Agreement." On May 1, 2002 Dena M. Schueler, an unmarried person, sold the house to Bruce Magnusson, a politics professor at Whitman College, for $119,900.
Construction of the House
The Walla Walla County Assessor's Office records gives 1920 as the construction date for 431 Lincoln. There is no evidence to support that date. As indicated, no building permit was issued for this house following the commencement of complete permit records on Sept. 16, 1907, and the 1905 Sanborn Fire Map shows a structure with the same footprint as the current house, whose style and siding are consistent with turn-of-the-century construction.  John L. and Adna Sharpstein had purchased the property in 1902. The Sharpsteins' divorce in 1907 was based on "abandonment without cause" which would indicate that they had been separated for some time. Sharpstein's first residential listing at 431 Lincoln was 1908. This researcher concludes that the construction date should be listed as circa 1905 by John L. Sharpstein.
References:
Bennett, Robert A. Walla Walla: Portrait of a Western Town, 1804-1899
Pioneer Title Company documents for 431 Lincoln
Sanborn Fire Maps located at Whitman College and the Walla Walla Public Library
Walla Walla City Directories beginning in 1880 (although not available for all years)
Whitman College Archives, Larry Dodd, Archivist, for newspaper files, building permits, etc.
Katherine Weingart Walla Walla 2020 Historical Research P.O. Box 1222 Walla Walla, WA 99362 November, 2002
http://ww2020.net/wp-content/uploads/431_Lincoln.jpg
150
200
Katherine Weingart
http://ww2020.net/wp-content/uploads/2011/12/ww2020_logo.png
Katherine Weingart
2002-11-01 16:40:29
2017-02-05 12:29:04
History of 431 Lincoln Street, Walla Walla, WA