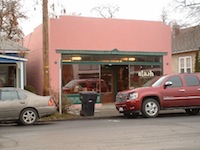 Property Description (abbreviated):
South 24 feet of Lot 12, Block 2, Boyer's Grove Addition to the City of Walla Walla, Washington as recorded in Plat Book C, Page 13, now known as 43 South Palouse.
Title History:
Washington Territory was created in 1853. The new legislature created Walla Walla County in 1854 which stretched from the crest of the Cascade Mountains to the crest of the Rocky Mountains in the present states of Washington, Idaho and Montana. In 1855 an Indian council was held on the banks of Mill Creek at the present site of Walla Walla to purchase land from the Indians. The Yakimas, Cayuses and Walla Wallas were dissatisfied with the treaties and war followed. Missionaries, former French-Canadian employees of the Hudson Bay Company trading post at Wallula, and soldiers at the U. S. military Fort Walla Walla were the primary European occupants of the area prior to 1859 when it was opened for settlement. All of the land in this area was acquired from the Cayuse and Walla Walla Indian tribes by the U.S. Government in a treaty signed on June 9, 1855 in Walla Walla, and was not ratified until March 8, 1859 by President James Buchanan.
Walla Walla was originally laid out by County Surveyor H. H. Case in 1859, before its formal incorporation as a city in 1862, as a one-quarter mile square with its eastern side centered on the point where Main Street crossed Mill Creek (at roughly the point where it does now).  The City of Walla Walla received  a Trustee Townsite from the U. S. Government which consisted of 80 acres issued on July 20, 1869 by the Vancouver, Washington Territory District Land Office.
This property is part of the oldest U.S. Patent in Walla Walla. On September 10, 1861 Andrew J. Cain and Cornelius Kelly filed a patent on 160 acres under the Script Warrant Act of 1855 northeast of the original City of Walla Walla town site. Their claim was recorded on September 10, 1861 in the Olympia Land Office, prior to the opening of a land office in Vancouver, WA or later in Walla Walla. During 1862, A. J. Cain surveyed Cain's Addition to the City (this survey was rerecorded on May 11, 1865, following a disastrous fire which destroyed most of the county's earlier records). This property shared much of its history with the property on its north side, at 41 South Palouse.
A. J. Cain was an early financier of The Walla Walla Statesman newspaper; in 1868 he was elected on the Democratic ticket as prosecuting attorney of Walla Walla County. He later moved to Dayton and in September 1874 began publication of the Dayton News, a weekly Democratic newspaper. He became known as the "Father of Columbia County" as a result of his leading role in the formation of that county.
The first transaction recorded in the Walla Walla legal records was on December 5, 1864 when Andrew and Emma R. Cain sold this property and more in the southeast corner of the northwest quarter of the southeast quarter of Section 20, Township 7N, Range 36W  to Dorsey S. Baker for $3500.
Dorsey S. Baker had moved to Walla Walla in 1861 and built a home on the north side of Boyer Avenue on College Creek. He also donated four acres of his forty acre parcel on the south side of Boyer Avenue to Whitman Seminary. In 1862, Baker was on the city council and some years later was a Walla Walla County Commissioner. He was the founder of Walla Walla's Baker Boyer Bank and builder of the first railroad in the valley. Dr. Baker died in 1888 but his will stipulated that his property could not pass to his heirs before 1900 so his estate was operated for 12 years by his extended family.
On March 30, 1896 John F. and Sarah E. Boyer signed a Quit Claim Deed conveying their interest in multiple real estate properties to Dorsey Baker. John Boyer was Dorsey Baker's business partner and brother-in-law. Boyer died in 1897 and his estate filed a plat for Boyer's Grove Addition on February 10, 1899. Dorsey Baker's heirs and executors deeded lots 12, 13 and 14 of Block 2 of Boyer's Grove Addition to the Baker Loan and Investment Company on January 16, 1900.
On December 28, 1902 the Baker Loan and Investment Company sold these three lots with a water right to M. A. Caris for $375. On December 29, 1902  M. A. and Maria Caris gave an undivided  half interest in all of Lot 12 and part of Lot 13 to their son, C. F. Caris. The Walla Walla Daily Union described Mr. Caris (on October 18, 1905, following his death) as "an old pioneer of the 60s."  He had been born in 1834 in Ohio and came to Walla Walla in 1864. He established the first machinery store on Main Street between First and Second Streets where the present Barrett Building is located. The newspaper said he had a farm on the Touchet River and was one of the leading farmers of the county. He purchased three U.S. Patents on 478 acres from the U. S. government between 1882 and 1890. In 1890 he moved back to Walla Walla and entered the teaming and contracting business with his son, Charles F. Caris. M. A. and Maria Caris built a grand home at 605 Catherine in 1903.
On October 1, 1903 M. A. and Maria Caris and C. F. and Annie Caris sold Lot 12 and 10 feet of Lot 13 with 60 feet of frontage to E. M. and Agnes Broughton and A. and Lottie Tiderington for $1000. On October 13, 1904 Broughton and Tiderington sold this property to Lafayette A. Woodward for $1300. On May 29, 1905 Woodward sold the same land to C. A. Mott for $1500. Mott founded the Walla Walla Candy Company in 1892 at 224 E. Main. On February 4, 1908 Mott signed an Agreement for Deed with Fanny Dantzscher for the 24 feet by 98 feet on the south side of Lot 12 for $400 cash and $1600 loan. Mott and his wife Margaret lived in Yakima when they gave a warranty deed to Mrs. Dantzscher on March 2, 1908.
On January 17, 1917 Lee Barnes, Sheriff of Walla Walla County gave a Sheriff's Deed under foreclosure of mortgage to C. F. H. Vollendorff for this property and more at Palouse and Rose Streets intersection for $4277.41. Ms. Dantzscher continued to have an interest in the property next door at #41 until 1934. C. F. H. and Sallie M. Vollendorff sold this property to Lewis Schmuck on January 26, 1917. Lewis and Martha J. Schmuck sold it on August 6, 1917 to W. H. and Edith Witherite. On September 5, 1917 the Witherites sold to John McCarty. On October 1, 1919 John and Mary McCarty sold to Ernest William Stahl for $6000 including   property at Rose and Palouse. Ernest was the son of pioneer brewers John and Catherine Stahl. Ernest W. and Bertha Stahl  sold only the Lot 12 portion to Anna Remple on December 30, 1921. On September 22, 1923 Anna Remple, a widow at the time of both purchase and sale of this property, sold to E. K. and Blanche B. Cooper. Coopers had several mortgages on the property during this time.
Coopers sold this property to W. M. and Mary E. Chenoweth on March 11, 1927 for $10. The Chenoweths took out a mortgage on July 16, 1929  for $600. On March 17, 1936 they sold this property including the present building to Oscar Corman, a bachelor. Corman's mother Lilly lived with him at this address. She died in 1932 and Oscar and his sister Alma McMath were executors. Oscar Corman died on April 17, 1957 and the executors of his estate were Fred H. Onstot, a neighbor, and Judd Kimball, a  Walla Walla lawyer. Fred Onstot lived at 47 S. Palouse following Oscar Corman's death. It is not known if Onstot and Corman were related. In 1965 Rebecca J. Onstot signed a Quit Claim Deed giving her husband Fred full title to this property. On May 14, 1979 Frederick's brother Walter Dwight Onstot for the Estate of Fredrick H. Onstot, sold this property to Pat J. Leonard for $58,000. On July 11, 1986 Patricia J. Leonard sold this property to Gary Dale and Gail R. Callahan for $28,840. On February 8, 2005 the Callahans sold it to Douglas Breen Saturno and Malinda McKee Saturno.
Occupant History:
The 1894 Sanborn Fire Map shows a wooden bridge across Mill Creek on Palouse Street but no structures on the south side of the creek. In 1905 there were 3 buildings at 29, 33 and 35 S. Palouse. Five buildings numbered 47-69 were north of the Congregational Church at Palouse and Alder Streets. No structures were shown on the map between 35 and 47. The first listing that could be located for this address in the Walla Walla City Directories was in 1908 when Fanny Dantzscher was listed as "Spirella Corsets Made to Order, Hair Switches, all kinds of hair work." This or the property next door to the north, now 41 S. Palouse, appeared to be both business and residence for Fanny and her daughter, Bertha Dantzscher. Research on 41 S. Palouse which Fanny purchased from Mott the same year suggests that Fanny's business and home may have been in a newly built residence on that property, which is still there, and which bears a plaque with that information. From 1911 to 1913 Fanny and Bertha were listed at 14 N. Palouse. In 1914 they were listed at 51 S. Palouse with 'corsets" and at 10 N. Palouse in 1915. No listing  is found for them in 1916-17. It can be assumed that they moved several times during their ownership of this property although changes in addresses and errors in directories are possible. None of the subsequent owners until Oscar Corman seems to have any business or residence here. It is possible that this (or some)  building existed that was rented but there was no reverse directory until 1931. The first listing for Oscar Corman's Cycle Shop was 1929. He purchased this building in 1936 and owned it until his death in 1957. Oscar also lived at this address until he moved next door to #47 in 1939. The cycle shop location (#43) was vacant from 1954-1957 but Corman continued to live next door until 1957. From 1958 to 1961 Kurtz upholstery warehouse was located here with Charles Bogle as manager. It was vacant in 1962. The Kirby Company was here for the first time in 1963. James Nichols was the business owner and Dean Ferguson  was sales manager. The Oil Filter Service occupied #43 from 1964 to 1967 with Norris Posey as owner. Linke's Shoe Service moved into #43 in 1968 until 1972. August G. and Vera Linke lived at 605 Howard.  This building was vacant in 1973-1975. Robert A. Bennett's Pioneer Press Inc. started here in 1976 (also at #37) through 1983. The Kirby Company returned to this address in 1984 and 1985. Dale's Upholstery opened here in 1986 through 2008. Dale Callahan was the owner of the business and the building. In 2009 Stash A Quilter's Paradise opened here.
Construction of the Building:
The Walla Walla Tax Assessor's office  records list a construction date of 1910 for this building . There was a newspaper report in 1905 that C. A. Mott was building on "Palouse" for $1500.
Though Mott owned both what are now 41 and 43 S. Palouse at the time, having purchased them in 1905 for $1500 each, the price Fanny Dantzscher paid Mott for 41 S. Palouse ($3000) compared to the price she paid him for 43 S. Palouse ($2000) suggests that the 1905 construction was at 41 S. Palouse, not this property.  Although  Fanny Dantzscher was listed in the 1908 city directory as living and operating her corset business at 43 S. Palouse, the current building on this property is of concrete block construction and bears the date of 1929. The current owner has blue prints for this building "drawn for Oscar Corman."  This date is further confirmed by a listing in the 1929 city directory for Oscar Corman's Cycle Shop. The 2009 restoration of this building includes the original hardwood floor in the workshop area, two original signs for the bicycle shop plus a photo of the shop and its original owner. The pink and green color scheme is also replicated from an earlier time. Though he did not complete the purchase of this property until 1936 Oscar Corman clearly built this building in 1929.
References:
Bennett, Robert A., Walla Walla  Portrait of a Western Town 1804-1899, Pioneer Press,  Walla Walla, 1980.
Bennett, Robert A., Walla Walla  A Town Built to be a City 1900-1919, Pioneer Press,  Walla Walla, 1982.
BLM Land Patent Records
Building Permits: Whitman College Penrose Library Archives.
Lyman, Professor W. D., An Illustrated History of Walla Walla County  1901.
Sanborn Fire Maps: 1884-1905 (with updates until 1950).
Walla Walla City Directories: 1880-present (various publishers–not all years).
Walla Walla County Assessor's Office
The Walla Walla Daily Union, 1905
Whitman College Archives.
U. S. Census records
Mary E. Meeker ; Walla Walla 2020 Research Service PO Box 1222, Walla Walla WA 99362 July, 2009
http://ww2020.net/wp-content/uploads/43_S_Palouse.jpg
150
200
Mary Meeker
http://ww2020.net/wp-content/uploads/2011/12/ww2020_logo.png
Mary Meeker
2009-07-01 17:20:20
2017-02-05 12:20:47
History of 43 South Palouse Street, Walla Walla, WA