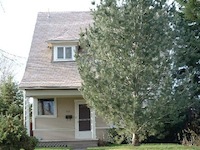 Legal Description
Lot 12 in Block 20 of Roberts Addition to the City of Walla Walla according to the official plat thereof of record in the office of the Auditor of Walla Walla County, Washington. Excepting therefrom a strip of land 7 feet in width off the Northerly side of said Lot 12 opened to public use as an alley.
Title History
The land that comprises the City of Walla Walla was acquired from the Cayuse and Walla Walla Indian tribes by the U.S. Government in a treaty signed on June 9, 1855 in Walla Walla and ratified on March 8, 1859 by President James Buchanan. Walla Walla was originally laid out by surveyor H.H. Case in 1859, even before its formal incorporation as a city in 1862, as a one-quarter mile square oriented N-S, E-W with its eastern side centered on the point where Main Street crossed Mill Creek (at roughly the point where it does now). To this original area, additional parcels were annexed from time to time, usually under the name of the land owner of record at the time the additions were made. 427 Craig is located in Block 20 of Roberts' Addition, named for A.B. Roberts, who came to Walla Walla from Portland in 1859. He purchased a claim to a large section of land south of Main St. where besides developing that part of town into blocks and lots, he raised fruit trees, having brought the first grafted fruit trees with him from Portland.
Roberts was part of the very active real estate buying, selling and developing that occurred as Walla Walla grew in the late 1800's and early 1900's. However, on October 3, 1873 there was a Sheriff's Sale at the courthouse door of Roberts' large parcel which included block 20. The sale was conducted by Burrell M. Griffin, Sheriff of Walla Walla County and Special Master in Chancery of the District Court of the First Judicial District of Washington Territory. The buyers were brothers Frank W. Paine and John G. Paine, along with Miles C. Moore, the last Washington Territorial Governor. The price covered Roberts' debt of $1178.39 in gold coin. The Paines and Moore then sold lots 11 and 12 of Block 20 for $125 to M. W. Coon and Florence Coon on October 7, 1877.  On April 21, 1882 the Coon sold lots 11 and 12 of Block 20 for $300 to Adam Sayne and Mary E. Sayne. The Saynes are listed in City Directories as living at 426 Whitman from 1881-1912. On March 16, 1909 Mary Sayne, widow, sold lots 11 and 12 to Harry Lasater and Jessie Lasater for $2100. The Lasaters are listed in the 1912-1920 City Directories as residing on McDonald Rd., RD1. The price of this transaction would indicate that there was a house on this land, and the 1905 fire map shows a house on Lot 11, numbered 423 Craig at that time (421 today), as well as a shed-barn on the back of Lot 12, numbered 423 _.  There were no city directory listings for the Lasaters anywhere but RD 1. It may have been used as a rental.
On April 30, 1919 the Lasaters sold lots 11 and 12 to C. Clifford Minnick and Blanche Blackman Minnick for an unstated amount. The Minnicks' address was 529 Park beginning in 1909. Beginning in 1912 their address was 413 Craig, a house two doors west of 427 Craig. A building permit was obtained by Minnick for 413 Craig on November 11, 1911. He added the neighboring two lots (11 and 12) after building 413 Craig, which would have extended his property to the alley which is now Chandler St.
It would appear that there was some renumbering on the north side of Craig between Park and Chandler St. (originally an alley). Minnicks' 413 Craig residency remained the same.  However, a building permit was obtained on June 2, 1919 by C. Clifford Minnick to "move and repair a house" at 417 Craig. Current numbers for the three homes between Park and Chandler are  413, 421 and 427 (there is no 417).  It would appear that the moving and repairing of a house refers to the home shown on the 1905 fire map on Lot 11 as 423, which was moved to Lot 12, which became the current home at 427 Craig.
On September 13, 1920 the Minnicks sold the present property, now reduced to its current size of lot 12, to William M. Records and Myrtle I. Records for an unstated amount. There were no names that match these transactions in the City Directories. The Records executed a $2500 mortgage to Stella Lacy on September 14, 1920 which resulted in a foreclosure against the Records in 1930. On August 8, 1931 there was a Sheriff's Sale conducted by Earl K. Monroe, Sheriff of Walla Walla County for sale of the house for $2,260.97 to Stella Lacy. Mrs. Lacy was listed as a teacher at Washington School in the 1923-24 City Directory. Her residence was 332 Whitman at that time and then 40 Park St. later on. She is never listed as residing at 427 Craig, which may have been used as a rental by its several owners. The house was vacant in the 1931-32 City Directory, which contained listings by address. On June 6, 1932 Stella Lacy sold by contract to Charles L. House and Louise House. House was an electrician. The Houses are listed as residents at this address beginning in the 1933 City Directory until 1946 when their son Charles W. House and Theresa House acquired it for an unstated amount and lived there until 1964 when Floyd Farris and Frances L. Farris purchased it . Floyd Farris died in 1979 and in the settling of his estate the property was assessed at $37,900. Frances Farris lived there until 1981. Beginning in the early 1940's until 1980, the house seems to have been divided into a duplex. 427_ Craig has listings of several names of tenants during those years. This was not uncommon in this area of Walla Walla due to the need for housing during WW II because of the location of a military base here.
On January 19, 1981 Frances Farris sold the property for $50,000 to Kenneth E. Carlson and Katherine Carlson. Either during the Farris residency or the Carlson residency, an addition was made to the back of the house containing a bedroom and the kitchen. The Carlsons did not use the house as a duplex. On July 6, 1993 the Carlsons sold the property for $89,000 to Betsy H. Wade and LeRoy Wade, Jr. In the settlement of their divorce that year, Betsy Wade acquired the house as her separate property. On August 14, 1998 Jeffrey and Judith Schlicher purchased the property from Betsy Wade for $127, 500. Jeffrey Schlicher is the Production Planner/Scheduler for the Lamb Weston Company and Judy Schlicher is the office manager for Windermere Real Estate in Walla Walla.
Construction of the house
The Walla Walla County Assessor's Office gives 1906 as the construction date. Adam Sayne and Mary Sayne's sale of this lot and the adjoining lot 11 to Harry Lasater and Jessie Lasater for $2100 in 1909 suggests the presence of a house somewhere on the property, which is confirmed by the 1905 fire map which shows a house on Lot 11. Building permit files are not complete before late 1907, and no permit for the original construction of this house appears in available records.  However, a building permit was issued on June 2, 1919 to C. Clifford Minnick to "move house and repair" for 417 Craig, which appears to refer to the original Lot 11 house.  The sale of Lot 12 as a separate parcel the following year in connection with a mortgage for $2500, suggests that the Lot 11 house was moved to Lot 12 in that year and became 427 Craig. The basic structure of the home at 427 Craig is consistent with homes constructed around 1905; however, the exterior shingling on the upper floor is consistent with decorative shingles used around 1919, indicating that a 1905-era home had been moved onto the present site and remodeled around 1919.  A construction date of circa 1905 should be used for this home.
Resources used for this research:
Penrose Library Northwest Archives, Whitman College
Pioneer Title Company documents for this property
Sanborn Fire Maps
Walla Walla County Assessor's Office
Walla Walla County Courthouse vault grantor/grantee records
Walla Walla City Directories
Walla Walla Public Library Northwest History room
Katherine Weingart Walla Walla 2020 Historical Research Service P.O. Box 1222 Walla Walla WA 99362 July, 2006
http://ww2020.net/wp-content/uploads/427_Craig.jpg
150
200
Katherine Weingart
http://ww2020.net/wp-content/uploads/2011/12/ww2020_logo.png
Katherine Weingart
2006-07-01 16:37:52
2017-02-05 12:28:02
History of 427 Craig Street, Walla Walla, WA