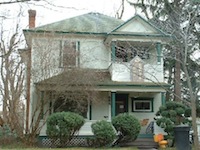 Property Description:
Lot 1, Block 1 in College Addition to the City of Walla Walla, as per plat thereof recorded in Vol. C of Plats at page 16, records of Walla Walla County together with west 10 feet of Merriam Street vacated under Ord. No. A-1309, situated in City and County of Walla Walla, State of Washington.
Title History:
Washington Territory was created in 1853. The new legislature created Walla Walla County in 1854 which stretched from the crest of the Cascade Mountains to the crest of the Rocky Mountains in the present states of Washington, Idaho and Montana. In 1855 an Indian council was held on the banks of Mill Creek at the present site of Walla Walla to purchase land from the Indians. The Yakimas, Cayuses and Walla Wallas were dissatisfied with the treaties and war followed. Missionaries, former French-Canadian employees of the Hudson Bay Company trading post at Wallula, and soldiers at the military Fort Walla Walla were the primary European occupants of the area prior to 1859 when it was opened for settlement. All of the land in this area was acquired from the Cayuse and Walla Walla Indian tribes by the U.S. Government in a treaty signed on June 9, 1855 in Walla Walla, and ratified on March 8, 1859 by President James Buchanan.
Walla Walla was originally laid out by County Surveyor H. H. Case in 1859, before its formal incorporation as a city in 1862, as a one-quarter mile square with its eastern side centered on the point where Main Street crossed Mill Creek (at roughly the point where it does now).  The City of Walla Walla received  a Trustee Townsite from the U. S. Government which consisted of 80 acres issued on July 20, 1869 by the Vancouver, W.T. District Land Office.   Main Street originally followed the old Nez Perce Indian Trail. Consequently the streets leading off of it were at right angles to it, and were not in a north-south orientation. This was corrected as the city moved eastward which gave Walla Walla its peculiar street pattern with the three street intersection at Palouse, Boyer and Main Streets. To the original plat, additional parcels were annexed from time to time, usually with the name of the land owner of record at the time the additions were made.
The first patent holders of this southeast quarter of the northeast quarter of Section 20 , Township 7N, Range 36E were Mary and William Johnson and John McComb. They acquired this land from the U. S. government under the Script Warrant Act of 1855. It would have been registered in the Vancouver Land Office where additional conveyances would also have been recorded before there was a land office in Walla Walla. The first local entry in the legal title to this property was on January 7, 1862 when a Quit Claim Deed was signed by William H. and Elizabeth Ann Patton which transferred this property (and 7 other parcels) to Dorsey Syng Baker for $600. This original deed is in the Baker Collection in the Whitman Archives.
Baker had moved to Walla Walla in 1861 and built a home on the north side of Boyer Avenue on College Creek. He also donated four acres of his forty acre parcel on the south side of Boyer Avenue to Whitman Seminary. In 1862, Baker was on the city council and some years later was a Walla Walla County Commissioner. He was the founder of Walla Walla's Baker Boyer Bank and builder of the first railroad in the valley. Dr. Baker died in 1888 but his will stipulated that his property could not pass to his heirs before 1900 so his estate was operated for 12 years by his extended family. The executors of his estate had College Addition platted on December 18, 1899. On January 17, 1900 the executors of Baker's estate (Miles C. Moore, et al) transferred in excess of nineteen parcels of land, including this one, to his daughter, Anna A. Elliott.
On June 27, 1903 Anna A. and T. C. Elliott sold this Lot 1, Block l to Sarah Evans Wilson. On February 13, 1912 Sarah E. Wilson, a widow, signed an indenture with her daughter Frances Imogene Wilson for the stated amount of $1.00. On May 22, 1916 Sarah E. Wilson and Frances Imogene Wilson sold this property to Mary E. Smith.
On October 7, 1925 Mary Smith signed an Agreement for Deed with Howard E. Pratt, who agreed to assume a mortgage on the property for $3313.74. On December 29, 1928 she signed a Warranty Deed completing this sale to Howard E. Pratt.  A case was filed in Superior Court by Joseph W. Lyons against Mary E. Smith, widow in which Lyons  was awarded this property in payment of a lien. On March 30, 1929 Howard E. and Mabel Pratt filed a Declaration of Homestead to protect this, their primary residence, from creditors' claims, lawsuits and bankruptcy. Subsequently the Pratts filed suit again Earl K. McInroe, Sheriff and Joseph W. Lyons following which the Plaintiffs (Pratts) were decreed to be the owners of this property, freed of lien of judgment of Joseph W. Lyons. On April 13, 1929 Sheriff McInroe gave a Certificate of Purchase of Real Estate to Joseph W. Lyons for his bid of $2337.95. On May 6, 1930 Sheriff McInroe gave a Sheriff's Deed to Joseph W. Lyons. On this same date Joseph W. and Hattie D. Lyons signed a Quit Claim Deed in favor of Howard E. Pratt.
Following Pratt's death, his widow Mabel sold this property to Weldon A. and Vivian M. Anderson on June 8, 1953. On November 1, 1958 the Andersons sold this property to Alberta L. Quinn and Almira L. Quinn, both single women. On January 12, 1968 Almira and Alberta Quinn sold this property to Donald L. and Martha F. Winston. On June 28, 1971 the Winstons sold this property to the Board of Trustees of Whitman College with an agreement for Whitman to pay the balance of the mortgage on this house. Release of mortgage was signed on December 12, 1991.
Occupant History:
In 1902 Victor Wilson, a court stenographer, was listed in the city directory as living at "res. cor.  Boyer and Marion" (sic). He died in 1904 and in 1905 his widow, Sarah, lived  at "ws Merriam/s Boyer Av "with her daughter Frances Imogene and son Paul, students. Living next door, starting in 1910, at 418 Boyer were Fred and Clara Wilson. Though no relationship could be found between these two families, there may have been one.
In 1916-1917 Sarah Wilson was listed in the city directory as living in this house as well as John and Mary E. Smith. Smith owned John Smith Agriculture Implements, Wagons, Carriages and Harness located at Colville and Rose Streets. Sarah Wilson was not listed in 1918 but Smiths continued to live in this house between 1918 and 1920. By 1920 John Smith had died and Mary E. Smith, widow, was listed here from 1921-1926.
According to the city directories of this time Howard E. and Mabel W. Pratt lived here starting in 1926 or 1927. Howard Smith was the "talented musician and experienced administrator" of the Whitman Conservatory of Music. The conservatory operated under its own administration and staff and offered a two year certificate, which required classes from Whitman College as well. It enrolled children and townspeople as well as Whitman students. The Conservatory Glee Club enjoyed "great prestige,"  often traveling for as long as two weeks. The club was used to promote both the Conservatory and the College. Students from the Conservatory were given preference for future Whitman admission. During the 1930s the Conservatory suffered from a lack of students able to afford music lessons and "lost momentum in 1936 with the extended illness and death of Howard Pratt." Mrs. Pratt continued to live in this house until 1952.
In 1953 Vivian and Weldon Anderson lived here. He was a driver for Richfield Oil Corp. In 1954 he became a department manager for Sears. Vesta Dunning, a widow, also lived here until 1956. In 1958 Albert L.,  Arra Electia,  Alberta Lorene and Almira Leotia Quinn lived here. Almira was the director of the placement office (student employment and career information). Both Alberta and Almira owned and operated the Walla Walla Book Store. Their mother, Arra Electia, was a widow in 1960.
In 1968 Donald L. and Martha F. Winston lived at 424 Boyer. Donald was Associate Director of Financial Development at Whitman College. Martha was a modern dance instructor at Whitman. The house was vacant in 1972. From 1973 to 1977 this house was a rental property. In 1978 it became the Whitman College Men's French House. French House for women students was next door at 418 Boyer. The house continued in this role until 1985 when it became the Whitman College Environmental House.
Construction of the Building:
The Walla Walla County Assessor's office lists a construction date for this house as 1902. The city directory in 1904 lists the Victor Wilson family as living at the "cor Boyer & Marion." However, no house is shown on this lot on the 1905 Sanborn Fire map, so perhaps they failed to upgrade the map at this location. There are no building permits available from this time. Since the area was not platted until December 18, 1899, and Victor Wilson is listed as residing at this location in 1902, it is likely that Victor and Sarah Wilson purchased this property by contract in 1901 or early 1902 and built this home at that time, after which Sarah Wilson paid off the contract and received a fulfillment deed in 1903. A construction date of 1902, consistent with the Assessor's records, is therefore reasonable.
References:
Bennett, Robert A., Walla Walla  Portrait of a Western Town 1804-1899, Pioneer Press,  Walla Walla, 1980.
Bennett, Robert A., Walla Walla  A Town Built to be a City 1900-1919, Pioneer Press,  Walla Walla, 1982.
BLM Land Patent Records
Building Permits: Whitman College Penrose Library Archives.
Edwards, G. Thomas, Tradition in a Turbulent Age, Whitman College 1925-1975, 2001.
Sanborn Fire Maps: 1884-1905 (with updates until 1950).
U. S. Census records
Walla Walla City Directories: 1880-present (various publishers–not all years).
Walla Walla County Assessor's Office.
Whitman College Archives.
    Mary E. Meeker ; Walla Walla 2020 Research Service PO Box 1222, Walla Walla WA 99362 August, 2010
http://ww2020.net/wp-content/uploads/424_Boyer.jpg
150
200
Mary Meeker
http://ww2020.net/wp-content/uploads/2011/12/ww2020_logo.png
Mary Meeker
2010-08-01 16:30:05
2017-02-05 12:20:43
History of 424 Boyer Avenue, Walla Walla, WA - Outhouse (Environmental House), Whitman College