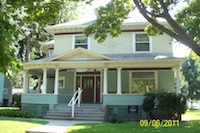 Property Description:
Lot 2 and East half of Lot 3, Block 1, College Addition to the City of Walla Walla, according to the official plat thereof in the office of the auditor of Walla Walla County, Washington, in Book C, at page 16.
Title History:
Washington Territory was created in 1853. In 1884 the new legislature created Walla Walla County which stretched from the crest of the Cascade Mountains to the crest of the Rocky Mountains in the present states of Washington, Idaho and Montana. In 1855 Isaac Stevens held a council on the banks of Mill Creek at the present site of Walla Walla with representatives of regional Indian tribes to purchase land from them. The Yakimas, Cayuses and Walla Wallas were dissatisfied with the treaties and war followed. Missionaries, former French-Canadian employees of the Hudson Bay Company trading post at Wallula, and soldiers at the military Fort Walla Walla were the primary European occupants of the area prior to 1859 when it was opened for settlement. All of the land in the Walla Walla area was acquired from the Cayuse and Walla Walla Indian tribes by the U.S. Government in a treaty signed on June 9, 1855 in Walla Walla, and ratified on March 8, 1859 by President James Buchanan.
Walla Walla was originally laid out by County Surveyor H.H. Case in 1859, even before its formal incorporation as a city in 1862, as a one-quarter mile square with its eastern side centered on the point where Main Street crossed Mill Creek (at roughly the point where it does now).  The City of Walla Walla received  a Trustee Townsite from the U. S. government which consisted of 80 acres issued on July 20, 1869 by the Vancouver, W.T. District Land Office.
The first patent holders of this southeast quarter of the northeast quarter of Section 20 , Township 7N, Range 36E were Mary and William Johnson and John McComb. They acquired this land from the U. S. government under the Script Warrant Act of 1855. It would have been registered in the Vancouver Land Office where additional conveyances would also have been recorded before there was a land office in Walla Walla. The first local entry in the legal title to this property was on January 1, 1862 when a Quit Claim Deed was signed by William H. and Elizabeth Ann Patton which transferred this property (and more, for a total of 40 acres) to Dorsey Syng Baker for $600. This original deed is in the Baker Collection in the Whitman Archives.
Baker had moved to Walla Walla in 1861 and built a home on the north side of Boyer Avenue on College Creek. He also donated four acres of this forty acre parcel on the south side of Boyer Avenue to Whitman Seminary. In 1862, Baker was on the city council and some years later was a Walla Walla County Commissioner. He was the founder of Walla Walla's Baker Boyer Bank and builder of the first railroad in the valley. Dr. Baker died in 1888 but his will stipulated that his property could not pass to his heirs before 1900 so his estate was operated for 12 years by his extended family. The executors of his estate had College Addition platted on December 18, 1899. They transferred three lots on this Block 1 of College Addition to the Baker Loan and Investment Company on January 16, 1900. On February 15, 1910 The Baker Loan and Investment Company signed a Deed for one and half lots of these lots to Sidney and Sarah Coyle for $3000.
Sidney Coyle had grown up in the Walla Walla valley, living in Frenchtown with his parents James and Jane in 1870 and his 8 other siblings. In 1893 he was a "turner"  (lathe operator) living on Cherry Street. In 1900 he was a horse dealer living on North Fifth. His father died in 1904 and Sidney is listed in the 1905 Walla Walla County as a landowner and farmer but apparently with no residence in town. However, on February 9, 1910 an Indenture stated that Fred and Clara Wilson paid Sidney Coyle "$1" plus their house at 32 Madison Street for this property.
Fred Wilson  was a merchant in Prineville, Oregon in 1900. He married and moved to The Dalles before moving to Walla Walla in 1906. He was a banker for 30 years, at the Third National Bank and later as a vice president of Union Bank and Trust. He and his wife had two sons, Frederick and Norton. His wife Clara Story Wilson died on April 24, 1941. In retirement Fred moved to Riverside, California to live near his son Norton. On May 27, 1944, Fred W. Wilson, a widower, signed a deed for the transfer of this property to his son and daughter-in-law, Frederick C. and B. Irene (Hawks)  Wilson for $5000.  Frederick (Fritz) had graduated from Whitman College in 1925 and worked as a teller at the Third National Bank during  his college years. He then worked in banking in both Walla Walla and Waitsburg until 1943 when he was hired by Whitman College as assistant bursar in charge of the cost accounting for the Navy V-5 and V-12 programs. He became bursar/comptroller in 1949 following the retirement of George Marquis. Wilson created the Whitman farm committee at this time. He became business manager and treasurer in 1953. He and his wife had a  daughter and a son who both attended Whitman College. Fritz and Irene sold this property to the Board of Trustees of Whitman College for $21,500, the deed  for which was recorded on September 18, 1963. Fritz died on October 31, 1965. At that time President Louis Perry said "There are few alumni who can claim more devoted service to and love for their alma mater than Wilson."
Occupant History:
The first occupant of this house located in city directories was Sidney Coyle in 1907. He was only listed in rural Walla Walla County in the 1905 directory. There was no 1906 directory. Yet we know that this house existed in 1905 because it was shown on the 1905 Sanborn Fire Map. After this uncertain beginning this house had the distinction of being lived in by two generations of the same family for 53 years. Fred and Clara  Story Wilson lived here from 1910 until 1944. Because of the generous size of this house the Wilsons frequently had other people living with them. In 1910, in addition to their child Fredrick, Norman Wilson, age 40, Lucretia Story age 60 and a 19 year old girl named Isabel J. Lott lived here. In 1920 two sons, Mrs. Wilson's mother and a 22 year old woman named Magdaline Berthold lived here. In 1930 the younger Wilson son Norton lived here with his parents as well as Barbara A. Kain age 50, Yvonne E. Ravassa age 34, Margaret P. Mooney age 44 and Chester H. Skidmore age 20. Mlle. Yvonne Ravassa taught French at Whitman College along with her sister Paule. The Wilson's younger son Norton graduated from Whitman College in 1937 and became an entomologist with the USDA in Riverside, California.
The Wilson's son Frederick (always known as Fritz) and his wife Irene lived here from 1944 until 1963. They raised a son Robert Norton and a daughter Shirley Jean in this house. Son Robert graduated from Whitman in 1948 and went to Stanford University graduate school in mathematics and physics. Daughter Shirley Jean graduated from Whitman in 1952. The parents were ardent supporters of Whitman College. Fritz rarely missed watching any sports event. Irene was active in panhellenic and community activities.
Whitman women students first lived here when it was established in 1968 as the French Language Interest House. It became coed in 1983. There are 7 bedrooms and usually houses 8 or 9 residents and a Resident Assistant.
Construction of the Building:
This is an historic house with great value both for its fine architecture which has been superbly maintained in its original form and for the people with Whitman College connections who have lived here. It seems especially prescient that Whitman's French teacher Mlle. Ravassa lived here in 1930.
The construction of this extraordinary house is something of a mystery. The Walla Walla County Tax Assessor's office lists the construction date as 1890. This is not possible because it was not platted until 1899. Dorsey Baker's estate owned the land until 1910. However Sidney Coyle lived here at least from 1907-1910. There was no 1906 city directory. The 1905 Sanborn Fire Map shows the footprint of this house in 1905. No building permits exist prior to late 1907 and there was no reverse city directory before 1931. However the existence of the house in 1905 as shown by the fire map suggests that Sidney Coyle purchased the lot from Baker Investment Company by the common practice of an unrecorded contract, and built the home on it after the date of publication of the 1905 city directory. Though College Addition was platted in 1899 and it is possible the home was built anytime between that date and 1905, the earliest demonstrated existence of the home is 1905. I recommend that year be used as it construction date.
References:
Bennett, Robert A., Walla Walla  Portrait of a Western Town 1804-1899, Pioneer Press,  Walla Walla, 1980.
BLM Land Patent Records
Building Permits: Whitman College Penrose Library Archives.
Edward's, G. Thomas, Tradition in a Turbulent Age, Whitman College 1925-1975, 2001.
Lyman, Professor W.I., An Illustrated History of Walla Walla County  1901.
Sanborn Fire Maps: 1884-1905 (with updates until 1950).
U.S. Census records
Walla Walla City Directories: 1880-present (various publishers–not all years).
Walla Walla Union Bulletin, July, 1949; October 1965.
Whitman College Archives.
Mary E. Meeker dawame@@bmi.net; Walla Walla 2020 Research Service PO Box 1222, Walla Walla WA 99362 August, 2007
http://ww2020.net/wp-content/uploads/418_Boyer.jpg
133
200
Mary Meeker
http://ww2020.net/wp-content/uploads/2011/12/ww2020_logo.png
Mary Meeker
2007-08-01 16:13:45
2017-02-05 12:22:00
History of 418 Boyer Avenue, Walla Walla, WA - La Maison Française (The French House), Whitman College