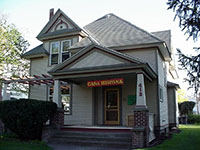 Property Description:
West half of Lot 3 and East half of Lot 4, Block 1, College Addition to the City of Walla Walla, according to the official plat thereof in the office of the auditor of Walla Walla County, Washington, in Book C, at page 16.
Title History:
Washington Territory was created in 1853. In 1854 the new legislature created Walla Walla County which stretched from the crest of the Cascade Mountains to the crest of the Rocky Mountains in the present states of Washington, Idaho and Montana. In 1855 Isaac Stevens held a council on the banks of Mill Creek at the present site of Walla Walla with representatives of regional Indian tribes to purchase land from them. The Yakimas, Cayuses and Walla Wallas were dissatisfied with the treaties and war followed. Missionaries, former French-Canadian employees of the Hudson Bay Company trading post at Wallula, and soldiers at the military Fort Walla Walla were the primary European occupants of the area prior to 1859 when it was opened for settlement. All of the land in the Walla Walla area was acquired from the Cayuse and Walla Walla Indian tribes by the U.S. Government in a treaty signed on June 9, 1855 in Walla Walla, and ratified on March 8, 1859 by President James Buchanan.
Walla Walla was originally laid out by County Surveyor H.H. Case in 1859, even before its formal incorporation as a city in 1862, as a one-quarter mile square with its eastern side centered on the point where the Nez Perce Trail crossed Mill Creek (at roughly the point where Main Street does now).  The City of Walla Walla received a Trustee Townsite from the U. S. government which consisted of 80 acres issued on July 20, 1869 by the Vancouver, W.T. District Land Office.
The first patent holders of this southeast quarter of the northeast quarter of Section 20 , Township 7N, Range 36E were Mary and William Johnson and John McComb. They acquired this land from the U. S. government under the Script Warrant Act of 1855. It would have been registered in the Vancouver Land Office where additional conveyances would also have been recorded before there was a land office in Walla Walla. The first local entry in the legal title to this property was on January 1, 1862 when a Quit Claim Deed was signed by William H. and Elizabeth Ann Patton which transferred this property (and more, for a total of 40 acres) to Dorsey Syng Baker for $600. This original deed is in the Baker Collection in the Whitman Archives.
Baker had moved to Walla Walla in 1861 and built a home on the north side of Boyer Avenue on College Creek. He also donated four acres of this forty acre parcel on the south side of Boyer Avenue to Whitman Seminary. In 1862, Baker was on the city council and some years later was a Walla Walla County Commissioner. He was the founder of Walla Walla's Baker Boyer Bank and builder of the first railroad in the valley and the Territory. Dr. Baker died in 1888 but his will stipulated that his property could not pass to his heirs before 1900 so his estate was operated for 12 years by his extended family. The executors of his estate had College Addition platted on December 18, 1899. They transferred three lots on this Block 1 of College Addition to the Baker Loan and Investment Company on January 16, 1900.
On August 6, 1902 The Baker Loan and Investment Company signed a Deed for two half lots – "West half of lot 3 and East half of lot 4" – to Barbette Levy (unmarried) for $600. Barbette Levy was the widow of Adolph Levy, a paper wholesaler and merchandiser in Portland, Oregon. Barbette's son, Julius Adolph Levy, was married to Fannie "Fanny" Pelling Levy, the proprietor of Mrs. Fannie Levy's Books & Stationary: "Books, Stationary, Amateur Photo Supplies, Agents of Oregonian and SF Chronicle," located on Main Street Walla Walla. Fanny and Julius Levy lived at this address from 1902 through 1907. Of note, title to the property was transferred by Babette Levy to The Blake-McFall Company of Portland, Oregon for $1,601.19 on July 23, 1907. One month later, the property was transferred back to Barbette Levy for $5,000. This transaction may have been used as security for a loan, since The Blake-McFall Company was a Portland, Oregon paper wholesaler.
Babette Levy sold the property to Caroline Davis for $10 on September 4, 1907. Caroline Davis was the widow of John A Davis, president of the Davis-Kaiser Co. Mrs. Davis lived in the home until selling to George S. and Emma H. Brown for $8,000 on 6/3/1909. George S. Brown was the co-owner of Frankland & Brown Realestate.
On April 23, 1919 Albert S Hollowell, executor of the George S. Brown estate, sold the home to Myrtle E. Denney and Otis L. Denney, her husband, for $10,000. Otis L. Denney was a local farmer and rancher. The Denneys owned the home until June 1937 when it was sold for $10 to Vesta E. Dunning and Cyrus C. Dunning, a partner in Cox-Dunning Investment Co, suppliers of "Loans, Bonds, and Insurance."
Cyrus C. Dunning died in 1947; Mrs. Dunning sold the home soon after to John R. and Thelma D. Woiblet on October 19, 1948 for $10,000.
John R. Woiblet was a long-time sales representative for the Murphey-Favre Co., provider of "Investments and Securities." The Woiblets lived in the home for 30 years until Mr. Woiblet's death in 1978.
Thelma Woiblet deeded the property to the current owner, The Board of Trustees of Whitman College, for $10 on August 9, 1979.
Occupants of the Property:
1902-1915: The first listing for the property on 412 Boyer Avenue appears in the 1902 R.L. Polk & Co's Walla Walla City Directory, listed as the residence of Fanny and Julius Levy, proprietor and manager/clerk, respectively, of Mrs. Fanny Levy's Books and Stationers.
1915-1920: George and Emma Brown, with George's occupation listed as a partner in Frankland & Brown Realestate.
1920-1937: Otis L. and Myrtle E. Denney.
1937-1949: Cyrus C. and Vesta E. Dunning.
1949-1979: John R. and Thelma D. Woiblet.
1979: Vacant after sale.
1980: Wallace L & Bertie Amundson; Walter was a self-employed painting contractor and Bertie a consultant for Blue Mountain Convalescent Home.
1982: Dr. Russell J DeRemer, Associate Professor and Dean of Students, Whitman College.
1983: Andrea Bell, Resident Native Speaker, Whitman College.
1984 – Current: Casa Hispana, Whitman College.
Construction of the Building:
As previously noted, the first listing for the property appears in the 1902 R.L. Polk & Co's Walla Walla City Directory, listed as the residence of Mrs. Fannie and Julius A Levy. This is a historic house with great value for its fine architecture which has been superbly maintained in its original form.
The construction date of this extraordinary house is uncertain. The Walla Walla County Tax Assessor's office lists the construction date as 1900. The 1905 Sanborn Fire Map shows the footprint of this house in 1905. No building permits exist prior to late 1907 and there was no reverse city directory before 1931. However the existence of the house in 1905 as shown by the fire map suggests that Barbette Levy purchased the lot from Baker Investment Company by the common practice of an unrecorded contract, and built the home on it after the date of publication of the 1901 city directory. Though College Addition was platted in 1899 and it is possible the home was built anytime between that date and 1902, with the earliest demonstrated existence of the home being 1902, and Levy having received title to the property the same year,  I recommend that 1902 be used as the construction date.
References:
Bennett, Robert A., Walla Walla  A Town Built to be a City 1804-1899, Pioneer Press, Walla Walla, 1980.
Bennett, Robert A., Walla Walla  A Town Built to be a City 1900-1919, Pioneer Press, Walla Walla, 1982.
Lyman, Professor W.D., An Illustrated History of Walla Walla County 1901
Sanborn Fire Maps: 1884-1905 (with updates until 1950)
Walla Walla City Directories: 1880-present (various publishers–not all years)
Walla Walla County Assessor's records.
http://ww2020.net/wp-content/uploads/412_Boyer.jpg
150
200
Chris Baird
http://ww2020.net/wp-content/uploads/2011/12/ww2020_logo.png
Chris Baird
2013-05-15 16:06:03
2014-03-31 11:15:38
History of 412 Boyer Avenue, Walla Walla, WA - La Casa Hispana (The Spanish House), Whitman College