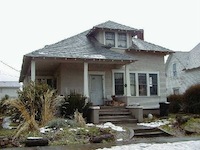 Legal Description
All of Lot 2 in Block 1 of Magallon Addition to the City of Walla Walla, according to the Official Plat thereof recorded in Volume C of Plats at Page 23, records of Walla Walla County, Washington.
ALSO, beginning at the Northwest corner of Lot 3 in Block 1 of Magallon Addition aforesaid, and running thence East, along the North line of said Lot 3, a distance of 25 feet; thence Southerly, parallel to the Westerly line of said Lot 3, a distance of 130 feet to a point in the Southerly line of said Lot 3 which is 25 feet Easterly from the Southwest corner thereof; thence Westerly, along the South line of said Lot 3, a distance of 25 feet to the Southwest corner thereof; thence North, along the West line of said Lot 3, a distance of 130 feet to THE POINT OF BEGINNING.
Title History
The land that comprises the City of Walla Walla was acquired from the Cayuse and Walla Walla Indian tribes by the U.S. Government in a treaty signed on July 9, 1855 in Walla Walla and ratified on March 8, 1859 by President James Buchanan. Walla Walla was originally laid out by surveyor H.H. Chase in 1859, even before its formal incorporation as a city in 1862, as a one-quarter mile square oriented N-S, E-W with its eastern side centered on the point where Main Street crossed Mill Creek (at roughly the point where it does now). To this original area, additional parcels were annexed from time to time, usually with the name of the land owner of record at the time the additions were made. 409 W. Cherry is located in Magallon Addition, named for Adrien Magallon, one of the several French immigrants in the Walla Walla Valley who were sheep ranchers. By 1927 he owned 10,000 acres near the Snake River. Beginning in 1898, Magallon lived at 313 N. 6th, a large residence adjacent to 409 W. Cherry.  Magallon also built the 409 W. Cherry St. house, obtaining a building permit in 1908.
The first recorded sale involving this property, on June 17, 1875 was due to the bankruptcy of Isham T. Reese. The buyer was Frank Orselli, Orselli was born in Lucca, Italy in 1833, and came to Walla Walla in 1857 as an infantryman at Fort Walla Walla. He settled here on leaving the military, and in 1860 received a grant of 160 acres of land from the government north of Main Street, where he planted orchards, vegetables, and wine grapes, which he sold locally. He was also the owner of a bakery, and a member here of the first fire department in the state.  In this neighborhood he owned an eight acre parcel known as Orselli's Grove, as well as what was known as the "home place", which covered 5.88 acres including 409 W. Cherry.
Orselli was divorced by his wife Matilda Orselli in 1892 and he died on November 11, 1894. Settling his estate involved appointing Howard Keylor, a physician with an office in the Post Office building, as the guardian of Edward Orselli, who was a minor at the time, and heir of Orselli's property. $500 was designated for the erection of a monument for Orselli's grave. J.L. Sharpstein was the executor of the estate. Edward Orselli incurred financial problems and on August 30, 1897, the Orselli property was sold for $4600 in gold coin to Adrien Magallon and Eulalie Magallon. Water rights were included in the sale. A building permit for a one-and-one-half story frame cottage on 6th and Cherry was issued to Magallon on September 22, 1908. There is no record in City Directories of who lived in the house until a sale on January 30, 1920 of Lot 2, the present parcel, to Lola C. Lanfesty and C.D. Lanfesty for $3700. That price indicates the existence of a house. Possible residents in the house from the time it was built until 1920 could have been members of the Magallon family, perhaps two unmarried daughters. A September, 1939 newspaper article in the Whitman Archives told about the Magallons' 50th anniversary celebration. Among their four living children were two spinsters, Marie and Lucie. It would seem possible that 409 W. Cherry was used by members of the family since it was next door to the large family home at 313 N. 6th. This idea has been confirmed b! y the current owner, Ron Harris.
On January 22, 1930 Lola C. and C.D. Lanfesty sold the house to Fred J. Allison and Kate E. Allison. The Allisons are listed as living there before the sale date – the 1926-27 City Directory lists them at 409 W. Cherry. Fred Allison was an engineer for the Union Pacific Railroad. They lived in the house until 1944 when they moved across the street to 404 Cherry. On November 30, 1944, Ernest A. Larson and Jessie M. Larson purchased the house for "consideration $10." Ernest Larson was an electrician for Crall Neon Products. On July 5, 1963 the Larsons sold to Thomas R. Leary and Ruby E. Leary for $9500. At this point, the lot size was increased by the splitting of Lot 3 into two parcels. Parcel B of Lot 3 was now attached to the east side of Lot 2. John and Alene McKnight, residing on Langdon Rd., had owned all of Lot 3. The purchase price for Parcel B was $10,200. Thomas Leary was a teacher in the College Place Schools, then a school bus driver and then the manager of St. Vincent De Paul's thrift store. Ruby was a teacher at Washington School, then Paine School, and finally in 1967 at Assumption School. She was listed as a widow in 1966 and had moved to 1534 Portland Street. In 1966 Kenneth J. Breiner and Beverly Breiner purchased 409 W. Cherry for $12,750. Kenneth Breiner was a meat cutter at Fleenor's Grocery Store and Beverly Breiner was a clerk at Sears Roebuck. Their mortgage was assumed by Laura Hargitt and Harvey Little in October of 1967, who subsequently divorced in March of 1968. Harvey Little was a driver for the Greyhound Bus Company and Laura Hargitt was a secretary for Inland Waterways. In February of 1969 the house was listed as vacant and the Department of Housing and Urban Development stepped in. In May of 1969 Everyl Pennington and Dixie Pennington bought the house. No price is stated but they took out a $10,400 mortgage. Pennington was a correctional officer at Washington State Penitentiary. On January 25, 1974 a Quit Claim Deed for love and affection was filed by Everyl and Dixie Pennington in favor of his mother and brother, Laome M. Pennington and Everett D. Pennington. Laome and Everett Pennington then sold this property to Clifford Hoffman and Lou Ann Hoffman for $14,000 on July 8, 1974. Both of the Hoffmans taught at Clara Rogers School in College Place.
On May 24, 1978 John M. Lickey and Laura M. Lickey purchased the house for $33,325. John Lickey was listed as a Medical Technologist at Walla Walla General Hospital and Laura Lickey, was a part-time teacher. On December 24, 1992 David B. Moczarski and Samuel and Margaret Meacham purchased the house for $32,500. The Meachams quit claimed the property to Moczarski in 1994 to clear the title. In the City Directories for 1992 and 1993, Debra Stimpfle was also listed as residing there. Debra Stimpfle became Debra Moczarski in subsequent documents but then quit claimed to David Moczarski in 1997 in connection with the dissolution of their marriage. David Moczarski encountered financial problems and was forced into a foreclosure in April of 2000. A notice for a Trustee's Sale was published for 10 a.m. on January 7, 2000 at the main entrance of the Walla Walla Courthouse. It appears that there was no buyer at that time. On October 10, 2000 Ronald Lynn Harris became the owner of 409 W.Cherry, paying $55,000 to Fremont Home Loan, the institution that foreclosed on the property.
Construction of the house
A building permit was issued to Adrien Magallon on September 22, 1908 for the construction of a one-and-one-half story frame cottage at Cherry near 6th, estimated to cost $2100. The builder was to be M. Baloest. Although no exact address is given, 409 W. Cherry is identifiable as the location for this building permit, since this is the only one-and-one half story frame cottage on this block. 409 W. Cherry is located in an area of Walla Walla that has lots of potential for rejuvenation. This is among the houses that are deserving of preservation. An awareness of the important history of this area should encourage others to take on restoration projects.
Research Sources:
Pioneer Title Company documents for this property
Sanborn Fire Maps
Walla Walla City Directories
Penrose Library Northwest Archives, Whitman College
Bennett, Robert A. Walla Walla: A Town Built to be a City, 1900-1919, Pioneer Press, 1982
Walla Walla County Assessor's Office
Walla Walla County Superior Court records
Katherine Weingart Walla Walla 2020 Research Service P.O. Box 1222 Walla Walla WA 99362 September 2004
http://ww2020.net/wp-content/uploads/409_W_Cherry.jpg
150
200
Katherine Weingart
http://ww2020.net/wp-content/uploads/2011/12/ww2020_logo.png
Katherine Weingart
2004-09-01 16:02:42
2017-02-05 12:29:02
History of 409 West Cherry Street, Walla Walla, WA