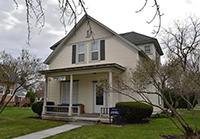 Legal Description
Lots 3 and 4 in Block 2 of College Addition to the City of Walla Walla, according to the official plat thereof of record in the office of the Auditor of Walla Walla County, Washington.  (Note: each lot measured 50'x137' at the time College Addition was platted.)
Title & Occupant History
Washington Territory was created in 1853.  In 1854, the new legislature created Walla Walla County, which stretched from the crest of the Cascade Mountains to the crest of the Rocky Mountains in the present states of Washington, Idaho and Montana.  In 1855, Isaac Stevens held a council on the banks of Mill Creek at the present site of Walla Walla with representatives of regional Indian tribes to purchase land from them.  The Yakamas, Cayuses and Walla Wallas were dissatisfied with the treaties and war followed.  Missionaries, former French-Canadian employees of the Hudson Bay Company trading post at Wallula, and soldiers at the military Fort Walla Walla were the primary European occupants of the area prior to 1859, when it was opened for settlement.  The U. S. Government, in a treaty signed on June 9, 1855 in Walla Walla and ratified on March 8, 1859 by President James Buchanan, acquired all of the land in the Walla Walla area from the Cayuse and Walla Walla Indian tribes.
Walla Walla was originally laid out by County Surveyor H. H. Case in 1859, even before its formal incorporation as a city in 1862, as a one-quarter mile square with its eastern side centered on the point where Main Street crossed Mill Creek (at roughly the point where it does now).  The City of Walla Walla received a Trustee Town site from the U. S. Government that consisted of 80 acres issued on July 20, 1869 by the Vancouver, W. T. District Land Office.
The first patent holders of this southeast quarter of the northeast quarter of Section 20, Township 7N, Range 36E were Mary and William Johnson and John McComb. They acquired this land from the U. S. government under the Script Warrant Act of 1855.  It would have been registered in the Vancouver Land Office where additional conveyances would also have been recorded before there was a land office in Walla Walla.  The first local entry in the legal title to this property was on January 1, 1862 when a Quit Claim Deed was signed by William H. and Elizabeth Ann Patten that transferred this property (and more, for a total of 40 acres) to Dorsey Syng Baker for $600.  This original deed is in the Baker Collection in the Whitman Archives.
Dorsey Baker moved to Walla Walla in 1861 and built a home on the north side of Boyer Avenue on College Creek.  He also donated four acres of this 40-acre parcel on the south side of Boyer Avenue to Whitman Seminary.  In 1862, Baker was on the City Council and some years later was a Walla Walla County Commissioner.  He was the founder of Walla Walla's Baker Boyer Bank and builder of the first railroad in the valley and the territory.  Dr. Baker died in 1888, but his will stipulated that his property could not pass to his heirs before 1900, so his estate was operated for 12 years by his extended family.  The executors of his estate had College Addition platted on December 20, 1899.
1/22/1864, Deed: William H. and Elizabeth Ann Patten, grantors; Dorsey S. Baker, grantee; $600.
12/20/1899, Plat Map, College Addition to the City of Walla Walla.
4/13/1900, Warranty Deed by Grantors, Miles C. Moore, Henry Clay Baker, and Walla Walla Willie Baker, Executors of the Last Will and Testament of Dorsey S. Baker grantors; Baker & Baker, grantee; Lots 3 & 4 (and numerous other lots), Block 2, College Addition; $10.
12/29/1902, Warranty Deed, Baker & Baker, grantors; J. A. Johnson, grantee; $1,200.  John A. Johnson's name first appears in the 1902 Walla Walla City Directory, no occupation listed, residence listed as "cor. Cypress & Oak."  Since Cypress and Oak Streets never came into contact with each other, it was assumed that this was a typographical error.  The 1903 City Directory lists Mr. Johnson as residing at 406 Cypress.
8/20/1906, Deed, J. A. Johnson, grantor; L. F. Johnson, the wife of said J. A. Johnson, grantee; "consideration: love and affection and $1," reserving the right to take and divert the waters of Mill Creek.
9/30/1908, Deed, J. A. Johnson et ux, grantor; Sarah L. Maxwell, grantee; Lot 4 and Westerly 10 feet of Lot 3, Block 2, College Addition; $3,200.
1/25/1913, Indenture by all 8 children and heirs of Dorsey S. Baker per Probate Court order of 7/14/1888 establishing that no property pass to the children/heirs before 1900, to clarify that they now have full power and authority to sell and dispose of all property heretofore conveyed to them.
3/28/1917, Indenture, Sarah L. Maxwell, a widow, grantor; W. E. and Lillian R. Leonard, grantees, except for water rights deeded by the executors of the estate of D. S. Baker to the City of Walla Walla.  Professor Leonard taught economics and business at Whitman College for 19 years.  Upon his retirement from Whitman in 1935, he held the title of Hollon Park Professor of Economics and Business, Emeritus.  Of historical interest is the reference to a report by Prof. Leonard in a highly peremptory article, full of bombastic rhetoric that appeared in the magazine of the photo engravers union, The American Photo-Engraver, in December 1921:
"Organized labor needs make no apology for its existence.  Trade unionism needs no special pleader to assure its perpetuity.  It is founded on principles that are sound.  The impulse which prompts its growth finds lodgment in the hearts and souls of men, and despite its traffickers and traducers it is a movement of men and women banded together for the accomplishment of humane, inspiring and patriotic purposes.  As such it will live and grow to full manhood and take its rightful place among all great and humane movements in the world's history.
What is true of the trade union movement is true of the trades union and labor press.  Suppressed on every hand, denied ready access to all facilities making for success, this printed voice of labor has ably served its purpose to the fuller growth and better understanding of the actual needs, hopes and aspirations of the great American labor movement.
Keenly alert to the growing power of the trades union and labor press, and equally sensitive to the relative lessening of the influence of the daily metropolitan, business and sensational press, those who would destroy or weaken the trade union movement have not overlooked their campaign of slander and prejudice against the trade union and labor press.
Because of this hostility the recent report of Professor William E. Leonard of the Department of Economics of Whitman College stands out like a beacon light in a darkness of spleen and hatred and prejudice.  Having had access to nearly two hundred of more than three hundred labor papers now issued from every section of the country and representing carefully study of every editorial and contribution having appeared in these papers for months, Professor Leonard in collaboration with his students has reached the conclusion that the labor journals on the whole are filled with sane, practical and level-headed Americanism."
6/15/1945, Executor's Deed, William R. Leonard as Executor of the Last Will and Testament of William E. Leonard, dec., grantor; Myron L. and Marian G. Harmon, grantees; $7,000.  The Harmons only resided at 406 Cypress briefly.  By the following year, they had purchased and moved into a home at 561 University, also researched by Walla Walla 2020.
6/15/1945, Warranty Deed, William R. Leonard as Executor of the Last Will and Testament of William E. Leonard, dec., grantor; Myron L. and Marian G. Harmon, grantees, $7,000.
10/22/1947, Warranty Deed, Myron L. and Marian G. Harmon, grantors; Jacoba T. Scrimsher, a widow, grantee; Lots 3 & 4, Block 2; $10 and other valuable considerations.
5/31/1978, Notice of Real Estate Contract, Jacoba T. Williams, grantor; Joseph K. and Barbara R. Huston, grantees.
2/2/1982, Statutory Warranty Deed, Joseph K. and Barbara R. Huston, grantors; Donald and Beverly Thetford, grantees; $10 and other valuable considerations.  Donald Thetford was manager of Cascade Airways, and Barbara Thetford was the owner of Hair Country.
3/4/1982, Statutory Warranty Deed, Jacoba T. Williams, grantor; Joseph K. and Barbara R. Huston, grantees; $10.
10/12/1990, Statutory Warranty Deed, Donald and Beverly Thetford, grantors; Billy Keith O'Niell and Dennis J. Castro, grantees.  Mr. O'Niell's name does not appear in City Directories, so it is not known if he occupied the house.
10/12/1990, Deed of Trust, Billy Keith O'Niell and Dennis J. Castro, grantors; John E. and Patricia A. Lee, grantees; $50,976.20.
6/3/1996, Statutory Warranty Deed, Billy Keith O'Niell and Dennis J. Castro
Construction of Building
For 406 Cypress, the Assessor's Office lists the construction date as 1900, a "guesstimate" on their part for many houses that appear to be anywhere between 75 and 100 years old.  This area was not platted until late December in 1899.  The present house first appears on the Sanborn Fire Map for 1905.  The earliest City Directory listing for an occupant at this address is 1903.  Since the property was first sold as a separate parcel on December 29, 1902, it is apparent that the house was constructed and first occupied that year by John A. Johnson.
The footprint of the house is remarkably similar to what appears on the 1905 Sanborn Fire Map.  The primary changes can be seen at the rear of the house.  A small back porch on the Otis Street side was there in some form originally; the rest of the ground level expanse and what appears to be an enclosed sleeping porch above are not part of the original house.  Lacking old photos, it is more difficult to guess what is original and what has been added or altered, but it is probably safe to estimate that the two small shed roof extensions faced with simple shingles, each with a pair of small double-hung windows on the west side and the single one on the east side, were added later.  In that the house appears to have been owner-occupied until acquired by Whitman College, one can only speculate about the myriad additions, particularly the disjointed mish-mash across the rear of the house.
It is a reasonable guess that the original structure was essentially a saltbox, with a fore and aft gable roof and a transverse gable with hipped ends that extends over two slightly projecting bays on either side.  Shiplap siding covers the exterior save for the front gable above the second level windows that displays diamond cut shingles.  A large covered porch extends across most of the front of the house, supported by three simple turned posts; two non-supporting decorative half posts are attached to the house.
Judging from its modest size, the garage at the rear of the property may well date to the 1920s; it certainly could not accommodate a medium or large size contemporary car.  The 1905 Sanborn Fire Map shows what was most likely a carriage house that was located on the original rear property line, considerably farther back than the current garage.
References
Whitman Archives
Walla Walla City Directories
Sanborn Fire Maps
The American Photo-Engraver, December 1921
Stephen Wilen, Researcher Walla Walla 2020 Research Service P.O. Box 1222, Walla Walla, WA 99362 March 2014
http://ww2020.net/wp-content/uploads/406_cypress.jpg
139
200
Steve Wilen
http://ww2020.net/wp-content/uploads/2011/12/ww2020_logo.png
Steve Wilen
2014-03-25 10:12:18
2014-03-31 11:08:17
History of 406 Cypress Street, Walla Walla, WA - Co-op (Community Service House), Whitman College