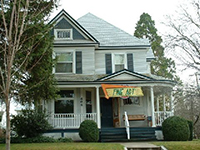 Legal Description
College Addition to City of Walla Walla, Block 1, Lots 5 and west half of 4 Parcel 360720590105
Title History
Washington Territory was created in 1853.  In 1884, the new legislature created Walla Walla County, which stretched from the crest of the Cascade Mountains to the crest of the Rocky Mountains in the present states of Washington, Idaho and Montana.  In 1855, Isaac Stevens held a council on the banks of Mill Creek at the present site of Walla Walla with representatives of regional Indian tribes to purchase land from them.  The Yakamas, Cayuses and Walla Wallas were dissatisfied with the treaties and war followed.  Missionaries, former French-Canadian employees of the Hudson Bay Company trading post at Wallula, and soldiers at the military Fort Walla Walla were the primary European occupants of the area prior to 1859, when it was opened for settlement.  The U. S. Government, in a treaty signed on June 9, 1855 in Walla Walla and ratified on March 8, 1859 by President James Buchanan, acquired all of the land in the Walla Walla area from the Cayuse and Walla Walla Indian tribes.
Walla Walla was originally laid out by County Surveyor H. H. Case in 1859, even before its formal incorporation as a city in 1862, as a one-quarter mile square with its eastern side centered on the point where Main Street crossed Mill Creek (at roughly the point where it does now).  The City of Walla Walla received a Trustee Town site from the U. S. Government that consisted of 80 acres issued on July 20, 1869 by the Vancouver, W. T. District Land Office.
The first patent holders of this southeast quarter of the northeast quarter of Section 20, Township 7N, Range 36E were Mary and William Johnson and John McComb. They acquired this land from the U. S. government under the Script Warrant Act of 1855.  It would have been registered in the Vancouver Land Office where additional conveyances would also have been recorded before there was a land office in Walla Walla.  The first local entry in the legal title to this property was on January 1, 1862 when a Quit Claim Deed was signed by William H. and Elizabeth Ann Patten that transferred this property (and more, for a total of 40 acres) to Dorsey Syng Baker for $600.  This original deed is in the Baker Collection in the Whitman Archives.
Dorsey Baker moved to Walla Walla in 1861 and built a home on the north side of Boyer Avenue on College Creek.  He also donated four acres of this 40-acre parcel on the south side of Boyer Avenue to Whitman Seminary.  In 1862, Baker was on the City Council and some years later was a Walla Walla County Commissioner.  He was the founder of Walla Walla's Baker Boyer Bank and builder of the first railroad in the valley and the territory.  Dr. Baker died in 1888, but his will stipulated that his property could not pass to his heirs before 1900, so his estate was operated for 12 years by his extended family.  The executors of his estate had College Addition platted on December 20, 1899.
A Warranty Deed from Miles C. Moore, Henry C. Baker and Walla Walla Willie Baker, executors of the Last Will and Testament of Dorsey S. Baker, deceased, to Baker Loan & Investment Company for $10,000 was executed on July 8, 1901.  A Warranty Deed, Baker Loan & Investment Company to Ella M. Johnson, a spinster, for $950 was given on December 11, 1901.  While this deed is in the sole name of Miss Johnson rather than including her brother Samuel D. Johnson with whom she lived, the sole title was passed to Samuel, a bachelor, by Deed from Ella on May 12, 1903, and then back to Ella from Samuel on May 5, 1913, before being sold by Samuel's estate after his death.
A Warranty Deed from the heirs of Samuel D. Johnson, deceased, to Archie K. and Melvina G. Wilkins for $2,500 was signed July 6, 1939.  Mr. Wilkins was a conductor for the Northern Pacific Railway.  In 1947, the City Directory noted the house was vacant.  Anna M. Johnston, née Anna M. Wilkins, signed a Mortgage on June 29, 1953 for $5,000 to Walla Walla Federal Savings & Loan Association.  Another mortgage was taken out by Anna M. Johnston for $2,000 to Walla Walla Federal Savings & Loan Association on May 2, 1955.  It was noted that Anna M. Johnston also purchased the house next door (412 Boyer Avenue).  She appears never to have occupied 404 Boyer Avenue, and the people listed as living at the address during her ownership are presumed to have been renters.
On September 26, 1957, William F. and Barbara C. Farley took out a Mortgage for $13,000 at 5.25% per annum from Sherwood & Roberts, Inc.  Mr. Farley was an employee of Boise Cascade.  That same day, a Satisfaction of Mortgage, State Mutual Life Assurance Company of America to William F. and Barbara C. Farley was signed.  A Warranty Deed was executed by Anna M. Johnston, née Anna M. Wilkins, to William F. and Barbara C. Farley on October 1, 1957 for $10.  An Assignment of Mortgage from Sherwood & Roberts, Inc. to State Mutual Life Assurance Company of America for $13,000 was given on October 17, 1957.  Also on October 17th, a Release of Mortgage from Walla Walla Federal Savings & Loan Association was given to Anna M. Johnston.
A Warranty Deed, William F. and Barbara C. Farley to Howard R. and Elizabeth M. Stockton was signed on September 28, 1959 for $10 and other consideration.  Howard Stockton was manager of Colyear Motor Sales.  Howard R. and Elizabeth M. Stockton took out a Mortgage for $6,500 with Walla Walla Federal Savings & Loan Association on October 1, 1959.  A lesser Mortgage of $3,700 between Howard R. and Elizabeth M. Stockton and Walla Walla Federal Savings & Loan Association was signed March 16, 1960.
A Release of Mortgage, Walla Walla Federal Savings & Loan Association to Howard R. and Elizabeth M. Stockton was signed September 24, 1969.  A Statutory Warranty Deed, Howard R. and Elizabeth M. Stockton to Col. Nelson P. and Bettie J. Conover for $10 and other valuable consideration was given July 3, 1973.  Col. Conover was the district engineer for the Army Corps of Engineers.  That same day, Nelson P. and Bettie J. Conover gave a Mortgage for $18,700 to United Mutual Savings Bank.
On May 28, 1976, a Statutory Warranty Deed, Nelson P. and Bettie J. Conover to The Board of Trustees, Whitman College, for $10 and other valuable consideration was filed.  A Satisfaction of Mortgage for $18,700 from United Mutual Savings Bank to Nelson P. and Bettie J. Conover was dated July 8, 1976.
Construction of Building
It is reasonable to conclude from the purchase of the land in 1901 in the name of Ella M. Johnson, the absence of any City Directory entry for the address of 404 Boyer Avenue in 1902, the transfer of title from Ella M. Johnson to Samuel D. Johnson in 1903 when there was no City Directory, and the listing of Samuel at this address in 1904, that the construction of the house was completed in 1903 by Samuel D. Johnson and his sister, Ella M. Johnson, who continued to reside there until 1932.
Samuel Davison Johnson and his two older brothers, Alexander and William C., were pioneers in the Walla Walla Valley.  The older brothers had been born in Ireland, and Samuel D. Johnson was born in New York State.  All three learned the carriage making trade, and Alexander had a shop in New Hartford, NY.  In 1877, William C. came west to California, and a year later he moved to the Walla Walla valley, where he first became a sheepherder for Henry Adams.  During the Bannock War, Indian warriors passed close to him and pursuing soldiers came within sight of his camp.
As soon as he had saved enough money, William C. Johnson formed a partnership with Samuel Ash.  Alexander and Samuel D. Johnson arrived in the valley in 1883.  Samuel went to work for William C., and Alexander continued with his carriage making trade, first in Waitsburg, later locating to Walla Walla.
In 1885, the three brothers formed a partnership in the sheep breeding business.  Gradually, they accumulated 10,000 acres, with 6,000 sheep, 50 head of cattle and 50 horses.  They farmed 100 acres of alfalfa hay and 200 acres of wheat.  Their average annual wool clip was between 5,000 and 6,000 pounds.
Alexander Johnson was the only one of the three brothers to marry.  Their sister, Ella M. Johnson, joined her brothers in October 1891, following the death of their mother in New Hartford.  Although she apparently remained a spinster and spent most of her time keeping house for the brothers on the ranch, until 1932 she is listed in some of the City Directories as residing at 404 Boyer Avenue, as is Samuel, who died the following year.  As did many early day farmers with large operations in the county, it appears that Samuel D. Johnson enjoyed having a large home in the city, which he shared with his sister, whose sole name was on the original Deed, and in 1903 transferred title to Samuel, only to receive it back from him in 1913.
Like so many homes in Walla Walla dating to around the turn of the last century, the house at 404 Boyer Avenue is a bit of an architectural hybrid.  One could opine it is inherently a Colonial Revival design with Queen Anne features.  The Boyer Avenue façade has an asymmetrically-placed, gabled-roof shallow projection at the left extremity; the Otis Street façade contains a more centrally-placed slight projection with a gabled roof; and the east side also has a gabled projection.  The first floor of the projections on the Boyer Avenue and east façades form bays that do not continue on the second level.  A single ornamental bracket may be seen on the east bay, suggesting that there may have been other brackets that were removed over the years.
The central portion of the house has a hipped roof, bisected by the two side gabled roofs.  The projection on the Boyer Avenue façade also has a gabled roof.  The third level pediments of these three projections contain fish scale shingles and small windows, allowing some light to what presumably is an unfinished attic.  Siding on the rest of the house is clapboard with vertical strips at the corners, which is a characteristic of Stick Style architecture.  A commodious Queen Anne style porch extends out from the house, around the entire Boyer Avenue façade, arcing gracefully halfway along the Otis Street façade.  The porch roof features a shallow pediment above the front steps, and is supported by round posts lacking ornamental capitals.  Windows of the house vary from large, wider windows, more innovative at that time and allowing maximum light to the interior rooms, to more typical narrow double-hung windows.  One might reasonably assume that the shutters on the two street façades are later ornamental additions.
A narrow room at the southwest corner was constructed somewhat later, enclosing what the Sanborn Fire Map of 1905 shows as a back porch.  The architecture of this small single-story space, which includes a tiny pediment, suggests that the porch was enclosed many years ago.  The last update to the Sanborn Fire Map in 1953 continues to show this space as a porch, but it is apparent to a casual observer that the enclosure predates 1953 by decades.
It is gratifying to note that 404 Boyer Avenue still has its original barn, although some windows and doors have been modified.  On the 1905 Sanborn Fire Map, this barn had its own address, 404 ½ Boyer Avenue.  Its considerable size might be attributed to the fact that Mr. Johnson had previously worked as a carriage maker, and may have kept more than one fine carriage, along with a team of horses.  (In researching this house, the writer found a Building Permit, issued around 1910, that was granted to the owners of the neighboring house at 412 Boyer Avenue to move the barn behind that house outside the city limits.)
References
Whitman Archives
Lyman's History of Walla Walla County, 1901
City Directories, various years
Sanborn Fire Map 1905
Mary Meeker
http://ww2020.net/wp-content/uploads/404_Boyer.jpg
150
200
Steve Wilen
http://ww2020.net/wp-content/uploads/2011/12/ww2020_logo.png
Steve Wilen
2013-04-27 15:58:03
2014-03-31 11:12:03
History of 404 Boyer Avenue, Walla Walla, WA - FAH (Fine Arts House), Whitman College