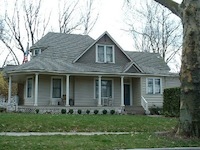 Legal Description
Beginning at a point on the Westerly line of First Street in the City of Walla Walla, which point is 177 feet Northerly, measured along said Westerly line of First Street, from the Southeasterly corner of Block 31 of Roberts' Addition to the City of Walla Walla, thence North 29E50′ West, along said Westerly line of First Street, a distance of 83.2 feet to the Southerly line of Newell Street, as vacated by Ordinance No. A-287; thence South 65E00′ West, along said Southerly line of Newell Street, a distance of 1037 feet, to the Easterly line of the alley in said Block 31; thence South 23E06′ East along the Easterly line of said alley, a distance of 82.47 feet; thence North 65E00′ East 113.54 feet to the POINT OF BEGINNING.
Title History
The land that comprises the City of Walla Walla was acquired from the Cayuse and Walla Walla Indian tribes by the U.S. Government in a treaty signed on July 9, 1855 in Walla Walla and ratified on March 8, 1859 by President James Buchanan. Walla Walla was originally laid out by surveyor H.H. Chase in 1859, even before its formal incorporation as a city in 1862, as a one-quarter mile square oriented N-S, E-W with its eastern side centered on the point where Main Street crossed Mill Creek (at roughly the point where it does now). To this original area, additional parcels were annexed from time to time, usually with the name of the land owner of record at the time the additions were made. 402 S. First is located in Block 31 of Roberts' Addition, named for A.B. Roberts, who came to Walla Walla from Portland in 1859 and claimed a large section of land south of Main St. where among things, he raised fruit trees, having brought the first grafted fruit trees with him.
The first recorded transaction involving 402 S. First was the sale for $300 of a 2.84 acre parcel bounded on the west by "Second Street road" and on the north by Birch Street, on the east by First Street from A.B. Roberts and Martha E. Roberts to Charles Moore and Amos Moore, son and father, on May 17, 1870. Measurements on that document are given in chains and links. The 1870 Plat Map shows that this parcel was not divided into lots at that time although many surrounding properties were. On September 10, 1878 Charles Moore and Julia Moore sold a smaller parcel which was approximately a 150′ square, bounded on the north by a "proposed street to be called Dr. Newell." The buyer was Jane E. Kerr who paid $800. Jane E. Kerr (her name is always given first on documents) and Lewis Kerr negotiated four mortgages between 1878 and 1881. The 1880 City Directory lists Lewis Kerr, a farmer, with a residence "w s First, s of Birch," so there was apparently a house on that parcel at that time. The 1881 City Directory lists Kerr at 26 Dr. Newell. The 1883-84 Directory, following the sale of this property to others, lists him as a farmer with a residence in the "extreme W limits of city." Jane Kerr is listed as a widow in the 1885 City Directory.  The 1894 Sanborn fire map, at a time when lst Avenue did not extend south of Newell, shows a set back dwelling and out buildings about one lot in from the southwest corner of Newell and lst, which would have been 26 Dr. Newell, and does not show the current home at 402 S. First.
On March 16, 1882, Jane E. Kerr and Lewis Kerr sold this property to Edward J. Williams and Mary Williams for $2500. Williams is listed in the 1880 and 1881 City Directories as the proprietor of the Gem Saloon and living at 2 Cherry St. In order to buy "26 Dr. Newell" the Williams took out a mortgage of $1000 from John Gaston. Gaston becomes an important figure in this house history because a Sheriff's Deed was filed on September 25, 1895 against Mary Williams, administrator of the estate of Edward J. Williams (he died in 1889), and five Williams children for not satisfying that debt. A Public Auction of the property was held on the County Courthouse steps at 2 p.m. on August 12, 1896 which yielded $2121 in gold coin, which is how John Gaston acquired the property. No evidence was found about anyone living in the house for several years before and after the Public Auction and at certain other times in its history as well. Mary Williams is listed as living back at 2 Cherry St. in the 1889 and 1893-94 City Directory.
On February 24, 1902, John Gaston and Mary Gaston (they lived at 10 S. Fifth) sold "32 Newell" to John J. Henry and Susan M. Henry for $3000. John Henry, listed as a fruit grower and living at 115 S. Palouse in the 1900-01 City Directory, died in 1905. $115.09 was paid in property taxes that year. The only available building permit available was issued to S.M. Henry on March 4, 1904 for improvement of a frame cottage at "20 Newell Street," an address and house which are still present.  "26 Newell" no longer exists, and it appears that the home at 32 Newell sold to the Henrys was constructed by the Gastons just prior to this sale, and is the existing home known as 402 S. First. Susan M. Henry died in 1920 and there was no evidence of her living anywhere but 32 Newell.
On August 5, 1921 the Henry heirs sold 32 Newell to Eugene Molitor and Helen Molitor for $4750. The 1922 City Directory lists $1000 as the value of their personal property. On January 13, 1925 the Molitors sold this property to Nicolas S. Sullivan and Florence S. Sullivan for a stated consideration of $10. Nicolas Sullivan was President and Manager of The White House Clothing Co. located at 24 E. Main in the early 1930's. He had been President and Manager of the R.E. Guichard Co. in 1926. The sale of 32 Newell was accompanied by the statement: "This conveyance, however, is made subject to mortgage indebtedness of $2750." On August 31, 1928 a warranty deed was filed by the Sullivans to Hibernia Commercial and Savings Bank in Oregon for consideration of $10 regarding the mortgage lien of $2750. That was satisfied in 1930 but documents in the title chain for 402 S. First evidence the 1929 crash and resulting depression which resulted in a reorganization of the Hibernia Bank which became the Hibernia Securities Co. On May 1, 1937 Hibernia Securities sold the house to William F. Howard and Myrtle R. Howard for $2600, a much lower price than previous owners had paid, but now with the current reduced property description and address of 402 S. First. There were no documents explaining how the lot size changed. Because this is a corner property, both Newell and First work as addresses. The house has doors on both streets that have been used as main entrances. William F. Howard was a district agent for Northwestern Mutual Life in 1937, then in 1941 the Secretary of the Walla Walla Board of Education, and then was the school district Business Manager until his death in 1955. During the Howards' era, there was an apartment upstairs that was rented among others to Harmon and Jean Johnson from 1946 to 1950. Harmon Johnson was working for the State Liquor Control Board at that time. Later he was County Treasurer, and a County Commissioner for many years and Jean was secretary to the President at Whitman College. Earl Dunham, manager of General Paint Corporation, and his wife Edith lived in that apartment in the early 1950's. During the 1960's two women who were widows lived there at different times. A Quit Claim Deed was filed by Myrtle Howard with love and affection to Helen D. Howard and Elizabeth H. Hill on December 22, 1971 with the stipulation that she be able to remain living at 402 S. First until her death.
On September 4, 1972, Helen D. Howard, Elizabeth H. Hill and Myrtle R. Howard sold the house to Everett W. Craik and Edna Craik for a stated consideration of $10. The Assessor's records indicate that the price was $13,000. Everett Craik owned the Everett Craik Lumber Co., listed as being located on the "Spokane Hiway" and then at the City County Airport. James and Margaret Craik are listed as Walla Walla College students and residing at 402 S. First in the 1974 City Directory. Craik is listed as retired in the 1991 City Directory. Family members continued the business which most recently became an Ace Hardware Store in the east end of the Eastgate area, open for just a couple of years. In the 1996 City Directory the Craiks are listed at 124 Stone. 402 S. First is listed as vacant 1996 -1998. On November 2, 1998 Everett and Edna Craik sold the house to Timothy Applebee, an umarried man, for $105,000. On April 11, 2002, a Quit Claim Deed was recorded by Applebee to himself and Rhonda Applebee, creating community property. Extensive renovation has been done by the Applebees making this a very attractive property. Tim Applebee is a loan officer at the Home Loan Center, One East Main. Rhonda Applebee is his assistant in that office.
Construction of the House
County Assessor records give 1901 as the construction date for this property. This is consistent with the documented sale by John and Mary Gaston to John and Susan Henry on February 24, 1902, which first creates the address of 32 Newell, indicating that the home was completed by the end of the construction season of 1901, which is the year that should be used as the date of construction.  A prior residence associated with a larger parcel including this property with an address of 26 Newell is no longer standing. Current owners Timothy and Rhonda Applebee have done extensive renovation making this a very attractive historic home, 102 years old.
Research Sources:
Pioneer Title Company documents for this property
County Records Vault, Walla Walla County Courthouse
Sanborn Fire Maps
Walla Walla County Assessor's Office
Penrose Library Archives, Whitman College
Walla Walla City Directories beginning in 1880
  Katherine Weingart Walla Walla 2020 Research Service P.O. Box 1222 Walla Walla WA 99362  November, 2003
http://ww2020.net/wp-content/uploads/402_S_First.jpg
150
200
Katherine Weingart
http://ww2020.net/wp-content/uploads/2011/12/ww2020_logo.png
Katherine Weingart
2003-11-01 15:54:18
2017-02-05 12:29:03
History of 402 South First Avenue, Walla Walla, WA