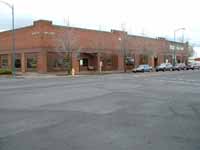 Property Description:
Lots 1, 2, & 3 of Block 8 of the original Town of Walla Walla; Parcel No. 360720770801
Construction Date:
Information provided by M.F. "Tex" Brotherton indicated that his father, Frank Brotherton, constructed the building at 401-415 W. Main, on the southwest corner of Main and 6th, in 1919 as an automobile dealership and garage.  City directory information from 1919 to 1929-30, however, lists the Frank Brotherton automobile dealership and garage at 402 W. Main, on the northwest corner of Main and 6th.  Only in the 1930-31 directory is Brotherton auto dealership and garage listed at 401 W. Main, the location of this building.  Brotherton retained ownerships on both sides of Main Street at this intersection into the 1980's.
No building permit has been found for this building, though permit records appear to be complete from September 1907 through these dates.  Though a thorough search of the records has not been commissioned, it appears that this building was constructed and first occupied as a car dealership circa 1930, while the building across Main at 402 was first constructed and occupied as Brotherton auto dealership and garage circa 1919.
The property continues to be owned by members of the Brotherton family and is leased for office space, following closure of the family automobile dealership in approximately 1982.
Summary report by Daniel N. Clark Walla Walla 2020 Historic Building Project 11-29-05
http://ww2020.net/wp-content/uploads/401_W_Main.jpg
150
200
Site Manager
http://ww2020.net/wp-content/uploads/2011/12/ww2020_logo.png
Site Manager
2005-11-29 15:50:55
2014-01-19 17:57:09
History of 401 West Main, Walla Walla, WA - Brotherton Building