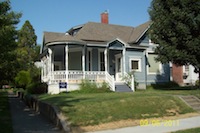 Property Description:
Lot 6, Block 1, College Addition to the City of Walla Walla, according to the official plat thereof in the office of the auditor of Walla Walla County, Washington, recorded in Book C, at page 16.
Title History:
Washington Territory was created in 1853. In 1884 the new legislature created Walla Walla County which stretched from the crest of the Cascade Mountains to the crest of the Rocky Mountains in the present states of Washington, Idaho and Montana. In 1855 Isaac Stevens held a council on the banks of Mill Creek at the present site of Walla Walla with representatives of regional Indian tribes to purchase land from them. The Yakimas, Cayuses and Walla Wallas were dissatisfied with the treaties and war followed. Missionaries, former French-Canadian employees of the Hudson Bay Company trading post at Wallula, and soldiers at the military Fort Walla Walla were the primary European occupants of the area prior to 1859 when it was opened for settlement. All of the land in the Walla Walla area was acquired from the Cayuse and Walla Walla Indian tribes by the U.S. Government in a treaty signed on June 9, 1855 in Walla Walla, and ratified on March 8, 1859 by President James Buchanan.
Walla Walla was originally laid out by County Surveyor H.H. Case in 1859, even before its formal incorporation as a city in 1862, as a one-quarter mile square with its eastern side centered on the point where Main Street crossed Mill Creek (at roughly the point where it does now).  The City of Walla Walla received  a Trustee Townsite from the U. S. government which consisted of 80 acres issued on July 20, 1869 by the Vancouver, W.T. District Land Office.
The first patent holders of this northeast quarter of the southeast quarter of Section 20 , Township 7N, Range 36E were Mary and William Johnson and John McComb. They acquired this land from the U. S. government under the Script Warrant Act of 1855. It would have been registered in the Vancouver Land Office where additional conveyances would also have been recorded before there was a land office in Walla Walla. The first local entry in the legal title to this property was on January 1, 1862 when a Quit Claim Deed was signed by William H. and Elizabeth Ann Patton which transferred this property (and more, for a total of 40 acres) to Dorsey Syng Baker for $600. This original deed is in the Baker Collection in the Whitman Archives.
Baker had moved to Walla Walla in 1861 and built a home on the north side of Boyer Avenue on College Creek. He also donated four acres of this forty acre parcel on the south side of Boyer Avenue to Whitman Seminary. In 1862, Baker was on the city council and some years later was a Walla Walla County Commissioner. He was the founder of Walla Walla's Baker Boyer Bank and builder of the first railroad in the valley. Dr. Baker died in 1888 but his will stipulated that his property could not pass to his heirs before 1900 so his estate was operated for 12 years by his extended family.
The executors of his estate had College Addition platted on December 18, 1899. They transferred this lot on Block 1 of College Addition to the Baker Loan and Investment Company on July 8. 1901. On October  16, 1902 they sold this lot to Louis F. Anderson. Dr. Anderson was a classics professor at Whitman College, the son of the college's first president and was married to Mabel Ida Baker, the daughter of Dorsey Syng Baker. At this time the Andersons lived just west of this lot at 364 Boyer in a house previously occupied (1881 – 1884) by John and Sarah Boyer. Mr. Boyer was Dr. Baker's partner in both the bank and extensive real estate holdings. Mrs. Anderson had inherited the property at 364 Boyer from her father in 1891. In 1902 the Andersons hired Kirkland Cutter, a Spokane architect, to design a colonial residence for them. In 1903 they moved the "old Boyer House" across the street to this lot at the corner of Cypress and Otis streets where they lived while supervising the construction of "undoubtedly the finest residence in eastern Washington" at 364 Boyer. Their new residence took 10 months to construct. It has been the Baker Faculty Center since 1977.
On October 31, 1908 Louis F. Anderson sold "the Boyer house", then located at 401 Cypress, to Helen A, Pepoon,  excluding its water right. Ms. Pepoon was a language teacher at Whitman College. On October 18, 1928 Ms. Pepoon, "feme-sole" sold this house to Ralph and Geraldine Wolf. Mr. Wolf was a meter reader for the power company. On October 4, 1958 Mr. and Mrs. Wolf sold this property to Floyd V. and Ardella E. Pannett for $10,500 on a contract calling for $75/month payment including 6% interest. Mr. Pannett was a wholesale grocery salesman and his wife worked in real estate sales. On August 9, 1973 Pannett sold this home to Lee Eric and Virginia L. Gabrielson. He was the director of college education at the Washington State Penitentiary. She was an office worker.  Following their divorce in 1975 Virginia received title to the house as her separate property. On September 10, 1979 she sold the historic home at 401 Cypress to Whitman College for $46,000 and paid off her $20,000 mortgage. The house was rented to various tenants until 1985 when this fine old residence became the German House (Das Deutsches Haus), a student interest house.
Construction of the Building:
Houses that have been moved to a different location can be very difficult to track because land records do not include what was built on that land. Due to the superb records available in the Whitman College Archives the moving of this house has been well documented, including an item in the May 9, 1903 Whitman College newspaper, The Pioneer, which stated that "Professor Anderson has been moving his house across the street to make room for the new house he is about to build." In addition, the book Kirkland Cutter and the Anderson Mansion, has a period photo showing the "old Boyer house" in its new location on Cypress. At that time it was very similar to its present appearance except for a large flat area on the central roof surrounded by a 'widow's walk."
No building permits exist from that period and this lot was too far out from the center of town to be included on any fire maps before 1905. The Walla Walla County Assessor's office states that this house was built in 1890. Since the city directories list John Boyer as having a residence "e. limits of city on Boyer's Avenue" in 1881-1884 it is reasonable to assume that construction of this fine, old home dates was circa 1880, having been in its present location since 1903.
References:
Bennett, Robert A., Walla Walla  Portrait of a Western Town 1804-1899, Pioneer Press,  Walla Walla, 1980.
BLM Land Patent Records
Building Permits: Whitman College Penrose Library Archives.
Dodd, Lawrence L. The Developing Campus 1859-2002. Northwest & Whitman College Archives Publication, 2003.
Edward's, G. Thomas, The Triumph of Tradition, The Emergence of Whitman College 1859-1924, 1992.
Lyman, Professor W.I., An Illustrated History of Walla Walla County  1901.
Matthews, Henry C., Kirtland Cutter and The Anderson Mansion, 1997
Sanborn Fire Maps: 1884-1905 (with updates until 1950).
Walla Walla City Directories: 1880-2000 (various publishers–not all years).
Whitman College Pioneer paper, "Local", May 7. 1903.
Whitman College Archives.
Mary E. Meeker ; Walla Walla 2020 Research Service PO Box 1222, Walla Walla WA 99362 August, 2008
Helen Abby Pepoon, A.B.
1856-1944
Professor of Latin
Whitman College
1893-1921
Miss Pepoon was born in Painesville, Ohio in 1856. She came to Whitman College in 1893 with an A.B. degree as "Lady Principal and Professor of Latin" until 1898. Thereafter she was "Professor of Latin Language and Literature." She lived in a boarding house at 322 E. Sumach in 1902. She bought the "Old Boyer House" at 401 Cypress from Professor Louis Anderson in 1908. On August 1, 1910 she was issued a passport and was on leave from Whitman for the  next two years. She continued to teach Latin at Whitman College through the 1921-1922 year.  Thereafter she was listed as Emeritus Professor of Latin. She lived in her home on Cypress for twenty years, selling it in 1928.  She died on July 23, 1944 in Seattle at the age of 87.
http://ww2020.net/wp-content/uploads/401_Cypress.jpg
133
200
Mary Meeker
http://ww2020.net/wp-content/uploads/2011/12/ww2020_logo.png
Mary Meeker
2008-08-01 15:42:31
2017-02-05 12:20:48
History of 401 Cypress Street, Walla Walla, WA - Das Deutsche Haus (German House), Whitman College