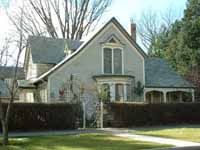 Legal Description:
Commencing at the Southeast corner of Block 28 of Roberts Addition to the City of Walla Walla, Washington, according to the official plat thereof recorded in Volume A of Plats at Page 21, records of Walla Walla County, and running thence North 29 degrees 50′ West, along the Westerly line of Catherine Street, a distance of 141.00 feet; thence South 60 degrees 10′ West 110 Feet; thence South 29 degrees 50′ East 51.00 feet; thence North 60 degrees 10′ East 45.00 feet, thence South 29 degrees 50′ East 90.00 feet to the Northerly line of Newell Street; thence North 60 degrees 10′ East, along the said Northerly line of Newell Street, a distance of 65.00 feet to the Point of Beginning.
Title History:
Walla Walla was originally laid out by surveyor H.H. Chase in 1859, even before its formal incorporation as a city in 1862, as a one quarter mile square mile square oriented N-S, E-W with its eastern side centered on the point where Main Street crossed Mill Creek (at roughly the point where it does now). To this original area, additional parcels were annexed from time to time, usually with the name of the land owner of record at the time the additions were made. 392 Catherine is part of Roberts Addition. A.B. Roberts came to Walla Walla in 1859 from Portland and claimed a large section of land south of Main Street where among things, he raised fruit trees, having brought grafted trees with him from Portland. He also introduced several varieties of grapes that were used for wine making. Roberts Addition was platted on January 20, 1871.
The first recorded transaction for 392 Catherine was on October 1, 1869 when A.B. Roberts and Martha Roberts sold a parcel that was 8.72 acres from the center line of Catherine Street for $1000 to John Sheets. On July 27, 1871, the property description was revised to be more specific: "from the South line of Birch where it intersects with Catherine and bordered on the south by Dr. Newell St." John Sheets is listed in the 1880 City Directory (the first city directory to be published) as a "capitalist" residing west and south of Catherine between Birch and Dr. Newell. His residence in the 1881-82 City Directory is given as 44 Catherine Street (the address is changed to 96 Catherine in 1881 and in 1900 to 392 Catherine). These city directory addresses would indicate that it was Sheets who built the house in the 1870's. That date was used by both Penny Andres and Claire Mitchell in their books on Walla Walla homes.  However, County Assessors Office records show 1896 as the building date. It would appear from the title history that the correct construction date is somewhere in the 1870's. Claire Mitchell in her book described the house as "centered in luxurious fields of alfalfa, a five-room town house." On January 27, 1877 John Sheets and Margaret Sheets sold a "tract of land commencing at the center of the intersection of Catherine (211 feet) and Dr. Newell and easterly on Dr. Newell 180 feet" to Parish B. Johnson and Lydia Johnson for $1100. The lot at that time would have included 149 Newell and the lot north of the current property line on Catherine. According to Penny Andres and Claire Mitchell, Lydia Johnson was John and Margaret Sheets daughter. According to City Directories of 1881-1883 both the Johnsons and the Sheets are listed at this address. John Sheets died in 1884. In the 1889, 1892, 1893-94 City Directories, Parish Johnson is listed variously as the editor and proprietor of the Walla Walla Union-Journal, president of the Union Publishing Co., then journalist and, finally, writer. His residence is given as 96 Catherine until the 1900 City Directory when it is listed as 392 Catherine. On September 5, 1894 Parish Johnson deeded the house to his wife Lydia. A price of $3000 is given for this transaction. On November 11, 1895 Lydia J. Johnson filed a Declaration of Homestead which reads "I further declare that I make this declaration as the head of a family and because my said husband, Parish B. Johnson, has not made a homestead declaration, and I further declare that I am now and for many years have been, residing on said described premises using and occupying the same as and for a homestead, and that I intend to reside thereon and claim them as a homestead for our joint benefit." In this declaration, the cash value of the property is given as $1950. The assessed valuation of the house is given as $1272 in 1902 and in 1905 Lydia Johnson is listed as a taxpayer having paid $35.37. Parish Johnson died in 1906 and the 1908 City Directory lists Lydia as a widow with an assessed house valuation of $2603. Lydia Johnson owned the house until 1923 when she sold it on March 21 to Louis C. Sutherland and Lulu H. Sutherland for a price of $2500. Lydia Johnson was the mortgagee with one note to be paid off in two years. The lot description was revised to its current size. Lydia Johnson died in 1937 at the age of 91 in Honolulu, where she was living with a niece.
Louis Carr Sutherland is listed in the 1923-24 City Directory as secretary-treasurer of G.H. Sutherland Co. located at 108 E. Main. City Directory ads show that the company did plumbing, heating and pipe fittings. The directory information for Louis Sutherland also says that he was secretary-treasurer of the Electric Supply and Fixture Co. Sutherland died in 1932. Lula Sutherland, widow, sold the house to Thompson B. Elliott and Irene C. Elliott June 7, 1937 for $5000. The 1937 City Directory lists Thompson as vice-president and treasurer of the White Horse Clothing Co., Inc., a mens clothing store at 24 E. Main. Penny Andres notes that he had farming interests in addition to the store. Andres also mentioned that the Elliotts enjoyed doing a lot of entertaining in their home. In the 1946 City Directory, Thompson Elliott (known as "Thompy") is listed as having an office at 17 Second Ave. N. In the 1976 City Directory his listing says "T.B. Elliott and Sons Investment and owner of the Terrace Apts." In the 1989 City Directory he is listed as the owner of Thompson B. Elliott Investment. On November 27, 1978 the Elliotts filed a Quit Claim Deed to establish a trust at Baker-Boyer Bank. Mr. Elliott died in 1990 and his wife died in 1983. Thompson Elliott lived at 392 Catherine for 53 years.
Baker-Boyer Bank, as trustee, sold the house (which included 149 Newell) to David A. and Loriann R. Dyer on September 9, 1990 for $53,000. The house was in need of improvement and the Dyers did extensive renovating of both the interior and exterior. They sheet-rocked many walls, refinished the floors, refurbished or replaced moldings, and did extensive decorating on the interior. They removed asbestos siding on the exterior and found that the wood siding was possible to renovate. David Dyer replaced exterior decorative molding and made it a "painted lady" with an attractive color combination. The Dyers are now renovating the Lowden House at 601 Howard.
On February 8, 1996, the Dyers sold the combined properties to Kaye F. Brace and Dr. Ellis Brace for $160,000 (for 392 Catherine) and $56, 500 (for 149 Newell), according to the County Assessors Office. Dr. Ellis Brace is listed as an acupuncturist with an office at 350 Catherine in the 1997 City Directory.
The property has included the adjacent 149 Newell for many years. The County Assessor lists 1911 as the date of construction for that house. All subsequent sales have included that property with 392 Catherine. It has generally been used as a rental property. The Schmidts are using it as a guest house and studio for Diana Schmidt, who is an artist. When the property was owned by Ellis and Kaye Brace in the late 1990's, it was divided legally into a separate property, even to the division of the driveway in a "joint driveway agreement." Dr. Ellis Brace quit-claimed 392 Catherine to his wife Kaye and was then listed as only the owner of 149 Newell.
Chris and Diana Schmidt purchased both properties on July 11, 2000 paying $172,500 for 392 Catherine and $67,500 for 149 Newell. The house had been rented by the Braces and had incurred damage, so again needed improvement. The Schmidts continue the renovation doing interior decorating, remodeling and developing the gardens of this very charming property.
Construction of the House
The construction date of 1896 found in Walla Walla County Assessor quotes office is not correct. Evidence from this title search would confirm that 392 Catherine was built circa 1871 by John and Margaret Sheets.
Katherine Weingart Walla Walla 2020 Historic Research P.O. Box 1222 Walla Walla WA 99362 April, 2001
http://ww2020.net/wp-content/uploads/392_Catherine.jpg
150
200
Katherine Weingart
http://ww2020.net/wp-content/uploads/2011/12/ww2020_logo.png
Katherine Weingart
2001-04-01 20:12:08
2017-02-05 12:29:06
History of 392 Catherine Street, Walla Walla, WA