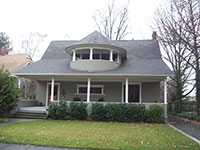 Property Description:
Beginning at a point in the Westerly line of Palouse Street in the City of Walla Walla, Washington, which point is 583 feet 4 inches Southerly, measured along said Westerly line of Palouse Street from the Southerly line of Birch Street in said City; thence South 29º50´ East along said Westerly line of Palouse Street a distance of 55 feet; thence South 60º10´ West, parallel to said Southerly line of Birch Street a distance of 200 feet; thence North 29º50´ West. parallel to said Westerly line of Palouse Street a distance of 55 feet; thence North 60º10´ East 200 feet to point of Beginning.
Title History:
Walla Walla was originally laid out by surveyor H.H. Chase in 1859, even before its formal incorporation as a city in 1862, as a one-quarter mile square oriented N-S, E-W and with its eastern side centered on the point where Main Street crossed Mill Creek (at roughly the point where it does now). To this original area, additional parcels were annexed from time to time, usually named after the land owner of record at the time the additions were made.
All of the land in this area was acquired from the Cayuse and Walla Walla Indian tribes by the U.S. Government in a treaty signed on June 9, 1855 in Walla Walla, and ratified on March 8, 1859 by President James Buchanan. A. B. Roberts came to Walla Walla from Portland, Or. in 1859 and immediately purchased a large farm site just south of Main Street. He was a pioneer nurseryman and real estate developer. A. B. Roberts received title to 320 acre tract containing this parcel as a homestead from the U.S. Government on the issue date of May 2, 1870. Roberts Addition was platted by Alvin B. Roberts and Martha E. Roberts on January  20,1871 (Plat Book A, Pages 21 and 22, Walla Walla County Auditor's Office, Walla Walla County Courthouse). Roberts had purchased a pre-emption claim on the property from Tom Hughes in 1859. On March 6, 1869 Roberts sold a parcel 412 feet by 382 feet "commencing  at a stake on a marble block marked SFBSEC on the south bank of the spring branch running through said parcel," along with the right to convey water  which could be used for irrigation when not used for other purposes, to Sarah F. Boothby for $900. Sarah and R. R. Boothby sold this property to Herbert E. and Cynthia A. Johnson on October 31, 1871 for $500. The Johnsons lost the property and a Sheriff's Deed was given to William Stephens on December 4, 1874 for $175. On August 1, 1878 Stephens sold this property (minus 110 feet off the north end) to B. L. and Sarah Sharpstein. In November 1880 Sarah J. (Boothby) Littlefield transferred her water right on this property to Chauncy C. Cram who subsequently transferred it to B. L. Sharpstein who transferred it to the City Water Co. On June 17, 1902 the Sharpsteins sold this property to Edith S. Chapman for $750 as a 55' x 120' lot on Block 27 of Robert's Addition. In July of 1904 a Mechanic's Lien was placed on the property "to grade and macadamize" Palouse Street from E. Alder to 60 feet south of Craig Street. In this same year the City Directory listed Ben C. Holt, manager of the Holt Manufacturing Company, as living at 366 S. Palouse. This company was a Stockton California firm which made and sold combined harvesters, traction engines, carriage and wagon wheels, and agricultural implements. Edith Chapman had married Ben Holt and they lived in her house through 1908. On April 21, 1909 Edith S. Holt, formerly Edith S. Chapman, owner in her own right, sold this property to Thomas G. Davies "subject to the right of occupancy of Mr. Mann until July 9, 1909" for $5500. Thomas Davies was a partner in Davies and Skinner, a real estate and mortgage loan business. Thomas and Mary Davies lived in this house until his death on January 8, 1913. Mary was appointed executor of his estate.  Mary lived here alone until 1925-26 when Joseph W. and Meda Marum moved in with her. Joseph was a clerk at E. F. Seil Shoes. In 1926-27  he worked as the secretary for R. E. Guichard Co. Inc., which operated The White House, a men's furnishings store. Mr. Marum died in 1928. The two widows continued to live in this house until Mary Davies died on July 27, 1939. Thomas J. Marum and G. S. Bond were appointed as executors of her estate. Meda Marum inherited this property. Meda continued to live here until April 1, 1943 when she and Mary Meda Marum, spinster, and Patricia Eileen Marum, spinster, sold this property to Fred W. Sporleder "whose wife is Dorothea M. Sporleder" for a stated amount of $10. Fred worked at Wade's Clothing Store at this time. On October 10, 1955 Fred and Dorothea Sporleder sold this house to Vern C. and Lena Clements for "$10." Vern was a salesman for Johnson Real Estate. On March 4, 1960 the Clements sold it to Watson L and Susie D. Hall. In 1961 Clarke K. Wolfert, an assistant chemical engineer for Boise Cascade, and his wife Lorraine, lived here. The Halls were listed as living at this address from 1963-1981. Watson Hall was a steam fitter for Kaiser Engineering in Richland, WA.  On September 21, 1983 Susie D. Hall, widow, and Don Rhodes, personal representative for the Estate of Watson Lemar Hall, sold this house to Robert G. and Lois B. Gross. The Grosses could not be located in a city directory during the 1980s. Lois was listed as a widow living at 20 Lenore Street in 1994. The house was vacant from 1982-1986. From 1986-1990 Goeff and Cindy Godard lived here. He was a self-employed insurance salesman. The property is listed as "unlisted" information from 1991-1995. In 1996 and 1997 Cindy Godard lived here and Goeff lived at 210 E. Birch. On January 28, 2004, a Certificate of Record was filed by the City of Walla Walla listing this as a dangerous building. On January 21, 2005 Lois B. Gross sold to Jim Herbert and Gayle Seely.
Construction of the House:
The Walla Walla County Assessor's records say the house was built in 1910 which is not correct. No building permits exist before 1907. Edith S. Chapman purchased this property in June 1902 for $750  when she was living at 208 S. Palouse. She must have built this house prior to the 1904 City Directory which listed her new husband Ben Holt as living here (wives were not listed at that time). There was no 1903 city directory. The 1905 Sanborn Fire Map shows the footprint of this house. Therefore, it is reasonable to use a construction date of Circa 1903.
References:
Bennett, Robert A., Walla Walla  Portrait of a Western Town 1804-1899, Pioneer Press, Walla Walla, 1980.
Building Permits: Whitman College Penrose Library Archives.
Gilbert, Frank T.; Historic Sketches of Walla Walla, Whitman and Garfield Counties, Washington Territory, and Umatilla County, Oregon, 1882.
Lyman, Professor W. D., An Illustrated History of Walla Walla County  1901.
Ogle's Standard Atlas of Walla Walla County, 1909
Sanborn Fire Maps: 1884-1905 (with updates until 1950)
Walla Walla City Directories: 1880-present (various publishers–not all years).
Whitman College Archives, Colleen McFarland, archivist
Mary E. Meeker Walla Walla 2020 Research Service PO Box 1222, Walla Walla WA 99362 < > June, 2005
http://ww2020.net/wp-content/uploads/366_S_Palouse.jpg
150
200
Mary Meeker
http://ww2020.net/wp-content/uploads/2011/12/ww2020_logo.png
Mary Meeker
2005-06-01 20:06:45
2017-02-05 12:23:03
History of 366 South Palouse Street, Walla Walla, WA