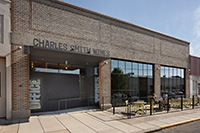 Property Description
That portion of Lot 5 in Block 1 of Palouse Addition which lies west of the alley in the City of Walla Walla, Washington.
Title History:
Washington Territory was created in 1853. The new legislature created Walla Walla County in 1854 which stretched from the crest of the Cascade Mountains to the crest of the Rocky Mountains in present states of Washington, Idaho and Montana. In 1855 an Indian council was held on the banks of Mill Creek at the present site of Walla Walla to purchase land from the Indians. The Yakimas, Cayuses and Walla Wallas were dissatisfied with the treaties and prepared for war which followed. Missionaries, former French-Canadian employees of the Hudson Bay Company Trading Post at Wallula, and soldiers at Fort Walla Walla were the primary European occupants of the area prior to 1859 when it was opened for settlement. All of the land in this area was acquired from the Cayuse and Walla Walla Indian tribes by the U.S. Government in a treaty signed on June 9, 1855 in Walla Walla, and ratified on March 8, 1859 by President James Buchanan.
Walla Walla was originally laid out by County Surveyor H. H. Case in 1859, even before its formal incorporation as a city in 1862, as a one-quarter mile square with its eastern side centered on the point where Main Street crossed Mill Creek (at roughly the point where it does now). The City of Walla Walla received a Trustee Town site from the U. S. government which consisted of 80 acres. It was issued on July 20, 1869 by the Vancouver, W.T.. District Land Office.
On September 10, 1861 Andrew J. Cain filed a claim for 160 acres under the Script Warrant Act of 1855 which included this property. A. J. Cain was an early financier of The Walla Walla Statesman newspaper; in 1868 he was elected on the Democratic ticket as prosecuting attorney of Walla Walla County. He later moved to Dayton and in September 1874 began publication of the Dayton News, a weekly Democratic newspaper. He became known as the "Father of Columbia County" as a result of his leading role in the formation of that county. The first local legal record for this property (and surrounding property) was a mortgage from A. J. Cain to A. H. Reynolds on February 13, 1862.
A. H. Reynolds received a Sheriff's Deed to the property on March 1, 1864 for $1560. Almos H. Reynolds was born in New York state in 1808 and learned the millwright trade from his father. He came west to California in 1850 and to Walla Walla in 1859 where he lived until his death in 1889. He was held "in highest esteem" as one of Walla Walla's leading citizens. He was associated with Dr. J. H. Day in establishing the first banking business in Walla Walla (see Reynolds-Day Building near Second and Main Streets) which led to the founding of the First National Bank. In 1861 he married Lettice J. Clark nee Millican who was the widow of Ransom Clark, who had come to Oregon with Fremont in 1843. Lettice and Almos had two sons Harry A. and Allen H. who both became prominent Walla Wallans.
Two more sheriff's deeds were given for an area that included this property to Dorsey S. Baker in 1867 and to Michael B. Ward in 1869. On December 9, 1869 Michael and Amelia Ward gave a warranty deed to the City of Walla Walla for $800. In 1871 the City sold a portion of this area to J. O. and Louise Roland for $900. On March 14, 1872 Roland sold to Lewis McMorris for $1350.
Lewis McMorris came west in 1852 and became a packer after several years of little success with gold prospecting. He was on his way to the Colville mines with a pack train when hired by the quartermaster of the Oregon Volunteers. In this capacity he took part in the Battle of Walla Walla in December of 1855. In 1856 he was employed by the United States Quartermaster packing for Colonel George Wright. They came to Walla Walla where he helped build the military cantonment where the Nez Perce Trail crossed Mill Creek (now First and Main Streets). In 1859 he ran a general store in Walla Walla.
In 1892 McMorris sold this property to the Dorsey S. Baker Estate (Dorsey died in 1888) for $2000. Dr. Dorsey S. Baker had been the "undoubted financial genius and development pioneer of Walla Walla" who founded Baker Boyer Bank. The area was platted as Palouse Addition on December 20, 1899. Dorsey Baker's will stated that his considerable property was not to be passed to his 8 children before 1900. On January 16, 1900 property in the estate of Mr. Baker was transferred to the Baker Loan and Investment company. On December 18, 1900 J. A. Bailey signed an Agreement for Deed on Lot 5, Block 1 (extending from Palouse Street to Spokane Street on both sides of alley) with Joseph H. Miller. On April 30, 1902 the Baker Loan and Investment Co. gave a Warranty Deed to John A. Bailey and Edwin G. Cox for $900. On May 20, 1902 John A. and Christena M. Bailey and Edwin G. and Lillie M. Cox gave a Warranty Deed to J. H. Miller. J. H. and Emma Miller were divorced on December 6, 1902. Thereafter an undivided half of this property transferred from Frank J. and Nellie E. (Miller) Barr to I. W. Sims on February 6, 1909. Maurice Miller and Mary F. Jones transferred their interest in this property to I. W. Sims on March 27, 1912. Isaacs Sims owned a grocery store on West Main Street and lived at 515 Catherine Street, across the street from A. K. Dice. Mr. Sims sold an undivided half interest in all of Lot 5, Block 1 to A. K. Dice for $100 on August 27, 1917. Then Sims sold the rest of his interest in the part of Lot 5 which is west of the alley to A. K. and Flora Dice on February 23, 1922 for $6000. A. K. Dice died on June 21, 1937 and his widow Flora Dice sold this property on February 11, 1943 to C. S. Horstman and Frank Hohenadel (both single men) for $10,000. Frank Hohenadel signed a Quit Claim Deed to Clarence S. Horstman on August 16, 1944. Mr. Horstman died on November 19, 1973. On December 13, 1974 Byron Jobe and Leon Bannister inherited this property from Mr. Horstman's estate. On October 31, 1986 Byron Jobe transferred his half interest in this property to Leon B. and Lois Bannister for $15,000. On December 18, 1992 Leon and Lois Bannister sold this property to Bruce A. and Sandra K. Naimy for "$10." At the same time Naimy signed a deed of trust with Bannister for $50,000. The Naimy family had operated furniture stores in Walla Walla in various locations since before 1912. On September 4, 2002 Bruce and Sandra Naimy arranged a 1031 tax deferred exchange on this property with Gary D. Johnson and Brenda Thomas for $180,000. Gary Johnson owns the Mill Creek Brewpub at Palouse and Boyer. In May of 2006 Tim and Lynn Wert from Bend, OR were in the process of purchasing this building.
Occupant History:
Reverse city street directories did not exist until 1931. This block was first identified as a neighborhood of machine and automobile service businesses starting in 1921. The 1894 fire map indicated nothing but an "old shed" in this area. To the west of this property, across the yet-to-be constructed Spokane Street, was the city store house ("old H& L Truck and Eng. stored" ) and city pound and hay storage (apparently for horses). The 1905 fire map shows Spokane Street but no bridge across Mill Creek here. The west end of lot 5 had a hay and feed warehouse on it in 1905. A bridge soon followed street construction in 1905 and the YMCA was constructed across the street in 1907 so this area started to develop at that time. There was considerable crossover between owners and businesses located at 29 and 35 S. Spokane. The first city directory entry for #35 was in 1921-1922 for Johnson Auto Electric (the name still on the building until very recently), M. F. Clark, mgr. In 1923-1924 the business was listed as Storage Battery and Electric Co., Eugene Johnson, President. It continued to operate under this name with Merton Clark as the manager through 1934. Meanwhile, Clarence S. Horstman sold batteries at 47 S. Spokane in 1925-1926. Eugene A. Johnson was listed as an electrician at 29 S. Spokane in 1926-1927. C. S. Horstman sold Exide batteries at #29 in 1929-1930. Johnson Electric Co. auto repairs was at #29 in 1931-1933. By 1935 Mr. Horstman and Mr. Hohenadel ran Johnson Electric Co. at #35. Mr. Horstman lived at 397 South First. Mr. Hohenadel lived at 508 East Main. By 1946 Mr. Hohenadel was no longer named at the business and Mr. Horstman still lived at 397 South First with his wife Grace. They moved in 1952 to 722 Crestview. Clarence Horstman continued his auto repair business at #35 until his death in 1973, whereupon his heirs Byron Jobe and Leon Bannister operated the business jointly until 1986 when Leon Bannister became sole owner. Bannister operated the business, still called Johnson Auto Electric Co., through 1992, a total of 71 years in business under this name. Then it became Naimy Warehouse. Three generations of the Naimy family owned and operated a furniture store on the northeast corner of Spokane and Main Streets from at least 1946 (no city directories in 1942-1945) until 2000.
Construction of the Building:
This property has a title history complicated by complex legal descriptions. Palouse Addition was platted in 1899. The lots on block 1 were large and irregular. Lot 5 included over 60 front feet on Palouse Street through the block to Spokane Street (which didn't exist until 1905). Also, the property passed multiple times by inheritance, with many name changes and fractional ownership interests. This property and the portion of lot 6 west of the alley and north of this property were both owned by several of the same people. Eugene A. Johnson, namesake of Johnson Electric Co. inherited the 25 foot frontage lot to the north of this property. Since Isaacs Sims sold an undivided half interest to A. K. Dice in 1917 for $100 and then sold the rest of this property to Mr. Dice in 1922 for $6000, it is reasonable to assume that Isaacs Sims built this building sometime between 1917 and 1922. The Walla Walla County Assessor's office lists 1922 as a construction date. The Whitman Archives file of building permits shows that Mr. Sims took out permit #2475 on August 27, 1917 to build a $4000 "garage" on Spokane between Main and Alder Streets. Taylor and Wassel were the builders. Therefore, a construction date for this building was probably 1917.
References:
Bennett, Robert A., Walla Walla Portrait of a Western Town 1804-1899, Pioneer Press, Walla Walla, 1980.
Bennett, Robert A., Walla Walla A Town Built to be a City 1900-1919, Pioneer Press, Walla Walla, 1982.
Building Permits: Whitman College Penrose Library Archives.
Lyman, Professor W.D., An Illustrated History of Walla Walla County 1901.
Sanborn Fire Maps: 1884-1905 (with updates until 1950).
Walla Walla City Directories: 1880-present (various publishers–not all years).
Whitman College Archives.
Mary E. Meeker ; Walla Walla 2020 Research Service PO Box 1222, Walla Walla WA 99362 May, 2006
http://ww2020.net/wp-content/uploads/35_S_Spokane1.jpg
133
200
Mary Meeker
http://ww2020.net/wp-content/uploads/2011/12/ww2020_logo.png
Mary Meeker
2006-05-01 17:05:11
2017-02-05 12:22:04
History of 35 South Spokane Street, Walla Walla, WA - Johnson Auto Electric Building