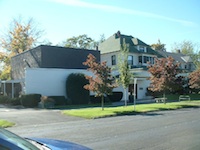 Property Description:
Lot 4 and West half of Lot 3 Block 1 in Boyer Place Addition to the City of Walla Walla,  according to the official plat thereof, records of Walla Walla County. Parcel numbers 360720560104 and 360720420010.
Title and Occupant History:
Walla Walla was originally laid out by surveyor H. H. Chase in 1859, even before its formal incorporation as a city in 1862, as a one-quarter mile square oriented N-S, E-W and with its eastern side centered on the point where Main Street crossed Mill Creek (at roughly the point where it does now). To this original area, additional parcels were annexed from time to time, usually named after the land owner of record at the time the additions were made.
This property is part of the oldest U.S. Patent in Walla Walla. On September 10, 1861 Andrew J. Cain and Cornelius Kelly filed a patent on 160 acres under the Script Warrant Act of 1855 northeast of the original City of Walla Walla town site. During 1862, A. J. Cain surveyed Cain's Addition to the City (this survey was rerecorded on May 11, 1865, following a disastrous fire which destroyed most of the county's earlier records).
A. J. Cain was a lawyer in Walla Walla between 1860 and 1873. He was elected on the Democratic ticket as prosecuting attorney of Walla Walla County in 1868. He later moved to Dayton and in September 1874 began publication of the Dayton News, a weekly Democratic newspaper. He became known as the "Father of Columbia County" as a result of his leading role in the formation of that county.
The first legal transaction involving this property recorded in the local records was a deed to this property in 1862 from A. J. and Emma Cain to John F. Boyer. Boyer had been born in Kentucky in 1824 and came west with the gold rush in 1849. After success in California he returned east in 1852 and married Dorsey Baker's sister in 1853. In 1862 Boyer arrived in Walla Walla to become Dr. Baker's partner in the merchandising business. In 1889 Mr. Boyer became the first president of Baker Boyer National Bank and continued in this position until his death in 1897. He and Mr. Baker were also very active in the developing community. He served as county treasurer for 12 years and as a trustee of Whitman College for 30 years. He and Baker were very active in real estate investments and frequently Boyer was a silent partner in Baker's real estate purchases. Boyer purchased this property the first year he lived in Walla Walla, with Baker as his silent partner. He subsequently built his residence on land owned by Dr. Baker where Baker Faculty Center is now located. Boyer's home was moved across Otis Street to its present location at 401 Cypress,  now Whitman College's German House. The current Boyer Avenue was called Boyer's Avenue on the earliest fire maps.
For the next 38 years there are numerous legal transactions, including John Boyer's will and subsequent transfers of this property to his heirs. On July 10, 1900 the Estate of John F. Boyer sold this property to Maude M. and Bertha A. Brewer. They sold this 77.73' by 358' lot to their mother, Adora B. Brewer, on November 30, 1901. On May 10, 1904 the Dorsey Baker Estate signed a quit claim with Adora B. Brewer to clear her title to this property. Adora B. Stanton Brewer was the wife of John Franklin Brewer. He was born in Missouri in 1842 and came west on the Oregon Trail with his parents and eight siblings in 1853. They homesteaded in the Marion County, Oregon where he earned a teaching certificate from Sublimity College. He taught in Silverton, Oregon where he received a salary of $125.42 for the three month term. He married Adora Belle Stanton in 1872 and they moved to Walla Walla where he taught in the Tanksley School on Cottonwood Creek during the winter. He purchased a ranch on Reser Road in 1876 and added to it over the next ten years. They had nine children, some of whom were born in the dirt-floored log cabin on the Reser Road farm. However, he prospered here and in 1890 he moved his family to Seattle where they started the 40 acre Walla Walla Addition on Capitol Hill and built a substantial home, which has recently been restored. He was elected to a four year term on the Seattle Board of Aldermen in 1892. However, the Panic of 1893 brought his development to a sudden halt. He moved back to Walla Walla and concentrated on farming and paying off debts,  as well as serving as a city Councilman for the Third Ward. In 1903 he was on the city council that established City Park, now Pioneer Park. He built his last home at 34 Boyer in 1901 where he lived until his death in 1905. His widow and several of his children lived here until 1923 when she sold the home to Ellis and Ella May Taylor for $5500.
Taylor was assistant superintendent for Baker-Langdon Orchards.  In 1925 the Taylors were unable to pay for the property and signed a Quit Claim Deed returning it to Adora Brewer. On June 1, 1925 Mrs. Brewer then sold this home to John W. Cookerly. John and Mattie Cookerly lived next door at 26 Boyer Avenue. They moved Cookerly and Funk Funeral Home, the business they had started in 1896,  from Spokane Street to 34 Boyer. Emory and Hazleverne Funk lived upstairs at 34 Boyer.  In 1933 the name was changed to Cookerly and Groseclose when Robert G. Groseclose became a business partner. Bob and Mabel Groseclose lived in the upstairs apartment from this time until they sold the business.
In 1936 John and Mattie Cookerly transferred this property to Grova C. Cookerly. In 1937 Grova gave an undivided half share of the property to Vivien T. Cookerly, his wife. In 1950 Grova Cookerly sold this property to Robert and Mabel Groseclose. In 1958 the business name was changed to Groseclose Garden Chapel. The Grosecloses were very active in the local community. Mabel served on the city council and was active in promoting the United Nations. In 1965 they sold the property to Groseclose Mortuary Inc., owned by Larry Krivoshein. Larry and Jan Krivoshein lived here starting in 1966. Krivoshein operated the business in this location until 1992 when he sold this property to Whitman College and sold the business to Groseclose Herring Funeral Home at 315 W. Alder.
Construction of the Building:
John Franklin Brewer built this house in 1901. The Walla Walla County Assessor's office lists the age of this building as 1940, probably when some alterations were made to the building. In 1905 the Sanborn Fire Map shows the footprint of this house and the two houses west of it on Boyer Avenue. All three of these lots went from Boyer Avenue back to the north bank of Mill Creek. The Brewer house had a large outbuilding between  College Creek and Mill Creek.
References:
Bennett, Robert A., Walla Walla  Portrait of a Western Town 1804-1899, Pioneer Press,  Walla Walla, 1980.
Brewer Family records and pictures in M. Meeker collection.
LM Land Patent Records
Building Permits: Whitman College Penrose Library Archives.
Lyman, Professor W.I., An Illustrated History of Walla Walla County  1901.
Meeker, Christopher, Boom and Bust in Seattle, 1890-1898. 1996.
Sanborn Fire Maps: 1884-1905 (with updates until 1950).
U.S. Census records
Walla Walla City Directories: 1880-present (various publishers–not all years).
Walla Walla Union Bulletin, Feb. 22, 1905
Whitman College Archives.
Mary E. Meeker dawame@@bmi.net; Walla Walla 2020 Research Service PO Box 1222, Walla Walla WA 99362 December, 2008
http://ww2020.net/wp-content/uploads/34_Boyer.jpg
150
200
Mary Meeker
http://ww2020.net/wp-content/uploads/2011/12/ww2020_logo.png
Mary Meeker
2008-12-01 16:54:57
2017-02-05 12:20:47
History of 34 Boyer Avenue, Walla Walla, WA - Boyer House, Whitman College