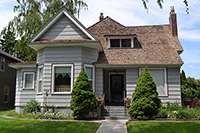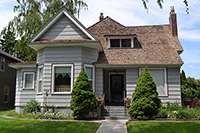 Legal Description
17 W. Small's Amended Plat of Blocks 3 and 4 of A. B. Roberts Addition to the City of Walla Walla, Lots 16 and the Westerly Portion of Lot 17.
(Note: This small plat, originally comprising two blocks of Roberts Addition when platted in 1892, is now considered a single block, bounded by South Palouse Street, East Poplar Street, South Park Street and East Birch Street.)
Title and Occupant History
Walla Walla was originally laid out by surveyor H. H. Chase in 1859, even before its formal incorporation as a city in 1862, as a one quarter-mile square with its eastern side centered on the point where Main Street crossed Mill Creek (at roughly the point where it does now). Main Street originally followed the old Nez Perce Indian Trail. Consequently the streets leading off of it were at right angles to it, and were not in a north-south orientation. This was corrected as the city moved eastward which gave Walla Walla its peculiar street pattern with the three street intersection at Palouse, Boyer and Main Streets. To the original plat, additional parcels were annexed from time to time, usually with the name of the land owner of record at the time the additions were made.
The first evidence of non-governmental ownership of this property is a probate estate inventory for Ransom Clark dated May 24, 1859 showing Clark as the owner of this property.
The first person to plat this area was A. B. Roberts who came to Walla Walla from Portland, Oregon in 1859 and immediately purchased a claim from Tom Hughs for $250 to land just south of Main Street. He fenced his new property and put up a canvas house which allowed him to hold it until the government surveyed it in 1860. He had brought some grafted fruit trees from Portland and was able to sell them in 1860 for $1.00 apiece. He realized there was money to be made in fruit trees and so engaged extensively in the nursery business as well as real estate. Roberts Addition was platted by A. B. Roberts and Martha E. Roberts on January 20,1871 (Plat Book A, Page 21, Walla Walla County Auditor's Office, Walla Walla County Courthouse).
Following a legal action against A. B. Roberts, Burrell W. Griffin, Sheriff of Walla Walla County, Washington Territory, gave a Sheriff's Deed to Oliver P. Lacy on 12/13/1873 for all of Blocks 3 and 4 of Roberts Addition for $540 in gold coin. Oliver P. Lacy was Assessor for Walla Walla County, W.T. and was later elected as a State Representative. He was co-owner of Real Estate Brokers, Insurance, Auction & Commission Merchants, and in 1879 was a partner in the building of a hotel at 208-12 West Main Street. He was listed in the 1881-83 as the Grand Representative from the Grand Lodge of Ancient, Free & Accepted Masons of Canada in the United States for Washington Territory.
5/21/1874, Warranty Deed, Oliver P. and Mary E. Lacy, grantors; William Stephens, grantee; all of Blocks 3 and 4, A. B. Roberts Addition, $1,100. William Stephens was prominent in the early development of Walla Walla. He was born on Staten Island, NY in 1812. Upon arrival in Walla Walla in 1859, he assumed operation of Dr. Dorsey S. Baker's store, located on the site of the present Baker Boyer National Bank. The store was prominent as a supplier of miners' needs for those trekking to the gold mines in Idaho Territory. He invested his earnings in the Walla Walla & Columbia River Railroad Company, becoming Treasurer. He was appointed Register of the United States Land Office when it was established in Walla Walla in 1871, but after four years he quit that appointment and returned to the railroad.
12/4/1874, Sheriff's Deed, Burrell W. Griffin, Sheriff of Walla Walla County, Washington Territory, to William Stephens; a 50' by 480' portion of Blocks 3 and 4 of A. B. Roberts Addition fronting on South Park Street, $175.
1/2/1875, Warranty Deed, William Stephens, grantor; D. W. Small, A. Small and Ira Small, grantees; all of Blocks 3 and 4, A. B. Roberts Addition, $1,500. David W. Small was born in New Brunswick in 1838, but moved with his family to Maine. At the outbreak of the Civil War, he enlisted in the Army of the Union, from which he was discharged in December 1865. Widowed at a young age, he moved to Montana in 1871, and with his brother Ira moved on to Washington Territory the following spring. They were later joined by the third brother Albert. All three brothers initially worked for Dorsey Baker, then engaged in building a narrow gauge railroad between Wallula and Walla Walla, and later they opened a livery business on Rose Street between 2nd and Colville Streets. The three brothers also launched a steamer, Northwest, on the Snake River in 1877-78.D. W. Small operated two entertainment venues in Walla Walla, both named Small's Opera House. The first one was on the north side of Main Street near 1st Street, and burned in the October 1875 fire. A second Small's Opera House was erected on the northeast corner of 2nd and Alder Streets, and boasted a seating capacity of 1,000. In 1879, D. W. Small married Ella or Ellen Dawson, and that year erected an imposing residence, designed by F. P. Allen, at 313 East Birch Street; the Walla Walla Weekly Statesman declared that it was "the nicest residence in the city." For unknown reasons, the house was rotated 180° in 1893 to face East Poplar Street. The Sanborn Fire Map dated April 1894 shows the Small house facing Poplar, still with its 1879 footprint Around 1919, the house was significantly altered, losing its third level Mansard roof to a dormer, and incorporating large side verandas at the first and second floors. The three segmented arch windows on the second level of the Poplar façade are about the only vestigial remainders of the 1879 Small residence. The current address is 314 East Poplar Street, and the Small-Elliott house is listed on the National Register of Historic Places.  Financial difficulties in 1884 forced a reorganization of Mr. Small's investments, including the sale of the property on which the house at 333 East Birch is located, although he did manage that year to see his second opera house to completion. D. W. Small was elected to the City Council in 1890. Albert Small was owner of the Stine House at 201-05 Main Street. In the 1881-82 City Directory, D. W. Small was living at 313 Birch, and by 1889 his residence was listed as Birch near Park.
3/9/1881, Warranty Deed, A. Small and Annie Small, grantors; Ellen Small, grantee; all of Blocks 3 and 4 plus a small strip of land, presumably that mentioned in the above Quit Claim Deed, $1.
9/20/1884, Power of Attorney, Ira Small of Nez Perce County, Idaho Territory, appointer, to David Small.
11/11/1886, Warranty Deed, Ira and Alice Small, grantors; Ellen Small, grantee, $1.
7/6/1892, D. W. Small's Amended Plat of Blocks 3 & 4 of Roberts' Addition to Walla Walla and a Part of the South ½ of the Southeast ¼ of Section 20, T.C.N., R 36 E. Willamette Meridian was filed by W. B. Hawley, County Auditor and recorded in Volume B Plats, Page 62.
12/8/1893, Sheriff's Deed, C. C. Gose, Sheriff of Walla Walla County, Washington; regarding a Judgment of 8/8/1892 of $9,426.22 against D. W. and Ellen Small and ten others, to sell Blocks 3 and 4 to Frank Paine.
9/8/1894, Indenture, Frank W. and Ida B. Paine, grantors; Henry and William Osterman, grantees; Lots 16-23 of Blocks 3 and 4, D. W. Small's Amended Plat, $3,000 in gold coin. Frank Paine, who resided at 136 Chase Street, was a leading citizen of Walla Walla. W. D. Lyman, in his history of Walla Walla County, noted that Paine was a "capitalist whose name is inseparably interwoven with the history of the city and the state. No account of Walla Walla's development would be complete without extended reference to him." He and his brother John arrived in Walla Walla in 1861, and, like Williams Stephens, initially earned money by supplying miners headed to the Idaho Territory gold fields. Eventually, he purchased the Baker Boyer store and, in partnership with Miles C. Moore, opened Paine Bros. & Moore at 2nd and Main. In 1879, he erected the Paine Building, extant on the southeast corner of 2nd and Main. He was elected to the City Council in 1878, and served as Director of Schools from 1889 through 1906. He was appointed the first Superintendent of the Territorial Prison (Washington State Penitentiary) in 1887. Paine School (later renamed Lincoln), erected in 1888, was named for Frank Paine.
10/21/1896, Indenture, Henry and William Osterman, unmarried men, grantors; Brewster Ferrel, grantee; Lot 16 and Westerly half of Lot 17, D. W. Small's Amended Plat, $870. Henry Osterman was born in Essen, Germany in 1862. It is not known why he and his two brothers, William and August, emigrated to the United States and settled in Walla Walla. Although they spoke little English, they soon found work as carpenters. Henry began work as a contractor, and is thought to be largely self-taught as an architect. In fact, he was surely the most prolific and important architect in Walla Walla during his years of practice here. A few of his prominent designs here include City Hall, the Court House, Carnegie Library, the old YMCA building, Central Christian Church, the Liberty Theater, the Armory, Green Park and Sharpstein Schools and his own ornate residence at 508 Lincoln Street. Osterman retired and moved to Seattle in 1927, where he died in 1936. Brewster (1838-1912) and Caroline (1843-1937) Ferrel arrived in Walla Walla by wagon train in 1864. Brewster Ferrel was a successful wheat farmer, with a large spread of land on Russell Creek Road. He and his wife moved into town sometime between 1895 and 1897 and resided at 333 East Birch until they purchased their grand home at 336 South Palouse Street in 1910 from Alexander McDonald, for whom it had been erected one year earlier.
3/1/1912, Deed, Brewster and Caroline Ferrel, grantors; V. H. Rogers, grantee; Easterly ¼ of Lot 15, all of Lot 16 and West half of Lot 17, D. W. Small's Amended Plat, $5,000 plus taxes for 1911, 1912 and street paving assessment.
8/25/1939, Quit Claim Deed, V. H. Rogers, grantor; Mary Fowler Rogers, grantee, Easterly quarter Lot 15, all of Lot 16 and Westerly half of Lot 17, "of the love and affection he sustains for his wife, grantee herein." V. H. Rogers was first listed in the 1914 City Directory at 333 East Birch Street. A widower, he married the widow Mary Fowler (b. 1888 in Pennsylvania) in 1938 and she moved into his home, where she lived until her death in 1974. Penny Andres's third volume of Walla Walla: Her Historic Homes features the house at 333 East Birch, and includes much information about the many activities of Mrs. Rogers. The house remained in the Rogers family until 1985.
6/17/1975, Survey completed for Dallas S. Young by Guy W. Streamer, Jr., Professional Engineer.
3/22/1977, Quit Claim Deed, Jean Fowler Schaeffer, Helen Fowler Kidd, Charles A. Fowler, Elizabeth Eubanks and Lin Eubanks convey and quit claim to Jane Fowler Thomas, whose husband is Stanley Thomas, $12,500.
9/13/1985, Deed of Personal Representative, Nancy Thomas McClenny, personal representative of the estate of Jane Fowler Thomas, deceased, grantor; D. Douglas Treganowan, grantee, $43,500. Although Penny Andres's book (op cit) mentions that Mr. Treganowan was a contractor, he is listed in City Directories as an employee of Sun Sports. He finished the upstairs of the house, which had not previously been electrified and still had burlap fastened to studs for walls, and, most notably, he reroofed the house with 7½-inch hand-sawn cedar shingles from a mill in Chehalis. (This undertaking caused Mr. Treganowan some legal difficulties, as may be seen by the lien claim and multiple loans listed below!)
12/9/1988, Claim of Lien, Robin Howard dba Howard Roofing, claimant; D. Douglas Treganowan, owner, $3,536.04.
6/2/1989, Satisfaction of Lien, Robin Howard dba Howard Roofing, claimant; D. Douglas Treganowan, owner, $3,536.04
10/18/1989, Statutory Warranty Deed, D. Douglas and Dana G. Treganowan, grantors; Junius Rochester, a single person, and Joanne M. O'Hara, a single person, grantees; $10 and other valuable consideration. Junius Rochester was listed in the City Directories as an employee of Whitman College; Joanne M. O'Hara, whom he later married, was a student there. Their residency in the city was of short duration..
7/17/1991, Statutory Warranty Deed, Junius and Joanne M. Rochester, grantors; Walter Dale and Betty J. Roberton, grantees, $10 and other valuable consideration.
7/17/1991, Quit Claim Deed, Walter J. Roberton, husband, to Betty J. Roberton, wife of grantor.
Construction of Building
Penny Andres in her book (op cit) states that the house at 333 East Birch Street was built in 1893. A reading of all listings in the 1893-94 City Directory revealed none at an odd-numbered address in the 300 block of East Birch Street (there were several on the even-numbered side of the street). No City Directories were published for 1895 through 1897; the 1898 Directory discloses that the Brewster Ferrels were residing at 333 East Birch. The Sanborn Fire Map dated April 1894 shows only one house on the entire block: the former residence of D. W. Small that, although built on the odd-numbered side of the 300 block of East Birch, had by that time been rotated 180° to face East Poplar Street. 333 East Birch Street is shown in the 1905 Sanborn Fire Map. These factors suggest a construction date of 1894, after the April publication of the fire map and considering that in the fall of 1894 this property was sold to William and Henry Osterman. The Osterman brothers never resided at 333 E. Birch and, as carpenters, likely purchased the land for the purpose of building and selling houses. It is certainly worth speculating that Henry Osterman, in his pre-architect years, might have designed and built this house on speculation, but records do not exist to authenticate this. The property was sold to Brewster and Caroline Ferrel in October 1896 and the Ferrels were listed in the 1898 City Directory as residing at 333 East Birch Street. Thus, a construction date of 1894 during the construction season of the year the Ostermans acquired it is most likely.
Whatever the case, 333 East Birch Street is a 1½-story Queen Anne style house of slightly under 1,700 square feet on its main floor. The core of the structure supports a steeply pitched hip roof with lower projecting side gables and a more prominent frontal gable left of center. A small dormer above the front entrance may well be a later addition. The original roughed-in upstairs was finished some 30 years ago, adding considerable more square footage. It is apparent that the house was updated several decades ago, including what appears to be a new foundation. In its original appearance, one might speculate that that portion of the main façade extending east from the front door was originally an open porch that would have displayed considerable lathe-turned posts and spindles. The three single pane windows to the left of the front door were no doubt originally larger double-hung, the upper halves likely having had borders of small panes of multi-colored glass. There were probably decorative shingles in the gable above these windows. Whether or not the house originally had a fireplace is unknown, but the current chimney at the side of the house is not original to the structure, nor is a projecting bathroom addition on the left side of the house.
This is a charming Victorian residence whose original architectural embellishments would appear to have been significantly simplified at some juncture, but whose highly decorative shingles on the roof – quite possibly the most elaborate in Walla Walla – lend it a real eye-catching street presence.
References
Lyman, W. D. History of Old Walla Walla County, Vol. I. 1918.
West Shore magazine, Portland, OR, March 1887
Bennett, Robert A. Walla Walla: Portrait of a Western Town, 1804 – 1899. 1980
Andres, Penny. Walla Walla: Her Historic Homes, Vol. III. 1889
Gilbert, Frank T. Historic Sketches of Walla Walla, Whitman, Columbia and Garfield Counties, Washington Territory, and Umatilla County, Oregon, Portland, 1882
Oregon, Washington and Idaho Gazeteer and Business Directory, Vol. 1, 1884 – 85, R. L. Polk & Co.
Lincoln High School: http://www.wallawallalincolnhs.org
University of Oregon Libraries: http://oregondigital.org/digcol/
Caroline Bott and Brewster Ferrel: http://www.cinderspark.com/family/carolinebrewster.html
Washington State Department of Archeology and Historic Preservation: Architects Biographies
AccessGenealogy: http://www.accessgenealogy.com
Nomination of the Small-Elliott house, 314 E. Alder Street, to the National Register of Historic Places, 1/4/1982
Sanborn Fire Maps, 1894 and 1905
http://ww2020.net/wp-content/uploads/333_e_birch.jpg
133
200
Steve Wilen
http://ww2020.net/wp-content/uploads/2011/12/ww2020_logo.png
Steve Wilen
2015-07-08 08:07:14
2015-07-10 06:41:32
History of 333 East Birch Street, Walla Walla, WA