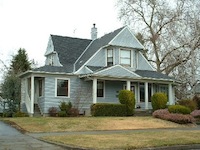 Property Description
Lots 4 and 5 of Block 8 of Roberts Addition to the City of Walla Walla, as recorded in Book A of plats, page 21, records of the Walla Walla County Auditor.
Title History
Walla Walla was originally laid out by surveyor H.H. Chase in 1859, even before its formal incorporation as a city in 1862, as a one quarter mile square oriented N-S, E-W and with its eastern side centered on the point where Main Street crossed Mill Creek (at roughly the point where it does now). To this original area, additional parcels were annexed from time to time, usually with the name of the land owner of record at the time the additions were made.
A. B. Roberts received a larger tract containing this parcel as a homestead from the U.S. Government. Roberts Addition was platted by A. B. Roberts and Martha E. Roberts on Jan 20,1871 (Plat Book A, Pages 21 and 22, Walla Walla County Auditor's Office, Walla Walla County Courthouse). A. B. Roberts came to Walla Walla from Portland, Or. in 1859 and immediately purchased a large farm site just south of Main Street. He was a pioneer orchardist and real estate dealer. Mr. Roberts donated this street to be called Dr. Newell Street to permanently perpetuate the name of an early pioneer. Dr. Robert Newell was a trapper, one of the famous Mountain Men, and in 1840 brought the first wagons ever to cross the mountains to the Whitman Mission at Waiilatpu in the Oregon Territory, where they were welcomed by the Whitmans.
On December 7, 1874 this lot was sold by sheriffs sale in an action against A.B. Roberts, and a sheriffs deed was issued to James Wheelan (sometimes spelled Whelan, born in 1837) for the sum of $235. In The Walla Walla Union newspaper on May 19, 1877, it was reported that "James Wheelan returned to this place last Sunday with a large stock of saddlery and set up shop on Main Street a few doors above Reynolds' Bank." In the oldest available City Directory in 1880 he was listed as having a residence on Dr. Newell near Park.
Following James Wheelan's death in 1893 his estate was probated and he left this property to his wife, Mary J. Wheelan. In 1893 her son Edward lived with her and was a clerk for John Alheit, grocer and baker, and later at Schwabacher Company in 1905 following Alheit's death. Subsequently Mary Wheelan's daughter, Emma, lived at this address and listed her occupation as a seamstress. Mary Wheelan (b. 1852) died in 1910. By 1918 Edward Wheelan was a department manager at Gardner and Company and the property had an assessed value of $840. In 1920, Edward is listed as living at 320 Newell, presumably on another part of the same property. On Sept. 10, 1925 Mary Wheelan's estate was probated and passed her interest to her son, Edward J. Wheelan and daughter, Emma Wheelan. On Dec. 13, 1929 E. J. Wheelan, single man, conveyed his interest to Emma Wheelan, a single woman. E. J. Wheelan was declared insane on 5/16/1930. In 1936, Emma died and in 1937 the Baker Boyer Bank, as personal representative of her estate, sold the property at public sale to Wanna Hulse, a spinster. The city directory for this year lists the house as vacant and has no listing for Wanna Hulse.
On Aug. 29, 1938, Wanna Hulse, a spinster, conveyed the property by warranty deed to Phoebe E. Hulse (widow of Warner L. Hulse) for the recorded amount of $10. Phoebe is listed as living at the residence in 1939. On July 5, 1940 Phoebe B. Hulse, widow conveyed the property by warranty deed to Nellie S. Maybee, widow of George W. Maybee, for the recorded amount of $10. Phoebe moved elsewhere in Walla Walla. Nellie is listed as living at this address in 1941 and 1942, in addition to two other couples, presumed to be renters.
On April 26, 1943, Nellie S. Maybee, widow, conveyed the property by warranty deed to E.D.Molkie and Allie Molkie for the recorded amount of $10. On Jan. 10, 1944 Ella Molkie, widow of E.D. Molkie, conveyed the property by warranty deed to Claude E. and Willa Margaret Wagoner (the latter known as "Winona") for the recorded amount of $3000. Mr. Wagoner was a department supervisor for Continental Can Company. During their ownership there were usually 2 or 3 renters listed in the city directory as also living at the address.
On May 21, 1951, the Wagoners conveyed the property by warranty deed to Nichols and Lura Mate. Mr. Mate was employed at the Marcus Whitman Hotel in 1951. He retired in 1961. On April 29, 1963 the Mates entered into a contract of sale with Lyle G. and Jean M. Stubblefield for the amount of $16,500, which resulted in a conveyance by warranty deed. Lyle Stubblefield was the assistant supervisor of quality control at Birdseye and Jean was the food supervisor for Park Manor nursing home. In 1974 they both were listed a professional hypnotists in the city directory. The Stubblefields continued to rent out rooms.
On May 29, 1973, the Stubblefields conveyed the property by warranty deed to Richard "Dick"and Marion Inglis. Dick was a psychologist at the Mental Health Center and
Marion was an R.N. at St. Mary Hospital at that time. The Inglises continue to own and reside on the property at the time of this report.
Construction of the House
After acquiring the property in late 1874, James Wheelan appears to have left Walla Walla for a period, returning in May of 1877. In the Birds Eye View drawing of Walla Walla for 1876 appearing on pages 91-92 of Robert Bennett's Walla Walla, Portrait of a Western Town, 1804-1899, no home is shown on the property. Because a record of the Wheelans residing on the property appears in the 1880 city directory, it is apparent that the home was constructed by that year, although since no prior directories were published, the actual construction could have been anywhere from 1877-1880. Because the 1881 directory appears to have been published toward the end of the year rather than at the beginning of the year, if we assume the same for the 1880 directory, the information in it would not necessarily have been gathered in the prior year as was the practice in some later additions. In view of this, unless additional information is discovered suggesting an earlier date, the construction date on any plaque honoring the home could be listed as "circa 1879".
Mary E. Meeker Walla Walla 2020 Research Service PO Box 1222, Walla Walla WA 99362 August, 2000
http://ww2020.net/wp-content/uploads/325_Newell.jpg
150
200
Mary Meeker
http://ww2020.net/wp-content/uploads/2011/12/ww2020_logo.png
Mary Meeker
2000-08-01 19:50:08
2017-02-05 12:24:34
History of 325 Newell Street, Walla Walla, WA