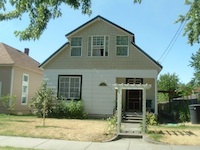 Property Description:
South half of Block 34 (F) less alley, Robert's Addition to the City of Walla Walla, Walla Walla County, Washington, recorded in Volume A of Plats, page 21.
Title History:
Washington Territory was created in 1853. The new legislature created Walla Walla County in 1854 which stretched from the crest of the Cascade Mountains to the crest of the Rocky Mountains in the present states of Washington, Idaho and Montana. In 1855 an Indian council was held on the banks of Mill Creek at the present site of Walla Walla to purchase land from the Indians. The Yakimas, Cayuses and Walla Wallas were dissatisfied with the treaties and war followed. Missionaries, former French-Canadian employees of the Hudson Bay Company trading post at Wallula, and soldiers at the military Fort Walla Walla were the primary European occupants of the area prior to 1859 when it was opened for settlement. All of the land in this area was acquired from the Cayuse and Walla Walla Indian tribes by the U.S.. Government in a treaty signed on June 9, 1855 in Walla Walla, and ratified on March 8, 1859 by President James Buchanan.
Walla Walla was originally laid out by County Surveyor H. H. Case in 1859, before its formal incorporation as a city in 1862, as a one-quarter mile square with its eastern side centered on the point where Main Street crossed Mill Creek (at roughly the point where it does now).  The City of Walla Walla received  a Trustee Townsite from the U. S. Government which consisted of 80 acres issued on July 20, 1869 by the Vancouver, W.T. District Land Office.   Main Street originally followed the old Nez Perce Indian Trail. Consequently the streets leading off of it were at right angles to it, and were not in a north-south orientation. This was corrected as the city moved eastward which gave Walla Walla its peculiar street pattern with the three street intersection at Palouse, Boyer and Main Streets. To the original plat, additional parcels were annexed from time to time, usually bearing the name of the land owner of record at the time the additions were made.
B. Roberts came to Walla Walla from Portland, Or. in 1859 and immediately purchased a large farm site just south of Main Street. He was a pioneer nurseryman and real estate developer. He received a 320 acre tract containing this parcel as a homestead from the U.S. Government on May 2, 1870.  Roberts Addition was platted by Alvin B. Roberts and Martha E. Roberts on January  20,1871 (Plat Book A, Pages 21 and 22, Walla Walla County Auditor's Office, Walla Walla County Courthouse). Following a district court case, George D. Thomas, Walla Walla County sheriff gave a sheriff's deed to B. L. Sharptein on May 16, 1876 for 10 parcels, including this one. On February 3, 1881 B. L. and Sarah J. Sharpstein gave a deed on this property to William Mulchoy. On October 2, 1881 Rose and Sigmund Schwabacher signed a deed to Sharpstein for $20 on Lot F of Robert's Addition between Blocks 18 and 19. This probably cleared the title on this property for money owed to Schwabacher by Roberts. Another district course case resulted in another Sheriff's Deed by Arthur S. Bowles, Sheriff, to John Lumpp on June 4, 1888. On December 11, 1890 multiple property owners including John and Josephine Lumpp gave a deed to the City of Walla Walla for an alley through this block. On August 15, 1894 Josephine Lumpp gave her interest in this and adjoining  lots to her husband John for "love and affection." Following two more Superior Court actions a Warranty Deed to the South half of Block F was signed by Mildred and Lawrence Drake, Edith A. and Iley Winn and Lillian J. Weiser (a single woman) to Jack Elwane and Helene Katharine Ross for a stated amount of $10 on July 7, 1941. On May 10, 1948 Jack E. and Helene K. Ross sold this property to Maude M. Kane, a widow. Following another Superior Court case Alan L. and Jean L. Barer signed a contract to sell this property to Frank E. and Agnes E. Chichester on May 15, 1969. On August 28, 1978 they sold to Dale G. and Sharon K. Zumwalt. On December 1, 1981 Zumwalt signed a mortgage with Pacific Power and Light for weatherization of this  house. On April 13, 1982 Zumwalt sold this property to Rex V. and Genevieve R. Stoffer for "$10." Stoffers signed a contract with Edward and Kathleen Mickus. A Relinquishment of Real Estate Contract from Mickus to Stoffer was signed October 29, 1982. Stoffer then signed a contract with Jose and Vincenta Trejo. Again this contract reverted to Stoffer on March 10, 1989. On March 15, 1989 Stoffers sold this property to Daniel K. and Sharon M. Thompson. On July 15, 2002 the Thompsons sold this property to Aric Cooksley, single, and Richard and P. Kay Cooksley. On November 28, 2004 Aric and Melody Cooksley and Richard and P. Kay Cooksley sold this property to Timothy W. Riley. On August 10, 2010 Sarah L. Riley, Personal Representative for the Estate of Timothy W. Riley sold this property to Guy E. and Allison Davis Gingell.
Occupant History:
John Lumpp owned but apparently never lived in this house. He and his wife Josephine lived around the corner at 528 Park Street from 1893 until 1915. In 1880 he was listed on the census as a drayman. The 1898 city directory listed him as a "capitalist." The Drakes, Winns, and Weisers did not apparently live in Walla Walla. Iley Winn owned land in Umatilla County. The first reverse street directory was printed in 1931. From 1931 through 1939 the house appeared to be occupied by renters: Cecil and Faye Brown in 1931; George and Mary Darr and Herbert and Betty Phelps in 1932; Frank G. Richardson in 1935; Edgar O. and Florence Johnson in 1937-1939. From 1941 to1948 the house was occupied by owners Jack E. and Helen Ross. He was a mechanic for MMCo. One of the longest owner-occupants was Maude M. Kane, widow of Jack C. Kane. She lived here from 1949 to 1964. After 1960 Nettie A. McGee also lived with Mrs. Kane. From 1966 to 1969 four different renters lived here. In 1970 Frank "Elmer" Chichester bought the house and lived here through 1977. Dale and Sharon Zumwalt purchased the house in 1978 and lived here through 1982. Edward and Cathy Mickus lived here1983 to 1987. Jose and Vencenta Trejo lived here in 1988. Daniel and Sharon Thompson lived here from 1989 to at least 1997 (last city directory). He worked at the Penitentiary and she worked at Regency Care Center.
Construction of the Building:
The Walla Walla County Assessor's records list a construction date of 1896. However the footprint of this house is shown on the 1894 Sanborn Firemap so portions of it date at least from that time. It is located in the first addition to Walla Walla which A. B. Roberts platted in 1871 but probably no construction took place on this block until after 1890 when the city gained title for an alley. Prior research on the large house on the corner of Palouse and Craig determined that it had been built in 1892. This house is much more difficult to date due to the fact that there are no recorded deeds relating to it between 1894 and 1948. There are no building permits available prior to 1907. However, it is reasonable to assume a construction date of Circa 1893, after the construction of the alley in 1890 and prior to the printing of the Sanborn fire map in April 1894. Extensive remodeling of the house, including adding a second floor, was done in the past decade but the foundation still largely follows the 1894 footprint.
References:
Bennett, Robert A., Walla Walla  Portrait of a Western Town 1804-1899, Pioneer Press,  Walla Walla, 1980.
Building Permits: Whitman College Penrose Library Archives.
Sanborn Fire Maps: 1884-1905 (with updates until 1950).
Walla Walla City Directories: 1880-present (various publishers–not all years).
Whitman College Archives.
U. S. Census records.
  Mary E. Meeker ; Walla Walla 2020 Research Service PO Box 1222, Walla Walla WA 99362 January, 2011
http://ww2020.net/wp-content/uploads/321_Craig.jpg
150
200
Mary Meeker
http://ww2020.net/wp-content/uploads/2011/12/ww2020_logo.png
Mary Meeker
2011-01-01 19:46:15
2017-02-05 12:19:07
History of 321 Craig Street, Walla Walla, WA