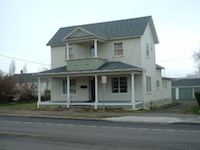 Property Description:
Beginning at a point in the Westerly line of Second Avenue South (formerly Second Street) in the City of Walla Walla, which point is 70 feet southerly, measured along said westerly line of Second Avenue, from the point of intersection thereof with the southerly line of Birch Street as now established; thence southerly along said westerly line of Second Avenue a distance of 85 feet; thence westerly and parallel to said southerly line of Birch Street, a distance of 120 feet; thence northerly, parallel to said westerly line of Second Avenue, a distance of 85.0 feet; thence easterly parallel to said southerly line of Birch Street, a distance of 120.0 feet to the point of beginning.
Title History:
Washington Territory was created in 1853. The new legislature created Walla Walla County in 1854 which stretched from the crest of the Cascade Mountains to the crest of the Rocky Mountains in the present states of Washington, Idaho and Montana. In 1855 an Indian council was held on the banks of Mill Creek at the present site of Walla Walla to purchase land from the Indians. The Yakimas, Cayuses and Walla Wallas were dissatisfied with the treaties and war followed. Missionaries, former French-Canadian employees of the Hudson Bay Company trading post at Wallula, and soldiers at the military Fort Walla Walla were the primary European occupants of the area prior to 1859 when it was opened for settlement. All of the land in this area was acquired from the Cayuse and Walla Walla Indian tribes by the U.S. Government in a treaty signed on June 9, 1855 in Walla Walla, and not ratified until March 8, 1859 by President James Buchanan.
Walla Walla was originally laid out by County Surveyor H. H. Case in 1859, before its formal incorporation as a city in 1862, as a one-quarter mile square with its eastern side centered on the point where Main Street crossed Mill Creek (at roughly the point where it does now). The City of Walla Walla received a Trustee Townsite from the U. S. Government which consisted of 80 acres issued on July 20, 1869 by the Vancouver, W.T. District Land Office.
Frederick Saddler and John G. Sparks obtained a 120 acre patent from the U. S. Government, finally issued on September 6, 1872, which included this property. John G. and Margaret Sparks sold their 65.68 acre half of that claim on August 30, 1865 to Henrietta E. Hunter. On May 27, 1867 J. W. and H. E. Hunter sold a parcel that was 100 by 200 feet to Joseph and Odile Helmuth for $300. On May 30, 1867 H. E. and J. W. Hunter sold to the Trustees of the First United Brethren Church of Christ a parcel that was 60 x 100 feet for $146. On June 9, 1868 the Helmuths sold a 100 by 150 foot parcel to William Kaseberg and J. A. Shepherd for $300. On November 9, 1868 J. W. and H. E. Hunter sold Kaseberg and Shepherd an additional 22 by 150 foot parcel. On June 4, 1870 William Kaseberg sold his share of what was now a 120 by 135 foot lot minus the 60 by 100 feet parcel owned by the Church at the corner of Birch and Second Streets to J. A. Shepherd .
On September 17, 1870 James A. Shepherd sold this property to John Jacob Spansail for $500. On March 30, 1872 the Church sold Spansail an additional 10 by 100 feet off the south side of their parcel. On March 25, 1880 John and Christina Spansail deeded this property to John H. Stahl for $3000. One day later Stahl deeded the same property back to Christina Spansail for $3000, possibly indicating a mortgage or a divorce transaction. On November 30, 1883 Christiana Edson (formerly Spansail) and E. P. Edson sold the property to John C. Van Patten for $3150. On September 15, 1885 John C. Van Patten and R. A. Van Patten sold this property to Mrs. N. M. Davis for $2000. On April 22, 1890 N. M. Davis and her husband L. M. Davis sold 85 by 120 feet to John Fudge for $2550.
On March 11, 1892 Myra Fudge, widow of John Fudge deeded this 85 x 120 foot property to James Henry Fudge, Ernest Everett Fudge, Marilla Eveline Fudge and Loney Wright Fudge, along with 2 lots in Mt. View Addition. On May 1, 1900 James H. Fudge and Marilla Eveline Smith gave a Bond for Deed for $4000 to W. P. Hershey et al and A. B. Weisenflue. On September 3, 1901, heirs of John J. Spansail, John J. Spansail, Julia (Spansail) Gross and Pauline (Spansail) Johnson signed a Quit Claim Deed to clear title for the Estate of John Fudge, deceased. On October 31, 1901 Louie W. Fudge, unmarried, James H. Fudge, unmarried and Marilla E. Smith gave a deed to W. P. Hershey and A. B. Weisenflue for $2400. On August 30, 1913 W. P. and Alice Hershey and A. B. and Helen N. Weisenflue of Gateway, Crook County, Oregon sold this property to Frank Wait for $4000. On February 19, 1918 Harriet H. Wait, wife of Frank L. Wait, transferred her interest in this property to her husband. On August 21, 1924 Frank L. Wait sold this property to Emma J. Lacy, a spinster, for a stated amount of $1. On April 10, 1926 Miss Lacy sold this same parcel to Mary E. Liggett, a widow, for $1. Mary E. Liggett died on September 13, 1944. Her estate was managed by Baker Boyer Bank. On December 5, 1944 her estate sold the property to Laverne West, whose husband was Henry E. West. On October 24, 1947 Henry E. West and Laverne obtained a divorce. Laverne Clara Reiswig died on October 14, 1988. On December 21, 1990 Larry Pfefferle, personal representative for the Estate of LaVerne (West) Reiswig sold this property to Douglas Breen Saturno and Malinda McKee Saturno.
Occupant History:
John Spansail purchased the bulk of this property in 1870 and the balance of it in 1872. In the first existing city directory in 1880 he is listed as living on the west side of Second Street south of Birch Street, clearly at this location. John Stahl purchased this property in 1880 and deeded it back to Christiana Spansail. The Stahl residence and brewery was located at the south end of this block. The next two owners did not appear in local city directories. John Fudge lived in Waitsburg. It can be assumed that this house was rented during these early years. In 1900 Willard P. Hershey and Arnold B. Weisenflue purchased this property and both families lived here through 1912, starting this house's history of apartments. Hershey ran the Home Grocery store at 308 Second in 1904. He later worked as a clerk in the Hanger and Thompson Department Store in the Denny Building at Second and Alder. No residence could be located for owner Frank Wait. Emma Lacy owned and lived at 310 S. Second in 1925-26. Mary Liggett, widow of James Liggett, was Emma Lacy's sister. They lived here in 1926 through 1935 after Mrs. Liggett's purchase of the property in 1926. Emma died in 1936. In 1937 the city directory listed Mary Liggett and D. Severs and Mary M. Truitt as living here. In 1939 William Johns became the occupant of a third apartment in this house. In 1941 Otis M. Metsker and Carl Long were renters. In 1946 Henry E. West and his wife LaVern C. West owned and lived here with Mrs. Threase Duggne. By 1948 Fred Reiswig and his wife LaVerne C. owned and lived here with Jean Dugan and E. V. Pearson. Fred was a 1st class bridge carpenter with the UPRR. He and his wife continued to live here with two other units rented until he died in 1968. From 1968 until 1988 LaVerne Reiswig lived here, plus her tenants. She died on October 9, 1988. Thereafter only tenants are listed.
Construction of the Building:
The Walla Walla County Tax Assessor's office lists a construction date of 1900. However, the 1889, 1890 and 1905 Sanborn Fire Maps all show the footprint of the same house which appears to match the present one. It is possible that the 1880 Spansail residence recorded in the city directory was a different house than the 1889 house, however the current siding is consistent with 1880 or earlier construction. Given the footprint of this house on the 1889 Fire Map, the ownership of the property by Spansail throughout the 1870's, the lack of city directories for that period, and the apparent practice of issuing the directories early in the year, it is reasonable to assume that this house was built prior to 1880. A construction date of circa 1879 should therefore be used.
References:
Bennett, Robert A., Walla Walla Portrait of a Western Town 1804-1899, Pioneer Press, Walla Walla, 1980.
Bennett, Robert A., Walla Walla A Town Built to be a City 1900-1919, Pioneer Press, Walla Walla, 1982.
BLM Land Patent Records
Lyman, Professor W. D., An Illustrated History of Walla Walla County 1901.
Sanborn Fire Maps: 1884-1905 (with updates until 1950).
Walla Walla City Directories: 1880-present (various publishers–not all years).
Whitman College Archives. U. S. Census records
Mary E. Meeker ; Walla Walla 2020 Research Service PO Box 1222, Walla Walla WA 99362 July, 2009 
http://ww2020.net/wp-content/uploads/310_S_Second.jpg
150
200
Mary Meeker
http://ww2020.net/wp-content/uploads/2011/12/ww2020_logo.png
Mary Meeker
2009-07-01 19:33:50
2017-02-05 12:20:46
History of 310 South Second Avenue, Walla Walla, WA