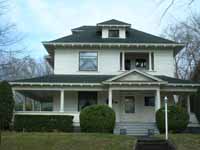 Property Description:
Lots 5 and 6 in Block 12 of Robert's Addition to the City of Walla Walla; recorded in Volume A of plats, page 21.
Title History:
Walla Walla was originally laid out by surveyor H.H. Chase in 1859, even before its formal incorporation as a city in 1862, as a one-quarter mile square oriented N-S, E-W and with its eastern side centered on the point where Main Street crossed Mill Creek (at roughly the point where it does now). To this original area, additional parcels were annexed from time to time, usually named after the land owner of record at the time the additions were made.
All of the land in this area was acquired from the Cayuse and Walla Walla Indian tribes by the U.S. Government in a treaty signed on June 9, 1855 in Walla Walla, and ratified on March 8, 1859 by President James Buchanan. A. B. Roberts came to Walla Walla from Portland, Or. in 1859 and immediately purchased a large farm site just south of Main Street. He was a pioneer nurseryman and real estate developer. A. B. Roberts received a 320 acre tract containing this parcel as a homestead from the U.S. Government on May 2, 1870. On May 27, 1870 A. B. and Martha Roberts took out a mortgage on this property (and more) for $2000 from B. L. Sharpstein. Roberts Addition was platted by Alvin B. Roberts and Martha E. Roberts on January  20,1871 (Plat Book A, Pages 21 and 22, Walla Walla County Auditor's Office, Walla Walla County Courthouse).  On July 27, 1871 the Roberts sold Lots 1-8 of Block 12 to Emil W. Eversz and J. F. Charles and Karolina  Abel for $400.  Mr. Eversz owned the Pioneer Furniture Store on the south side of Main Street between Third and Fourth Streets. On November 29, 1871 the Abels and Eversz sold Lots 5 and 6 to J. J. and Ellen Garlington for $100. On August 3, 1878 the Garlingtons sold this property to Samuel C. Kelly for $950. On April 27, 1880 Samuel C. and Lucretta R. Kelly sold these two lots to John A. Taylor for $1000. John Taylor was the father of Lucretta Kelly. He came to Walla Walla in 1876 where he was a police judge and a justice of the peace as well as a two-term state legislator. On October 13, 1880 John A. and Sarah Taylor sold these two lots to F. F. Adams for $1200. On January 6, 1882 F. F. and Mary V. Adams sold them to Annie Cox for $1100. Annie Cox died on August 6, 1885 and Frank J. Parker was the administrator of her estate. On January 19, 1903, J. P. Cox, a widower, sold these lots to R. J. Tompkins for a stated amount of $1.
Richard J. Tompkins was born in Missouri. He came to this area in 1887. He started farming in 1889 forty miles north of Walla Walla at Pleasant View on 80 acres he had paid $200 for under the Preemption Act plus 80 acres he purchased for $1400. In 1898 he married Mattie Hayden and they had two children. On October 14, 1908 Mattie L. Tompkins died and Veryl Hayden Tompkins was appointed to administer her estate. In 1913 R. J. Tompkins was the administrator of her estate.  R. J. married Daisy Wilson in 1911 and they had three children. He lived on the farm near Clyde through 1905 where he then owned 2,800 acres.  He was first listed in the city directory as living at 303 Whitman in 1907 (no 1906 directory). In 1908 he was also listed as the Second Vice-President of First National Life Assurance Society. The 1911-1912 directory also lists his second wife, Daisy. In 1926 Richard and Daisy lived in this home with their son Richard Jr. who was a student then. In 1929 Daisy lived  here as the widow of Richard. By 1939 Veryl and Eva M. Tompkins lived with Daisy, Paul and Mary A. at 303 Whitman. By 1949 Daisy had moved to 521 Park Street where she resided until 1960.  On September 15, 1951 Daisy W. Tompkins, widow, gave a deed for this property to Veryl H. and Eva Mae Tompkins for $12,500. Robert and Ron were students living here in 1949-1950. The last directory entry for Veryl was in 1968 but Eva Mae continued to live there through 1974 when she moved to 2100 Plaza Way.  The Tompkins family still owns their Century Farm near Clyde. On November 15, 1974, after 71 years of family ownership, Eva Mae Tompkins, widow, gave a deed to Dale E. and Carolyn Dietzman for "$10."
Construction of the House:
The Walla Walla County Assessor's files list a construction date of 1906.  The 1905 fire map shows no house on these lots. The Walla Walla Statesman on January 2, 1906 featured an article about "Over 100 Residences, Costing $1000 and Upward, Erected During 1905." The list in the article included "Tompkins, Palouse, $4000" which seems likely to be this house. No building permits exist before 1907.  It is reasonable to assume that the first house on these two lots was built in 1905 by R. J. Tompkins.
References:
Bennett, Robert A., Walla Walla  Portrait of a Western Town 1804-1899, Pioneer Press,  Walla Walla, 1980.
Building Permits: Whitman College Penrose Library Archives.
Lyman, Professor W. D., An Illustrated History of Walla Walla County  1901.
Sanborn Fire Maps: 1884-1905 (with updates until 1950)
Walla Walla City Directories: 1880-present (various publishers–not all years).
Whitman College Archives, Colleen McFarland, archivist
Washington's Centennial Farms Yesterday and Today, Washington State Department of Agriculture, 1989.
Mary E. Meeker Walla Walla 2020 Research Service PO Box 1222, Walla Walla WA 99362 < > May, 2005
http://ww2020.net/wp-content/uploads/303_Whitman.jpg
150
200
Mary Meeker
http://ww2020.net/wp-content/uploads/2011/12/ww2020_logo.png
Mary Meeker
2005-05-01 19:26:51
2017-02-05 12:23:03
History of 303 Whitman Street, Walla Walla, WA