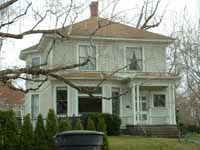 Property Description:
Beginning at the northwesterly corner of Lot 4 in Block 18 of Robert's Addition to the City of Walla Walla, according to the official plat thereof of record in the office of the Auditor of Walla Walla county, Washington, in Volume "A" of plats at page 21, and running thence southerly, along the westerly line of said Lot 4, a distance of 141.0 feet to the northerly line of the alley in said Block 18; thence easterly, along the northerly line of said alley, a distance of 80.0 feet; thence northerly, parallel to the westerly line of said Lot 4, a distance of 141.0 feet to the northerly line of said Block 18; thence westerly, along the northerly line of said Block 18, a distance of 80.0 feet to the point of beginning. Parcel #36-07-29-87-1803
Title History
Walla Walla was originally laid out by surveyor H.H. Chase in 1859, even before its formal incorporation as a city in 1862, as a one-quarter mile square oriented N-S, E-W and with its eastern side centered on the point where Main Street crossed Mill Creek (at roughly the point where it does now). To this original area, additional parcels were annexed from time to time, usually with the name of the land owner of record at the time the additions were made.
A. B. Roberts received a large tract containing this parcel as a homestead from the U.S. Government. Roberts Addition was platted by A. B. Roberts and Martha E. Roberts on January  20,1871 (Plat Book A, Pages 21 and 22, Walla Walla County Auditor's Office, Walla Walla County Courthouse). A. B. Roberts came to Walla Walla from Portland, Or. in 1859 and immediately purchased a large farm site just south of Main Street. He was a pioneer orchardist and real estate dealer.
Roberts sold Lots 3 and 4 including this property to John and Margaret Sheets in 1872 for an undisclosed price.  J. Sheets sold to J. H. Russell in 1875 for $150. J. H. Russell and his wife Mildred W. sold these and other lots in block 12 and 18 to E. B. Hawley in 1877 for $1000. E. B. and Cornelia Hawley sold Lots 1-4 in block 18 to T. R. Eastman in 1878 for $450. T. R. Eastman sold to Charles Russell in 1878 for $650 for lots 1-4. Charles and Annie Russell sold these 4 lots to J. B. Lewis. Mr. Lewis, an unmarried man (according to the city directory he was the bartender at the Palace Saloon and boarded at The Italian Restaurant), sold to Levi Ankeny in 1888 for $1250.  The Ankenys lived at the corner of Park and Birch Streets at this time. The birdseye map of Walla Walla in Robert Bennet's  Walla Walla Portrait of a Western Town 1804-1899 (page 145) does not show any houses on these lots in 1889. Levi and Jennie W. Ankeny sold to Evvie A. Pearson (lots 1-4) in 1889 for $1250. In 1902 the Pearsons borrowed money against the property and in the same year became the first owners to be listed in the city directory as living at 302 Whitman. It is assumed they were the builders of the first house on this location. In 1904, they sold to Wallace and Augusta Copeland lot 4 and half of lot 3. Wallace was a farmer and he and his wife are shown by the city directories to have lived at this address for the next 43 years. Augusta Copeland's estate sold this property to Frank L. Ralston, M.D. and his wife Ella M. for an undisclosed amount in 1947. The Ralstons sold to Charles D. and Virginia J. Garver in 1963 for $16,000. Charles was an optician who worked for Dr. John Bond and Virginia was a teacher at Sharpstein School. There was an unrecorded contract of sale from Charles Garver to Michael D. Mayes in 1968. Mayes was a salesman for E.R. Squibb. At the same time in 1968 Mayes sold to John W. L. Bond, M.D., and his wife Jeanne G. Dr. Bond was an opthomologist in private practice in Walla Walla. Dr. Bond sold to Lee M. Moulton in 1971 for an undisclosed amount. Moulton was a pilot for Marsh Aviation. In 1979 Moulton sold to Gerald T. Prutsman and Mary M. Prutsman for $54,500. They operated Prutsmans' Pools. The Prutsmans sold to Tony and Lynn delaMaza in 1981 for $78,000. Dr. delaMaza was a physician at the Veterans Administration Medical Center.  In 1997 he sold to Kirsten Eberhardt and Tom C. Post.
Construction of the House:
Due to the complicated history of this property and the absence of any building permits the first people to be listed in the 1902 City Directory to actually live at this address must have been the people who built the house in 1902. They were Peter P. and Evvie A. Pearson. Apparently Mrs. Pearson owned four lots from 1889 but did not build for over a decade. P.P. Pearson is listed as living on Sumach Street in 1901. This would agree with the County Assessor's building date of 1902. The site plan for the house at 302 Whitman on the 1905 Sanborn Fire Map is clearly the present house, with the addition of a wrap-around porch on the front and an L-shaped porch on the back. There is an apparent garage on the back of the property. Therefore, despite the lack of a building permit, we conclude that this house was built in 1902.
References:
Bennett, Robert A., Walla Walla  Portrait of a Western Town 1804-1899, Pioneer Press,  Walla Walla, 1980.
Building Permits: Whitman College Penrose Library Archives.
Lyman, Professor W. D., An Illustrated History of Walla Walla County  1901.
Sanborn Fire Maps: 1884-1905 (with updates until 1950)
Walla Walla City Directories: 1880-present (various publishers–not all years).
Whitman College Archives, Colleen McFarland, archivist
Washington's Centennial Farms Yesterday and Today, Washington State Department of Agriculture, 1989.
  Mary E. Meeker Walla Walla 2020 Research Service PO Box 1222, Walla Walla WA 99362 December, 2000
http://ww2020.net/wp-content/uploads/302_Whitman.jpg
150
200
Mary Meeker
http://ww2020.net/wp-content/uploads/2011/12/ww2020_logo.png
Mary Meeker
2000-12-01 19:22:20
2017-02-05 12:24:33
History of 302 Whitman Street, Walla Walla, WA