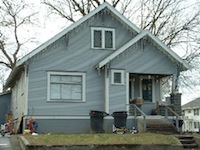 Property Description:
Northerly half of Lot 4 in Block 12 of Robert's Addition to the City of Walla Walla, recorded in Volume A of plats, page 21.
Title History:
Washington Territory was created in 1853. The new legislature created Walla Walla County in 1854 which stretched from the crest of the Cascade Mountains to the crest of the Rocky Mountains in the present states of Washington, Idaho and Montana. In 1855 an Indian council was held on the banks of Mill Creek at the present site of Walla Walla to purchase land from the Indians. The Yakimas, Cayuses and Walla Wallas were dissatisfied with the treaties and war followed. Missionaries, former French-Canadian employees of the Hudson Bay Company trading post at Wallula, and soldiers at the military Fort Walla Walla were the primary European occupants of the area prior to 1859 when it was opened for settlement. All of the land in this area was acquired from the Cayuse and Walla Walla Indian tribes by the U.S.. Government in a treaty signed on June 9, 1855 in Walla Walla, and ratified on March 8, 1859 by President James Buchanan. Walla Walla was originally laid out by County Surveyor H. H. Case in 1859, before its formal incorporation as a city in 1862, as a one-quarter mile square with its eastern side centered on the point where Main Street crossed Mill Creek (at roughly the point where it does now). The City of Walla Walla received a Trustee Townsite from the U. S. Government which consisted of 80 acres issued on July 20, 1869 by the Vancouver, W.T. District Land Office. Main Street originally followed the old Nez Perce Indian Trail. Consequently the streets leading off of it were at right angles to it, and were not in a north-south orientation. This was corrected as the city moved eastward which gave Walla Walla its peculiar street pattern with the three street intersection at Palouse, Boyer and Main Streets. To the original plat, additional parcels were annexed from time to time, usually bearing the name of the land owner of record at the time the additions were made.
A. B. Roberts came to Walla Walla from Portland, Or. in 1859 and immediately purchased a large farm site just south of Main Street. He was a pioneer nurseryman and real estate developer. He received a 320 acre tract containing this parcel as a homestead from the U.S. Government on May 2, 1870. Roberts Addition was platted by Alvin B. Roberts and Martha E. Roberts on January 20,1871 (Plat Book A, Pages 21 and 22, Walla Walla County Auditor's Office, Walla Walla County Courthouse). On July 27, 1871 the Roberts sold Lots 1-8 of Block 12 to Emil W. Eversz and J. F. Charles and Karolina Abel for $400. Mr. Eversz owned the Pioneer Furniture Store on the south side of Main Street between Third and Fourth Streets. On July 12, 1872 Eversz and Abel sold Lots 3 and 4 of Block 12 to Joseph H. and Mildred Russell for $150. On March 21, 1877 Russell sold Lots 2, 3, and 4 of Block 18 and Lots 3 and 4 of Block 12 to E. B. Hawley. Following the death of E. B. and his wife Cornelia there were multiple legal transactions in 1890 transferring this property to their daughter, Annie Bell Hawley. On October 12, 1891 Annie B. Hawley sold Lot 4 of Block 12 to William H. Stewart. On May 6, 1898 William Stewart transferred this property to his wife Kate L. Stewart for "love and affection." On August 4, 1903 Kate Stewart, widow, sold Lot 4 of Block 12 to Cora M. Neely for $1600. Cora Neely, a single woman, sold Lot 4 to James Sauze for $2000. On March 21, 1928 in superior court Jane E. Sauze, was declared mentally incompetent and her daughter Suzanne M. Nelson was appointed guardian. On March 12, 1928 in superior court there was granted an Order Confirming Sale of Real Estate to Marguerite L and Carmelita Hawkins for $3500 for the north half of Lot 4 in Block 12. On January 4, 1940 a case to foreclose on an unrecorded promissory note was filed by Saint Paul's School against Suzanne Sauze Nelson, Marguerite Hawkins Bates and all former owners and heirs. This resulted in a Sheriff's Deed to Saint Paul's School on May 19, 1941. On November 14, 1945 Saint Paul's School by Edward M. Cross, President, gave a warranty deed to Harold Bernerd and Mary Ann Walters for a stated amount of $100. On March 1, 1976 Harold signed a Quit Claim Deed giving title to this property and home to his wife, Mary Ann Walters. Following her death, Harold Kenneth Walters as the personal representative for Mary Ann Walters Estate, sold this home to Visher L and Delores J. Wallingford on June 18. 1977. On September 7,1979 Wallingfords sold this place to Robert J. Olson, a single man living in Seattle, for $35,250.
Occupant History:
In 1893 William H. Stewart, a clerk at Kyger and Kyger General Merchandise, lived at 302 Dr. Newell Street. In 1902, his widow, Kate L. Stewart, lived in this house. At this time James and Jane Sauze lived at 710 E. Main Street, as did Susie Sauze, who taught music at Saint Paul's School. By 1904 Kate Stewart had moved to 803 Newell, and James Sauze lived at 264 Marcus Street. Cora Neely, a nurse, lived at 302 Newell in 1904 and 1905. James and Jane Sauze lived at multiple local addresses until 1921 but never 302 Newell. He was a metal worker. The first city directory with a reverse listing was in 1931. At that time this house was vacant. Arthur E. Lang lived here in 1933. Harold and Mary Ann Walters were listed in the city directory as living at 325 Newell in 1941. No directories were published during World War II until 1946 when Walters were listed at 302 Newell. Mary Ann Walters lived here in 1976 and it was vacant in 1977. Dick Wallingford lived here in 1978 and 1979. It has been occupied by renters since then.
Construction of the Building:
The Walla Walla County Tax Assessor's files list a 1905 construction date for this house. No building permits exist for the period 1891-1906. The city directory listed William Stewart as living here in 1893. The 1894 fire map shows a dwelling in this location. The larger footprint of the present house is shown on the 1905 Sanborn fire Map, and some of the home's architectural features are more consistent with that date. Since William Stewart purchased this lot late in 1891, it is reasonable to assume that he built the original house on this lot in 1892, and that James and Jane Sauze, who purchased the property in 1905, substantially remodeled and enlarged the home to its present condition in 1905.
References:
Bennett, Robert A., Walla Walla Portrait of a Western Town 1804-1899, Pioneer Press, Walla Walla, 1980.
Bennett, Robert A., Walla Walla A Town Built to be a City 1900-1919, Pioneer Press, Walla Walla, 1982.
Building Permits: Whitman College Penrose Library Archives.
Sanborn Fire Maps: 1884-1905 (with updates until 1950).
Walla Walla City Directories: 1880-present (various publishers–not all years).
Whitman College Archives.
U.S.  Census records.
Mary E. Meeker ; Walla Walla 2020 Research Service PO Box 1222, Walla Walla WA 99362 June, 2010
http://ww2020.net/wp-content/uploads/302_Newell.jpg
150
200
Mary Meeker
http://ww2020.net/wp-content/uploads/2011/12/ww2020_logo.png
Mary Meeker
2010-06-01 19:16:25
2017-02-05 12:20:44
History of 302 Newell Street, Walla Walla, WA