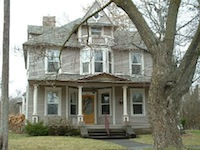 Legal Description:
Lots 7 and 8 in Block 1 of Boyer Grove Addition to the City of Walla Walla as per plat thereof recorded in Volume C of Plats at Page 13 records of Walla Walla County, State of Washington.  All that certain lot piece or parcel of land known and described as follows:  commencing at a point distant 310 feet from SE corner of land belonging to  C.H. Armstrong.  Course N 63 _ º E thence running on a course N 72 _º E three hundred and fifteen feet or to the centre of Mill Creek.  Thence down the centre of said stream to a point where a line drawn N 47_ º W from the place of beginning, intersects said centre of Mill Creek thence along said line to the place of beginning.
Title History:
Walla Walla was originally laid out by surveyor H.H. Case in 1859, even before its formal incorporation as a city in 1862, as a one quarter mile square oriented N-S, E-W with its eastern side centered on the point where Main Street crossed Mill Creek (at roughly the point where it does now).  To this original area additional parcels were annexed from time to time, often bearing the name of the landowner of record at the time the additions were created. "Boyer Grove Addition," platted on January 16, 1899, acknowledges the rather brief involvement of John F. Boyer and Sarah E. Boyer with the property.
On February 21, 1865 Andrew J. Cain and Emma R. Cain sold a large parcel to prominent banker Dorsey Baker which would include Marcus St. extending north from today's Alder St. to "the middle of Mill Creek." The recorded price was $3500.   The Cains' acquisition seems to have preceded the recording of real estate transactions in Walla Walla County.
In January of 1885  Dorsey S. Baker filed a Quit Claim Deed in favor of John F. Boyer and Sarah E. Boyer for a 1/3 interest in a large parcel, containing the 253 Marcus property, while retaining a 2/3 interest in that property. The Quit Claim Deed stated that Baker "shall have and own the right to use and enjoy the waters of Mill Creek and all other riparian rights except that said Boyer shall have and enjoy the waters of that certain spring, brook or branch which flows through his residence property embraced in said addition for use upon said property."
On May 4, 1899, in connection with the settling of Dorsey Baker's estate, Miles C. Moore, Henry Clay Baker, and Walla Walla Willie Baker sold this specific property to Joseph McCabe and Ella L. McCabe for $600. In 1902 Joseph McCabe was listed as Vice-President and General Manager for the W & CR Railroad, located at the corner of Main and Palouse.  The next sale occurred on February 20, 1903 for $3500 from the McCabes to Nelson G. Blalock.   The amount of this sale indicates the presence of a house built by the McCabes.  The sale to Blalock included "all of the gas and electric light fixtures, chandeliers, jets, lamps, brackets and pipes now in the dwelling." This would have been a very modern house for this era.  In 1911 Blalock applied for a $300 permit to build the garage that stands next to the Mill Creek channel.
Nelson G. Blalock was a very prominent Walla Wallan. He had come to Walla Walla to practice medicine from Mt. Zion, Illinois in 1872, having graduated from the Jefferson Medical College in Philadelphia. (Interestingly, Dorsey Baker had graduated from Jefferson Medical College also.) Medicine was just one of Blalock's interests, however.  He purchased numerous tracts of land including an island in the middle of the Columbia River bordered by Benton County in Washington and Umatilla county in Oregon. In 1874 Blalock began purchasing a sage brush tract of land west of Walla Walla which was the beginning of Blalock Orchards. The property included a packing house, vinegar works, a fruit drying building, a Chinese mess, root cellar, access to a mill race for water, and a railroad access. He also extended wheat growing to fields south of Walla Walla.
On  January 27, 1911 Nelson A. Blalock, a widower, granted his daughter May I. Blalock the  253 Marcus property "for love and affection."  Nelson Blalock died in 1913 after suffering a stroke.  On September 15, 1915 May Blalock sold the house and lot to L.C. and Agnes Davison.  Some idea of the price of this sale is given by the amount of two mortgages negotiated by Davison.  One was $2648.70; the second $530.41.  It was not clear that the Davisons ever resided at 253 Marcus.  A sale of the house on December 4, 1916 for $3750 to Jamima Alice Harden listed the Davisons as residing in Long Beach WA.  Jamima Harden and E.R. Harden lived at 253 Marcus until their deaths in 1942.  The Hardens having no heirs, relatives William R. Harden and Pearl B. Harden, who resided in Los Angeles County were named executors of the estate. The executors sold the house to Grace H. Lee, an unmarried woman, on Oct. 20, 1942 for an undisclosed amount.  On the same day Grace Lee sold the house to Emil A. Robanske and Jeanne Robanske for an undisclosed amount.  The Robanskes seem to have used the house as a rental until 1957 when the City Directories listed them at 253 Marcus.  Emil Ames Robanske was a presser and then the manager of Ideal Cleaners, and then the manager of the penitentiary laundry. City Directories indicate that the house was vacant from 1946-1950.  Different names appear annually in City Directories in the 1950's.
On May 25, 1979 George Drumheller, bought the house "as his separate property"from the Robanskes for $45,000.  On May 3, 1984, a lis pendens document was filed by/on behalf of Carla Drumheller in the settlement of the dissolution of her marriage to George.  The Drumhellers had resided across the street at 244 Marcus.  Carla Drumheller, having acquired 253 Marcus as her separate property, sold the house on September 6, 1985 to Larry L. Richwine and Lovay M. Richwine for $45,000.  The Richwines faced a foreclosure in November of 1988.  A trustee's sale was conducted on the steps of the Walla Walla County Courthouse on October 28, 1988 for "failure to make payments of $525.50 per month."  Dean and Eve Curtis purchased the house in November of 1988.  Dean Curtis had a business called "Kitchens by Curtis."  City Directories listed Dean and Eve Curtis as residing at 253 Marcus in 1992.  Otherwise the directories listed the house as vacant until 1994 when Kay Fennimore-Smith and George Smith purchased the house for $75,000.  George Smith is a talented contractor and Kay Fennimore-Smith is a professor in the education dept. at Whitman College. The house was tremendously improved during their residency. In 1997 Walla Walla 2020 honored the Smiths with a restoration award.  On October 14, 1999 the property was sold to Richard G. McConchie and Frances T. Hecht for $168,500.  In November of 2001, the house was sold for $185,000 to Russell Akers and Joyce Thomsen who resided at 253 Marcus from 2001-2007.  On October 17, 2007 the home was purchased by Lawrence Paolella for $378,000.
Construction of the house:
Penny Andres in her WALLA WALLA/Her Historic Homes, Volume III gives the construction date for 253 Marcus as c.1900.  This research proves that the construction date probably was 1899.  No building permits were required until 1907 so dating houses built before then is dependent upon other information, such as prices paid.  Joseph and Ella McCabe paid $600 in May of 1899 an appropriate sum for a lot at that time.  Since the sale occurred in early May, it would have been possible to build the house in the remaining months of 1899.  It has generally been assumed that the house was built by Nelson Blalock probably because of his prominence in the history of Walla Walla.  Research shows that he did reside at 253 Marcus from 1903 until his death in 1913, and that he paid $3500 for the house in February of 1903.  Records show that the sale included "all of the gas and electric light fixtures, chandeliers, jets, lamps, brackets and pipes."  These items, as well as the price paid, confirm Blalock's purchase was of a finished house. The builders were Joseph and Ella McCabe in 1899.
Fortunately, recent owners have preserved this charming house as well as the historic Blynn house across the street.
Resources used:
Andres, Penny WALLA WALLA/Her Historic Homes, Vol. III
Penrose Library Northwest Archives, Whitman College
Pioneer Title Co. Documents for this property
Walla Walla County Courthouse Vault resources
Walla Walla County Assessor's Office
Walla Walla Public Library Northwest History collection
Katherine H. Weingart Walla Walla 2020 Historic Research & Plaque Service P.O. Box 1222, Walla Walla WA 99362 April, 2008
http://ww2020.net/wp-content/uploads/253_Marcus.jpg
150
200
Site Manager
http://ww2020.net/wp-content/uploads/2011/12/ww2020_logo.png
Site Manager
2008-04-01 23:04:33
2014-01-19 19:28:34
History of 253 Marcus, Walla Walla, WA