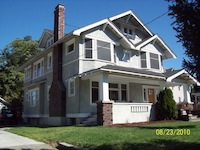 Property Description:
Beginning at a point in the Northerly line of Birch Street in Roberts' Addition to the City of Walla Walla, Washington, according to the official plat thereof of record in the office of the Auditor of Walla Walla County, Washington, in book "A" of plats at page 21, which point is 185 feet Westerly, measured along said Northerly line of Birch Street from the point of intersection thereof with the Westerly line of Palouse Street in said City; thence Northerly at right angles of said Northerly line of Birch Street, a distance of 150 feet; thence at right angles Westerly 60 feet; thence at right angles Southerly 150 feet to the Northerly line of Birch Street; thence Easterly, along the Northerly line of Birch Street; a distance of 60 feet to the point of beginning. (Commonly described as the South half of Block 2 of Roberts' Addition which is not platted into lots.)
Title History:
Walla Walla was originally laid out by surveyor H.H. Chase in 1859, even before its formal incorporation as a city in 1862, as a one-quarter mile square oriented N-S, E-W and with its eastern side centered on the point where Main Street crossed Mill Creek (at roughly the point where it does now). To this original area, additional parcels were annexed from time to time, usually named after the land owner of record at the time the additions were made.
All of the land in this area was acquired from the Cayuse and Walla Walla Indian tribes by the U.S. Government in a treaty signed on June 9, 1855 in Walla Walla, and ratified on March 8, 1859 by President James Buchanan. A. B. Roberts received 160 acres including this parcel as a homestead from the U.S. Government, recorded on May 23, 1870. Roberts Addition was platted by A. B. Roberts and Martha E. Roberts on January  20,1871 (Plat Book A, Pages 21 and 22, Walla Walla County Auditor's Office, Walla Walla County Courthouse). A. B. Roberts came to Walla Walla from Portland, Or. in 1859 and immediately purchased a large farm site just south of Main Street. He was a pioneer orchardist and real estate dealer.
In an 1873 court case in which Amelia E. Ward and Benjamin L. Sharpstein were plaintiffs against 24 defendants over a sum of $3205.82 plus 10% interest a Sheriff's Deed was issued by Sheriff B. W. Griffin to Amelia E. Ward for this property and more. On June 10, 1881 M. B. and Amelia Ward gave a 99 year lease on a water right to a spring on Poplar Street, excepting water used by the Ward family, to William O'Donnell. Michael B. Ward died on April 1,1893. On December 9, 1898 Amelia E. Ward (widow) and Augusta W. Rees (widow) signed a Quit Claim Deed to the water from the spring on Birch Street near the head of Catherine Street to the City of Walla Walla for $1. On October 15, 1906 William O'Donnell quit claimed his interest in the lease of this water right to the Estate of Amelia E. Ward. She had died on November 11,1905.
Following the court case in 1873 the titles and debts attached to this part of Roberts' Addition were complicated. Sigmund and Rose Schwabacher has an interest in 86 parcels which they quit claimed to T. R. Tannatt on November 22, 1881. On August 27, 1907, T. R. and Elizabeth Tannatt quit claim deeded their interest in 10 parcels to Augusta W. Rees, Frank W. Rees, Elma Rees Turner and Lora Rees Compton. Augusta was the daughter of Amelia and M. B. Ward. This was probably necessary to clear title following the sale of this 60' x 150' lot to T. M. Hanger on March 14, 1900 for $2400. In 1913 there was further testimony about this property by H. H. Turner, administrator of the M. B. Ward Estate, regarding the relationship of Amelia Ward, widow, and Augusta Rees, daughter of M. B. Ward. On March 26, 1912 T. M. Hanger took out an $8000 building permit for a two-story residence with B. M. Huntington as the builder. At this time Thomas and Carrie Hanger lived at 221 Whitman. He was manager of Thompson and Hanger Department Store at 2-4-6 East Alder (Denny Building), which opened its doors on September 1, 1907.  Mr. Hanger has been a successful merchant in Waitsburg and Dayton. His partner at the department store was Mr. H. G. Thompson, the son-in-law of O. O. Denny, the Seattle capitalist who provided $100,000 to build the Walla Walla Denny Building. The Hangers are first listed as living at 249 East Birch in the city directory for 1912-13 .  By 1915 the Hanger and Thompson Department Store had moved to 24-26 East Main Street. In 1929-30 Mr. Hanger worked as an agent for the Kansas City Life Insurance Company.
On September 10, 1931 Thomas M. and Carrie Hanger sold this house to Kemp and Hebert Company, a corporation in Walla Walla located in the former Hanger and Thompson Department Store at 24-26 E. Main Street, for $10. Later that year the corporation was moved to Spokane. In 1932 Alfred W. and Lucille M. Cram were living at 249 E. Birch, along with Edna V. Murch, a nurse. Both the Hanger family and department store were no longer listed in Walla Walla. Mr. Cram worked as a state guard and  watchman at Libby McNeill and Libby. On August 9, 1943 Kemp and Hebert sold this property to Alfred and Lucille Cram. In 1946 Alfred  was a guard at the penitentiary. In the 1949 city directory Lucille Cram is listed as a widow operating a boarding house, but no names of boarders are given. On November 23, 1951 the heirs-in-law of Alfred Cram, Gordon S. Cram and Maida I. Neist, quit claimed their interest in this property to Lucille Cram, Alfred's widow. By 1955 the house was called Crams Apartments and 6 people were listed as living there, still including Edna Murch. On January 26, 1960, Lucille Cram  executed a sales contract to Walter Duncan. Earnest C. Mills ("Earney") loaned Duncan $2000 on December 14, 1960. By the 1961 city directory Walter R. and Lucille B. Duncan lived at 249 E. Birch. Walter was an Internal Revenue Agent for the U.S. Government. In 1967 the Estate of Earnest Mills gave a satisfaction of mortgage to the Duncans. In 1970 the house was vacant. On April 23, 1971 the sales contract from Lucille Cram to Walter Duncan was transferred to Leland and Dorothy Paddock. In 1972 the house was occupied by Bruce Paddock, student at Walla Walla College, along with five other males. The house continued to have 5 occupants through 1976. In 1977-1979 the city directory listed 6 apartments with 2 vacancies. In July 9, 1979, the Paddocks sold this property to Michael and Karen Dobbins. Michael was a realtor with Jefferis Agency and Karen worked at Frontier Federal Savings as a loan officer. The Dobbins occupied this house for the next 23 years. On December 13, 2002 the Dobbins sold it to David and Jennifer Warkentin.
Construction of the House:
The building permit on March 26, 1912 strongly suggests that the construction of this house took place in the summer of 1912. The Walla Walla County Assessor lists a building date of 1890. However the fire map in 1905 shows only the Ward house (1876) on Poplar and 202 and 206 Palouse (Sharpstein Manor, 1892-93) on this block. The Suttner Mansion at 216 S. Palouse was built in 1910. Considering the legal ownership issues that extended from 1873 through 1907 the 1912 building permit date appears to be for the first and only building on this site.
References:
Andres, Penny, Walla Walla Her Historic Homes, 1998.
Bennett, Robert A., Walla Walla Portrait of a Western Town 1804-1899, Pioneer Press, Walla Walla, 1980.
Bennett, Robert A., Walla Walla A Town Built to be a City 1900-1919, Pioneer Press,  Walla Walla, 1982.
Building permits: Whitman College Penrose Library
Lyman, Professor W.D., An Illustrated History of Walla Walla County  1901.
Sanborn Fire Maps: 1884-1905 (with updates until 1950).
Walla Walla City Directories: 1880-present (various publishers–not all years).
Walla Walla County Assessor
Walla Walla County Auditor
Walla Walla Mt. View Cemetery
Mary E. Meeker Walla Walla 2020 Research Service PO Box 1222, Walla Walla WA 99362 December, 2003
http://ww2020.net/wp-content/uploads/249_E_Birch.jpg
150
200
Mary Meeker
http://ww2020.net/wp-content/uploads/2011/12/ww2020_logo.png
Mary Meeker
2003-12-01 22:59:43
2017-02-05 12:23:07
History of 249 East Birch Street, Walla Walla, WA