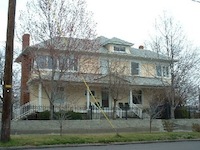 Legal Description:
Lots 4 and 5 of Council Grove Addition in the City of Walla Walla, according to the official plat thereof of record in the office of the Auditor of Walla Walla County, Washington in Book C of Plats at page 12; commonly known as 233 South Park Street.
Title History:
Walla Walla was originally laid out by surveyor H.H. Chase in 1859, even before its formal incorporation as a city in 1862, as a one quarter-mile square with its eastern side centered on the point where Main Street crossed Mill Creek (at roughly the point where it does now). Main Street originally followed the old Nez Perce Indian Trail. Consequently the streets leading off of it were at right angles to it, and were not in a north-south orientation. This was corrected as the city moved eastward which gave Walla Walla its peculiar street pattern with the three street intersection at Palouse, Boyer and Main Streets. To the original plat, additional parcels were annexed from time to time, usually with the name of the land owner of record at the time the additions were made.
The first evidence of non-governmental ownership of this property is a probate estate inventory for Ransom Clark dated May 24, 1859.
The first person to plat this area was A. B. Roberts who came to Walla Walla from Portland, Oregon in 1859 and immediately purchased a claim from Tom Hughs for $250 to land just south of Main Street. He fenced his new property and put up a  canvas house which allowed him to hold it until the government surveyed it in 1860. He had brought some grafted fruit trees from Portland and was able to sell them in 1860 for $1.00 apiece. He realized there was money to be made in fruit trees and so engaged extensively in the nursery business as well as real estate. Roberts Addition was platted by A. B. Roberts and Martha E. Roberts on January 20,1871 (Plat Book A, Page 21, Walla Walla County Auditor's Office, Walla Walla County Courthouse).
Following a legal action against A. B. Roberts  Burrell W. Griffin, Sheriff of Walla Walla County, Washington Territory, gave a Sheriff's Deed to James K. and Harriet Kennedy on December 20, 1873 for $250. The Kennedys sold to John F. Boyer for $300 on June 4, 1874. On March 29, 1877 Boyer platted the land bordered by Alder, Park, Howard (only a section line at the time) and Whitman Streets as Park Addition. Mr. Boyer was a brother-in-law of Dr. Dorsey S. Baker and together they established the firm of Baker and Boyer in 1862. They founded Baker Boyer Bank in 1869. Mr. Boyer died on February 8, 1897  giving all his property in Walla Walla to his wife Sarah E. Boyer and his children.  On March 19, 1897 his estate sold an interest in 37 properties including this one to his sons Eugene and John. His son Eugene had the area bordered by Alder, Park and Crescent Streets platted as Council Grove Addition on January 3, 1899. According to a story in the Walla Walla Union Bulletin in 1953 this was the location of the stables for the horses that pulled Walla Walla's streetcars between 1889 and 1898. The Boyers lived at 204 Newell Street.
Sarah E. Boyer and her children, Sarah I., Arthur A., John E. and Annie J. Norton sold lots 4 and 5 to Jesse Drumheller on August 7, 1901 for $1350. Jesse had come west in 1852 from Missouri to Cowlitz County, Washington Territory, and then went to California to work as a miner. He returned to the northwest in 1855 when  he joined the Oregon Volunteers as an Indian fighter. He settled in Walla Walla in 1859 where he started farming and stock raising. He continued to purchase land for the next twenty years. In 1863 he was married to Martha Maxon, a daughter of another pioneer family, by the Reverend C. Eells. They had seven children, Samuel, Oscar, Albert, George, Thomas J., Althea and Rosco. Albert died in 1897 but all the others lived most of their lives in the Walla Walla Valley. Their first house still stands one mile west of Walla Walla, on West Rose Street opposite the Blue Mountain Mall. Jesse retired in 1890 and turned his businesses over to his sons. They purchased William O'Donnell's hardware store in 1900 and renamed it Drumheller Company. Sons Oscar and Thomas were most closely associated with the store. Jesse and Martha moved into their new house on Park Street in 1904. Although he lived there only three years before his death his family was to occupy the house for 50 years. Following Mr. Drumheller's death on December 2, 1907 his children transferred their interest in this property to their mother, Martha Drumheller. She lived in the house at 133 Park until her death on December 16, 1916 at which time her son Thomas J. Drumheller inherited the house. Thomas was a stock raiser, wool grower and livestock breeder. He was a charter member of the Walla Walla Auto Club in 1909. He and his wife Edith occupied the house until his death in 1954. She moved to Clinton Court Apartments in 1955 and sold the house to James W. and Marjorie Hazel Davis for $13,500 on February 28, 1955. At this time the address was changed to 233 South Park. Mr. Davis worked for the Inland Empire Waterways Association, one of the prime supporters of the creation of the North Pacific Division of the the U.S. Army Engineers headquartered in Walla Walla. McNary Dam on the Columbia River was the Walla Walla Corps of Engineers first major assignment. Mrs. Davis was a teacher at St. Patrick's School. Following her husband's death Marjorie H. Davis married Oliver H. Mansfield, a Walla Walla dentist.  They and their children lived in the house 21 years until they sold it to David C. and Carla Hogan on September 15, 1976 for $76,000.  Mr. Hogan worked for Key Electronics. In 1984-85 the house was occupied by Tim and Lily Shoop. On August 20, 1986 the Hogans sold the property to James S. and Barbara J. Mastin for a stated amount of $10. Jim Mastin was a professor of physical education at Whitman College and Barbara operated Chocolate Expectations and Barbara Mastin Catering.  On April 22, 1997 Mary B. Holloway purchased the house from the Mastins. She and her two sisters did major restoration on the house they called "The Aunt Hill."
Construction of the House:
No building permits were required in Walla Walla prior to 1907 so none exists for this house. Mrs. Drumheller did take out a permit in 1911 to build  a flue in the dwelling for an estimated cost of $15. City directories of the time show that Jesse Drumheller lived at 353 South First in 1902. There was no directory in 1903. In 1904 the Drumhellers are listed as living at 133 Park, despite statements in Bennett and Andres' books each giving the construction date as 1905. The 1905 Sanborn Fire Map shows the present house. The prior fire map in 1894 did not extend this far out of the city. The house would have been built after the purchase of the land on August 7, 1901 (not 1904 as per Bennett and Andres) and prior to the 1904 city directory listing. Circa 1903 is as accurate as we can be with the construction date and first occupancy of this historic home.
References:
Andres, Penny, Walla Walla Her Historic Homes, Vol. III, 1998.
Bennett, Robert A., Walla Walla  Portrait of a Western Town 1804-1899, Pioneer Press,  Walla Walla, 1980.
Bennett, Robert A., Walla Walla  A Town Built to be a City 1900-1919, Pioneer Press,  Walla Walla, 1982.
City of Walla Walla, Mountain View Cemetery records.
Lyman, Professor W.D., An Illustrated History of Walla Walla County  1901, p. 333.
Sanborn Fire Maps: 1884-1905 (with updates until 1950).
Walla Walla City Directories: 1880-present (various publishers–not all years).
Walla Walla Union Bulletin; "Pioneers of Washington: Jesse Drumheller Came in Train with Ezra Meeker", November 1, 1953.
Walla Walla Union Bulletin; "A Portrait of Martha"; June 2, 1969.
Mary E. Meeker Walla Walla 2020 Research Service PO Box 1222, Walla Walla WA 99362 July, 2001
http://ww2020.net/wp-content/uploads/233_S_Park.jpg
150
200
Mary Meeker
http://ww2020.net/wp-content/uploads/2011/12/ww2020_logo.png
Mary Meeker
2001-07-01 22:50:27
2017-02-05 12:24:04
History of 233 South Park Street, Walla Walla, WA