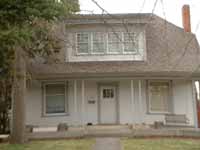 Legal Description:
Beginning at a point in the east line of Bellevue Ave. as now established in the City of Walla Walla, Washington, said point being 165.0 feet northerly, measured along the east line of Bellevue Ave., from the point of its intersection with the center line of Waverly St., then south 34 feet east, along said east line of Bellevue Ave., a distance of 72.5 feet; then north 26 feet and east 134 feet, thence west 54 feet, thence south 26 feet, west 4 feet thence north 34 feet.
Title History:
Walla Walla was originally laid out by surveyor H.H. Chase in 1859, even before its formal incorporation as a city in 1862, as a one quarter mile square oriented N-S, E-W with its eastern side centered on the point where Main Street crossed Mill Creek (at roughly the point where it does now). To this original area, additional parcels were annexed from time to time, usually with the name of the land owner of record at the time the additions were made. 224 N. Bellevue is located in Ingram's Addition. Originally this property was not in the City, so some records often used for research did not extend to this area.
The first recorded transaction for this piece of property was on April 4, 1876 when William Matzger and Abigail Matzger, his wife, sold 34.53 acres to Asa Fall for $3000. The location of the property was the NW corner of the SE quarter of the NW quarter of Section 21, Township 7, north of Range 36. On February 1, 1878 Asa Fall and Mary Ann Fall sold the parcel to Henry P. Isaacs. Isaacs was influential in the development of Walla Walla as a wheat-growing area. He built numerous flour mills throughout the Northwest and found markets for wheat in the Orient, especially China. Isaacs and his son were also responsible for the development of the water system in Walla Walla and on September 21, 1881, H.P. Isaacs and Lucie Isaacs negotiated a 25-year lease for $10,000 with their son J.C. Isaacs for subterranean water rights that went through this property promising that "no buildings, fruit or shade trees, or growing crops will be interfered with in any way by the Walla Walla Water Co." On September 11, 1886 a Right of Way Deed was filed by J. C. Isaacs for ditches and conduits as may be necessary and right to excavate or construct reservoirs and to build a building as may be necessary. The deed specified that the ditches would be covered. This is relevant to this property because "Old Mill Race" ran through the middle of the original parcel on the north border of the house next door, 228 N. Bellevue.
On February 24, 1890 H.P. Isaacs and Lucie Isaacs sold 4 2/5 acres of the 34.53 acres to James H. Ingram for $727.50. On June 3, 1899 Ingram filed a Declaration of Homestead with a $2000 estimated value. Ingram declared that he was living in the dwelling house with his family in this document, which leads this researcher to conclude that there was a house somewhere on that acreage in 1899. There was no way to verify the location of that first house since it was located "in the county" and fire maps and directory listings don't provide details for it.  On January 2, 1901 James and Mary Ingram deeded one acre of the 4 2/5 acres to their son, Oscar L. Ingram and his wife, Gertrude Ingram. On March 22, 1906 they deeded them an additional ½ acre. Perhaps this was the lot at 228 N. Bellevue where Oscar and Gertrude's daughter Lucile Ingram Walton lived. The 1900-01 City Directory lists Oscar Ingram as a stenographer and later as a court reporter. James H. Ingram is listed as a farmer in the 1902 City Directory with a residence 1/4 mile east of city limits. The same directory lists Myrtle Ingram as a student at Whitman College and Morton Ingram as a clerk with the W and CR Railway. Both are listed as boarding at J.H. Ingram's residence. There were no listings for either Bellevue or Waverly streets in those early directories. In the 1909 Walla Walla City Atlas, Garden Street appears to be where Waverly Street is today and Bellevue is shown.
On May 18, 1910, a Building Permit was granted to J.H. Ingram for $3000 which would be the approximate cost of houses of the present size at that time. It would appear that this would be the construction date for the current house replacing the dwelling that Ingram filed a declaration of homestead on in 1899. There is no evidence of the location of that first house.
A Quit Claim Deed was filed on December 30, 1919 by the heirs of James and Mary Ingram "to The Public" for streets and alleys in the property that would now be Waverly Street. Oscar and Gertrude Ingram are listed at 224 N. Bellevue with the current lot size from 1924-1941 when Oscar died. Lucile Ingram Walton, executrix of her father's estate, is listed in 1942 as residing at 228 N. Bellevue, the property to the north of 224 N. Bellevue. The 1941 City Directory listed Hal C. Tilley, Music Supervisor for Walla Walla Public Schools and Instructor at Whitman as living at 224 N. Bellevue. The house must have been rented at that time.
On November 27, 1943 for consideration of $10.00 Lucile Ingram Walton sold 224 N. Bellevue to Arley G. Redman and Marye M. Redman. There were no City Directories from 1942-46 so no biographical information was available for the Redmans. On March 15, 1944 the Redmans sold for consideration of $10.00 to Clifton W. Booth and Helen A. Booth. Clifton Booth is listed in the 1939 City Directory as Director of the County Veterans Relief. He died in 1952. His daughter Alberta L. Booth served as the administratrix of his estate and on January 9, 1953, sold the house to Osman T. Nelson and Dawn Ann Nelson for $8500. The Nelsons sold the house on March 5, 1954 for consideration of $10 to Douglas L. Blessinger, a reporter for the Union Bulletin, and Joyce L. Blessinger, a nurse. The Blessingers lived there until November 15, 1971 when they sold to Guindel Ray Warren, Director of Admissions at Whitman College, and Sheryl Warren, a teacher at Garrison Middle School, for $15, 450. The Warrens sold to Charles G. Adams, office manager for Walla Walla Farmers Coop, and Carole J. Adams, an employee at Radiologists Associates, on July 9, 1975, for $25,000. On September 27, 1978 the Adams sold to Peter J. Neidecker, a sales representative for Xerox and Anita L. Neidecker, an employee at the Employment Security for $47,000. On December 28, 1979 the Neideckers sold the house for $53,000 to Edwin Stein, English professor at Whitman, and Judith L. Stein. On November 13, 1981 the Steins sold to Paul Yancey, biology professor at Whitman, and C. Susan Weiler, a research associate at Whitman, for $57,500.
Construction of the house:
The filing of the Declaration of Homestead on June 3, 1899 which stated that James H. Ingram and his family were "living in the dwelling house" indicates that there was a house somewhere on the 4.25 acres that Ingram owned originally. The filing of a building permit for $3000 on May 18, 1910 indicates that this was when the present house at 224 N. Bellevue was constructed by James H. and Mary J. Ingram There is no evidence that the 1915 construction date in the County Assessor's Office is correct.
References:
Bennett, Robert A. Walla Walla: Portrait of a Western Town, 1804-1899
Pioneer Title Company documents for this property
Walla Walla City Directories beginning in 1880 (although not available for all years)
Whitman College Archives, Larry Dodd, Archivist for building permits file, Walla Walla maps, newspaper files and books about local history.
Katherine Weingart Walla Walla 2020 Historical Research P.O. Box 1222 Walla Walla, WA 99362 May 2002
http://ww2020.net/wp-content/uploads/224_N_Bellevue.jpg
150
200
Katherine Weingart
http://ww2020.net/wp-content/uploads/2011/12/ww2020_logo.png
Katherine Weingart
2002-05-01 22:21:19
2017-02-05 12:29:05
History of 224 North Bellevue, Walla Walla, WA