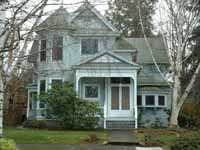 Legal Description:
Commencing at the northwesterly corner of Lot 3 in Block 13 of Roberts Addition to the City of Walla Walla, according to the official Plat thereof recorded in Volume A of Plats at Page 21, records of Walla Walla County, and running easterly, along the southerly line of Newell Street, a distance of 60 feet; thence at right angles southerly 142 feet to the northerly line of the alley; thence at right angles westerly, along the northerly line of said alley, a distance of 60 feet; thence at right angles northerly, along the westerly line of said Lot 3, a distance of 142 feet to the point of beginning.
Title History:
The land that comprises the City of Walla Walla was acquired from the Cayuse and Walla Walla Indian tribes by the U.S. Government in a treaty signed on July 9, 1855 in Walla Walla and ratified on March 8, 1859 by President James Buchanan. Walla Walla was originally laid out by surveyor H.H. Chase in 1859, even before its formal incorporation as a city in 1862, as a one-quarter mile square oriented N-S, E-W with its eastern side centered on the point where Main Street crossed Mill Creek (at roughly the point where it does now). To this original area, additional parcels were annexed from time to time, usually with the name of the land owner of record at the time the additions were made. 220 Newell is located in Block 13 of Roberts' Addition, named for A.B. Roberts, who came to Walla Walla from Portland in 1859 and purchased a claim to a large section of land south of Main St. where among things, he raised fruit trees, having brought the first grafted fruit trees in the area with him.
The first available recorded transaction for 220 Newell was the sale by Roberts of Lots 1, 2, and 3 in Block 13, City of Walla Walla, Washington Territory, to William M. Hendershott for $150 on July 8, 1871. The rapid wheeling and dealing of property in this era is reflected in the transactions concerning this property. On August 5, 1872 another warranty deed was filed when Hendershott sold the same parcel to Josephus M. Moore and Ebbert H. Chapman for "consideration $1." On January 6, 1877, this parcel was included with property in Waitsburg, rural property, and four lots in Cain's Addition for "consideration $100" in a sale to a co-partnership in a firm known as Weller and Harkness. That partnership dissolved the next year. Several mortgages on this property were filed in the years1878 – 1891, mostly given by A. A. Blanchard, a farmer, and Elizabeth J. Blanchard, indicating that they owned this parcel, although no sale deeds to them were among the documents for these years. Their City Directory address was Eureka Junction, a rural address, although in the 1881 edition they are listed as living at 304 Dr. Newell St. A request for the establishment of the alley behind 220 Newell was filed in August of 1887, with the expectation that it would be opened by April 1, 1888. The Blanchards' names appear on this document along with John and Sarah Boyer, Max and A.A. Baumeister, Samuel and Catherine Johnson and John and Adna Sharpstein, apparently neighbors whose properties would also be affected. On July 25, 1889 the Blanchards sold lots 1, 2, and 3 to John. L Sharpstein, a lawyer who lived at 384 S. Palouse, and Samuel B. Sweeney, who lived at 433 Washington. The selling price was $2600.
On December 7, 1891, approximately 10 feet of the back of the 404 S. Palouse lot was added to enlarge the width of this property. On November 12, 1892 Sharpstein and Sweeney sold lot 3 to Fred A. Colt, unmarried at the time, for $900. Colt took out a mortgage of $1700 on November 29, 1892 which, judging by the amount must have been for the construction of this Queen Anne house.  Fred A. Colt is listed as a grocer and then bookkeeper in City Directory entries. After building permits began, material in the Whitman archives files from 1907 – 1917 indicate he was either a real estate developer or someone who liked to build new houses and live in them for a short time. The City Directories list him as living in most of the houses that he had obtained building permits for. These include the following addresses: Pearson and Madison (1908), Isaccs near Division (1907), University near Division (1909), and two on Fulton Street (1913 and 1915). These houses are Craftsman style, quite different from the grand Queen Anne house at 220 Newell but in keeping with what was happening with architectural styles during the years of construction. S. Cunningham was the builder for all of these houses.
On May 25, 1893 Fred A. and Anna B. Colt executed a deed for $4000 to Andrew J. Evans and Aramintia J. Evans. Evans was a farmer listed in the 1893-94 directory as living at 427 E. Main.  The 1894 Sanborn Firemap, but not the 1890 edition, shows the house with two outbuildings in the back. One outbuilding looks large enough to be a carriage house or garage. Because there were no building permits required until 1907, none exist for this house to verify an exact construction date or residency for the Colts. However, from the documents that are available for 220 Newell, Colt is the probable builder and the Evans were probably the first residents. 1892 and 1893-94 City Directory addresses for the Colts are "Lincoln and Dr. Newell" and then 328 Dr. Newell (Dr. Newell was the original name of the street), which does not exist today. A newer home is now located at 330 Newell and is next to 326 Newell. He is never mentioned as residing at 220 Newell in City Directories but no one else is either until the sale of the property from Evans to Silas B. Calderhead and Lillian A. Calderhead, who purchased the house on September 2, 1898 for $3000 in gold coin from Andrew J. Evans and Aramintia J. Evans. Silas Calderhead was the General Freight and Passenger Agent for the Washington and Columbia River Railway, located on the corner of Main and Palouse. The 1900-01 City Directory for the Calderheads is the first identified listing for residents of 220 Newell.  It seems unlikely that the house sat unoccupied during its first five years, so it is assumed the Evans, or members of their family, occupied it during the time of their ownership.
By 1909 the Calderheads were living on Fern St. on its southeast corner with Pleasant. On August 31, 1906 the Calderheads sold the house for $5000 to Grant and Alice Copeland. In the 1906 and 1908 City Directories, Grant Copeland is listed as having a real estate and insurance company located at 10 N. 2nd
On March 12, 1910, Richard and Ellen Fitzgerald became the owners for "consideration $10." The house remained in the Fitzgerald family until 1976 – 66 years. The Fitzgeralds had six daughters, who were listed as employed in the 1910-11 and 1912-13 City Directories in the following ways: Agnes P. was a clerk at the Walla Walla Cloak and Suit House, Anna M. was a teacher at Berney School, Elizabeth F. was a teacher at Lincoln School (located at W. Chestnut between 3rd and 4th), Josephine was a clerk at Hanger and Thompson, dry goods store on Alder and 2nd; Kathryn was a bookkeeper for First St. Market, Margaret C. was a bookkeeper for Tierney-Toner Co. By 1914 Elizabeth was the principal of Lincoln-Sharpstein School; by 1935 Anna was the principal of Baker School. On March 3, 1920 a Quit Claim Deed was filed by Richard and Ellen Fitzgerald to all six daughters for "love and affection."Anna never married. Josephine and Elizabeth married two members of the Lyons family who were local farmers. The family lived in close proximity on Newell Street.  Margaret and Kathryn lived at different times at 204 Newell, now owned by Doug and Karen Morton. According to Jan Foster, a Fitzgerald niece married Frank Tierney and they lived next door at 404 S. Palouse. A sidewalk still exists between the Palouse house and 220 Newell providing easy access between the two houses.
In the next several years quit claim deeds were filed by the sisters and their husbands in favor of Anna M. Fitzgerald, who continued to live there until her death on December 17, 1976. A Deed of Personal Representative was filed on Jan. 14, 1977 by H.H. Hayner, a local attorney, for the sale of the house to James L. and Patsy Ingersoll for $30,000. James Ingersoll is listed as a self-employed real estate investor in the 1977 City Directory. On May 23, 1979 the house was sold to Edward and Jan Foster for $69,500. Edward Foster began his career at Whitman College as Dean of the Faculty. He later served as the interim President of the college and then Professor of English. Jan Foster is an instructor in Transitional Studies at Walla Walla Community College. The Fosters have done substantial remodeling and renovating recently, all in keeping with the original style of the house.
Construction of the House:
The construction date of 1896 in the county assessor's records is not correct. Although there were no building permits in Walla Walla County until 1907, there are fire maps on microfilm in the Whitman College archives. The 1894 Sanborn Fire Map shows 220 Newell with two outbuildings adjacent to the alley. There is no evidence of the house on the earlier 1890 fire map. Records show evidence of several transactions for the land but none are for sums large enough to indicate a house until 1893 when Fred A. Colt and Anna B. Colt sold the property, purchased the prior year for $900, to Andrew J. and Aramintia J. Evans for $4000.
This is a substantial sum in that era and would have been adequate for a Queen Anne house with all its Victorian features such as the turret, a roof with several gables, decorative trim, the shingled upper story and attractive interior. The construction of the home was probably financed by the mortgage obtained by the Colts in late 1892, and was completed the following Spring prior to the sale to Evans.  This home is one of Walla Walla's gems and an excellent example of a Queen Anne house. This researcher concludes that its construction date is 1893.
Research Sources:
Pioneer Title Company documents for this property
Penrose Library Northwest Archives, Whitman College
Sanborn Fire Maps, Public Library and Whitman Archives
Walla Walla City Directories, Public Library and Whitman Archives
Walla Walla Count Assessor's Office
Andres, Penny Walla Walla, Her Historic Homes, Vol. 1
Bennett, Robert A. Portrait of a Western Town, 1804-99
Katherine Weingart Walla Walla 2020 Research Service P.O. Box 1222, Walla Walla WA 99362 October 2004
http://ww2020.net/wp-content/uploads/220_Newell.jpg
150
200
Katherine Weingart
http://ww2020.net/wp-content/uploads/2011/12/ww2020_logo.png
Katherine Weingart
2004-10-01 22:17:34
2017-02-05 12:29:02
History of 220 Newell, Walla Walla, WA