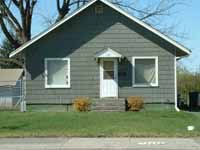 Legal Description:
Beginning at a point in the East line of Lot 1 in Block 38 of Blalock orchards, as per the plat thereof recorded in Volume D of Plats at page 46, records of Walla Walla County, Washington which point is 126.66 feet North, measured along the East line of said Lot 1 from the Southeast corner thereof; thence North along the East line, a distance of 60.00 feet; thence West and parallel to the South line of Lot 1, a distance of 180 feet thence South and parallel to the East line of said Lot 1, a distance of 60.00 feet; thence East and parallel to the South line of said Lot 1, a distance of 180 feet to the point of beginning.
Title History:
This property is located in the city of College Place, adjacent to Walla Walla, which was not incorporated until 1945 although its history goes back to 1869. Because of the rather recent incorporation date, early addresses are not readily available in city directories or from other sources. Most often an entry just reads "College Place" and may or may not even indicate a street.
Block 38 is part of one of several tracts known as Blalock Orchards. Dr. Nelson G. Blalock came to the Walla Walla area from the East coast in search of a better climate for his health. He received his medical degree from Jefferson Medical College in Philadelphia and was practicing medicine in Mt. Zion, Illinois when he came to the Walla Walla area in 1872. Medicine was just one of his interests, however. He believed that the area would be a fine place to grow fruit that could be shipped by rail to other areas of the U.S. In 1874 Blalock began purchasing a sage brush tract of land west of Walla Walla which gradually increased to 640 acres. According to a paper written by daughter Phoebe Blalock, in 1877 or 1878 sixty acres were "set out in fruit trees." Then 40 acres a year were added until the entire tract was planted. Later 40 acres of this tract were donated by Blalock to the Seventh Day Adventist Church with the stipulation that it would operate a school on it for 25 years. This school became Walla Walla College which was founded in 1892 and is 114 years old in 2006, far surpassing Blalock's requirement.
The first recorded transaction for the parcel that would include 215 N. College Ave. was negotiated on October 2, 1876 when Mrs. Julia L. Cock and William Cock sold 167 acres to N.G. Blalock and Marie E. Blalock for $2500. Several mortgages were secured by Blalock for his numerous land purchases, the largest being $12,000. The next transaction occurred on November 14, 1918 when the Blalock Fruit Company sold a 7.25 acre parcel for $7250 to Simeon D. Kinman and Myrtle E. Kinman, a farmer from Eureka Flat who lived at 303 N. College Ave. This parcel contained lots 1 and 2 of Block 38 in what was District 3 of Blalock Orchards and water rights from Artesian wells "for either domestic or irrigation purposes." The transfer document described in detail a fence that would enclose the property. On November 4, 1918 the Kinmans had negotiated a lease with Henry Ponti, a gardener, for lots 1 and 2 of Block 38 for a rental fee of $210 per year. Ponti would eventually be able to buy the property. The lease document indicated that there was a barn but not a house on the 7.25 acre property and five peach trees, two cherry trees, and two pear trees near the barn. Detailed directions about asparagus and rhubarb crops were given for the leased area that Henry Ponti would be tending. The only clue about the construction of the house is that Alvin Ponti, son of Henry and Francesca Ponti was born in the house at 215 College Ave. in 1920. The Kinmans may have built the house, which they rented to Henry and Francesca Ponti. There was no information about a house rental price in the lease agreement which seemed to only pertain to farming the 7.25 acres for $210 per year.  It is also possible that the Pontis built the house themselves, pursuant to an unrecorded contract of sale, which resulted in the later conveyance to them.
On August 28, 1923 the Kinmans sold lots 1 and 2 to Henry Ponti and Frances (Francesca) Ponti for an undisclosed amount. A clue about the amount paid to the Kinmans was a mortgage of $4500 which the Pontis negotiated with Cesere Ponti and Giovanina Magnoni on September 1, 1923. According to granddaughter, Karlene Ponti, Henry and Francesca "lost the farm" in 1931 to the mortgage holders.
No further information was found until July 26,1937 when today's property description of lot 1 in Block 38 appeared in connection with the purchase of the house by John E. Potts and Dorothea E. Potts. The Potts must have also bought 205 College Ave. from the Kinmans because that was their address from 1935 until the 1950's. John E. Potts was the Walla Walla College doctor from 1940-1964 but also had a private practice in Walla Walla. At one time that practice was located at 202 S. Palouse. Various City Directory addresses are given for the Potts family but most directory entries just list "College Ave." Judging from its small size, the Potts appear to have used this house as a rental property. Long-term renters were Richard and Rosa Bono, listed in City Directories beginning in 1933. The listing simply reads "h CP." Rosa Bono, widow, bought the house and lot from Potts on August 9, 1956 for an undisclosed amount. Mrs. Bono is listed as a laundry worker at Walla Walla Steam Laundry in the 1956 City Directory.
On March 17, 1982, Rosa Bono sold the property for $25,000 to Alvin and Betty Ponti, who have used it as a rental since then. 215 N. College Ave. was valued at $52,000 in 2000.  Current owner Alvin Ponti, son of Henry and Francesca Ponti, has returned as owner of the house where he was born in 1920.
Construction of the house:
The Walla Walla County Assessor's Office records give 1920 as the construction date for 215 N. College Avenue. Although there is no definitive information, the birth in 1920 of Alvin Ponti, son of Henry and Francesca Ponti who held the property at that time under a 1918 lease, confirms the existence of a house there by that date. Simeon D. Kinman and Myrtle E. Kinman may have built this house for the use of their tenants, or the Pontis may have built it themselves. Henry Ponti received a deed for the house and both lots in 1923. The property was reduced to its current description of lot 1 in 1937 when John E. Potts and Dorothea E. Potts purchased it.
This very modest house plays a role in the history of the Walla Walla Valley through the significance of more than one hundred Italian families, many of whom worked as either gardeners or farmers, making an important contribution to the development of agriculture in this area, including cultivation of the nationally known Walla Walla Sweet Onions, a great variety of fresh produce, and the beginning of the area wine industry.  A construction date of "circa 1919" should be used.
Resources used for this report:
Pioneer Title Company documents for this property
Penrose Library Northwest Archives, Whitman College – Extensive collection of information about the Italian families in the Walla Walla Valley
Walla Walla Public Library for City Directories, Sanborn Fire Maps and Metsker County Maps
Walla Walla County Assessor's files
Walla Walla College Library archives and general collection
Interview with Karlene Ponti, granddaughter of Henry and Francesca Ponti and daughter of Alvin and Betty Ponti
Katherine Weingart Walla Walla 2020 P.O. Box 1222, Walla Walla WA 99362 June 2006
http://ww2020.net/wp-content/uploads/215_N_College.jpg
150
200
Katherine Weingart
http://ww2020.net/wp-content/uploads/2011/12/ww2020_logo.png
Katherine Weingart
2006-06-01 22:02:07
2017-02-05 12:28:02
History of 215 North College Avenue, College Place, WA