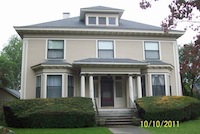 Legal Description:
Lot 5 and the South 48 feet of Lot 6 in Block 2 of Brookside Park Addition to the City of Walla Walla, Washington, according to the official plat thereof of record in the Office of the Auditor of Walla Walla County, Washington in Book C of Plats at Page 52.
Title History:
The land that comprises the City of Walla Walla was acquired from the Cayuse and Walla Walla Indian tribes by the U.S. Government in a treaty signed on July 9, 1855 in Walla Walla and ratified on March 8, 1859 by President James Buchanan. Walla Walla was originally laid out by surveyor H.H. Chase in 1859, even before its formal incorporation as a city in 1862, as a one-quarter mile square oriented N-S, E-W with its eastern side centered on the point where Main Street crossed Mill Creek (at roughly the point where it does now). To this original area, additional parcels were annexed from time to time, usually with the name of the land owner of record at the time the additions were made. 215 Fulton St. is on land originally owned by Henry P. Isaacs, who had his name attached to many additions near this address, however, it was his widow, Lucie Isaacs, who seems to have developed this area and named it Brookside Park Addition.  The Isaacs' home is located nearby at today's 100 Brookside Drive.   On the 1905 Sanborn Firemap a walk/alley through the Whitman College campus parallel to Stanton St. was also named Brookside Way. The only "brook" would be what is called "College Creek."
The first recorded transaction involving 215 Fulton St. was on May 23, 1863, when John Haley sold a  portion of the SW 1/4 of section 21 in Township 7, County of Walla Walla, Washington Territory consisting of approximately 26 acres to William H. Patten and Elizabeth Patten. The nominal recorded price was "consideration $100." On January 20, 1864 the Pattens sold this parcel along with other land in Section 20 to Isaacs for $2000 in gold coin, creating an 80 acre piece which took in most of what are now the residential areas to the east and north of Whitman College. Isaacs played an important role in the development of agriculture in Walla Walla. According to Lyman's History of Walla Walla County, he was among the first to suggest that the hills around Walla Walla would be better used for growing wheat rather than simply grazing livestock on the existing bunchgrass. Wheat growing led to Isaacs' development of several flour mills in Walla Walla and the Northwest, among them the Excelsior Flour Mill located on this 80 acre parcel. He also found markets for wheat in the Orient, especially China, beginning that important trade for this area.
Several documents in the records for 215 Fulton St. concern the development of the city water system. On September 21, 1881 H.P. Isaacs and Lucie Isaacs negotiated an agreement with the Walla Walla Water Company to "enter upon and take and conduct away the subterranean waters on and in the land for the purpose of supplying the city of Walla Walla and its inhabitants with water." They conveyed a deed to the Walla Walla Water Company for a price of $10,000. J.C. Isaacs, son of H.P. and Lucie, was the President of the Walla Walla Water Company.
H.P. Isaacs died intestate (without a will) on July 14, 1900, and because of that several legal actions were necessary to settle his estate. Because of this complication, a series of quit claim deeds are on file that involved the Isaacs heirs and even the Patten heirs. As a widow, Lucie Isaacs began to sell lots on Fulton Street in Brookside Addition. On January 4, 1907 she sold lots 5 and 6 in Block 2 for $1000 each to John Kydd and Catherine W. Kydd. The sale specified that "if a dwelling house was built the actual cost would not be less than $2500." And there were to be no barns or out-buildings. Thus Fulton Street became a street where the houses are more uniform than some other neighborhoods in Walla Walla. The fact that this parcel was two lots provided room for 215 Fulton to be "good-sized." The 1908 City Directory lists John Kydd, a farmer, and Catherine Kydd residing at 215 Fulton. Subsequent City Directories list him as a "sheepman" up until 1928 when the Kyddds moved to other addresses including 602 Boyer, the Clinton Court apartments. Catherine Kydd died in 1942 and John Kydd died in 1944. Although there is no record of this, the Kydds must have leased this property to a Whitman fraternity beginning in the late 1920's. Originally this was a "local" fraternity named Alpha Omicron Kappa, which later in 1930 affiliated with Tau Kappa Epsilon (TEK), a national fraternity. Photographs of the house appeared in fraternity documents in the Penrose Library Archives and in Whitman yearbooks for those years. There were 33 upperclass members in 1928 but no indication of how many were able to live in the house.
On November 2, 1942 John and Catherine Kydd sold the house to M.L. and Florence McMurtrey. Consideration of $2500 is stated in the deed. In City Directories Marvin L. McMurtrey is listed as the President-Manager of Electric Supply and Fixture Co.  M. Lee and Mary A. McMurtrey are also listed as living in the house in the 1946-1949 City Directories. Lee McMurtrey would succeed his father as President of the company and lived on Melrose near the Little Theater. On March 30, 1964, M.L. and Florence  McMurtrey filed a Quit Claim Deed for love and affection to Raymond W. Severance and M. Joyce Severance, who are never listed as living at 215 Fulton. The Severances sold the house on August 12, 1964 to Curtis G. Hansens and Eunice D. Hansens for $14,125. Curtis Hansens was a civil engineer with the Corps of Engineers and a dealer for Culligan Water Conditioning. In June of 1975 the Hansens conveyed a Quit Claim Deed for the northern two feet of Lot 6 to Byron F. Shields and Betty Alice Shields, residing at the property on the north side of 215 Fulton. On June 12, 1975 the Hansens sold to Richard W. Proctor and Annette E. Proctor for $40,500. Richard Proctor is listed as being with Proctor Building Service. On May 17, 1985 the Proctors sold the house to Clark Colahan and Patricia Artemisa Lopez Ireta de Colahan for $65,000. This was the beginning of a succession of Whitman faculty members as owners. Clark Colahan is a professor of Spanish at Whitman College. On September 29, 1989 the Colahans sold the house to John S. Zunes (known as Stephen) and Nancy Wolfe for $85,000. Zunes was a member of the Politics Department at Whitman College. On June 7, 1991 Robert and Nancy Withycombe purchased the house for $91,370. Robert Withycombe is Professor of Rhetoric and Film Studies at Whitman and Nancy Withycombe is Principal of Edison School.
Construction of the House:
The Walla Walla County Assessor's Office lists the construction date for 215 Fulton as 1910. This research shows that this date is incorrect. The construction date is 1907, based upon the January 4, 1907 purchase of the two lots by the Kydds and the 1908 City Directory listing for John and Catherine Kydd.  Building permit records are complete from September 1907 for a couple of decades, and the fact that no permit exists for this home during that period, together with the Kydds residence there in the 1908 directory indicate a construction date in 1907 prior to September.
The house is a large "four-square" (a cube basically) with some interesting Italianate style details on the roof overhang as well as "columns" imbedded into the four corners of the house which are nicely emphasized in the painting of the house. The front entrance is particularly attractive with the original porch and its ionic columns. Interestingly, the house at 216 Stanton almost directly behind 215 Fulton has the same exterior decor. The two houses may have been built by the same person, but no information about who the builder was could be located.
Research Sources:
Andres, Penny Walla Walla: Her Historic Homes (volume 1)
Lyman's History of Walla Walla County
Penrose Library Northwest Archives
Pioneer Title Company documents for this property
Sanborn Fire Maps at the Whitman Archives and Walla Walla Public Library
Waiilatpu Yearbooks, Penrose Library
Walla Walla City Directories
Walla Walla County Assessor's Office
Katherine Weingart Walla Walla 2020 Research Service P.O. Box 1222 Walla Walla WA 99362 January 2005
http://ww2020.net/wp-content/uploads/215_Fulton.jpg
134
200
Katherine Weingart
http://ww2020.net/wp-content/uploads/2011/12/ww2020_logo.png
Katherine Weingart
2005-01-01 21:56:10
2017-02-05 12:28:05
History of 215 Fulton Street, Walla Walla, WA