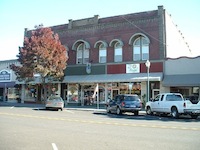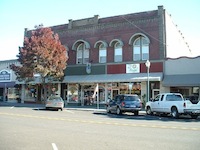 This report is comprised of three parcels including the Hungate Building on Main Street and the entire parking lot behind it.
Property Description:
Title History-Parcel A: 214-26 E Main Street
PARCEL A: WALLA WALLA COUNTY TAX PARCEL NO. 36-07-20-42-0014:
Beginning at a point in the Southerly line of East Main Street, distance Southwesterly 69 feet from the intersection of the Southerly line of East main Street with the Westerly line of Palouse Street; thence Westerly along the Southerly line of East Main Street 73.47 feet; thence at right angles Southeasterly 100.00 feet; thence at right angles Northeasterly 73.47 feet; thence at right angles Northwesterly 100 feet, to THE POINT OF BEGINNING, in the City of Walla Walla, County of Walla Walla, State of Washington
Washington Territory was created in 1853. The new legislature created Walla Walla County in 1854 which stretched from the crest of the Cascade Mountains to the crest of the Rocky Mountains in present states of Washington, Idaho and Montana. In 1855 an Indian council was held on the banks of Mill Creek at the present site of Walla Walla to purchase land from the Indians. The Yakimas and Walla Wallas rejected the treaty and prepared for war which followed. Missionaries, former French-Canadian employees of the Hudson Bay Company Trading Post at Wallula, and soldiers at Fort Walla Walla were the primary European occupants of the area prior to 1859 when it was opened for settlement. All of the land in this area was acquired from the Cayuse and Walla Walla Indian tribes by the U.S. Government in a treaty signed on June 9, 1855 in Walla Walla, and ratified on March 8, 1859 by President James Buchanan.
Walla Walla was originally laid out by surveyor H.H. Chase in 1859, even before its formal incorporation as a city in 1862, as a one-quarter mile square oriented N-S, E-W and with its eastern side centered on the point where Main Street crossed Mill Creek (at roughly the point where it does now). To this original area, additional parcels were annexed from time to time, usually named after the land owner of record at the time the additions were made.
This property is part of the oldest U.S. Patent in Walla Walla. On September 10, 1861 Andrew J. Cain and Cornelius Kelly filed a patent on 160 acres under the Script Warrant Act of 1855 northeast of the original City of Walla Walla town site. During 1862, A. J. Cain surveyed Cain's Addition to the City (this survey was rerecorded on May 11, 1865, following a disastrous fire which destroyed most of the county's earlier records).
A. J. Cain was an early financier of The Walla Walla Statesman newspaper; in 1868 he was elected on the Democratic ticket as prosecuting attorney of Walla Walla County. He later moved to Dayton and in September 1874 began publication of the Dayton News, a weekly Democratic newspaper. He became known as the "Father of Columbia County" as a result of his leading role in the formation of that county.
The first local legal entry on this parcel dated October 20, 1862 was a court case between A. H. Reynolds and A. J. Cain. As a result of that case a Sheriff's Deed for 18 parcels was given to A. H. Reynolds on March 1, 1864. Almos H. Reynolds was born in New York state in 1808 and learned the millwright trade from his father. He came west to California in 1850 and to Walla Walla in 1859 where he lived until his death in 1889. He was held "in highest esteem" as one of Walla Walla's leading citizens. He was associated with Dr. J. H. Day  in establishing the first banking business in Walla Walla (see Reynolds-Day Building near Second and Main Streets) which led to the founding of the  First National Bank. In 1861 he married Lettice J. Clark nee Millican who was the widow of Ransom Clark, who had come to Oregon with Fremont in 1843. Lettice and Almos had two sons Harry A. and Allen H. who both became prominent Walla Wallans.
On March 15, 1864  A. H. and Lettice J. Reynolds gave a deed to this property back to Emma Cain. On May 7, 1867 another court case between Cain and Dorsey S. Baker resulted in another Sheriff's Deed to Dorsey S. Baker for 29 parcels. Dr. Dorsey S. Baker was the "undoubted financial genius and development pioneer of Walla Walla" who founded Baker Boyer Bank. In 1885 Dr. Baker's banking partner J. F. Boyer and his wife signed a Quit Claim Deed to Dorsey Baker for an undivided 1/3 interest in this property. This deed was not recorded until 1896, after Baker's death in 1888. On February 2, 1900 the Dorsey S. Baker Estate transferred title to this property to M. C. Moore and Sons. Miles Moore was married to Dorsey Baker's sister.  An Indenture in 1912 indicates that the heirs of Dorsey Baker were still working to settle his estate.
On April 18, 1903 M. C. Moore and Sons sold this 76.65' by 80' lot to H. H. Hungate for $3532.50. Harrison H. Hungate came to Walla Walla in 1873 from Illinois by way of California. He farmed twenty-five hundred acres in Spring Valley 8 miles from Walla Walla. He lived at 202 North Second with his wife Mary C. and daughters Ella, Laura and Lulu in 1902. A small picture of this large house is on page 120 in Bennett's volume I. He served in the territorial legislature in 1881 and also served as Walla Walla County Treasurer. On August 26, 1904 Hungate signed a Party Wall Agreement with J. F. and Nora Hartley who owned the livery stable on the west of Hungate's property. This agreement stated the Mr. Osterman had drawn plans for constructing a two-story brick building on 73.47' frontage and 80' deep. In 1904 there was a  special tax and assessment levied by the city on this and other properties for the purchase of land on which to build Spokane Street between Alder and Main Streets. In 1905 there was another assessment to pave, install gutters and improvements in Main Street from First to Palouse Streets. In 1912 Mr. and Mrs. Hungate gave an undivided 3/4th interest in this property to their daughters Ella, Laura and Lulu Hungate. Mr. Hungate died in 1916.  In 1919 Mrs. Hungate gave the remaining 1/4 undivided interest to Ella and Laura as trustees. Mrs. Hungate died on March 4, 1922. There were many legal transactions over the years between family members. However members of this family apparently owned this property until 1972. Ella and Laura Hungate's sister, Nancy Elizabeth Hungate Gardner, died in 1896.  Her children Geneva Gardner, Harry Ward Gardner and Elizabeth Gardner each received an undivided 1/12th interest in this property after they reached age 25. Geneva Gardner subsequently married William Steel. In 1928-29 Laura and Ella Hungate as trustees signed a Party Wall Agreement with R. C. MacLeod. Ella Hungate died in 1939. Laura Hungate died in 1944. Executors of her estate were Elizabeth Gardner and Geneva Steel. Lulu Hungate died in 1951.  On September 21, 1972 Virginia E. Steel, widow, Nancy Steel Steenmeyer, in her individual right, Susan Elaine Steel, single, and Virginia E. Steel, guardian, sold the property by contract to Olympic Properties (Jerry and Diana Look, Keith and Shirley Willson, Richard and Erma Burdorff) for $75,000.
On June 30, 1983 Olympic Properties signed an Agreement for Deed with Martha Ann Warren that included this and 12 other properties for $250,000. On July 28, 1983 Martha Ann Warren gave an Irrevocable Power of Attorney to Frank LeRoux on 11 parcels. On September 26, 1994 Warren signed a Real Estate Contract with Kevin C. and Kathy M. Ruth for $146,000 on Parcels A, B and 68% of C. On January 29, 1997 the Ruths made a Tax Deferred Exchange of this property to Ron and Ruth Agresti and Connie and Daryl Schreiner for $195,000. There were several legal transactions including deeds of trust, a lien and assignment of rents over the next 8 years until this property was sold to the Walla Walla Hotel, LLC, Richard A. and Debbie Johnson on April 15, 2005.
Title History-Parcel B: 19 S. Spokane Street
PARCEL B: WALLA WALLA COUNTY TAX PARCEL NO. 36-07-20-42-0038:
Beginning at a point in the Northeasterly line of Spokane Street which is 154 feet Southeasterly, measured along said Northeasterly line of Spokane Street, from the Southeasterly line of Main Street in the City of Walla Walla, Washington, and running thence South 52º 53´ East, along said Northeasterly line of Spokane Street, a distance of 41.75 feet; thence North 38º45´ East 67.25 feet; thence North 40º45´ East 87.15 feet; thence North 52º53´ West, parallel to said Northeasterly line of Spokane Street a distance of 78 feet, more or less, to the Southeasterly line of the alley extending from Spokane Street to Palouse Street; thence South 37º07´ West, along the Southeasterly line of said alley, a distance of 40 feet; more or less, to a point therein which is North 37º07´ East 114.66 feet from said Northeasterly line of Spokane Street; thence South 53º53´ East 34 feet; then South 37º07´ West to the POINT OF BEGINNING.
This property is listed as 19 S. Spokane Street, bordered on the south by the Mill Creek embankment and on the north by the building at 15 South Spokane with the name O. D. Keen on the face. From 1862 until 1899 this property had the same ownership as the future H. H. Hungate building adjoining it on Main Street (see parcel A history). In 1899 Dorsey Baker's Estate sold it to the City of Walla Walla (15 parcels plus water rights) for $10,000. The owners of this parcel shared in the cost of construction of the Mill Creek Embankment in 1904 and the paving of Palouse Street from Main to Alder in 1905. The City sold a portion of this parcel (120.96 feet by 15 feet) to H. H. Hungate in 1907. In 1926 Laura and Lulu Hungate sold this strip back to the City with a waiver of any claims for alley purposes. Subsequently this parcel's ownership was shared with the Walla Walla Hotel/Hungate Building owners.
Title History-Parcel C: 14 S. Palouse Street
PARCEL C: WALLA WALLA COUNTY TAX PARCEL NO. 36-07-20-42-0035-01:
AN UNDIVIDED 68% OF THE FOLLOWING TRACT, to-wit:
Beginning at a point where a line parallel to and distant 120.0 feet Southerly at right angles from the Southerly line of Main Street in the City of Walla Walla, Washington, would intersect the Westerly line of Palouse Street in said City; thence South 37º07´ West 110.2 feet; thence South 52º53´ East 74 .00 feet; thence Easterly in a straight line to a point in the Westerly line of Palouse Street 78.3 feet Southerly, measured along said Westerly line of Palouse Street, from the POINT OF BEGINNING; thence Northerly along said Westerly line of Palouse Street, a distance of 78.3 feet to the POINT OF BEGINNING.
The parking lot on the east side of this block between Mill Creek and the buildings fronting on Main Street shared the same owners as Parcel B up to the time of the sale of this property by the Dorsey Baker Estate to the City of Walla Walla in 1899. Thereafter, Henry C. Baker purchased a portion of Parcel C with a "meandering" boundary in 1904. In 1905 Baker sold it to H. P. Isaacs Company for $1200. The City signed a quit claim deed in 1906 giving Isaacs the right to use the bulkhead now in place for any and all purposes as a party wall. Isaacs gave a lease to Carl and Bismarck Scholl for a milling business on 140 front feet on Palouse and 75 front feet on Spokane Street. Isaacs signed a quit claim deed with the city in 1906. The city signed a Contract for Deed with Ben H. Hunt in 1927. At that time the City filed a Lis Pendens with the Heirs of A. H. Reynolds and many others "to quiet title." Ben Hunt gave "full performance" of his contract with the city and received  warranty deed in 1930. This property came back into the chain of title for the Hungate building with Olympic Properties in 1983 and continued to follow that list of owners till the present.
Occupant History:
Parcel A: 214-226 E. Main Street
Prior to the paving of East Main Street in 1905 and the building of the Walla Walla Hotel in 1904 the principal occupants of this half block were Schwabacher Brothers Grain Warehouse (1884), Schwabacher Bro's Agricultural Implements Warehouse and Staver and Warner's Agricultural Implements (1888) and a blacksmith shop (1894). The 1905 fire map shows the hotel with the notation "being built 1904" with the rest of the block made up of an assortment of small buildings (OK Feed and Sale Stable on the west side) with the blacksmith and wagon shop on Palouse Street. The first city directory listing of the Walla Walla Hotel at 214 E. Main, was in 1905 with Thomas Corn proprietor. By 1909 William C. Davey was the proprietor and Rube Smith in 1911. In 1915 it was called the Owyhee Hotel with Mrs. Mabel Hartman. It was again called the Walla Walla Hotel in 1916 with Mrs. Abbie Henry. Truett A. Farmer managed it in 1921 at 212 1/2 E. Main Street. Hewitt A. and Lucy Happy managed it between 1923 and 1933 (then designated at 214  1/2 E. Main). The longest term managers/owners were Curtis and Violet Kenaston from 1953-1971. In 1972 Rufus Peterson owned the hotel business until it was listed as vacant in 1977-85. The address 214 1/2 E. Main was dropped from the directory in 1986.
Street numbers and first floor tenants were varied over the years: confectionary and ice cream, barber, Baker Brothers Furniture, Knight's Cafe. In 1932 The Music Electric Company and the Triangle Used Car Lot were listed at 214 while Safeway Grocery was at 220, Colyear Motor Sales at 222 and Midway Drugs at 226. The Spudnut Shop operated at 216 from 1953-58 to be replaced by longtime tenant Denney's Hi-Spot in 1959 through 1984. Snick's Watch Repair, Prutsman Swimming Pools, Red House Antiques (Ruth Ann Warren, owner), the Booktique, Floyd Miller Real Estate and the Country Traders were all there at various times.
Parcel B: 19 S. Spokane Street
On Spokane Street (not constructed till after 1904) there was a building adjacent to Mill Creek first listed as a boarding house at 19 S. Spokane Street in the classified city directory in 1918. Mrs. Jennie L. Peters operated it. Further classified searches did not reveal any boarding house, lodgings, apartments or rooms at this address until 1929 when C. C. Mitchell, a cement worker, lived at 19 S. Spokane. In 1931 there appeared to be two apartments here. O.D. Keen's son Les said his father purchased this property as a "speculative investment" with the expectation that he would cover and build over Mill Creek. The 1931 flood ended any prospect of that. However O. D. Keen is not in the title chain for this property (he did own/build the building on the north side). Perhaps he merely remodeled an old apartment building for which he had a lease. The building was called Keen Apartments from 1933-1955. It was called Millbrooke Apartments from 1959-1963 after which there was no listing for this address. The curious glass bricks with bars "windows" in the Mill Creek embankment probably predate the 1948 paving of the Mill Creek channel by the Army Corps of Engineers and must have been from this apartment building. It has been a parking lot since 1964. In 2005 the building on the north side of this property was converted into two commercial spaces designated 15 and 19 so there is potential for confusion with this address.
Parcel C (68% ownership): 14 S. Palouse Street
Occupants on the Palouse side of this half block are somewhat less complicated. A blacksmith wagon shop (later welding and  then manufacturing) was in this location between 1894 and 1968. Henry Dutcher owed the blacksmith business prior to 1902 until 1918. Ben H. Hunt occupied this location from 1921 to 1968 except for a 4 year relocation (1926-1930) to 18 S. Spokane. There is an early picture of Ben Hunt Blacksmith and Wagon Shop at 14 S. Palouse on page 29 of Bennett's 1920-1949 volume (with the hotel in the background). From the legal title it appears that H. P. Isaacs Co. operated a mill here before it was leased to the Scholl Brothers. However, a search of old city directories shows that the flour mill existed under multiple names at 32 South Palouse which would have been south of Mill Creek.
Construction of the Hungate Building – Parcel A: 214-116 E. Main Street
The Party Wall Agreement signed on August 26, 1904 stated that Mr. Osterman had drawn plans for a brick building 80 feet back. Mr. Osterman was a leading architect of Walla Walla. He had been born in Essen, Germany in 1862, educated in Dusseldorf and emigrated to the United States in 1889. He worked as a carpenter and built his own house at 508 Lincoln (1892, since  restored) while he learned to speak English. In 1899 he opened his architecture office in the old Baker Bank building. He designed "practically all the important businesses and office buildings in the city together with many finer residences" including the YMCA on Spokane Street (now IOOF), Walla Walla High School (demolished), Jefferson School (demolished), Green Park School (1905, since restored),  Sharpstein School (1898, since restored), city library (Carnegie Art Center) and Gardners Department Store (W. Main and Third Streets now American West Bank). He was also a prominent figure in local financial and commercial circles.
Despite the facts that no record of building permits exist prior to 1905 and the Assessor's Office erroneously states this building was constructed in 1930, this is clearly an important building on which construction was started in 1904 by a significant local architect, Henry Osterman. It was completed and occupied in 1905.
References:
Andres, Penny, Walla Walla, Her Historic Homes, Vol. I, 1991.
Bennett, Robert A., Walla Walla  Portrait of a Western Town 1804-1899, Pioneer Press, Walla Walla, 1980.
Bennett, Robert A., Walla Walla  A Town Built to be a City 1900-1919, Pioneer Press,  Walla Walla, 1982.
Bennett, Robert A., A Nice Place to Raise a Family 1920-1949, Pioneer Press,  Walla Walla, 1988
Gilbert, Frank T.; Historic Sketches of Walla Walla, Whitman and Garfield Counties, Washington  Territory, and Umatilla County, Oregon, 1882.
Hungate Family History, Barbara Young correspondence
Lyman, Professor W.D., An Illustrated History of Walla Walla County  1901.
Lyman, Professor W.D., Lyman's History of Old Walla Walla County, Vol. 1-2, 1918.
Sanborn Fire Maps: 1884-1905 (with updates until 1950)..
Walla Walla City Directories: 1880-present (various publishers–not all years).
Whitman College Penrose Library Archives.
Mary E. Meeker Walla Walla 2020 Research Service PO Box 1222, Walla Walla WA 99362 , July, 2005
http://ww2020.net/wp-content/uploads/214_E_Main.jpg
150
200
Mary Meeker
http://ww2020.net/wp-content/uploads/2011/12/ww2020_logo.png
Mary Meeker
2005-07-01 21:53:24
2017-02-05 12:23:02
History of 214-226 East Main Street, 19 South Spokane Street, and 14 South Palouse Street, Walla Walla, WA - H.H. Hungate Building