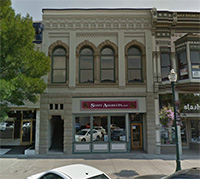 Property Description:
Commencing at a point on the Southerly line of Main Street 65 feet and 2 inches Easterly, measured along said Southerly line of Main Street, from the Northwesterly corner of Block Twelve of the Original City of Walla Walla, according to the official plat thereof of record in the office of the Auditor of said Walla Walla County and running thence Southerly at right angles to said Southerly line of Main Street, a distance of 120 feet to the Northerly line of the alley in said Block Twelve; thence Easterly along the Northerly line of said alley a distance of 30 feet 6 inches, thence at right angles Northerly 120 feet to the Southerly line of Main Street, thence Westerly along the Southerly line of Main Street, a distance of 30 feet 6 inches to the place of beginning.
Title History:
Walla Walla was originally laid out by surveyor H.H. Chase in 1859, even before its formal incorporation as a city in 1862, as a one-quarter mile square oriented N-S, E-W and with its eastern side centered on the point where Main Street crossed Mill Creek (at roughly the point where it does now). This property on the south side of Main Street between Second and Third Streets has a history that goes back to these earliest days of Walla Walla since it was part of the original town plat. This block has been anchored by Baker Boyer Bank since 1869 and for a decade before that by Dorsey Baker's mercantile business. Dr. Baker started a very long tradition of involvement in the community, donating property for the first public school and for Whitman Seminary. Robert Bennett's Book  Portrait of a Western Town, 1804-1899 reprints lithographs of how this block looked in 1881 on page 105-106. Starting at the corner of Second Street the buildings going west toward Third Street were the Baker Boyer Bank, Dusenbery Bros. Clothing and Groceries, Dooley and Kirkman (see below), 3 unlabeled buildings, H. E. Holmes drug store, O. Brechtel Bakery, M. E. Baumeister (prior to present building) and F. E. Adams.
The first transaction regarding this property in the Walla Walla County Auditor's Office was a quit claim deed on May 21, 1860 from William C. LaDow to Robert Vent(Vint) and Peter Boyle for $1500 "on the premise now occupied by Mr. L. Jackson on the east and Mr. Sitell on the west together with a  house known as the Walla Walla Hotel." On June 2, 1860
S. F. Ledgart gave a quit claim deed to Vent and Boyle for all rights, title and interest plus fixtures in the Walla Walla Hotel. On November 16, 1860 Boyle and Vent gave a quit claim deed to William Albaker for $1600 for the Walla Walla Hotel and land between the houses of James Buckley and Robert Vent. On February 12, 1861 Augustus Sitell gave a quit claim deed to James Galbreath on the 22'x120' land between the houses of Sitell and Galbreath. On October 31, 1861 Lycurgus Jackson gave a quit claim deed to James M. Nolan (Nowlen) for $700 for land between the Walla Walla Hotel on the Northeast and the Walla Walla Bakery on the southwest. At the same time Noland took a mortgage on the Walla Walla Hotel "formerly occupied by Vent Butcher now being fitted as a restaurant." Of these early owners of this property Galbreath (1865 Script Warrant), Vint and Boyle (1866 cash sale ) all held U.S. Patents for land (160 acres each) acquired from the government but none were in downtown Walla Walla.
On September 3, 1862 Herman/Hammond and Angeline Curry/Kurry gave a deed to Oswald Brechtel for $2500 for the house known as Walla Walla Bakery. On February 22, 1866 The City of Walla Walla in Washington Territory confirmed the title of O. Brechtel to real estate in lot 5 and part of lot 4 of Block 12. On March 2, 1889 Oswald Brechtel signed a Party Wall Agreement with Maximilian Baumeister for 1 foot wide and 85 feet back.
On May 1, 1891 the Estate of D. S. Baker filed a Notice of Lis Pendens to foreclose on the Brechtel property due to a debt of $16,586.96 due in gold coin plus 10% interest and $1000 costs. On November 22, 1900 Walla Walla County gave a sheriff's deed to D. S. Baker Estate for $17,600. On July 15, 1902 the D. S. Baker Estate gave a warranty deed to Mary E. Moore for this property. Mary Moore died on October 21, 1904. Frank A. Moore et al were executors of her estate. In 1912 Frank Moore gave a lease to C. W. Crews for the first floor and basement of #21 Main Street plus rooms at back of second floor above the first floor stage for $225/month. On January 15, 1928 Frank A. and Margaret M. Moore gave a deed for this property to DeWitt P. Shepherd for a stated amount of $10. including the party wall agreement. On February 28, 1930 DeWitt and Ida Shepherd gave a warranty deed to C. R. and Florence Baker for "$10." At this time the Bakers gave a deed for an undivided 1/3 interest in this property to E. L. and Anna Whitney. The Bakers also gave an undivided 2/3 interest to John C. and Elizabeth Lyman. In March of 1930 Dr. and Mrs. Lyman  gave an undivided 1/3 interest back to C. R. and Florence Baker. The Bakers than gave an undivided 1/6 interest to Fanny K. Reynolds whereupon her husband Allen H. Reynolds quit claimed his entire interest to Fanny for her share of the property. On May 8, 1931 C. R. and Florence Baker gave a warranty deed to Harry A. and Bertha C. Reynolds for an undivided 1/6th interest in this property. On February 23, 1933 all the children and heirs of Bertha Reynolds quit claimed their interest in favor of their father and Bertha's husband, Harry Reynolds. On March 30, 1933 John and Elizabeth Lyman, E. L. and Anna Whitney, Harry A. Reynolds and Fanny K. Reynolds gave a warranty deed to The Kirkman Company. On November 29, 1963, Ruth S. Reynolds and William K. Kirkman acting in behalf of the Kirkman Company gave a deed to L. C. and Helen Havstad. On January 26, 1966 the Havstads sold this property to H. G. and Bertha Roberts. On April 26, 1968 Dr. and Mrs. Roberts signed a Purchaser's Assignment of Real Estate Contract and Deed in favor of Baker Boyer Bank, thus returning effective ownership to the Baker Boyer Bank 68 years after Dorsey Baker's estate first owned this property. A warranty deed was given to Baker Boyer by H. G. Roberts on October 31, 1969.
History of Occupants of the Property:
Information on property in the 1860s in Walla Walla is limited. However, the legal record of this property refers to adjacent houses in 1860, followed by a reference to the Walla Walla Hotel on this site. When Oswald Brechtel purchased the property in 1862 it was called the Walla Walla Bakery. Mr. Brechtel apparently operated a bakery in a less substantial building prior to construction of the present brick building. On May 22, 1869 the Walla Walla Union reported that "the bricks for the foundation of Mr. Brechtel's building are being hauled." The building was predicted to be a "credit to the owner and an ornament to the town." On June 18, 1870 the Walla Walla Statesman reported that Mr. Brechtel had constructed a front entrance in his new brick building for entry to a large basement beer cellar. On July 16, 1870 the same paper published an article saying the "soda and sarsaparilla as drawn from the fountain at Mr. Brechtel's Bakery and Confectionary is delightfully refreshing these warm days. Our lady friends should give this pleasant beverage a trial." On October 5, 1872 the Walla Walla Weekly Union announced that Mr. S. W. Wood had taken a "fine picture" of Adams Brothers brick building, The Union office and Brechtel Building. This has been reprinted in Robert Bennett's book Portrait of a Western Town, 1804-1899, page 80. On May 12, 1877 the Walla Walla Union reported that Mr. Brechtel had installed a 3 HP steam engine to turn the machinery used by him to make various kinds of crackers. He "daily turns out as fine a cracker as can be imported." In 1879 Oswald Brechtel was appointed guardian for A. M., C. L., F. and Mary Brechtel. In 1880 they lived in a residence at Fifth and Poplar Streets. On October 2, 1880 The Walla Walla Union reported that one of the growing institutions of the city was the Walla Walla Bakery owned by Mr. Brechtel. According to the article, he had worked as a baker on steamships between Wallula and Celilo prior to settling in Walla Walla in 1861. When he first opened his bakery in Walla Walla he used one barrel of flour per day to make cakes, pies and breads. He also ran a grocery, provisions and a saloon in an old wooden building. "Today he has a fine fire proof building 30 feet x120 feet, a cellar and second story (for 60 feet)." He had two large ovens, a 26 HP steam engine, large cake machine and a machine for cutting crackers. He employed eight men who used 10 barrels of flour a day. Mr. William Stafford of the celebrated California Cracker Company in San Francisco was hired as supervisor. He planned to make such good crackers as to drive the importers out of business. "Mr. Brechtel has always succeeded in his undertakings." In 1881 his residence was numbered 113 Fifth Street. The 1884 fire map listed the present property as a candy store with Masonic Lodge on the second floor. It also listed "China Town" as being across the alley on Alder Street. The 1888 fire map listed the "Cracker Baky. Gro". at 48, 21,and 23 with offices on the second floor. The city appeared to be changing street numbering systems and used both old and new numbers in this year. In 1889 Brechtel signed a party wall agreement with Maximilian Baumeister, the year Baumeister built his building to the west of Brechtel. On January 30,1885 the Walla Walla Watchman newspaper had a story on O. Brechtel's Bakery. They lauded his building, equipment and business practices but said the real purpose of the article was to show the difficulties under which any such industry can be undertaken. Competition from Portland and San Francisco cracker bakeries was stiff. "It is a duty every man living east of the Cascades owes to himself to patronize home industry. The further any man sends his money away for anything he wants the less liable he will be ever to see it again." This has obviously been a long term issue in Walla Walla.
On May 1, 1891 the D. S. Baker Estate filed notice of an impending foreclosure on the Brechtel Building. Dorsey Baker had died in 1888. Apparently Mr. Brechtel continued to operate his bakery until a Sheriff's Deed was given to the Baker Estate on November 12, 1900. At that time the bakery was operated by Oswald's son, Fred Brechtel, Alex Mackay and Louis Grossmiller, bakers. In 1902 The City Bakery and Grocery Company operated at 21 West Main. By 1904 there was no bakery or grocery in this location. The 1905 fire map showed that the ovens had been removed. The neighbors of this building in 1905 included Walla Walla Meat and Cold Storage at #9, Timmons Transfer at #15, a jeweler at #17, a drug store at #19, lawyers H. S. Blandford and E. C. Mills at #19 1/2, with banks at both ends of this block. By 1909 City Bakery and Grocery Company had relocated to 204 East Main. The address of this property was not located under "bakery, hotel/lodging, billiards, cigars or restaurants" in the classified section of the city directory.
In 1914 DeWitt Shepherd had opened a cigar store at 25 West Main next door in the Baumeister Building, where it operated until 1921. In 1915 William R. McDermott operated a barber shop in #21. Starting in 1921 Shepherd's Smoke Shop operated on this property (#21) until 1939. Mr. Shepherd purchased the property in 1928. In 1925 Frank R. Miller operated the Harris Studio at 19 1/2 West Main. Frank and/or Julia (Jay) Miller operated Miller's Studio in this location through 1994. Meanwhile, Shepherd's Smoke Shop (cigars, cigarettes, smokers' supplies, fountain and lunch, confectionery and pocket billiards) became Shep's Smoke Shop in 1939 under owners A. J. Mathison and Harold K. Jackson. By 1941 only Jackson was involved and DeWitt and Ida Shepherd operated a restaurant and card room known as Dewey's at 1 East Main. This business was gone by 1946. By 1948 Harold Jackson was operating "The Corner Restaurant" at 2 West Main and Shep's was operated by Bob Dyer, Joe Colombo and Freeden Naucler. Joe Colombo's residence was listed as 21 West Main Street. By 1957 Francis M. Ponti was Colombo's partner in Shep's. In 1961 Mr. and Mrs. William Cloherty operated Shep's. In 1965 Edwin Sayler was the owner-manager.
Following the sale of this property by L.C. Havstad to Howard G. and Bertha Roberts in 1966 Shep's Smoke Shop closed. Roberts then leased to Kimsey Store Fixtures but an apparent breach of the lease by Kimsey led to #21 being vacant from 1967-1970. In 1971 Sassoon's Discount Warehouse was operated by Salman Sassoon here and continued until 1976 when he moved to 128 East Main. Thereafter the #21 address does not appear in city directories. In 1995 Miller's Studio at 19 1/2 closed.
Construction of the Buildings:
The oldest building permits located to date in Walla Walla are in 1905. However, the Walla Walla Union's report on May 22, 1869 that bricks were being hauled for the foundation of Mr. Brechtel's building is solid evidence of the 1869 construction of this building. Although the present facade does not have a name or date a full page advertisement of "Oswald Brechtel's Steam Bakery" in the 1880 Walla Walla Directory has a drawing of the building that includes the name O. Brechtel and the date 1869. This makes the Brechtel Building the oldest surviving building in downtown Walla Walla of which we are aware.
References:
Bennett, Robert A., Walla Walla  A Town Built to be a City 1804-1899, Pioneer Press, Walla Walla, 1980.
Bennett, Robert A., Walla Walla  A Town Built to be a City 1900-1919, Pioneer Press, Walla Walla, 1982.
Gilbert, Frank T.; Historical Sketches Walla Walla County, Whitman County and Garfield County, Washington Territory, 1882.
Lyman, Professor W.D., An Illustrated History of Walla Walla County 1901
Sanborn Fire Maps: 1884-1905 (with updates until 1950)
Walla Walla City Directories: 1880-present (various publishers–not all years)
Walla Walla County Assessor's records.
Walla Walla Statesman: June 18, 1870 (p3,c6), July 16, 1870 (p3.c1).
Walla Walla Union: May 22, 1868 (p3, c1), May 12, 1877 (p3, c1), October 2, 1880 (p3,c2); October 5, 1872 (p3,c1).
Walla Walla Watchman: January 30, 1885 .
Mary E. Meeker Walla Walla 2020 Research Service PO Box 1222, Walla Walla WA 99362 July, 2004
http://ww2020.net/wp-content/uploads/21_W_Main.jpg
179
200
Mary Meeker
http://ww2020.net/wp-content/uploads/2011/12/ww2020_logo.png
Mary Meeker
2004-07-01 16:40:28
2017-02-05 12:23:06
History of 21-23 West Main Street, Walla Walla, WA - Brechtel Building